I've been wanting to do something with paper coasters ever since we featured these washi tape coasters from Omiyage. Instead of washi tape, I thought it'd be fun and memorable to make paper photo coasters. The kids love looking at photos of themselves and so I knew they'd get a big kick of out this easy project.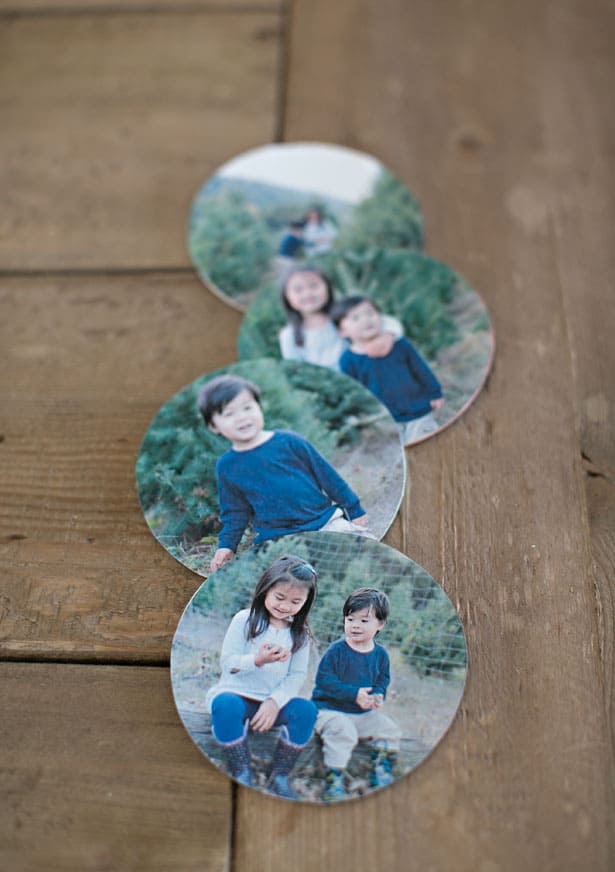 Paper Photo Coasters – Materials:
1. Round paper coasters (we got a pack of 50 here)
2. Mod Podge
3. Cardstock paper
4. Printer
5. Pencil and scissors
6. Foam brush
7. Satin Finishing Spray ( we used Krylon brand)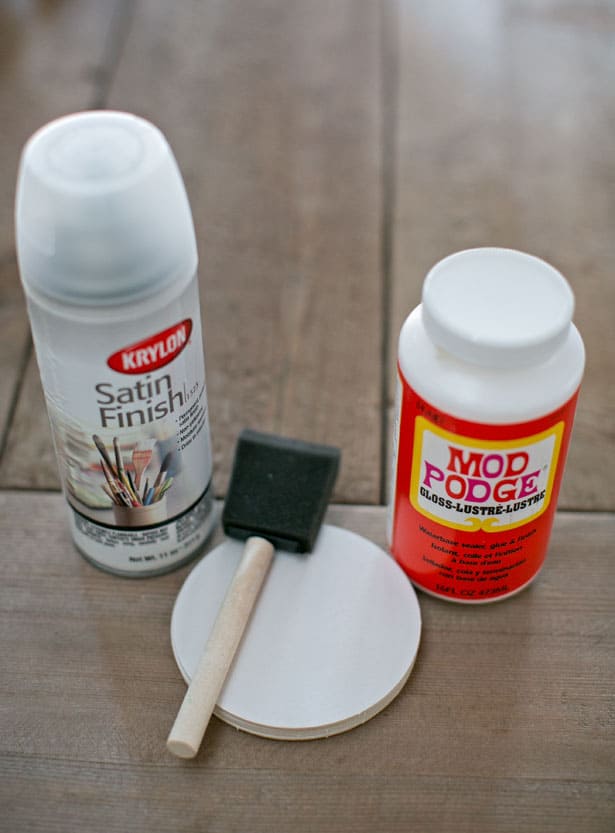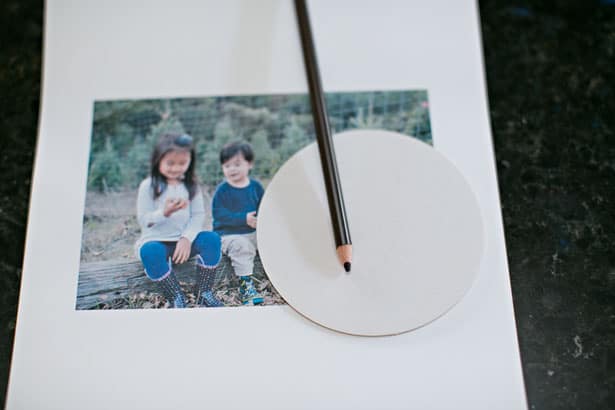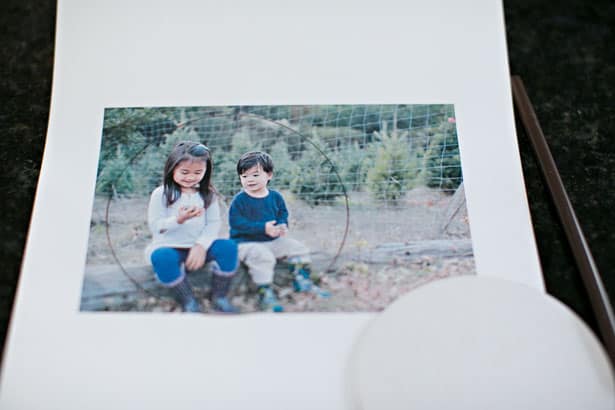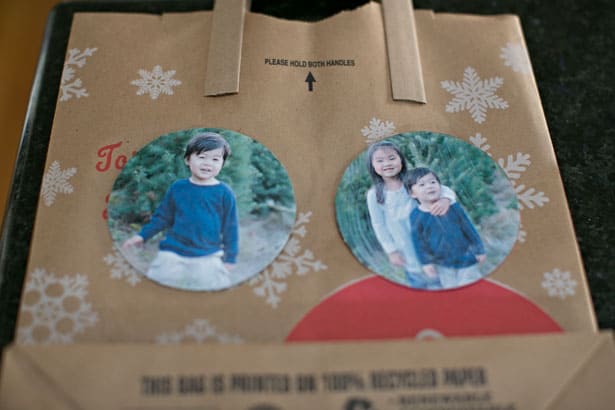 Steps:
1. Gather your materials. It helps to lay out a brown paper bag to capture any mess.
2. The round coasters we used were 4″ in diameter so I resized each photo I planned to use to 4.25″ and printed each photo using cardstock paper.
3. Trace the photo with the coaster with a pencil and cut out your photo paper circle.
4. Mod Podge the coaster with foam brush, then place the cut out photo on top and brush more Mod Podge on top. You'll see streaks at first but it will dry clear (as show in the above image – the photo on the left is completely dried but one on right just had the Mod Podge applied so you can still see the streaks).
5. Lay out the coasters to dry fully (half an hour or less) and then spray with the finishing varnish.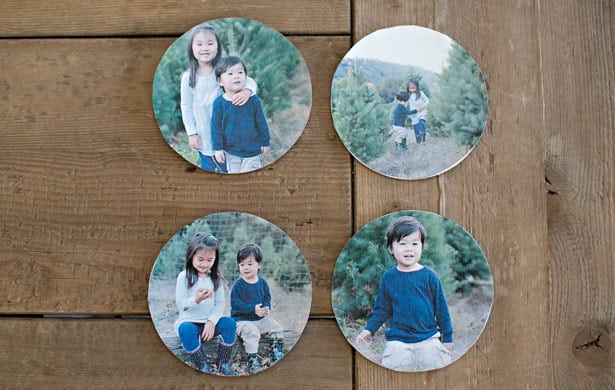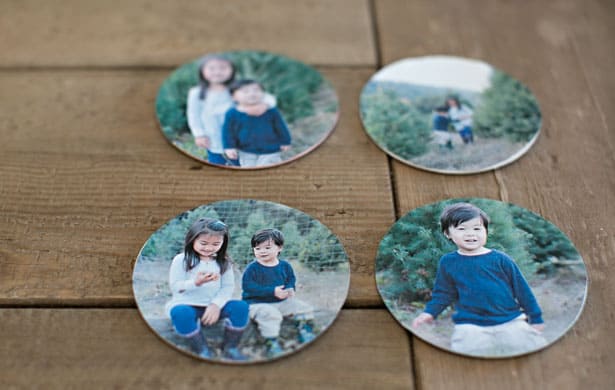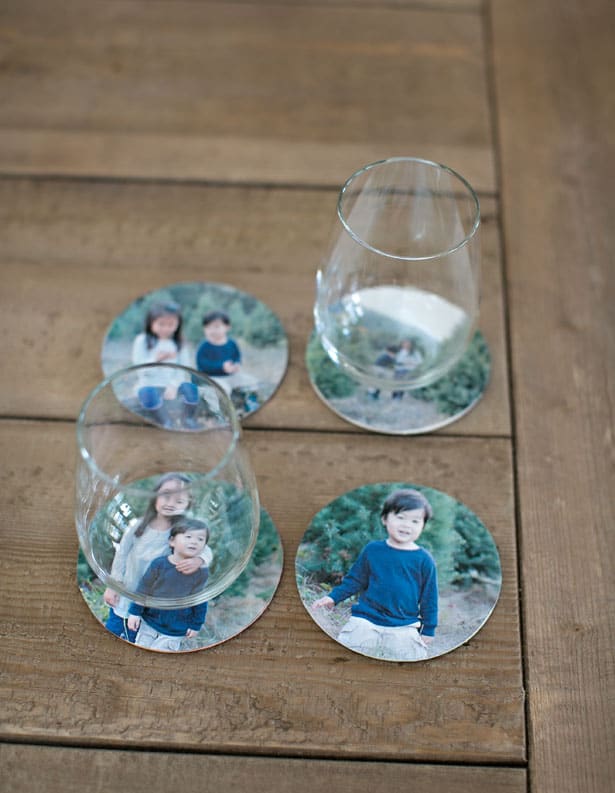 This project literally took half an hour (not including drying time) and the finished product is so personal and cute. My daughter helped me apply the Mod Podge so it's also a kid-friendly craft.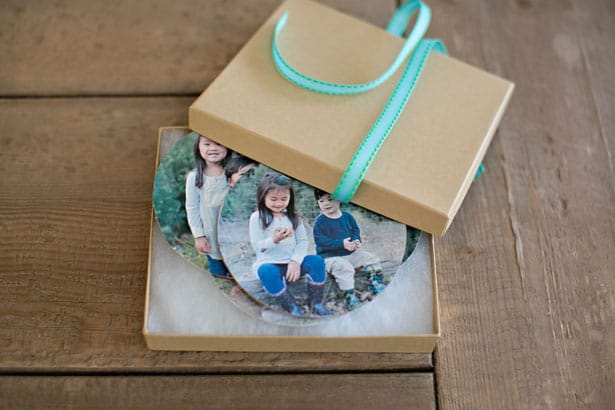 Making a set would make a nice handmade gift for any special family member or friend with photos of their favorite people or places. We ended up making a set for some close friends of ours (not pictured, since we gave it to them as a New Year's gift).
Have you ever made coasters before? Here is another way to make them using tile.
For more handmade gift ideas, see 10 DIY Gifts for Your Little Artist and 10 Imaginative and Creative DIY Gifts for Kids.
______________________________________________________________________________________________________

Disclosure: Some of the links in the post above are "affiliate links." This means if you click on the link and purchase the item, we will receive a small affiliate commission. Regardless, we give our promise that we only recommend products or services we would use personally and believe will add values to our readers.