These heart shaped Nutella chocolate granola bars are a simple and healthy (ish) way to start off Valentine's day morning with your kids. They come together in one bowl and are no bake, so they can be prepared in no time; although the reaction from your kids are bound to be hugely rewarding.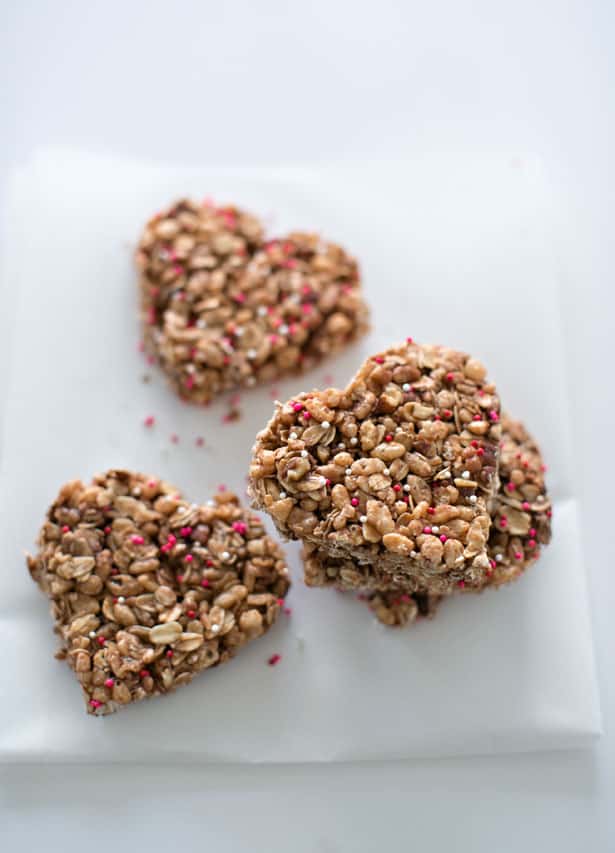 Nutella Heart Granola Bars – Ingredients
– 2 Cups crispy rice cereal (e.g. Rice Krispy)
– 2 Cups old fashioned oats (you can also use quick oats)
– 1/3 Cup Nutella (chocolate hazelnut spread readily found in many grocery stores)
– 1/3 Cup honey
– 1/2 Cups chopped pecan bits (optional – you can substitute any other nuts)
– 3 Tablespoons melted, unsalted butter, cooled
– Dash of salt
– Heart shaped cookie cutter
– Red, white and pink non-pareil sprinkles (optional)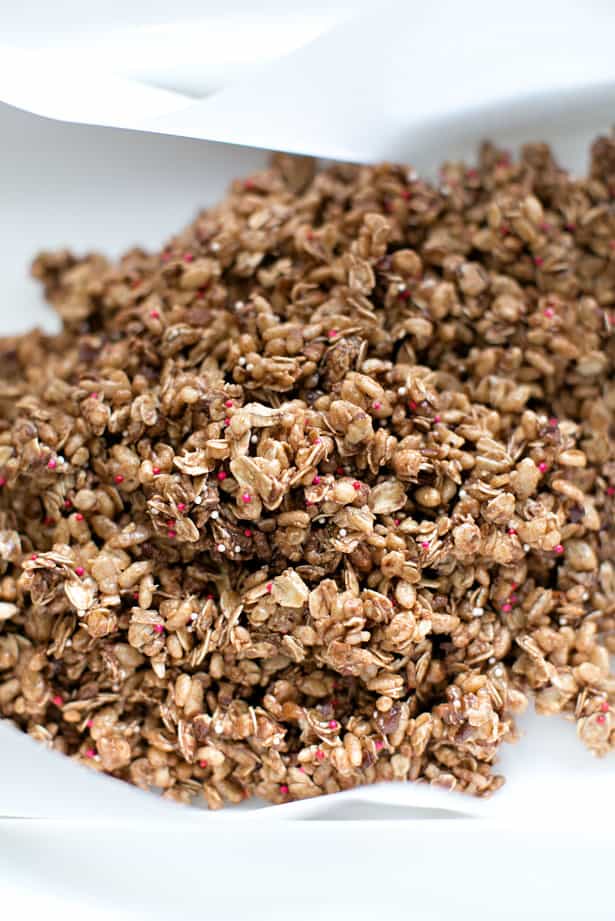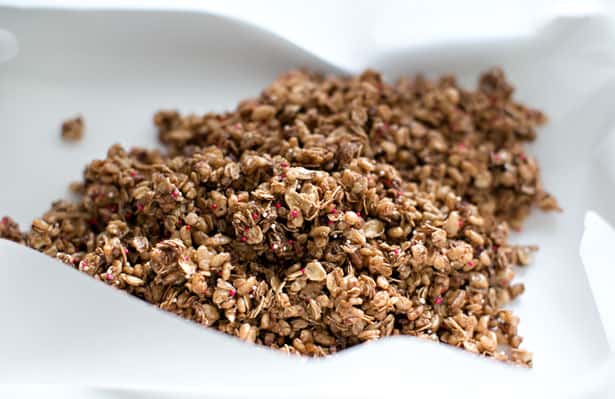 Steps:
1. Line a 9 x 13″ pan with parchment paper.
2. Mix all ingredients together and stir until well mixed (including sprinkles if you are using them)
3. Pour into parchment lined pan and spread the mixture evenly with a spatula. Add more sprinkles on top.
4. Allow to chill until the base is firm and cut out shapes with heart cookie cutter.
*Note: this is a soft granola bar and is best served chilled so it holds its shape.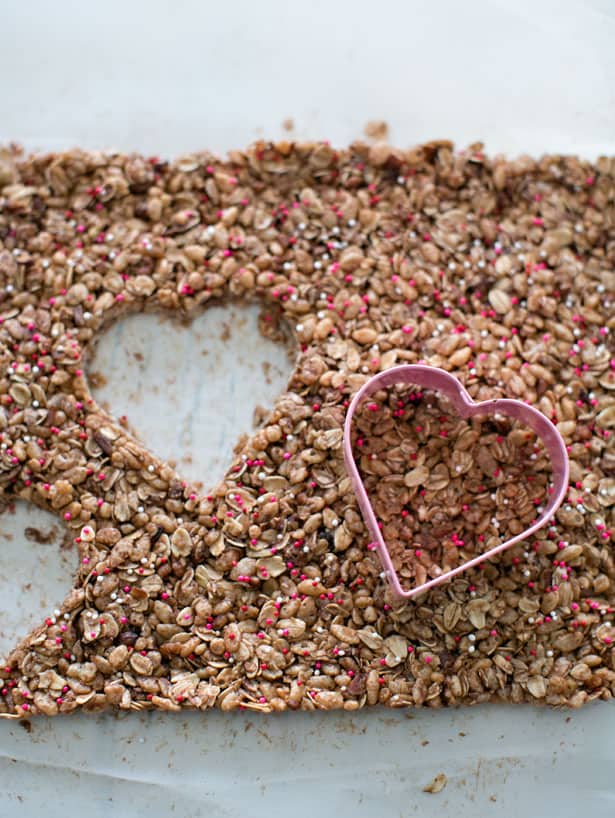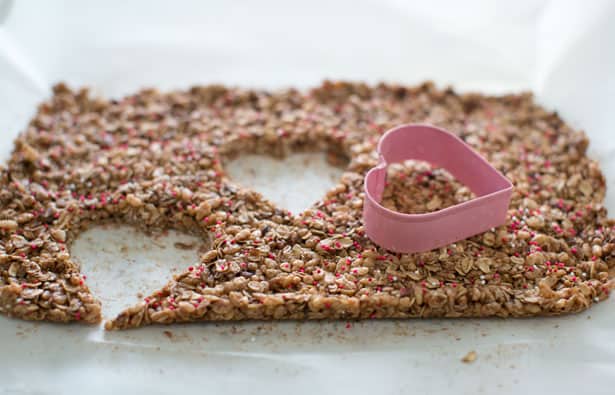 The sprinkles really add a festive touch and the mixture is easy to cut out in shapes.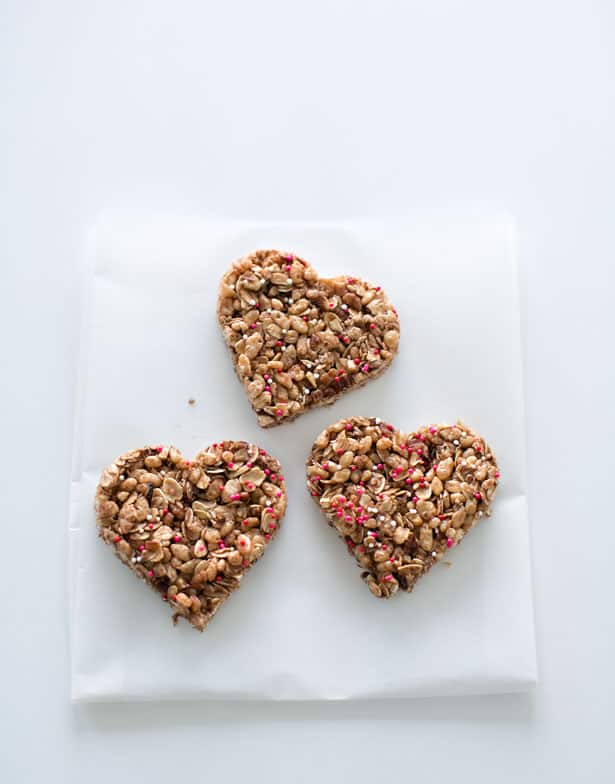 These granola bars were so simple to make and the kids loved the heart shapes and sprinkles. The Nutella provided just that touch of chocolate flavor to make it extra special and the honey adds a light sweetened flavor that's not overly sweet.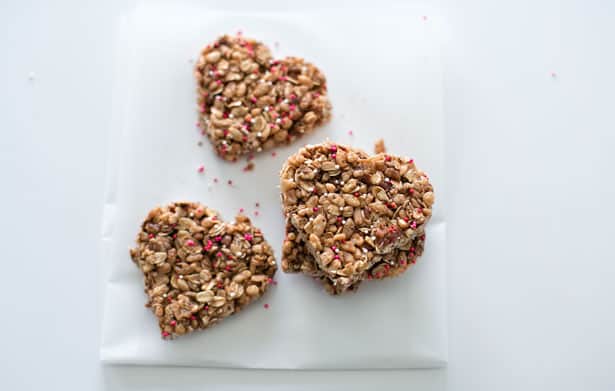 Have you ever made homemade granola bars before?
For more Valentine's day ideas, see 10 Non Candy Valentine's Day Favors, 8 Lovely and Easy DIY Valentine's Garlands, 10 Cute Valentine Free Printables, 10 Cute Valentine Day's Foods, and 12 Simple and Sweet Valentine's Day Crafts.