I'm always on the lookout for innovative and clever ways to store all my kids' toys, trinkets and stuffed animals. The start of a new year gives me just the boost I need to organize and de-clutter. I've rounded up some fantastic options for making prime use of space and keeping all those cherished toys in place. From easy DIY's like crates on casters, to clever hanging swings, or versatile modern storage – there's bound to be some ideas here to spark that organizational drive. What are some of your favorite ways to store your children's toys?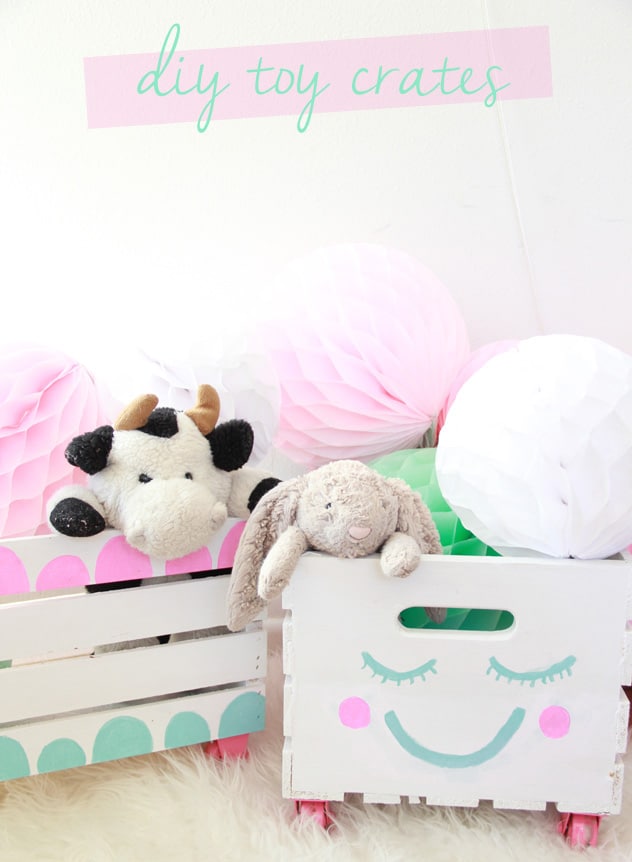 DIY Toy Storage Crates (via A Bubbly Life)
Give plain crates a cheerful makeover with some paint and casters for ease and mobility. A cute and simple project to store all those equally cute toys!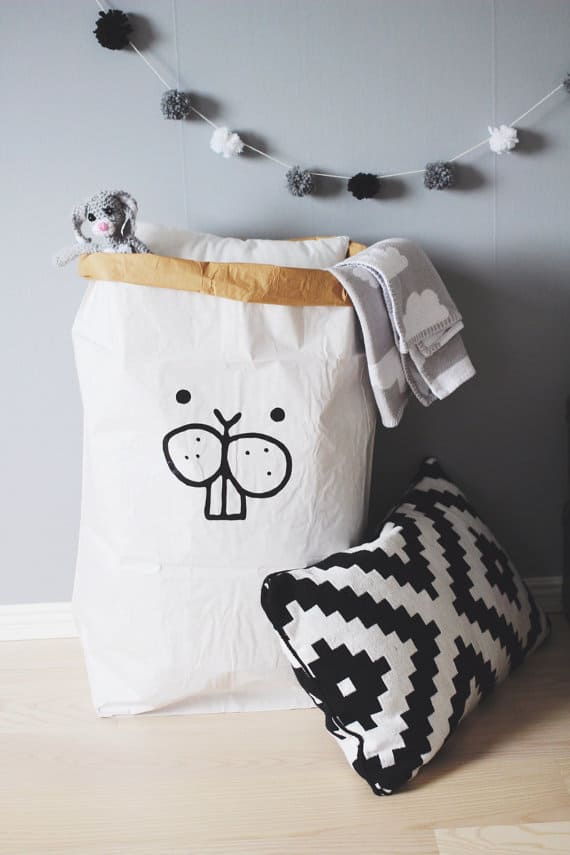 Paper Storage Bins (via Tellkiddo)
Don't let the paper material of these bins fool you. These bags are sturdy and quite large, measuring 32″ long. They easily roll up or down to fit what's inside.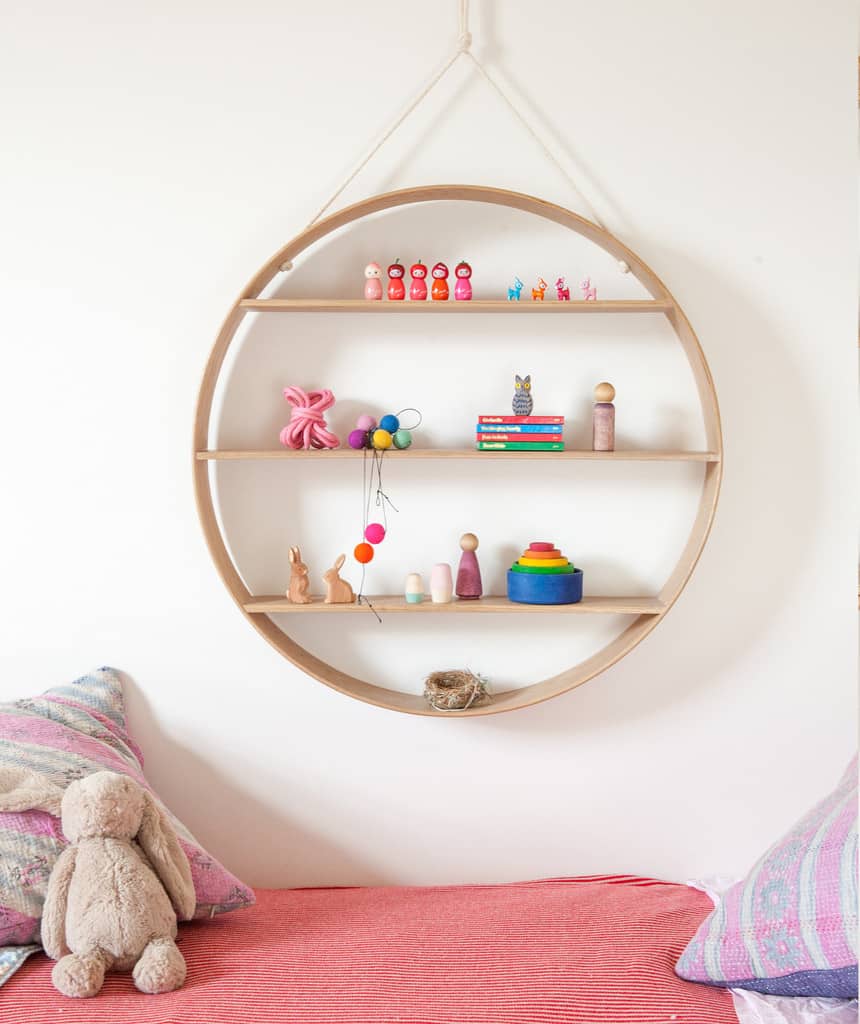 Circle Shelves (via Bride & Wolfe)
These modern and open circular shelves are as much pieces of hanging wall art as they are functional shelving to show off your kids' most treasured trinkets.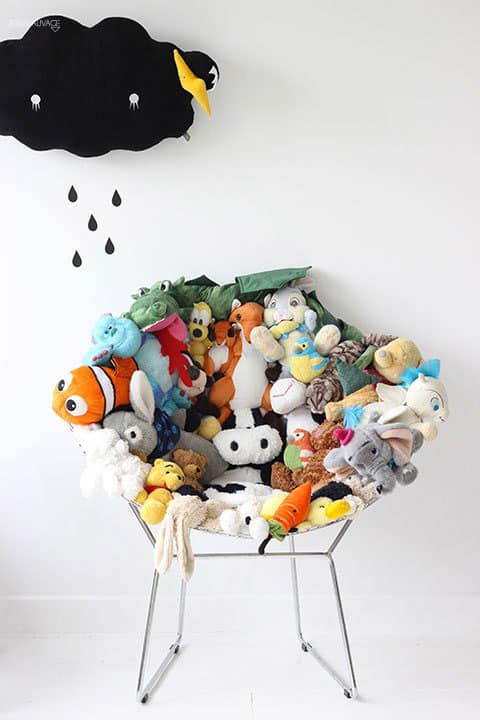 DIY Stuffed Animal Chair (via Jesussauvage)
Find out how to turn your kids' stuffed animals into the coziest and most comfortable chair they'll ever lay their tush on.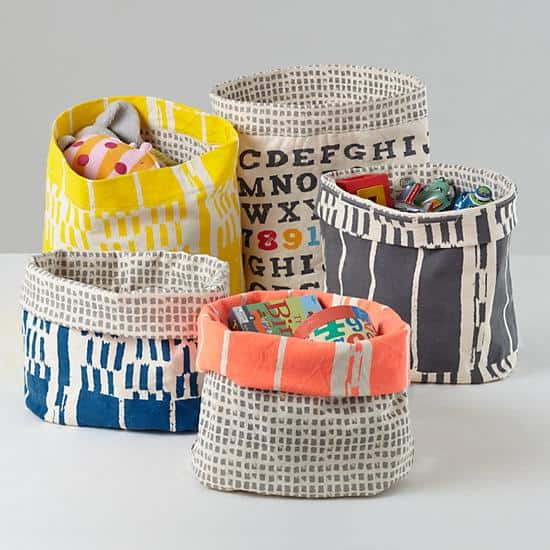 Landscape Floor Bins (via Land of Nod)
I have these versatile canvas bins in my children's playroom and love the pops of colors they add as well as their versatility and reversible patterns.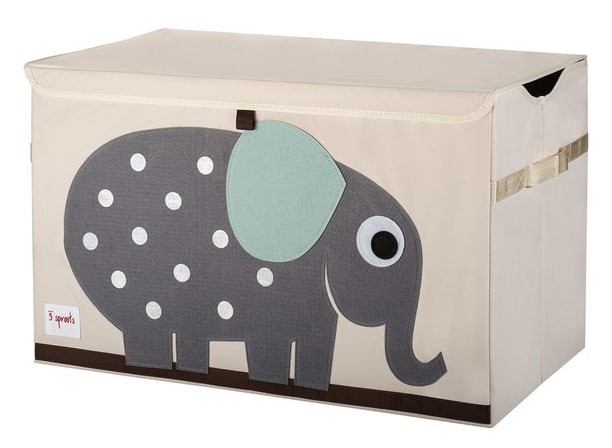 Animal Toy Chest (via 3 Sprouts)
These adorable toy chests come in various friendly animal designs and are great for keeping toys neatly tucked away.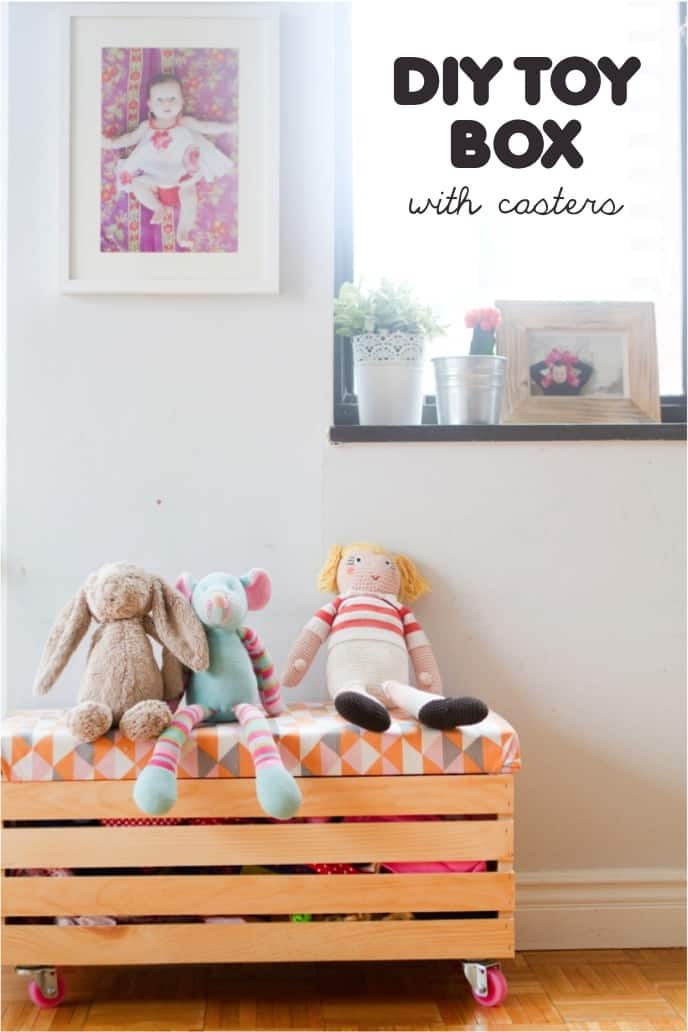 DIY Toy Box with Bench (via This Little Street)
Here's another simple way to transform a plain crate into a cute toy box. This one includes a cute fabric bench that gives it versatility and style.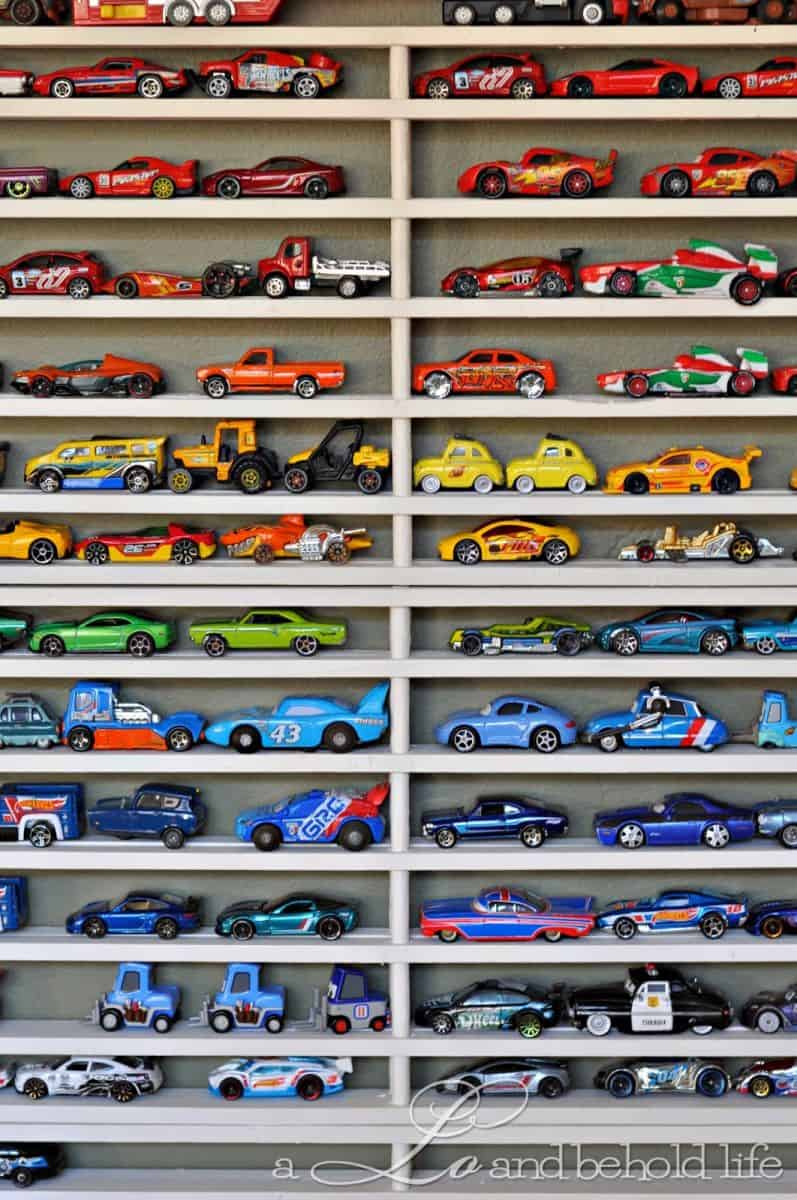 Matchbox Car Garage (via A Lo and Behold Life)
My little boy's Hot Wheels are everywhere so I love this clever tutorial on making a car garage just for them. This keeps them off the floor yet displays them easily to grab and play.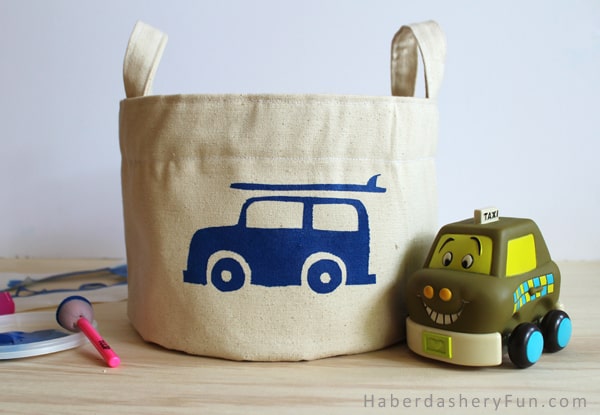 DIY Fabric Canvas Bin (via Haberdashery Fun)
This cute canvas bin is just the right size to fit small toys and is not an overly complicated sewing project. I love the custom screen printing you can add to the front.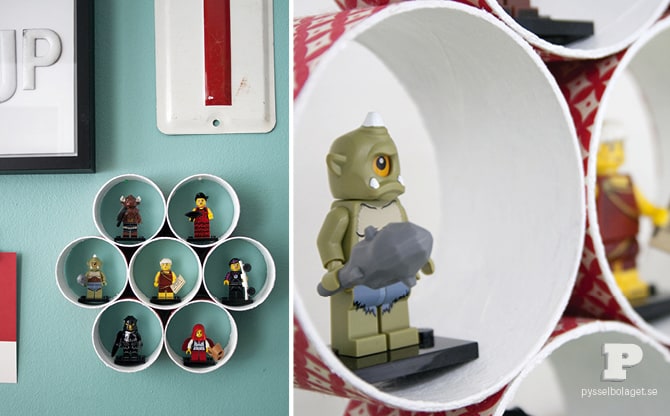 DIY Paper Tube Shelves (via Pysselbolaget)
An ingenious recycled project that shows you how to make attractive storage shelves out of paper tubes for displaying treasured figurines.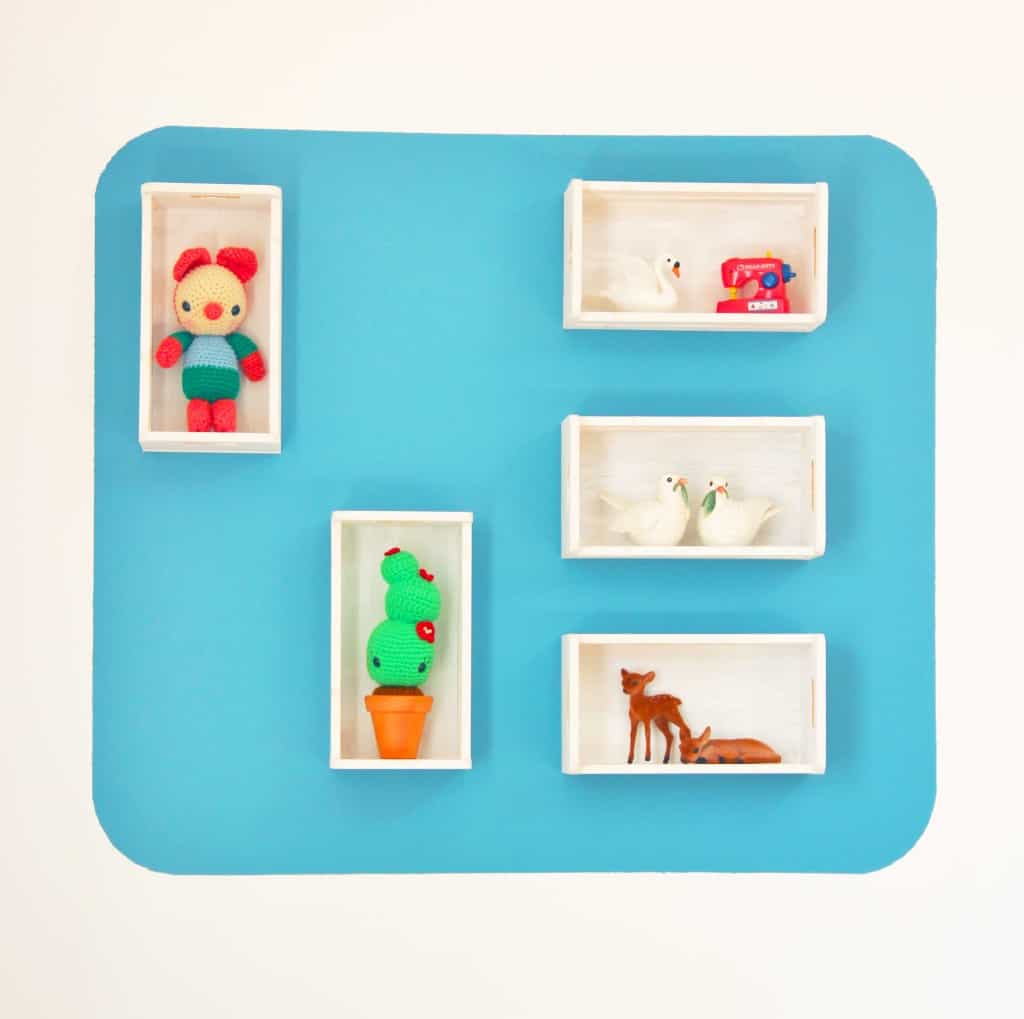 Colorblock Shadow Shelves (via Coelho Show)
Painting a bright color block on the wall is such a simple way to add color to your child's room. I also love the idea of using wooden boxes to create shadow boxes to display collectibles and toys.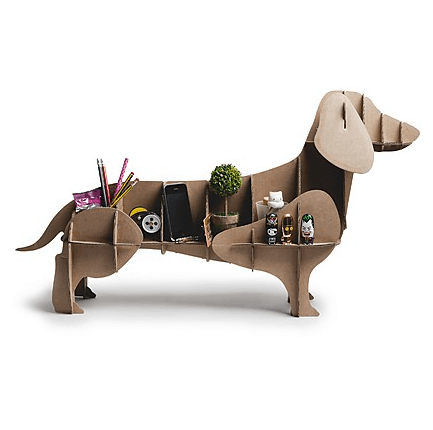 Dachshund Cardboard Storage (via Inhabitots)
If your kid's been begging for a puppy, this can stand in for now and provide some storage solutions for small knick knacks with no clean up or maintenance required.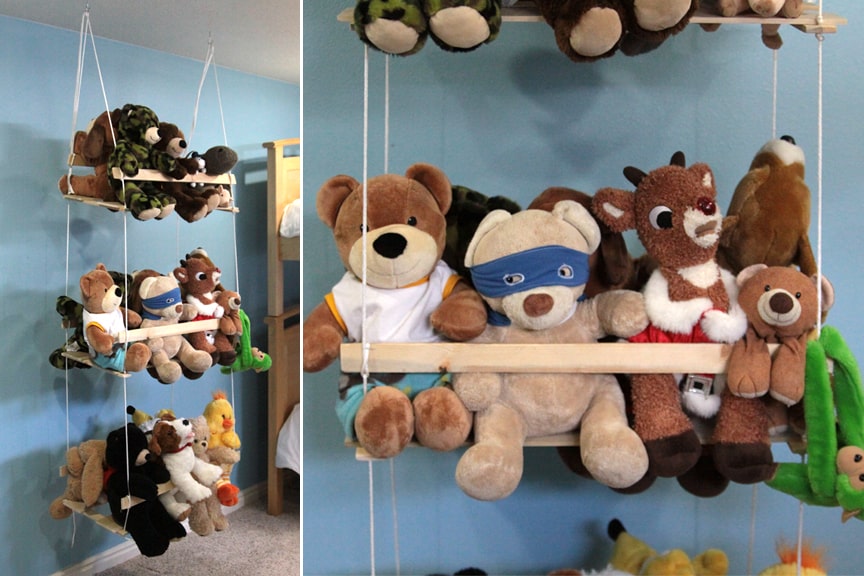 DIY Animal Swing (via It's Always Autumn)
How fun is this? Keep those plushies off the floor with this super fun DIY toy storage swing.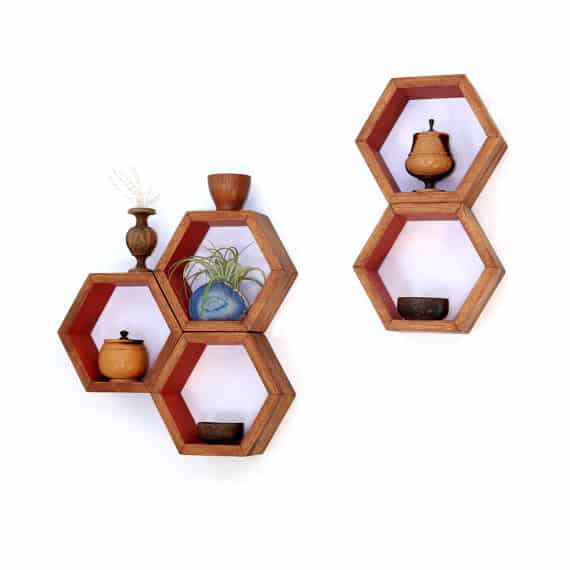 Honeycomb Shelves (via Haase Handcraft)
These beautiful handcrafted shelves add stylish decor to any room and are made to order, with several customization options (wood, interior color) and come in 3 sizes with add-on options.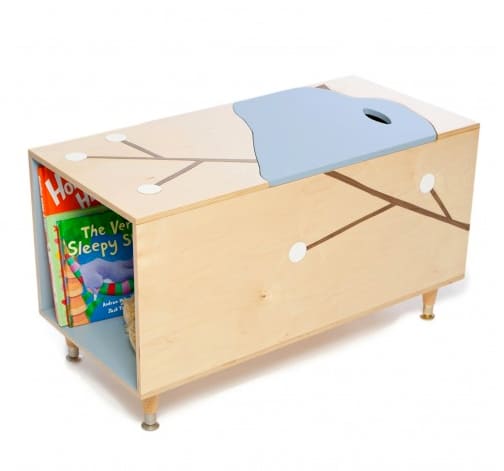 Wooden Toy Chest (via Mod Mom Furniture)
These sturdy modern toy chests become integrated pieces of furniture in your child's room, made of eco-friendly birch. They come in 3 sizes with different color and design options.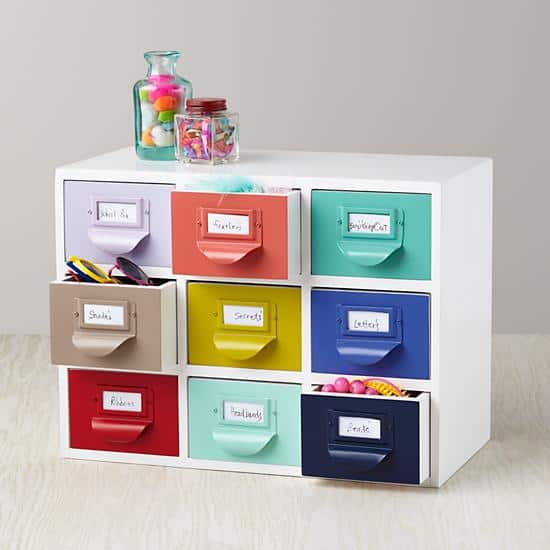 Reference Drawers (via The Land of Nod)
I have these colorful countertop drawers in my children's room and they are heavy-duty, perfect for holding my son's favorite cars and small pieces like marbles and beads.