Rainbows
are whimsical, magical and just have the ability to make people smile. Kids especially seem to love rainbows and in fact, it's one of the first thing my daughter learned to draw and continues to love drawing today. We decided to host a rainbow themed party for her upcoming 5th birthday and so I knew this would be a super fun list to share with you all. Here are 12 magical, rainbow inspired ideas for a colorful party with adorable ways to make kids feel like they can see the rainbow.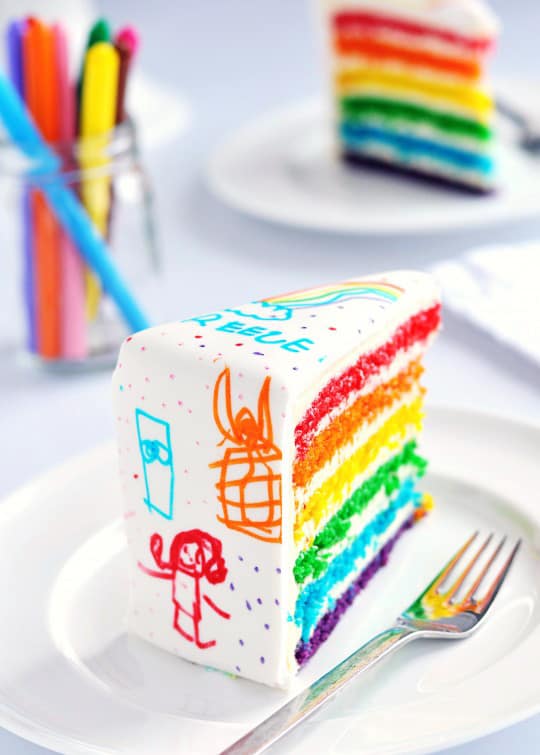 Rainbow Doodle Cake (via Sweetapolita) Imagine if you could eat your cake and decorate it too! This sweet idea is a fun way to make your birthday guest of honor feel extra special.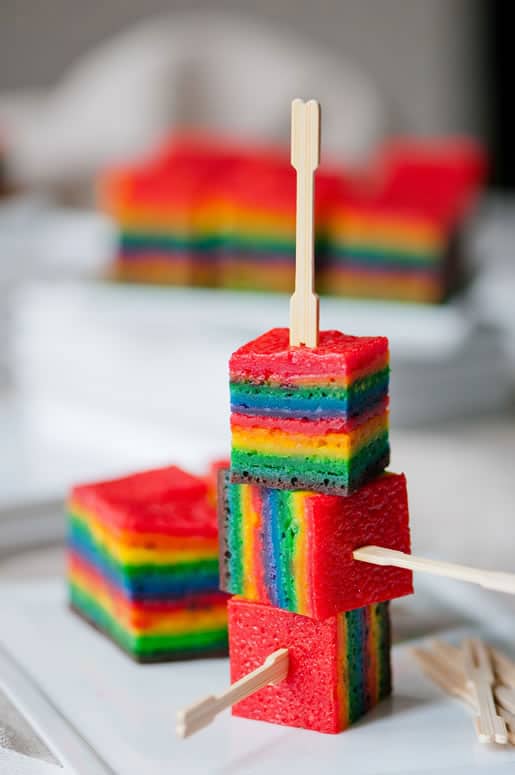 Rainbow Treats (via hello, Wonderful) We love rainbows so much we made up a list of 10 magical rainbow treats. Check it out and be amazed by all the ways you can turn an ordinary treat into something truly dazzling.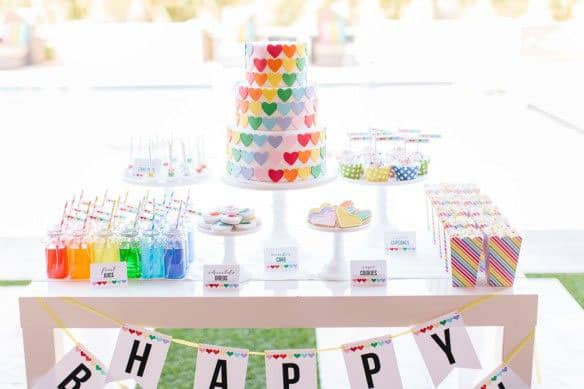 Rainbow Hearts Party (via The Tomkat Studio) You'll be swept away by this amazing take on a rainbow party, full of hearts and happy touches. And it's actually something you can replicate with the printable set you can purchase via Tomkat Studio.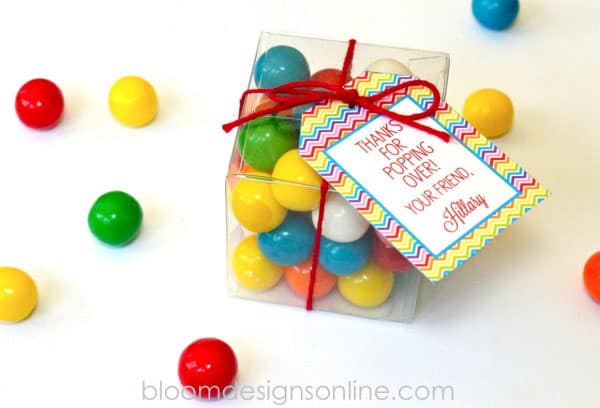 Free Printable Rainbow Tag (via Bloom Design) Here's a festive free printable rainbow tag which coordinates so well as shown here with brightly colored gumballs as party favors.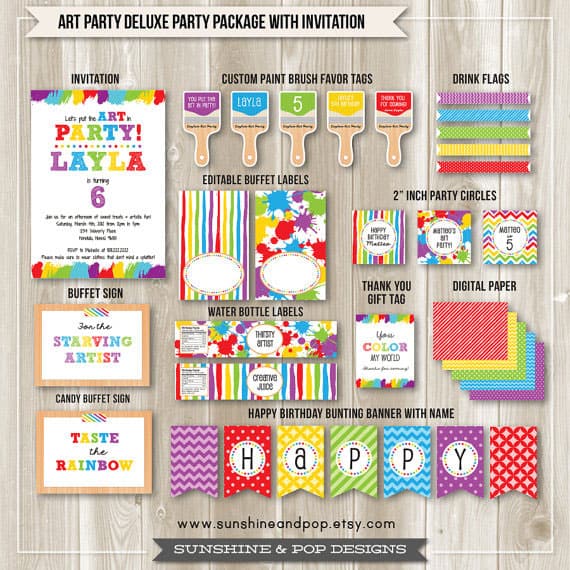 Art Party Rainbow Party Package $42. This adorable printable party set is also art themed so you can combine two themes into one if you're also planning to incorporate a fun art project to your party.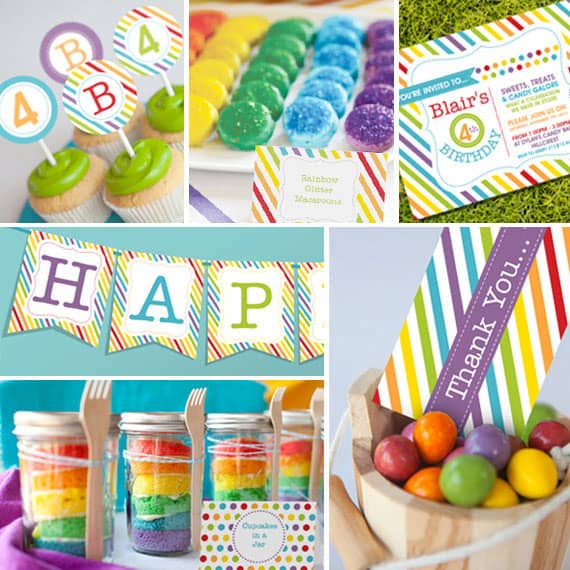 Rainbow Party Candy Theme $18. Another fun set of party printables. I like the simple lines and dots which are versatile, modern and appropriate across ages for younger or older kids.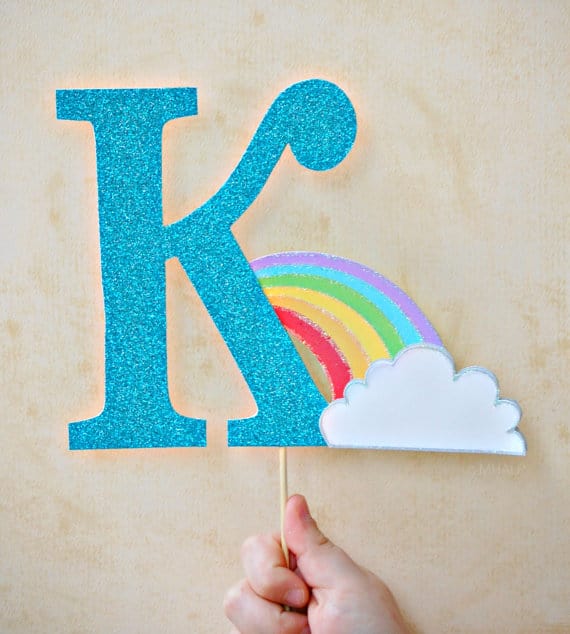 Custom Rainbow Cake Topper $14. Give the birthday guest an extra special glittery touch on her cake with this handmade rainbow topper you can personalize with either initial or age.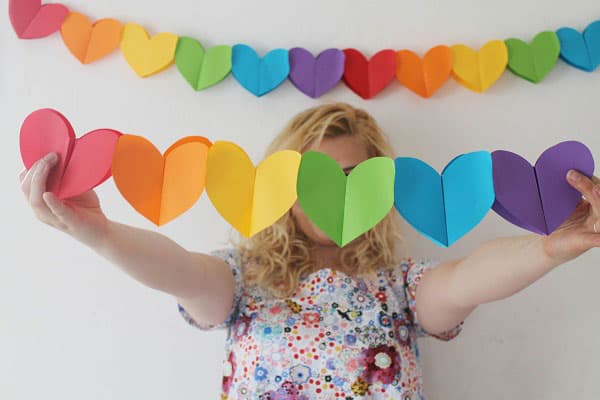 DIY Paper Heart Garland (via Studio DIY) A sweet way to put a handmade touch to your rainbow party. Bonus: this paper heart garland also folds up so you can reuse it easily. Perhaps for Valentine's Day?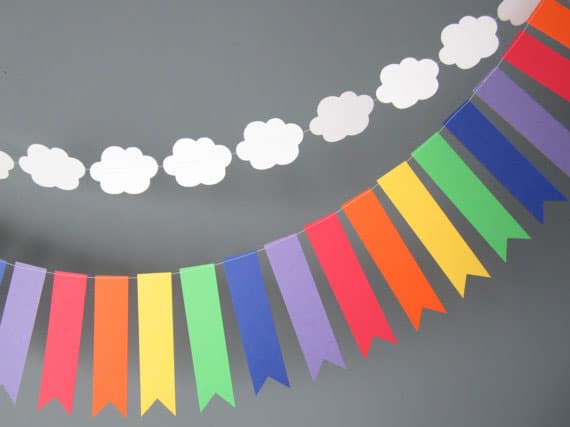 Rainbow and Cloud Garland $25. If you're not into DIY'ing it, this wonderful rainbow banner makes a pretty showstopper to any rainbow party and actually comes as two garlands (cloud and rainbow).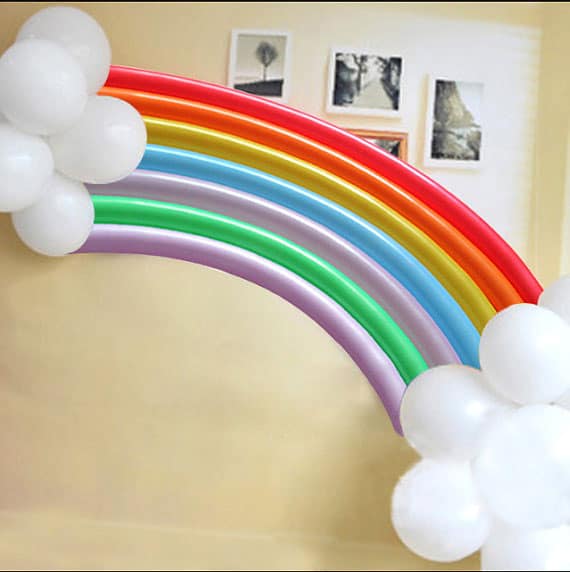 Rainbow Balloon Backdrop $9.95. This dashing over the rainbow backdrop makes an adorable photo scene to really capture the fun at your party.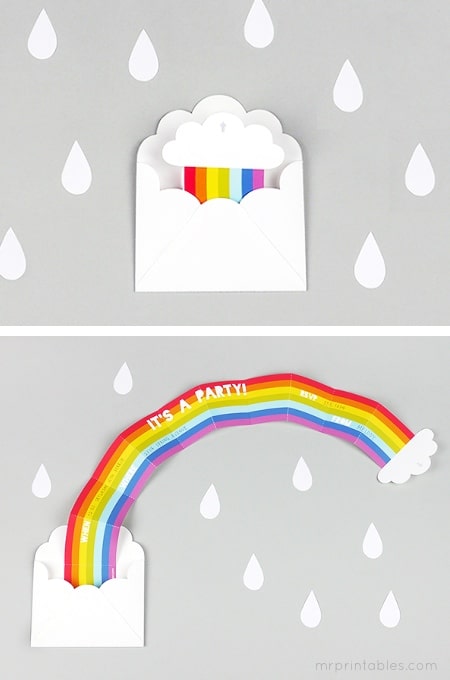 Free Printable Rainbow Party Invitation (via Mr. Printables) Imagine your guests' surprise and delight when this cute surprise pops out. A whimsical way to announce what's in store.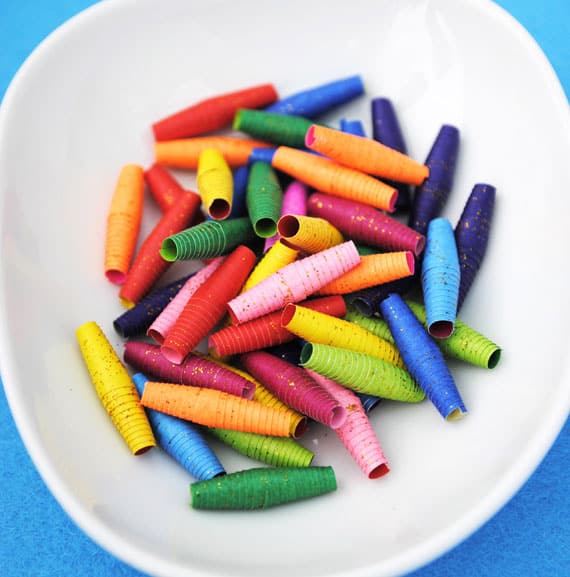 Rainbow Paper Beads (via Mini-Eco) If you're looking to add a fun craft to your rainbow party, these colorful paper beads require few materials and will keep kids engaged. Plus, they also make cute accessories such as necklaces, pins or bracelets.