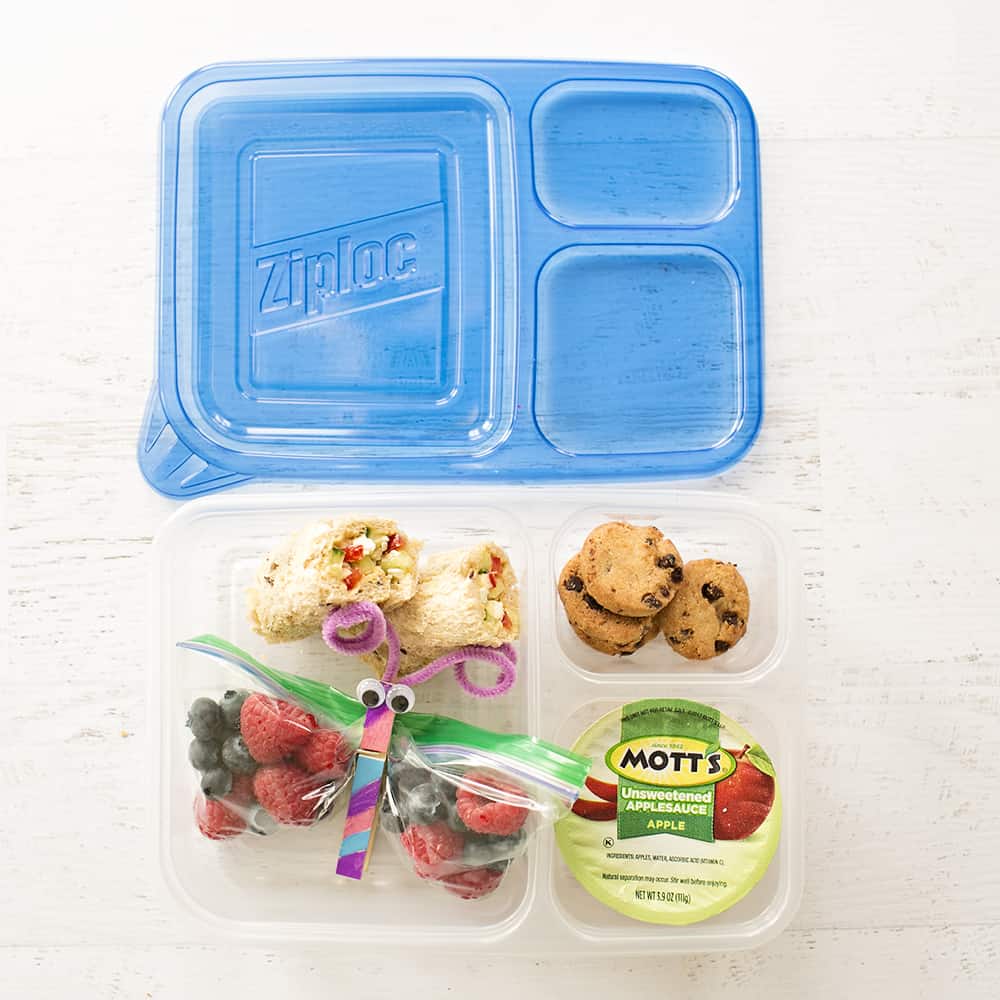 This post is sponsored by Mott's®, NABISCO, and ZIPLOC® brand . All thoughts and opinions are my own.
Do you ever wish you had a lunch packing fairy? Packing lunch for the kids is one of those polarizing parenting moments. I feel like an awesome mom for taking the time to pack my kids lunch, but struggle with making it easy and fun with the hectic schedule of work/life/parenting.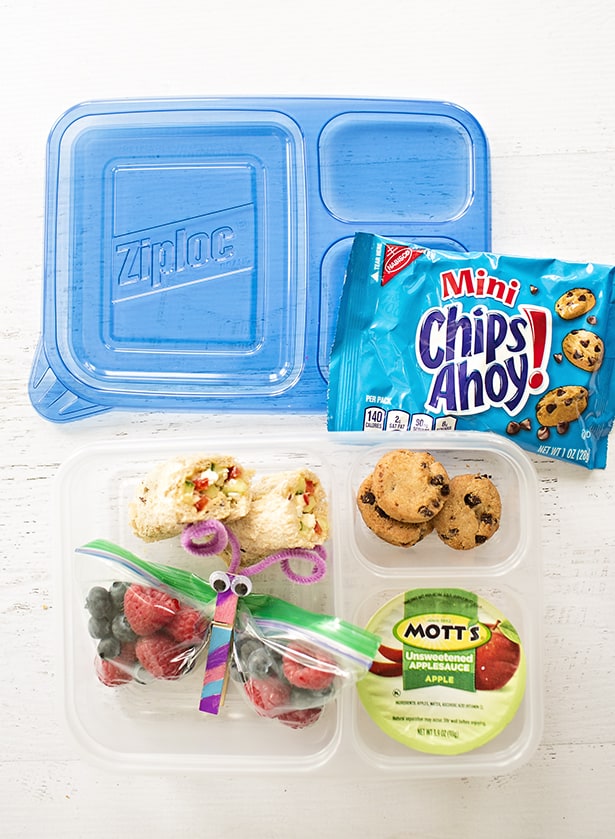 I've come to realize, packing lunch doesn't have to be difficult. It can actually be fun if you use some neat and simple tricks. It also doesn't mean you have to sacrifice wholesome foods. Like life with kids, there's a balance when it comes to packing lunch.
One of my favorite creative lunches (one I actually enjoy and not just for the kids) are these easy vegetarian sushi rolls. These are simple to prep ahead of time (slice up veggies and keep in the fridge) so it's a matter of assembly. If you're like me and wait until mornings to pack lunch, these take less than 10 minutes and are a lifesaver!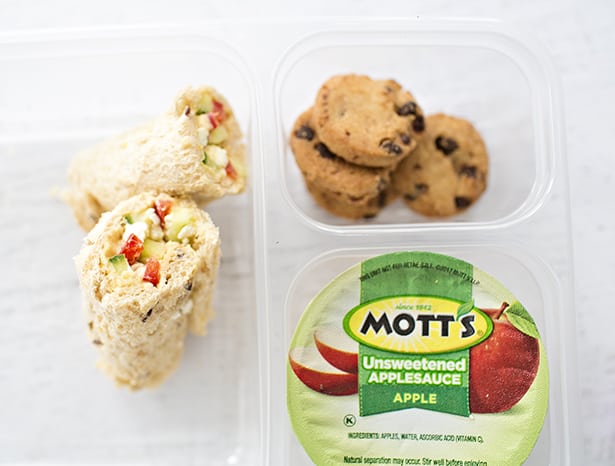 Plus, the kids get a big kick out of eating "sushi" for lunch. And if you have older ones, get them to work and let them do the assembly and rolling.
Lunch is often rounded out with a delicious snack, like a pack of the kids' favorite Mini Chips Ahoy! Cookies . My kids love fruit so I often pack a Mott's unsweetened applesauce in addition to some fresh fruit. The applesauce pouches are easy to throw into the lunch box when you need extra fruit.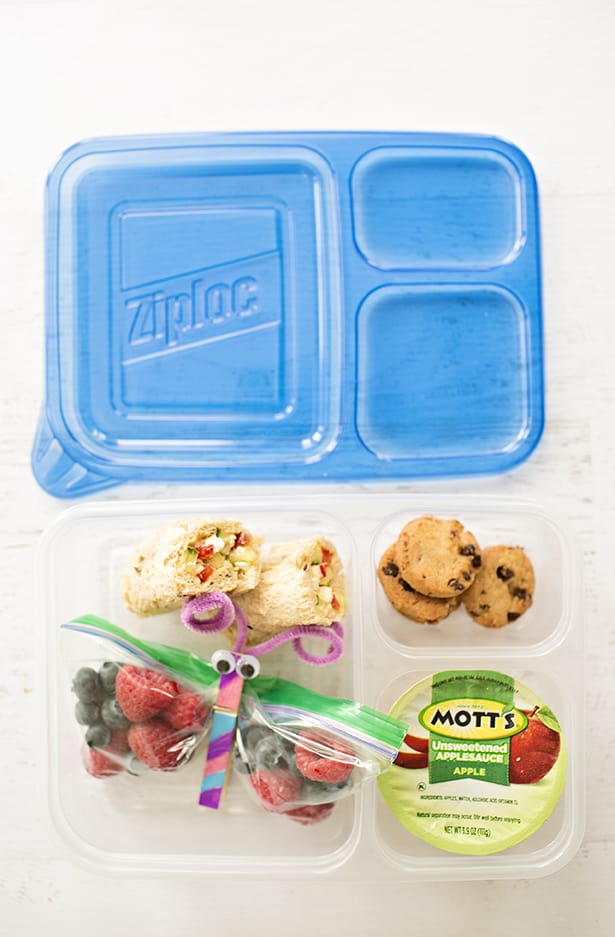 Mixed berries are one of our favorite go-to fresh fruits to pack since you don't have to peel or slice anything. To make the lunch extra special, I like using ZIPLOC® brand Snack or Sandwich bags to create a cute butterfly. All you need to make this is a painted clothespin, googly eyes and curled pipe cleaners for the ears – clip to the middle of your plastic bag and you've got yourself a pretty butterfly!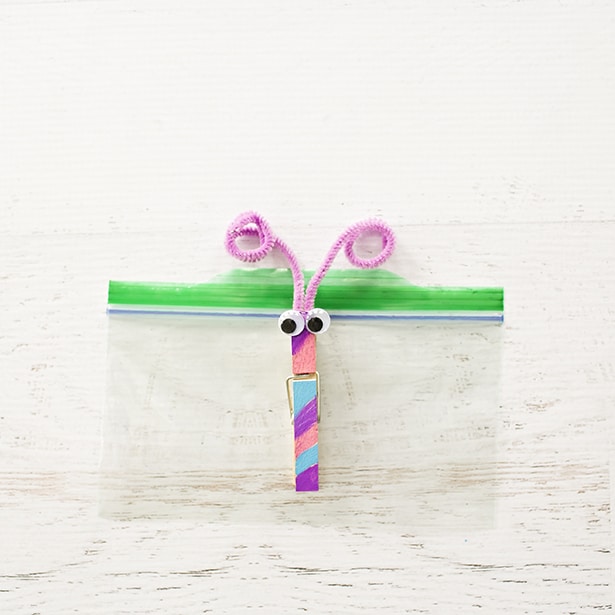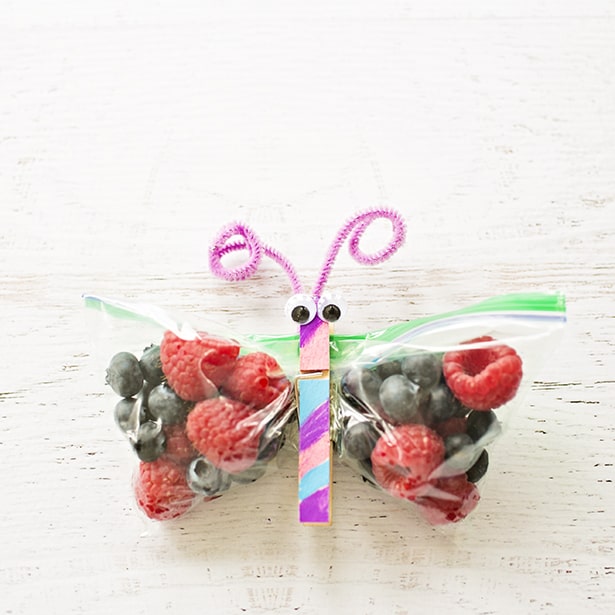 Once you've got your veggies and bread rolled up into "sushi" everything is just a matter of assembly. We enjoy using ZIPLOC® brand's Lunch Bento Box to easily compartmentalize the food.
Get the recipe for these easy Vegetarian Sushi Rolls below and lunch snacks to pair with it: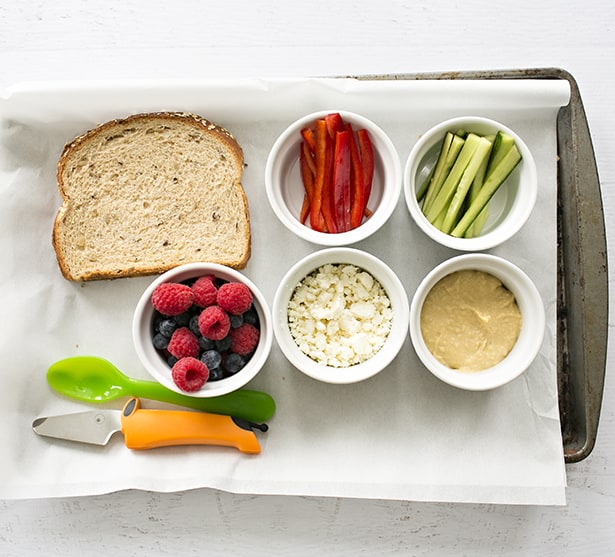 Ingredients:
– One slice of wheat bread
– 2 TB of hummus
– Sliced red bell pepper and cucumbers
– Crumbled Feta cheese
– Mini Chips Ahoy! Cookies
– Mott's unsweetened applesauce
– Mixed berries
– Water
– ZIPLOC® brand Bento Box
– ZIPLOC® brand Sandwich or Snack bags
– Painted clothespin, googly eyes, pipe cleaner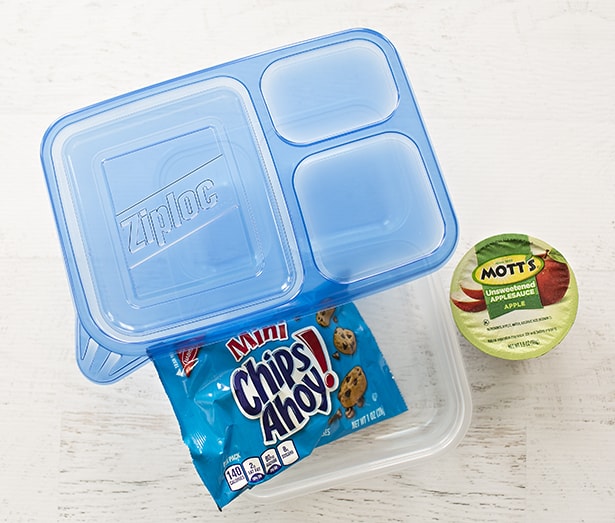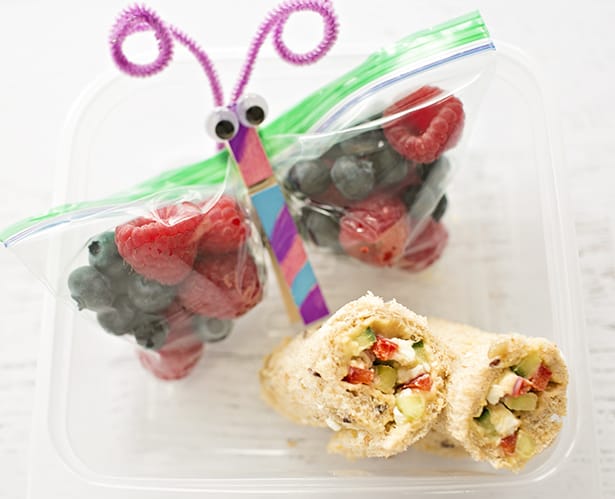 Instructions:
Step 1. Cut off the crust of your bread.
Step 2. Spread hummus onto your slice of bread. Layer your sliced bell peppers and cucumbers. Sprinkle Feta cheese on top.
Step 3. Roll and cut into two pieces.
Step 4. To make the butterfly berries, add mixed berries to your ZIPLOC® brand snack or sandwich Glue googly eyes to your painted clothespin, Curl two pieces of pipe cleaners. Add your clothespin to the center of the bag and clip on the ears at the top.
Step 5. Assemble your lunch in your ZIPLOC®brand Bento Box by adding the sushi rolls, mixed berries butterfly, Mini Chips Ahoy! Cookies , and Mott's Unsweetened Applesauce into the divided compartments.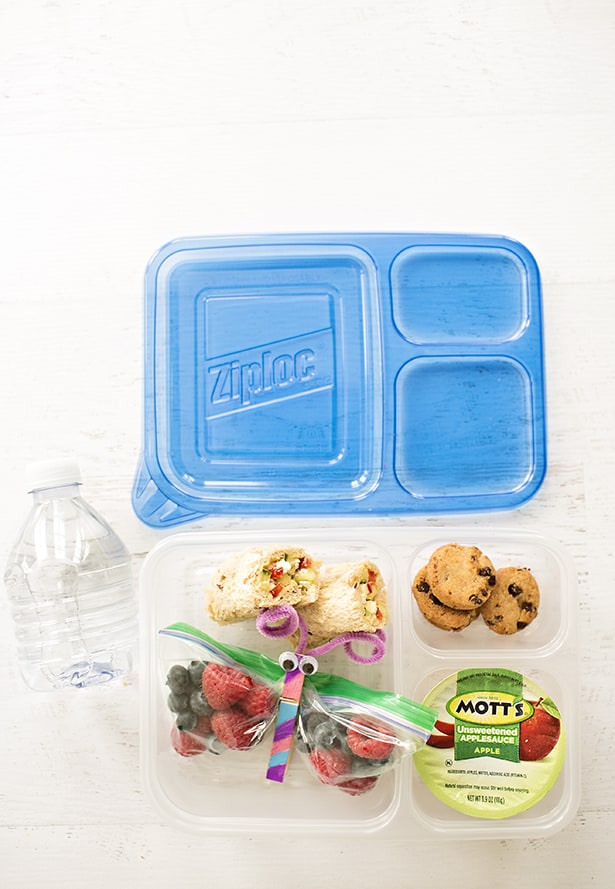 What are your favorite creative and simple ways to pack lunch for kids?
Check out where to find the products listed above HERE.
For additional Bento Box Lunches Made Easy, click HERE. Right now you can also save on Mott's Applesauce and Apple Juice at Target. Check out the Cartwheel app for details!