My daughter just turned 5 and we threw her a small rainbow + fairy house party with 6 of her closest friends. You can read all about the fairy house craft here. The rainbow party details are below, including how we made mini rainbow cakes and caramel apples.
With a printable party pack from Etsy's Sunshine Parties and pretty party supplies from from Sweet Lulu, the decorations were simple to assemble and provided just enough of a colorful touch, while keeping the theme simple and sweet. Perfect for a group of 5 year old girls!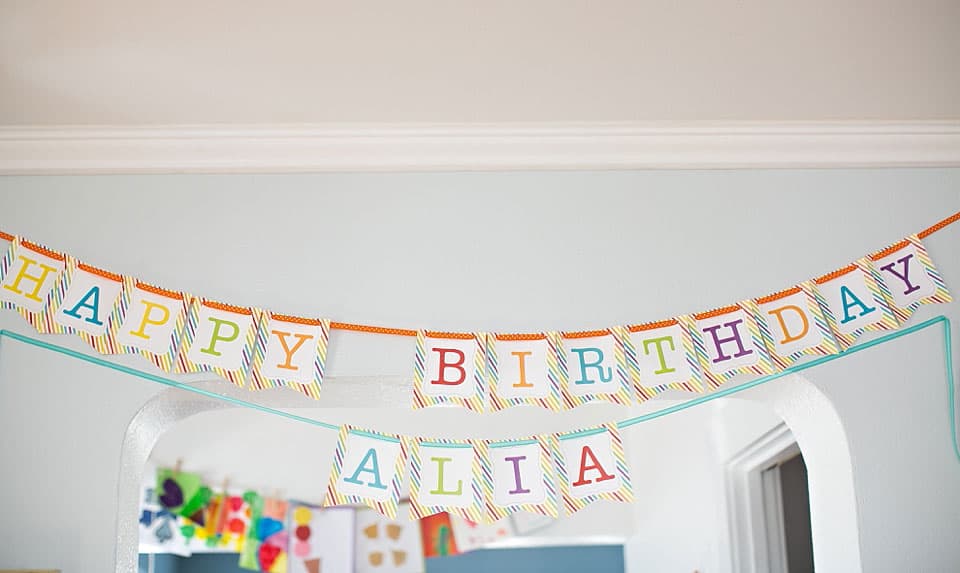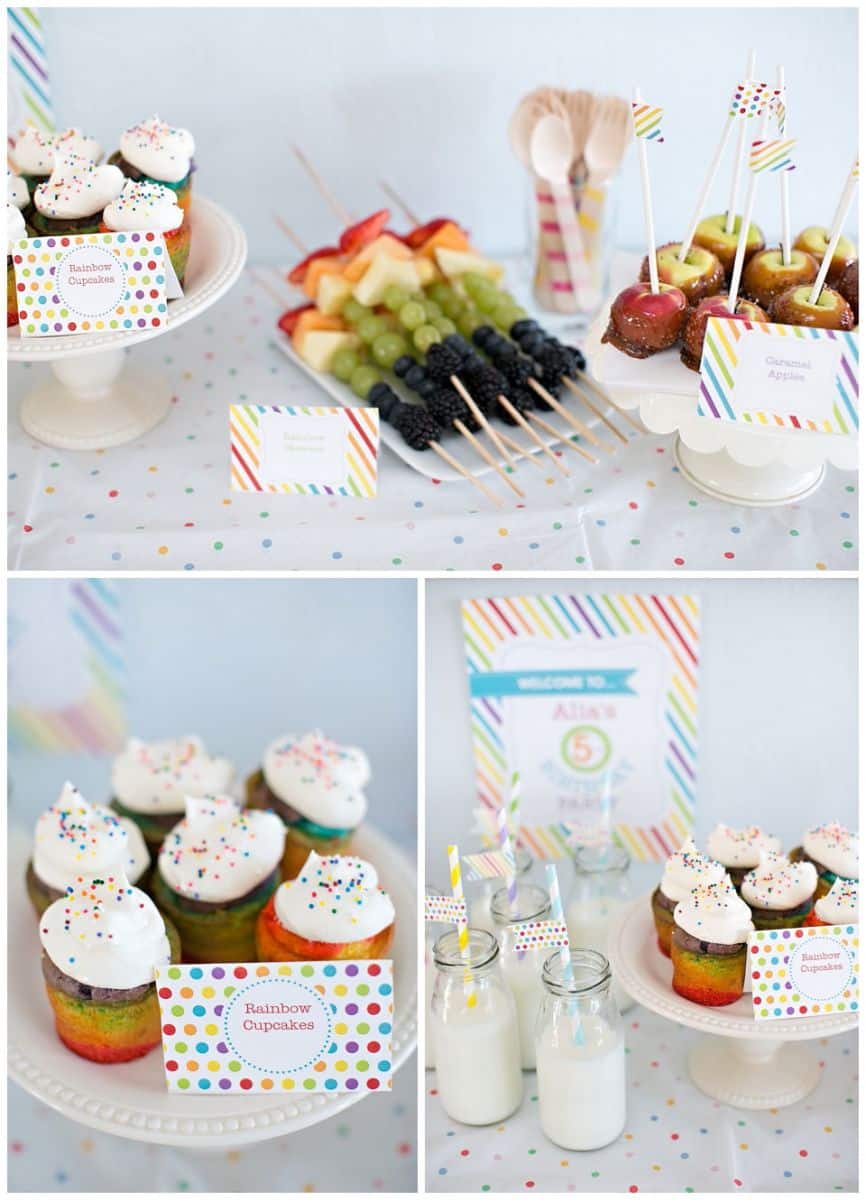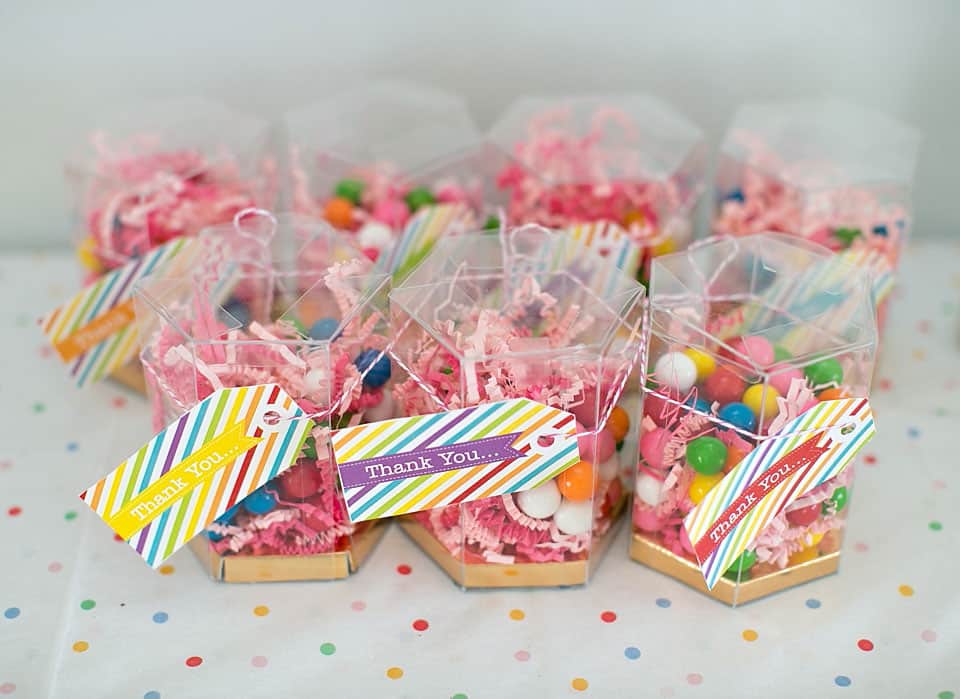 Party favors were colorful gumballs in clear favor boxes from Sweet Lulu.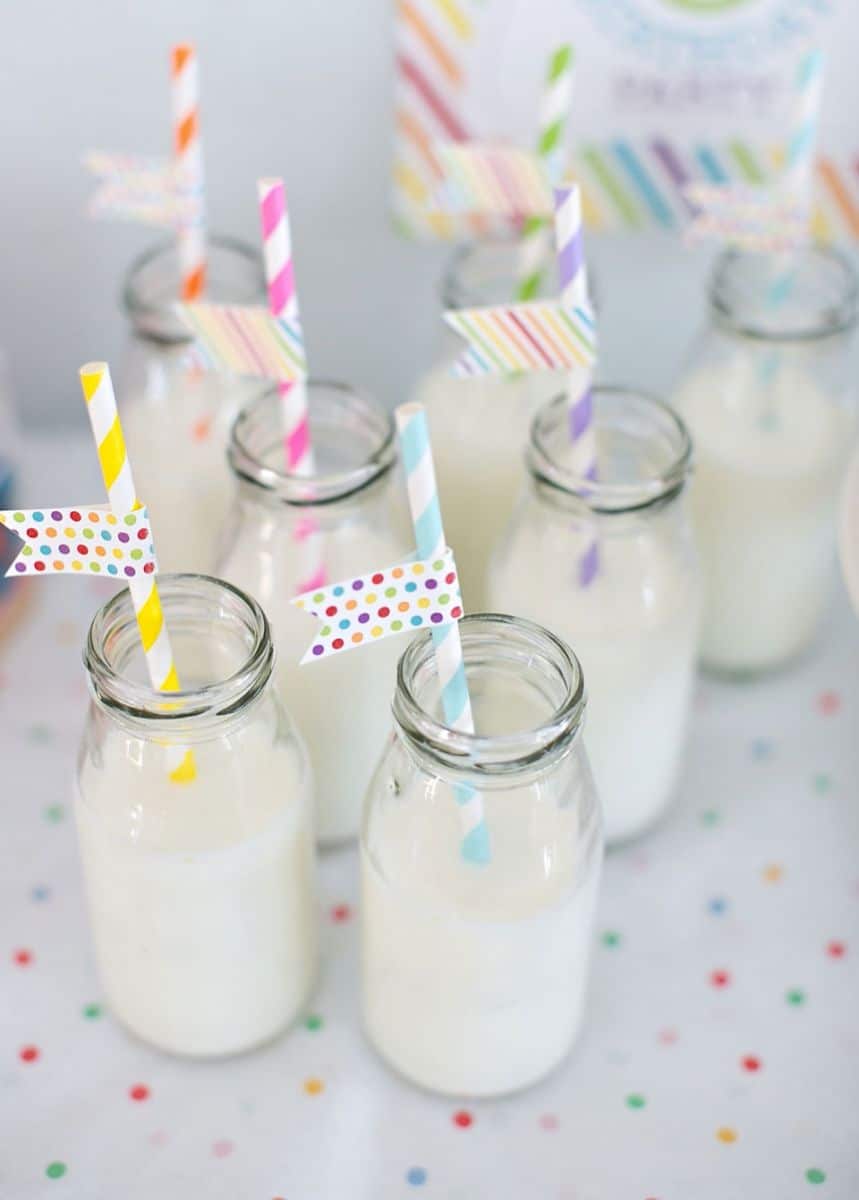 Milk in glass jars provide a nice vintage touch and I love that they can be re-used for future parties.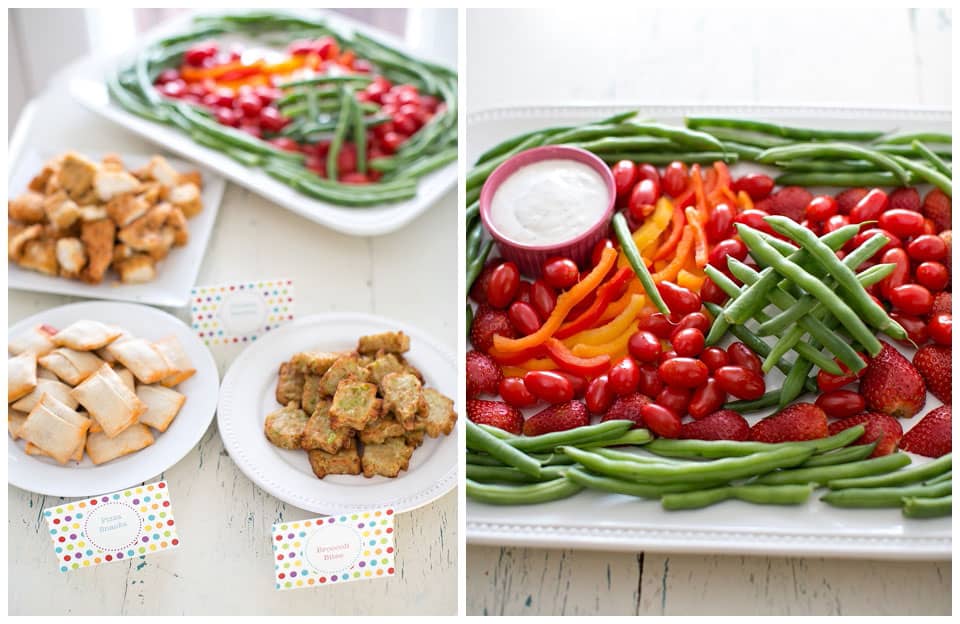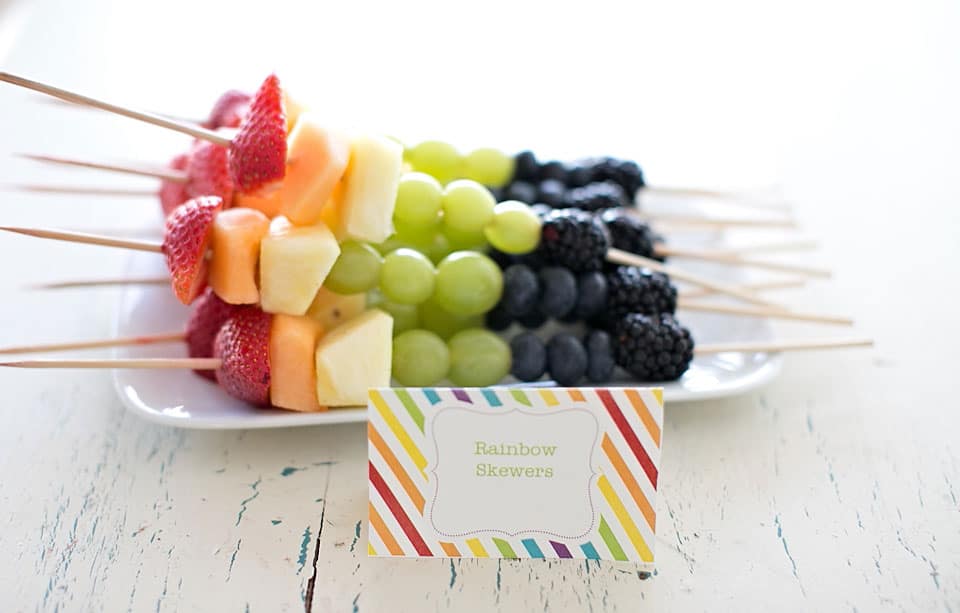 We kept the food simple and kid-friendly with chicken tenders, pizza snacks, broccoli bites, rainbow veggies and of course rainbow fruit skewers.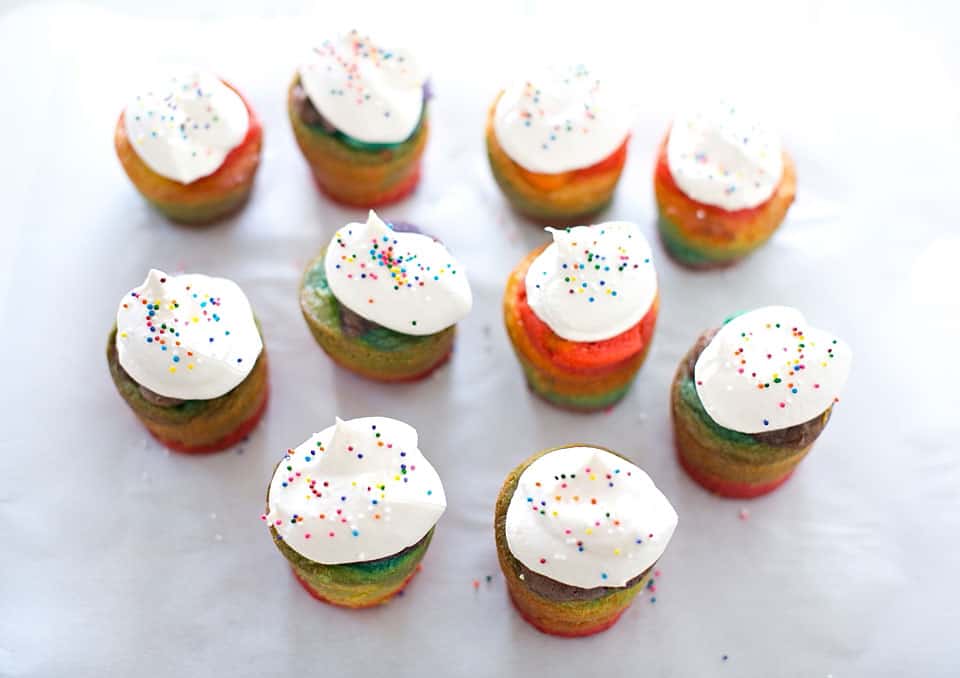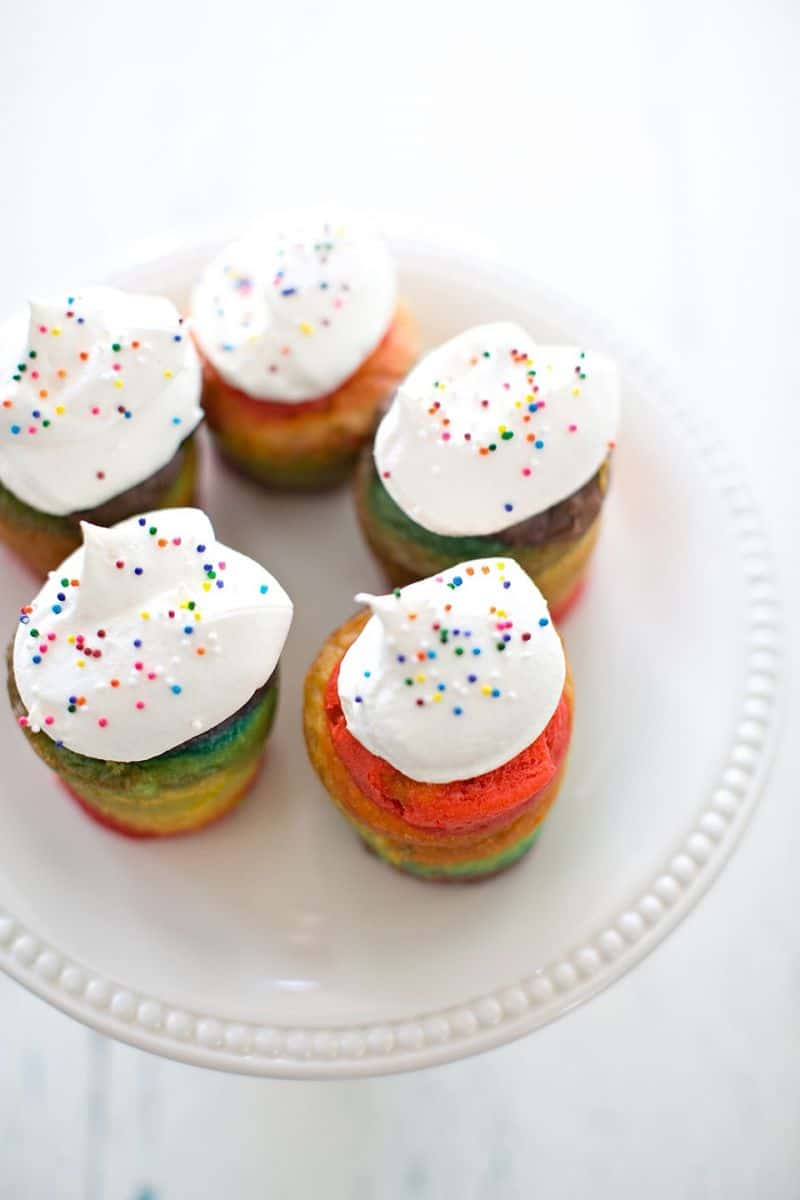 The big attraction was the mini rainbow cakes. My daughter and I prepared them the night before and followed the tutorial from Say Yes To Hoboken.
Mini Rainbow Cakes – Ingredients:
– Your favorite white or yellow cake mix
– Food coloring (we used Wilton's Icing Colors)
– Mini glass jars
– Baking non-stick spray
– Whipped topping
– Rainbow Sprinkles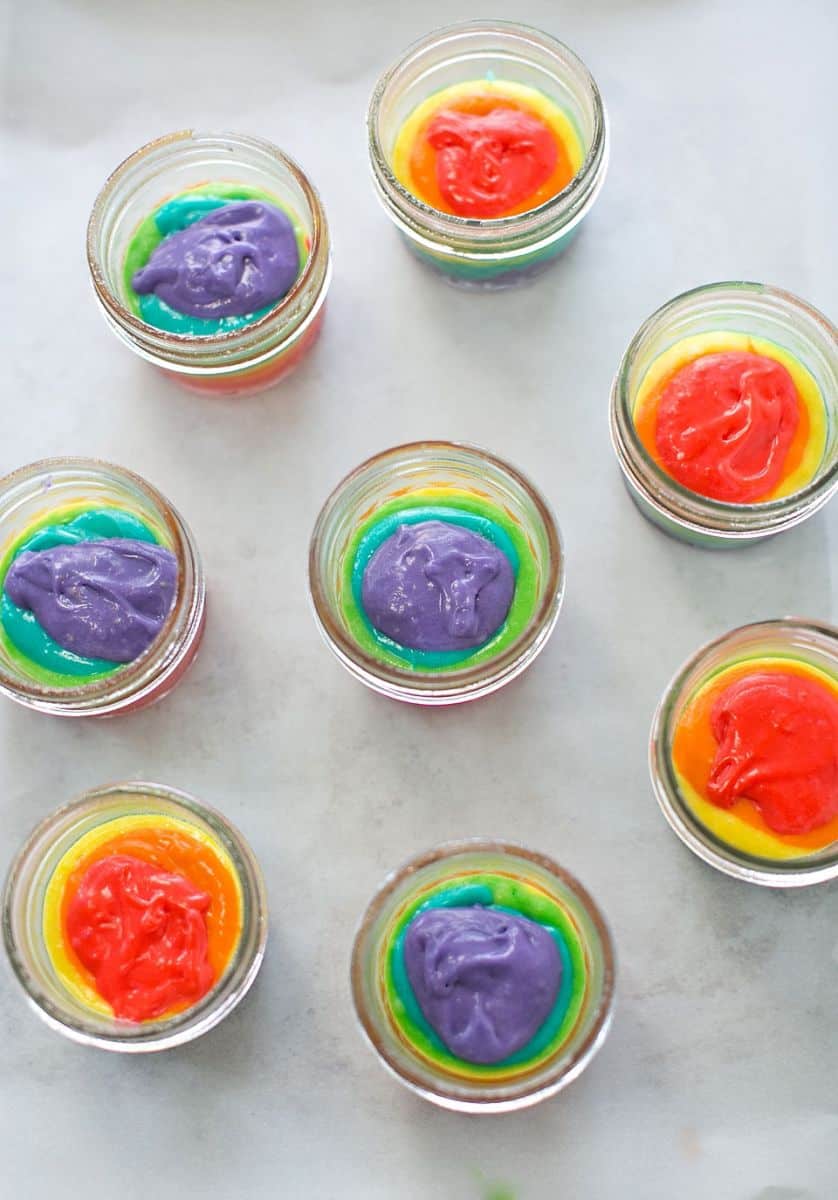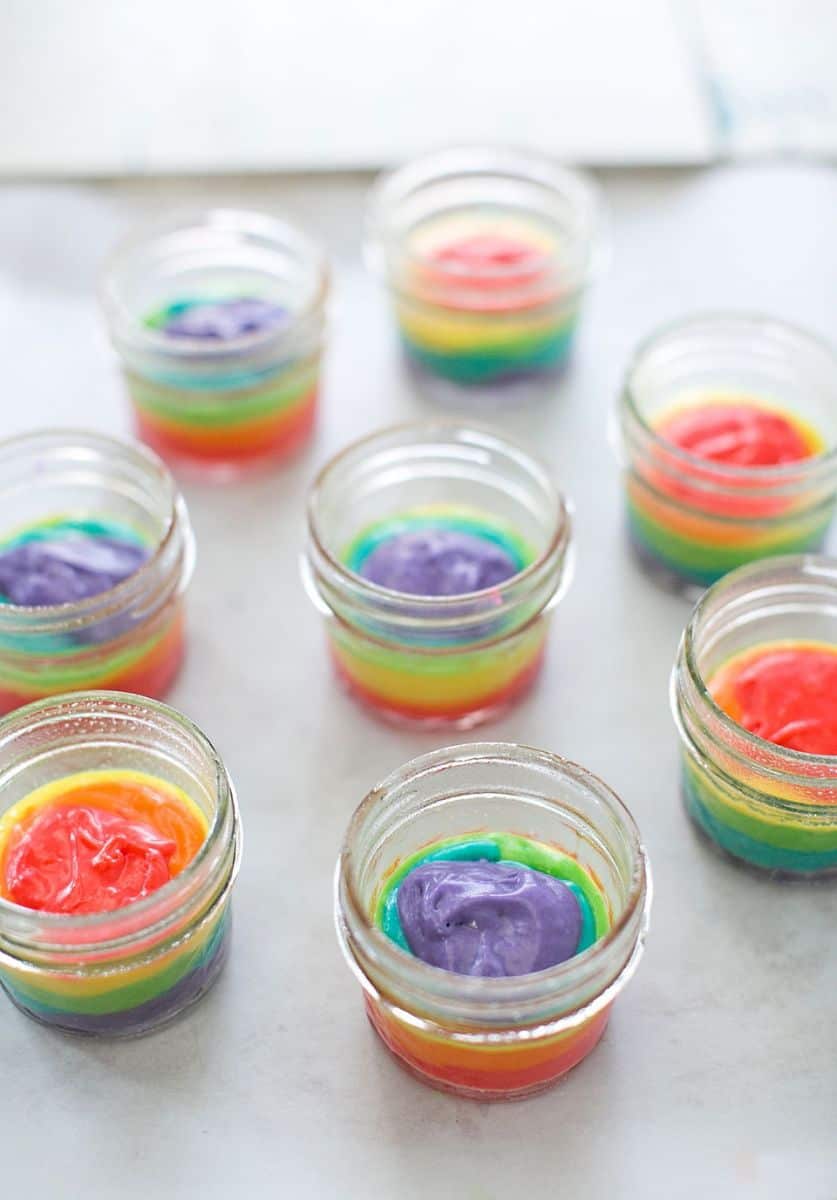 Steps:
1. Follow the cake mix directions to make the cake and separate the batter into 6 small bowls. Add the food coloring in the colors of the rainbow to each bowl and mix until the batter is uniformly colored.
2. Spray glass jars with non-stick spray. Spoon each color into the glass jars as layers.
3. Bake until the tops are firm to touch and spring back lightly.
4. Once cool, remove from the jars, frost with whipped topping and decorate with sprinkles.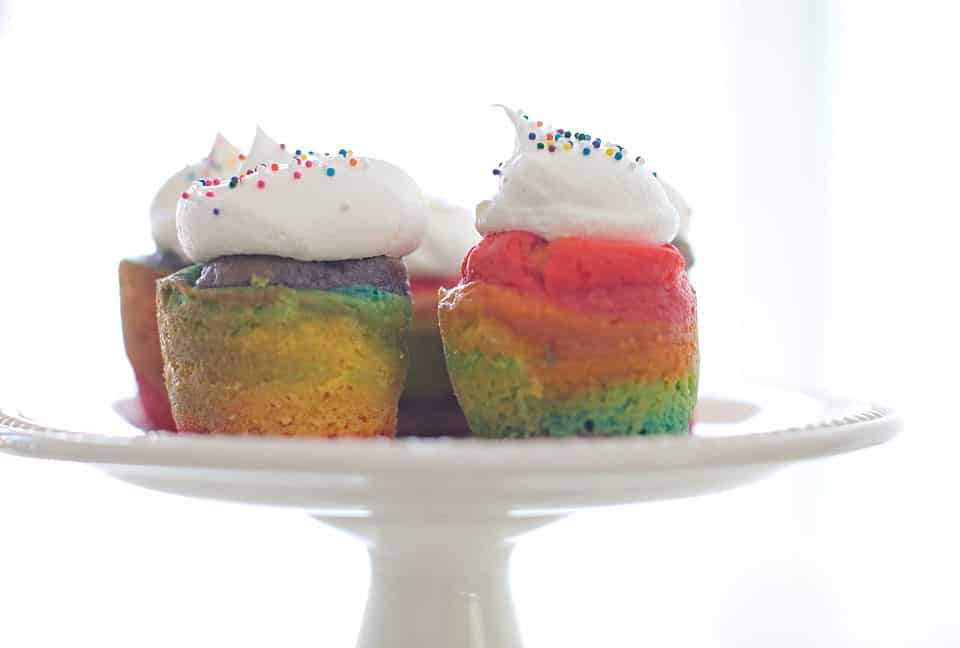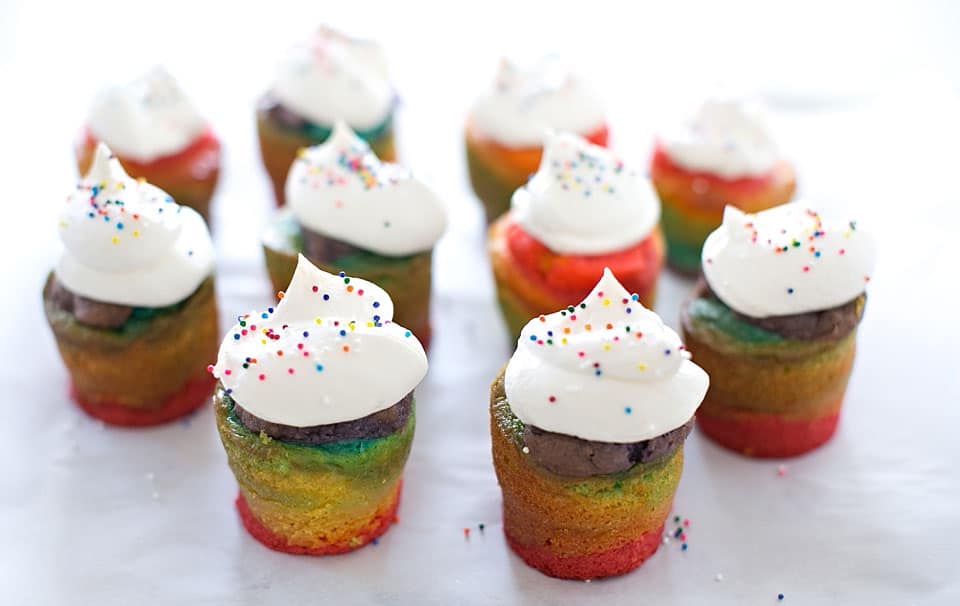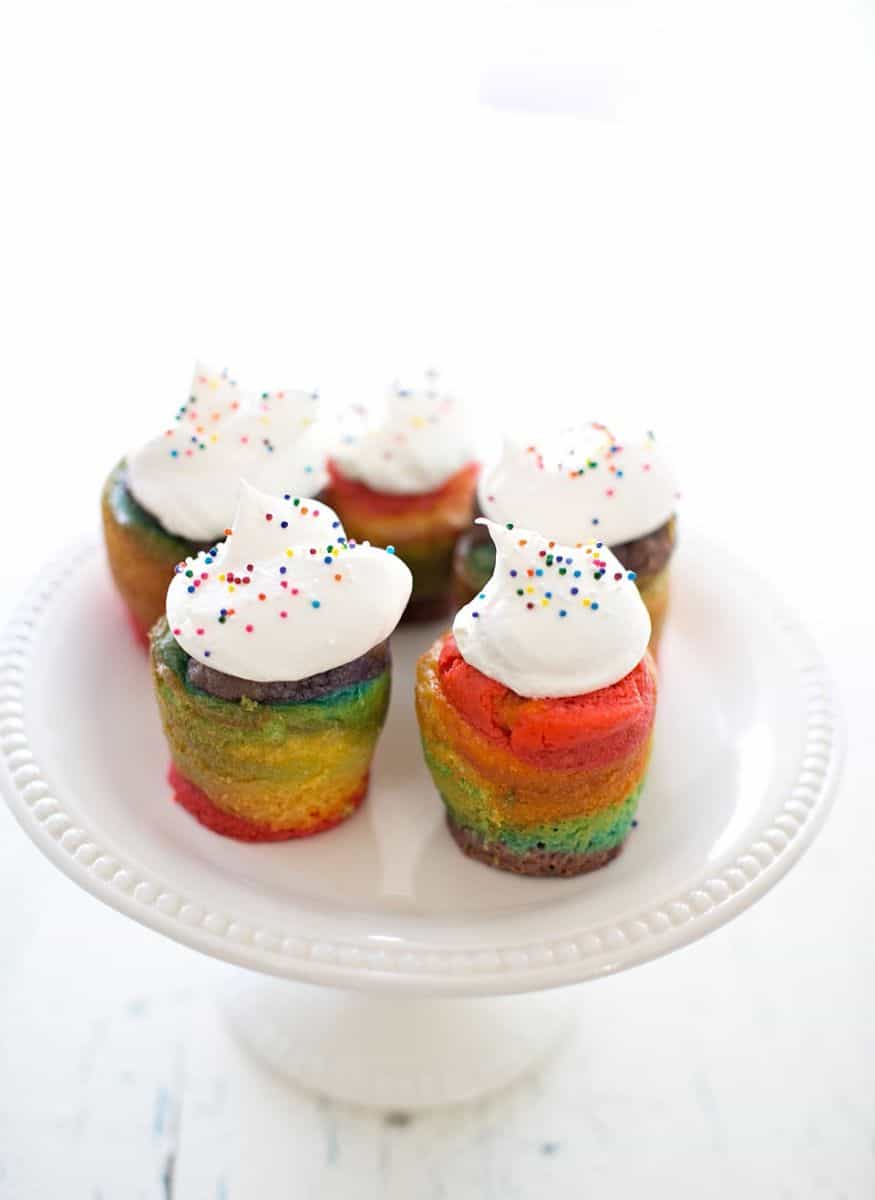 Not only were the mini rainbow cakes easy to assemble, they looked so festive and were a fun baking activity to do with your kids!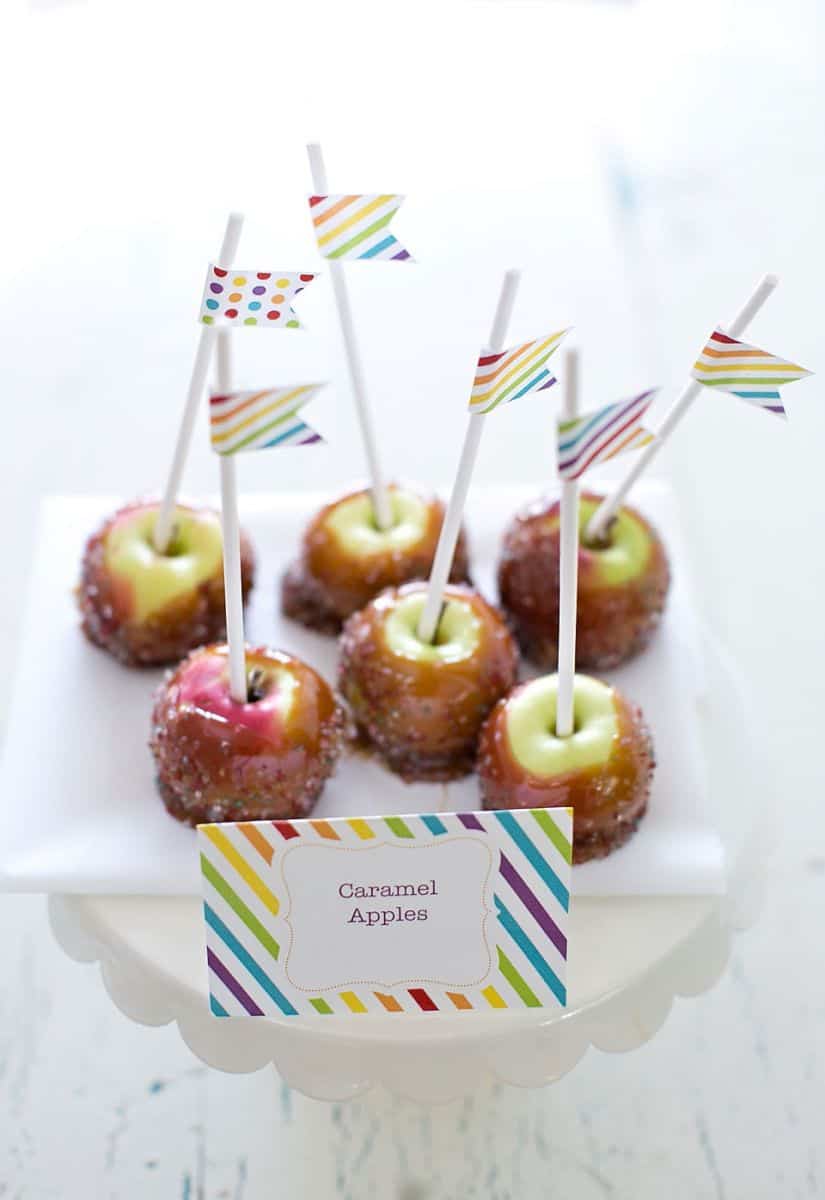 The other treats we had were mini caramel apples. These were also easy enough for little hands to help make.
Mini Rainbow Caramel Apples – Ingredients:
– Mini crab apples
– Lollipop sticks
– Caramel sauce (the kind you find in a jar, typically near the ice cream toppings section at the grocery store)
– Rainbow sparkling sugar
Steps:
1. Warm the caramel sauce in the microwave until warm enough to pour into a bowl.
2. Add a lollipop stick to each apple
3. Gently swirl each apple with caramel sauce and then sprinkle sparkling sugar over it.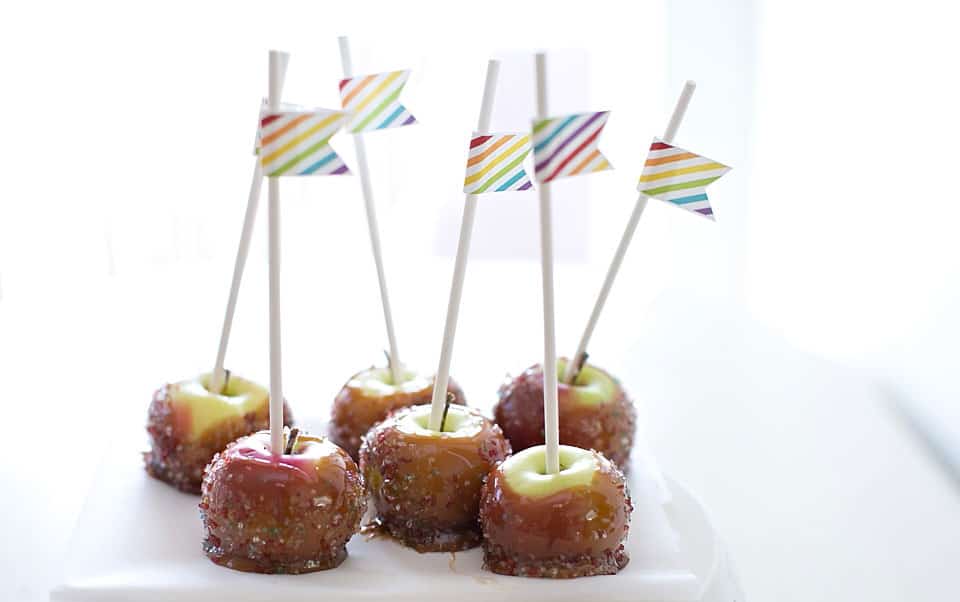 That's it! So easy and the perfect size for little fingers to hold and grab.
For more rainbow inspiration, see 10 Magical Rainbow-Colored Treats and 12 Colorful Rainbow Party Ideas.