By using this site, you agree to our Terms of Use. This post may contain affiliate links. Read our disclosure policy.
Follow us on Instagram for more fun ideas for kids!
Make festive holiday art with the kids with this fun and colorful watercolor Spray Paint Christmas Tree Art!
Christmas is right around the corner! If you're like me, you've been prepping your home for the holidays by putting up decorations and buying gifts.
There is something about Christmas art that makes everything feel a little more festive, and art is the perfect way to show your friends and family how much you love them!
This Spray Paint Christmas Tree Art project is super easy to do. All you need are the printable, watercolor spray paints, a couple of Q-Tips, and a blank canvas.
Kids can help you get started by choosing the colors for your art and applying the lights with a Q-Tip. Once your tree is painted, hang it up on your wall and enjoy!
It's the perfect way to show your friends and family that you love them this holiday season. If you're looking for an easy and festive project to do, look no further!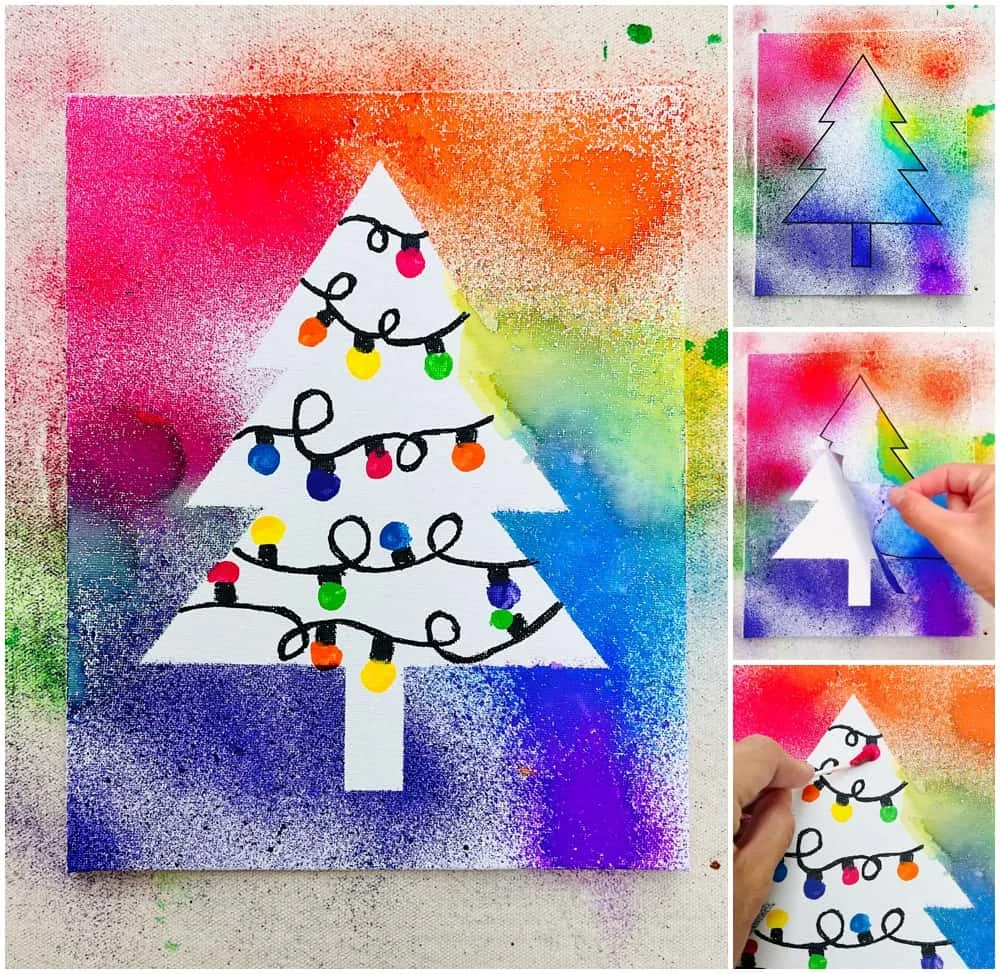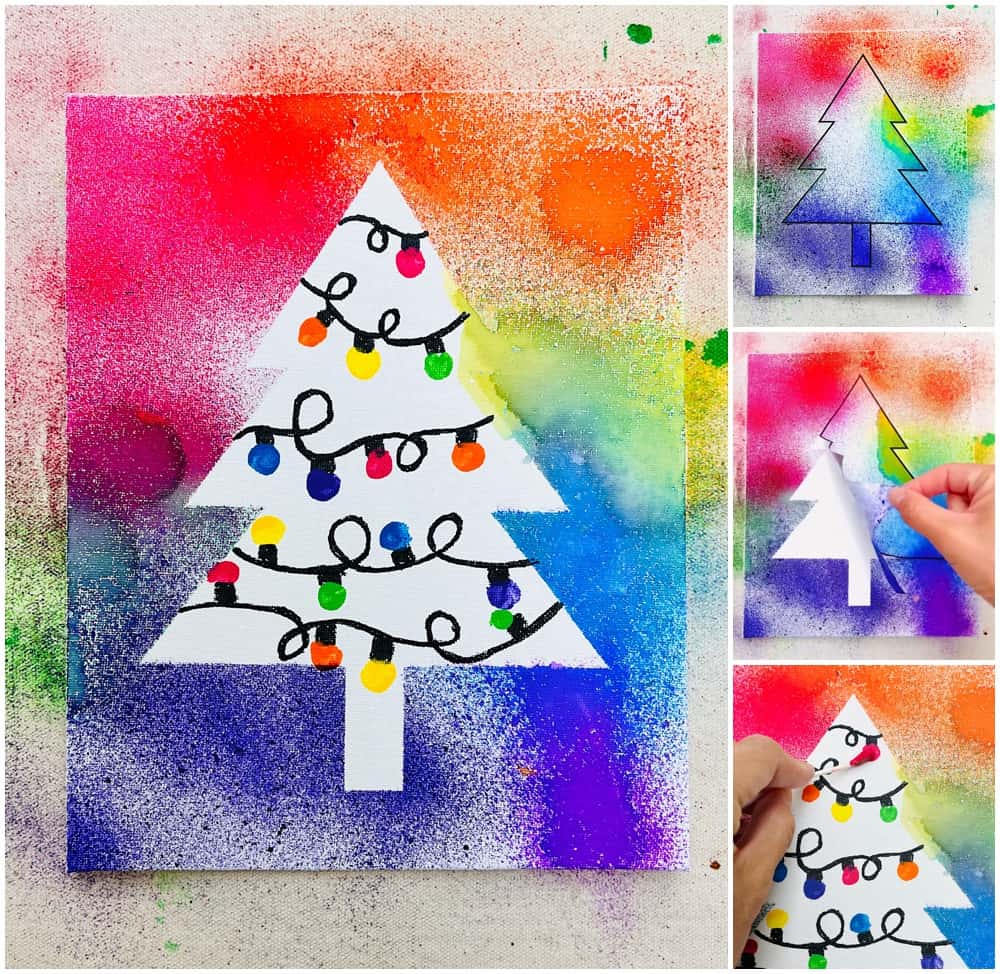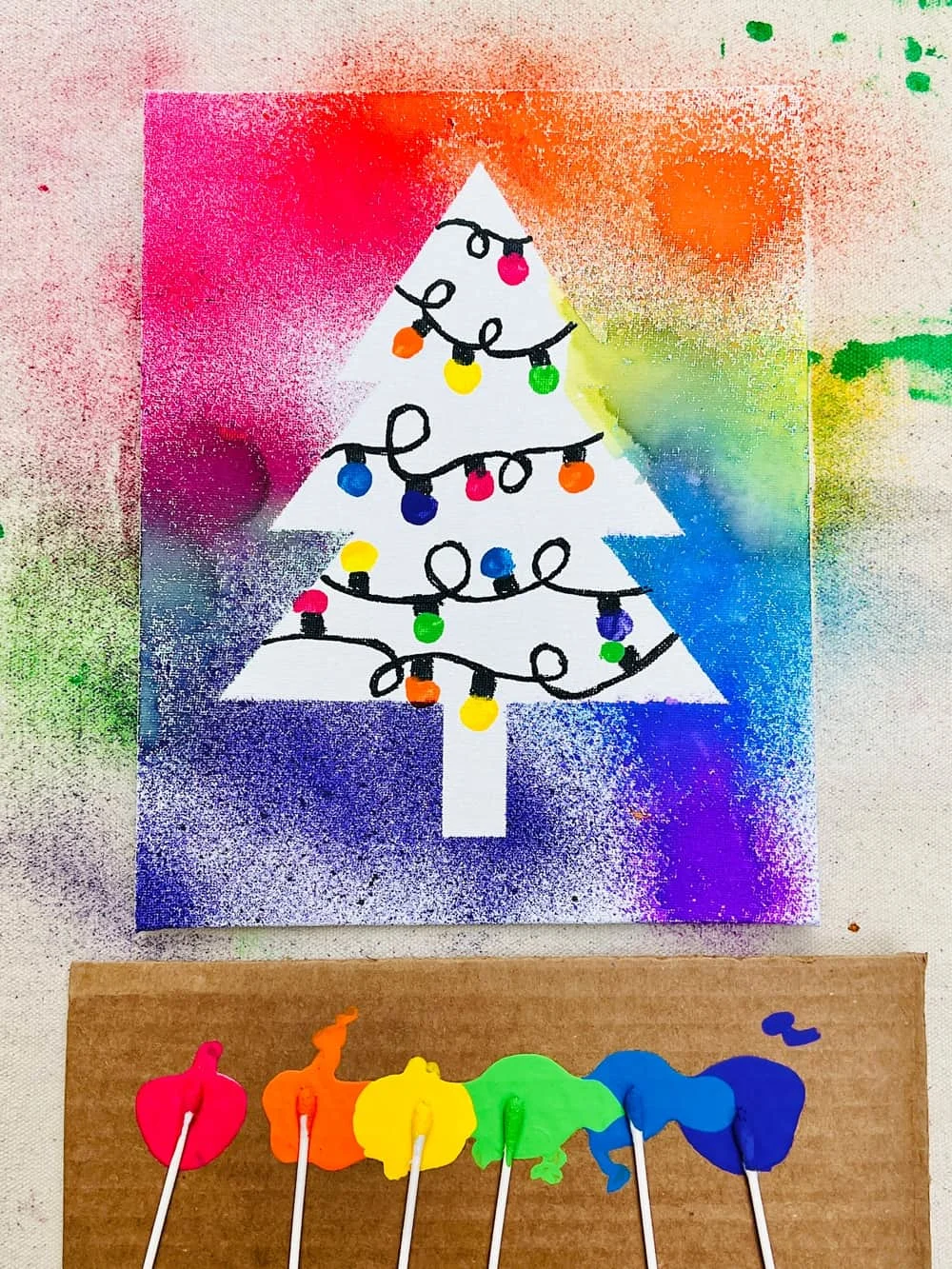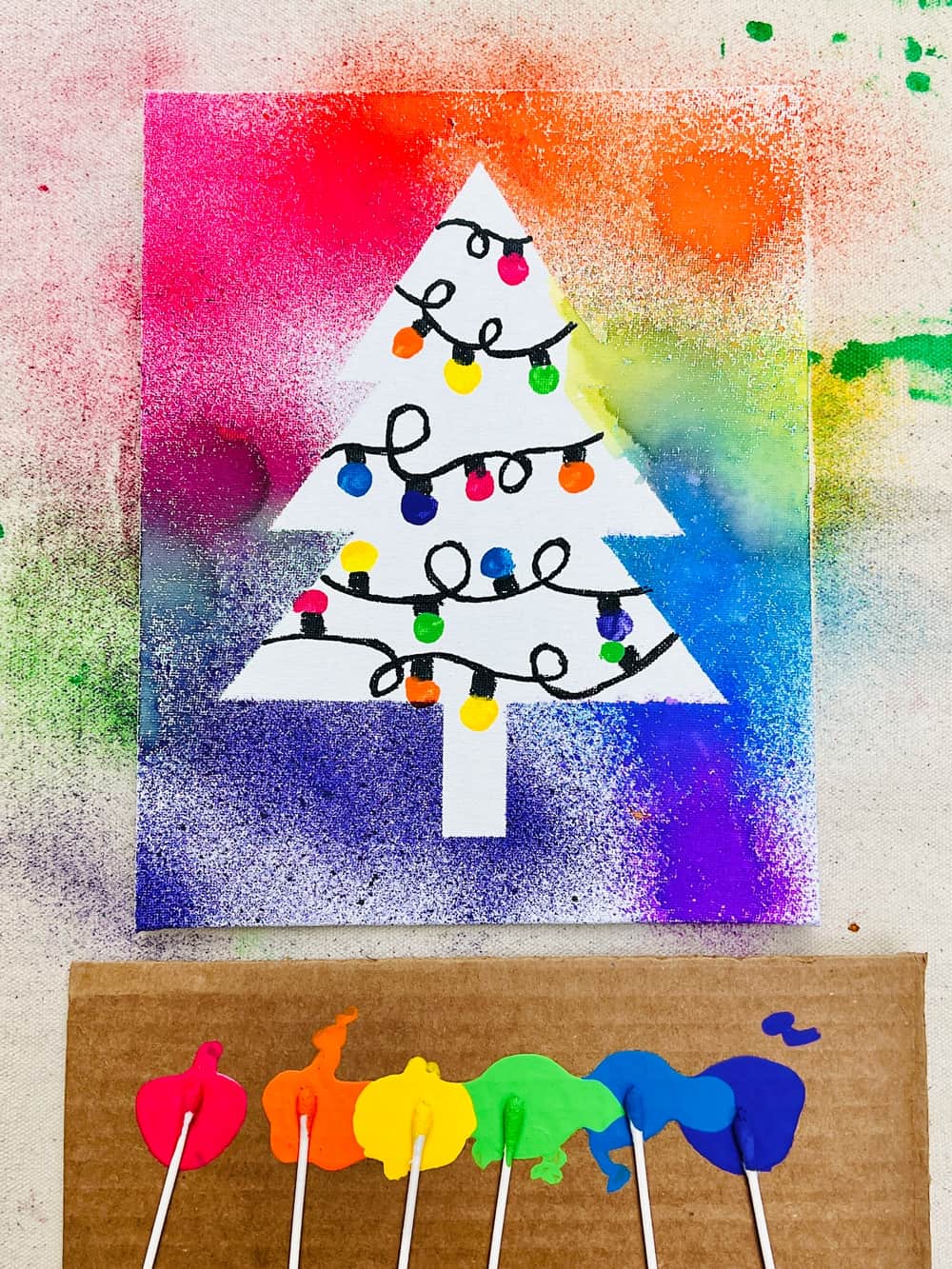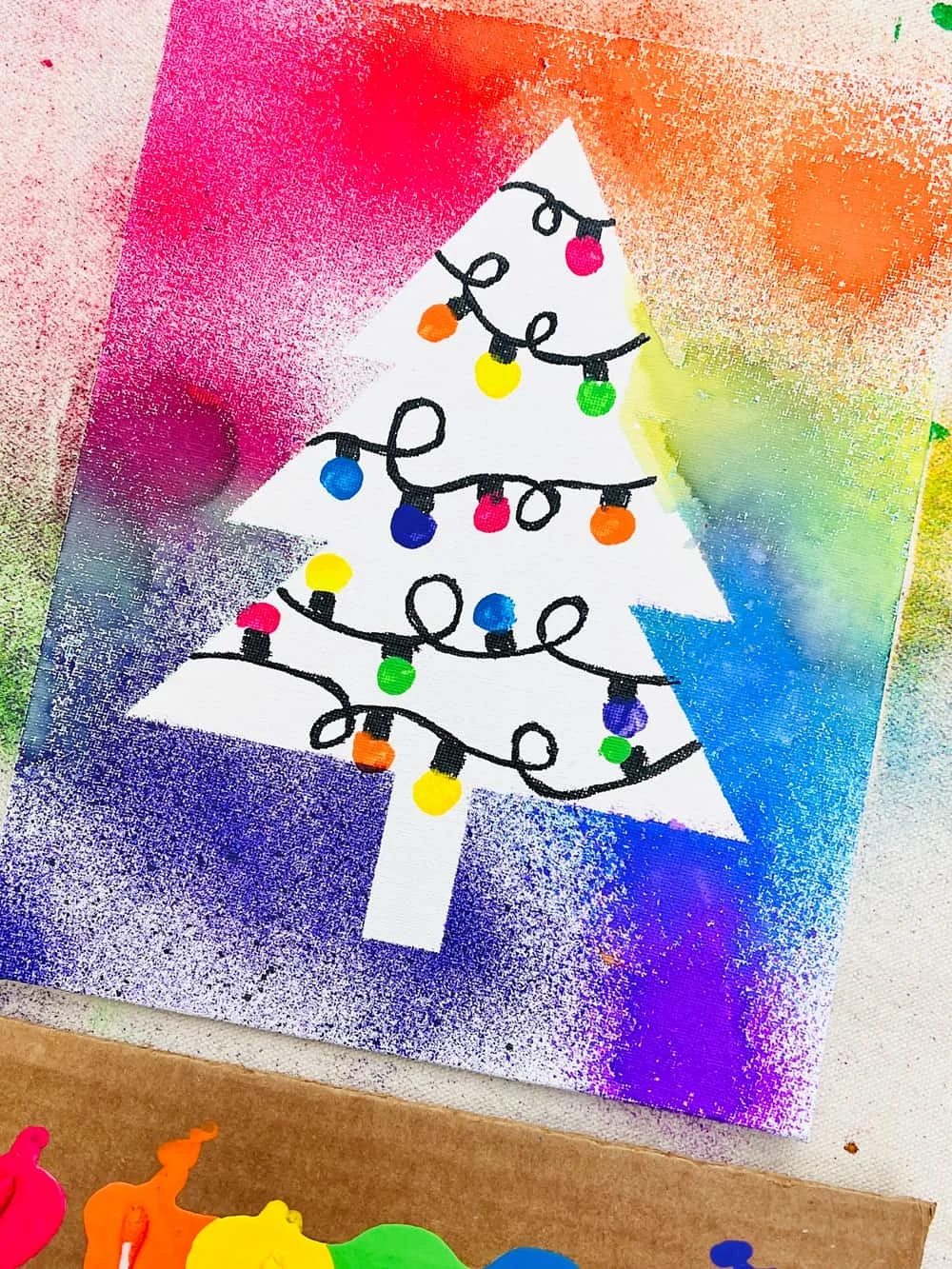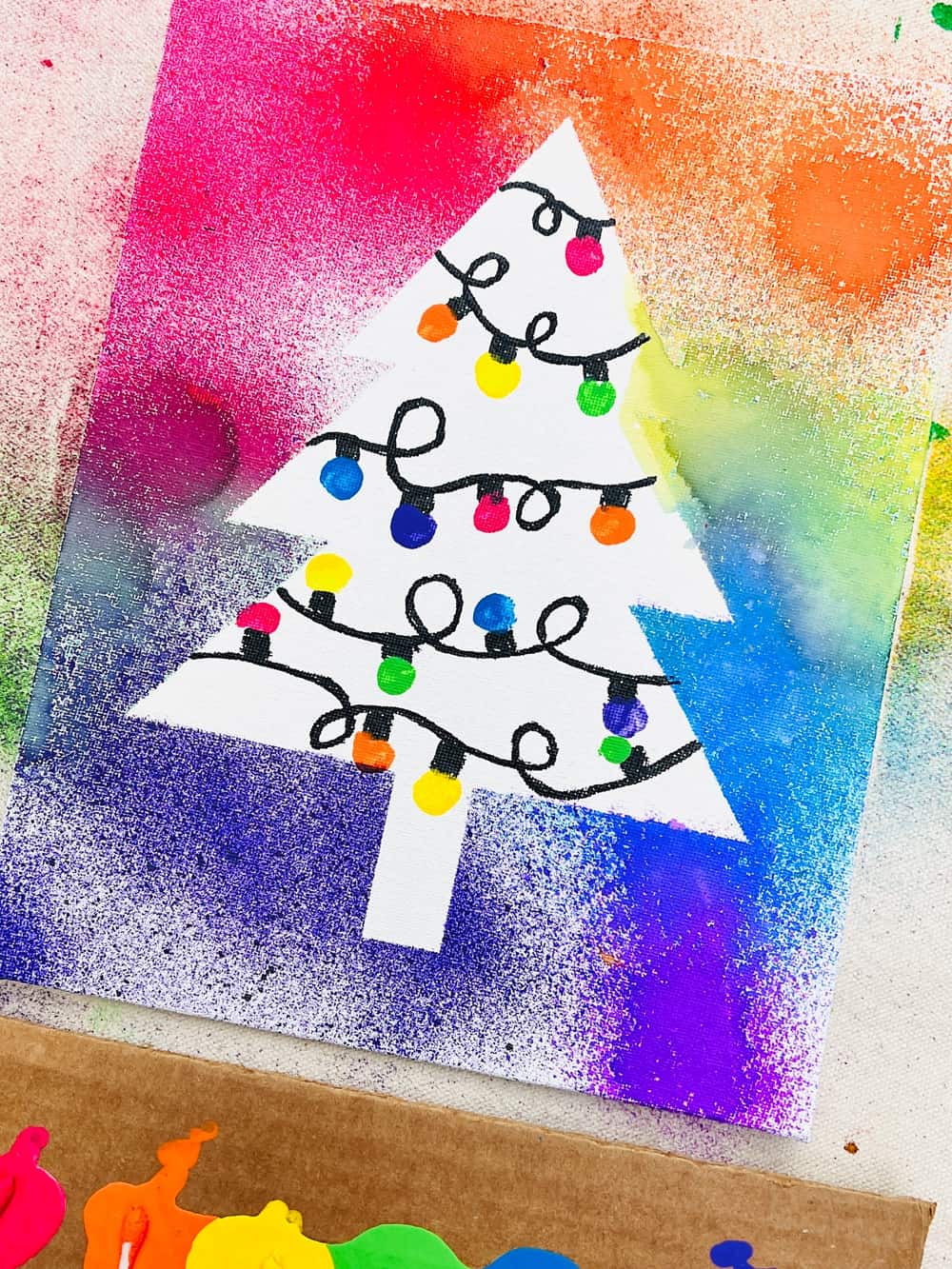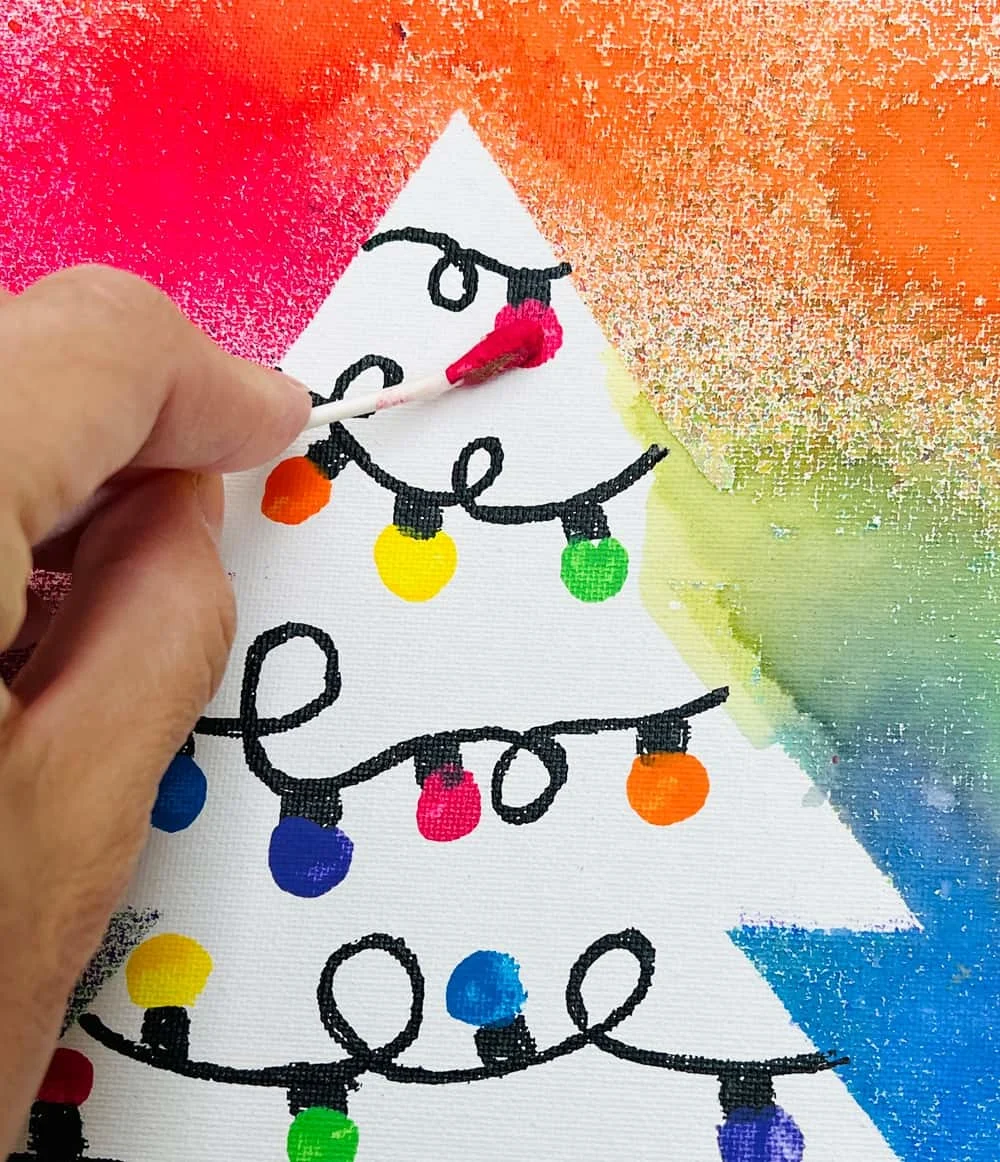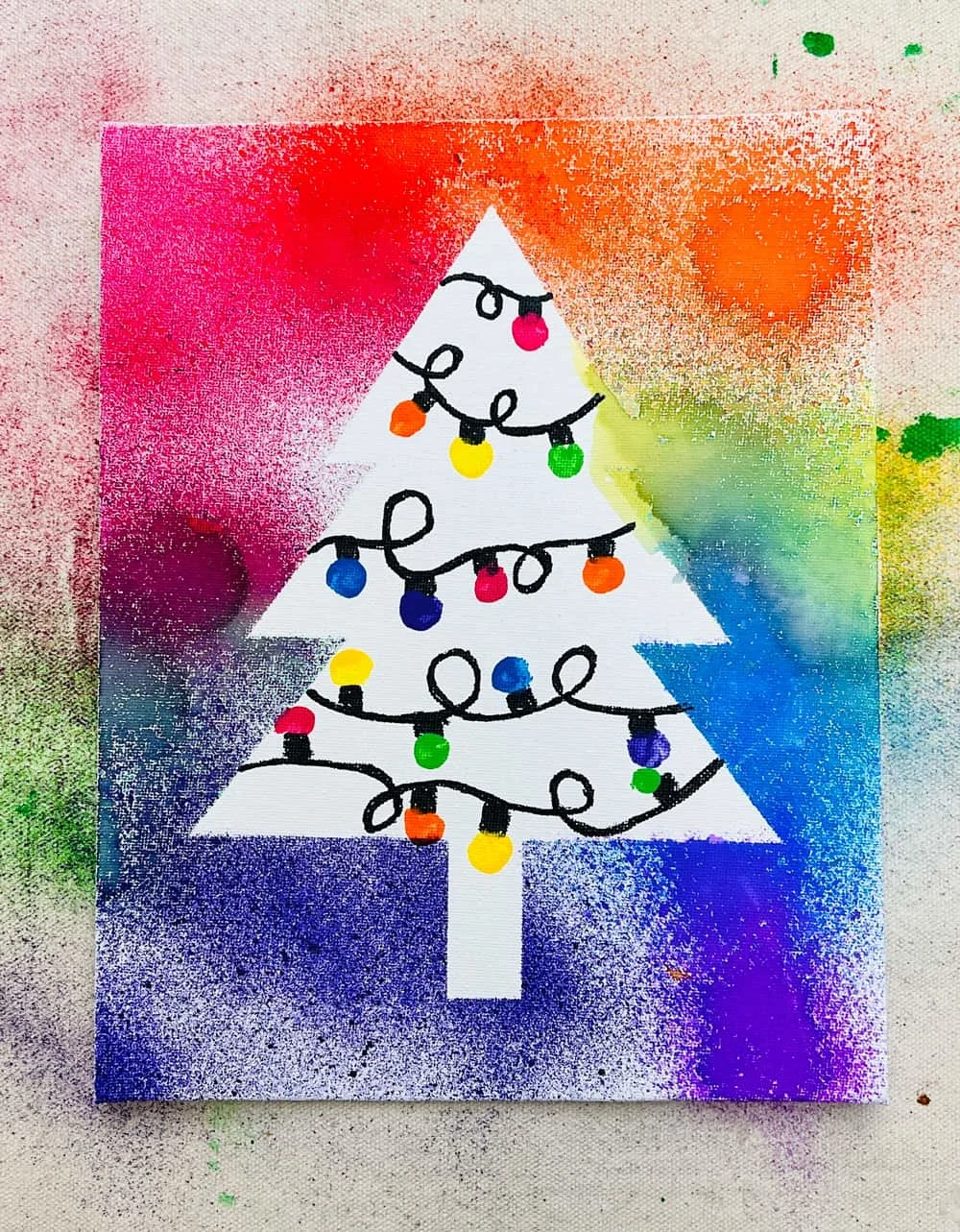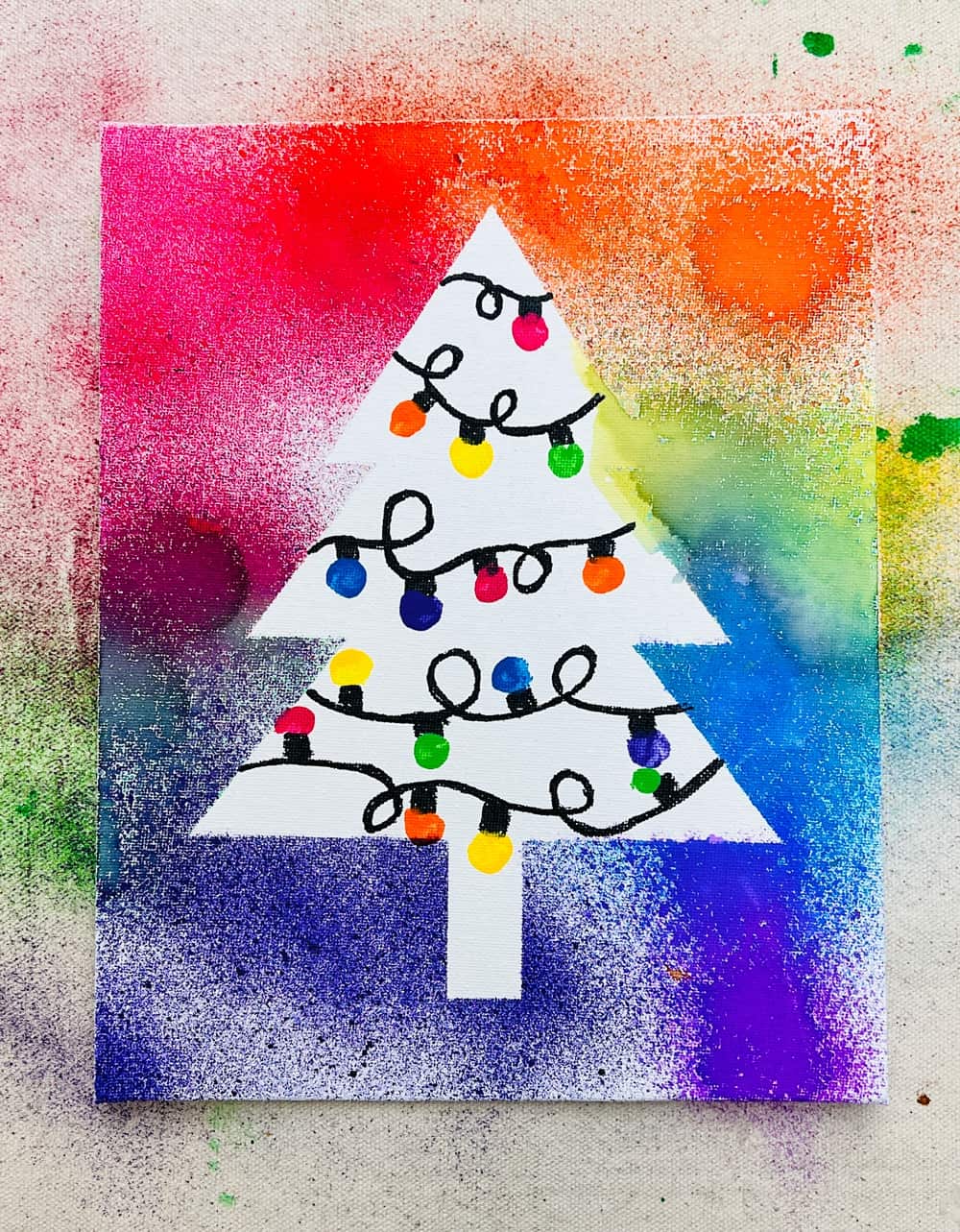 Spray Paint Christmas Tree Art Overview
This printable is perfect for Christmas lovers. Kids will love making their own Spray Paint Christmas Tree Art, and the adults will appreciate how easy it is to create!
It's not only great for decorating a tree but also makes a great gift for friends and family. To make your own spray paint Christmas tree art, start by taping the tree template over a canvas.
Then, use spray watercolors to add some vibrance to the paper. You can make your own spray paints but we LOVE these vibrant ones. Next, allow the paint to dry before removing the template very carefully.
Draw Christmas string lights with a black thick marker (a paint marker works great!). Then use Q-tips to paint on colorful lights!
If you want to get extra creative, you could paint your tree green and even glue on mini ornaments for a 3D effect! Many people also like to paint snowflakes on their trees.
The finished canvas art can be displayed year-round. So, whether you're a beginner or an experienced artist, this template will help you create something amazing!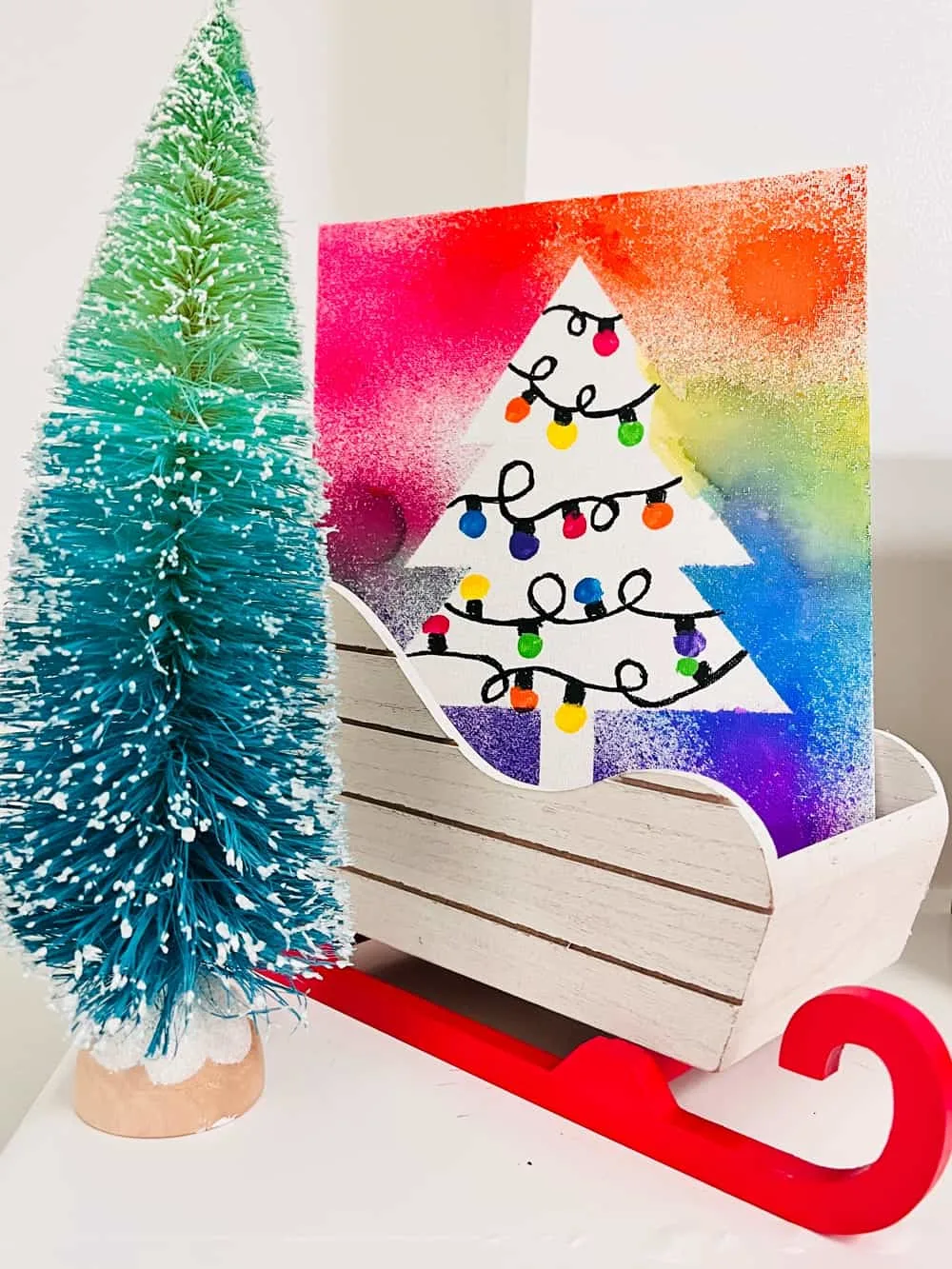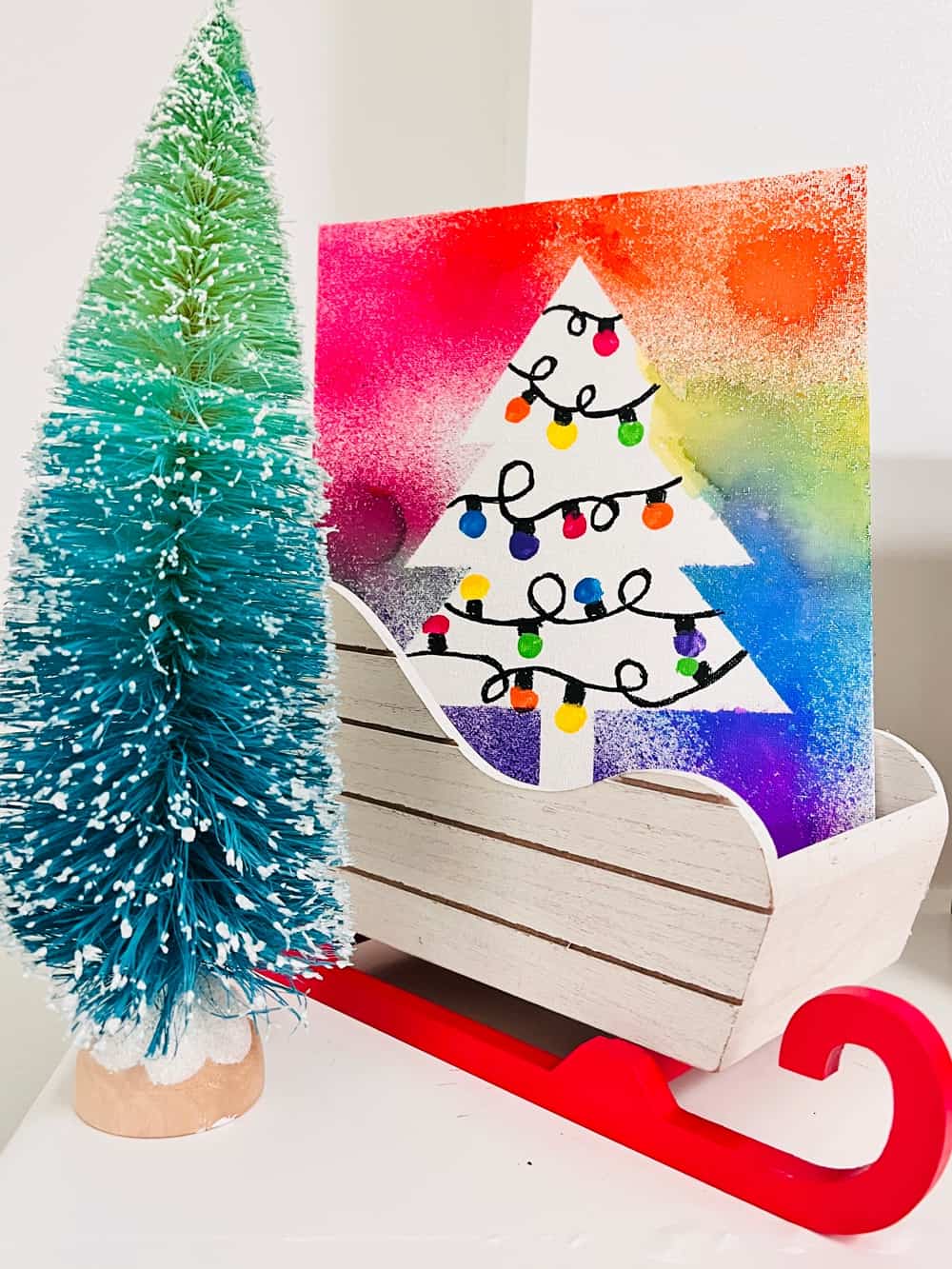 Easy Ways to Decorate This Spray Watercolor Christmas Tree
Use Glow-in-the-Dark Paint
Once you've created your art piece, it's time to add some festive adorn! Try using some glow-in-the-dark paint alongside regular paint on the printable so it illuminates during the night.
This will give your art an extra festive touch and make it more special for the holiday season!
Paint Different Types of Ornaments
One of the best things about this art is that you can experiment by painting on different types of ornaments. Kids can paint with bright colors, and adults can experiment with subtle hues.
Whether you love traditional Christmas tree ornaments like garlands and baubles, or something a little more eclectic, there's no wrong thing to paint onto the printable!
Add Glitter
If you want to take your tree up a notch, add some glitter by adding glue then sprinkling glitter. This will give it an extra sparkle and make it look even more festive!
You could even add some artificial snow to the tree by using a little bit of white glitter.
Use Textured Paint
If you want to add a little more texture to your tree, try using textured paint. This will add some unique texture and add an extra layer of beauty to your art!
Textured paint can be used to create a variety of looks, from simple and elegant to wild and wacky. You can use it to add highlights or shadows, giving them an eye-catching look.
Add Some Photos
One of the best (and easiest) ways to add some extra holiday cheer to your art is by adding photos of your loved ones.
For example, if you have a family photo taken during the holiday season, try displaying it on your tree art by placing it in the center!
Great Benefits of this Christmas Tree Printable
It's a Fun Way to Get Creative
For starters, it's a fun way to get creative and experiment with different types of embellishments. If you're someone who loves Christmas art, this is the perfect printable for you!
This art also allows you to add some extra flair and festivity to your tree!
It's a Great Way to Add Some Extra Holiday Cheer
If you're looking for ways to spruce up your tree without spending a lot of money, this is the perfect option for you! You can create an amazing masterpiece that will make everyone happy!
People of all ages will love this Christmas tree printable! It's perfect for creating a festive atmosphere in your home, and it's easy to do.
But we think it's a special piece of Christmas art little ones can do that they will feel proud about displaying!
You Can Customize it for a Loved One
Not only does it look amazing, but you can customize it to match their personal style! Unlike traditional gifts, this printable can be customized to fit any style, and it won't cost you a fortune!
Some simple alterations can also turn it into the perfect personalized gift! For example, if you have a friend who loves Christmas movies, add their favorite film quote to the tree art!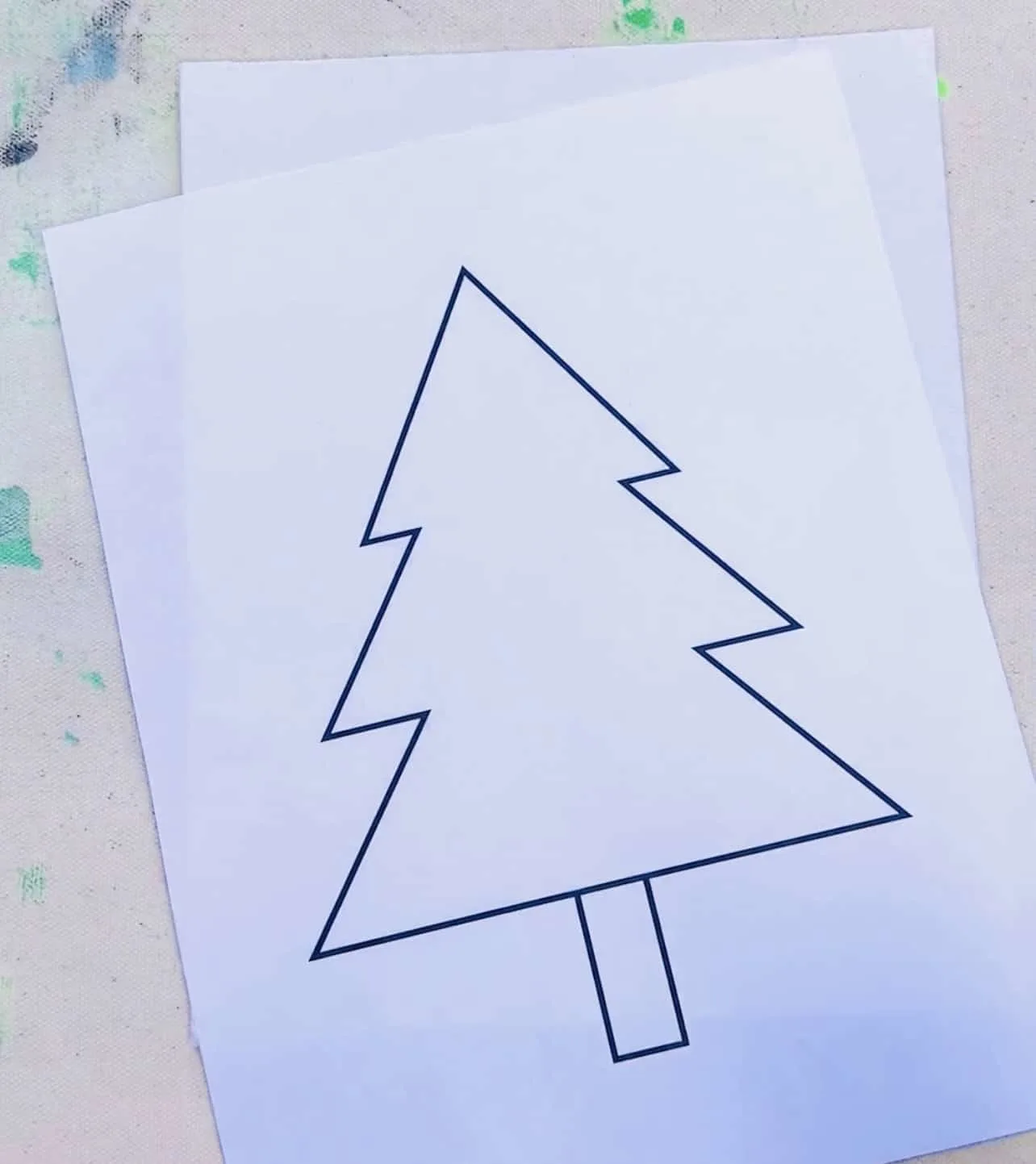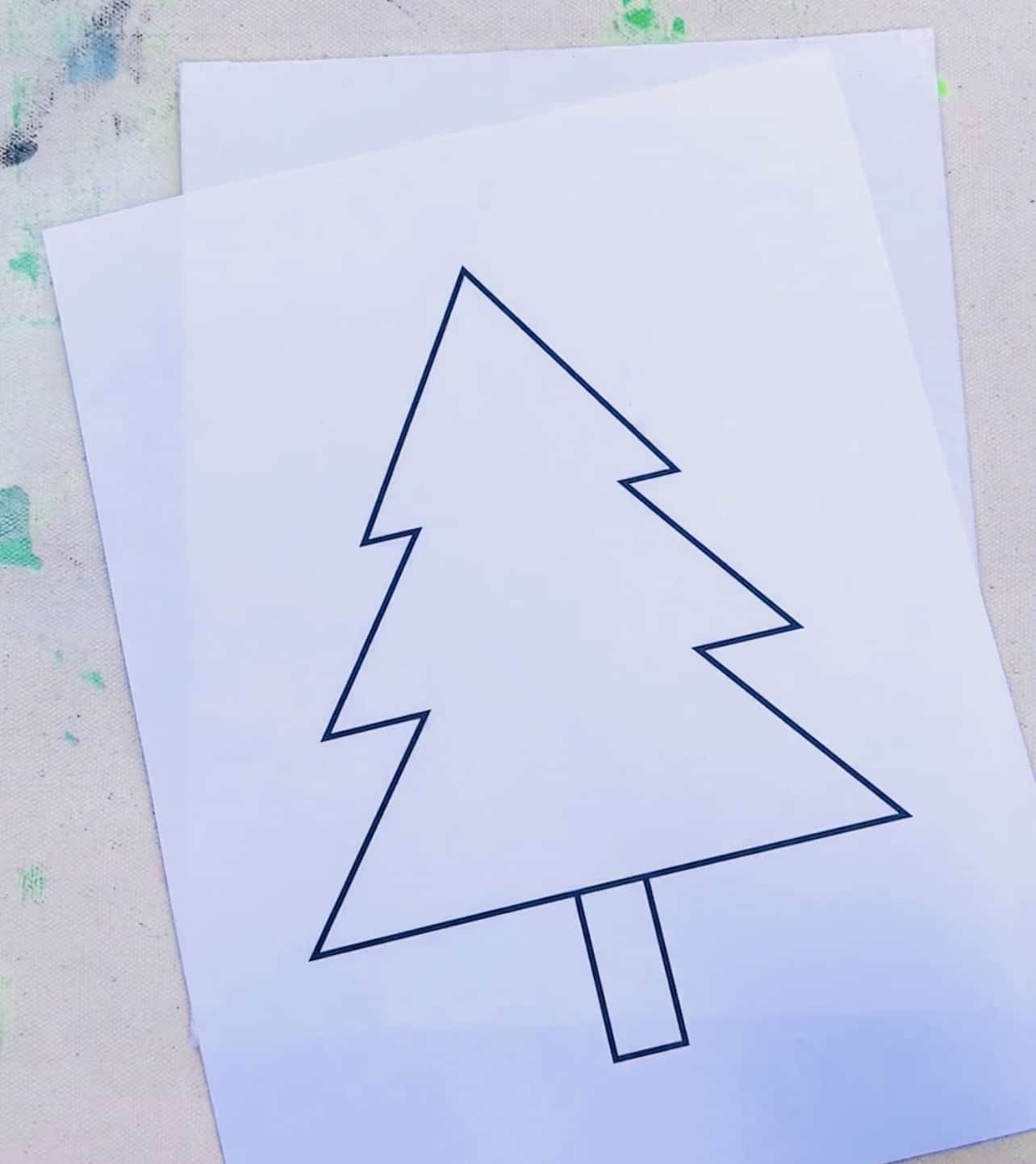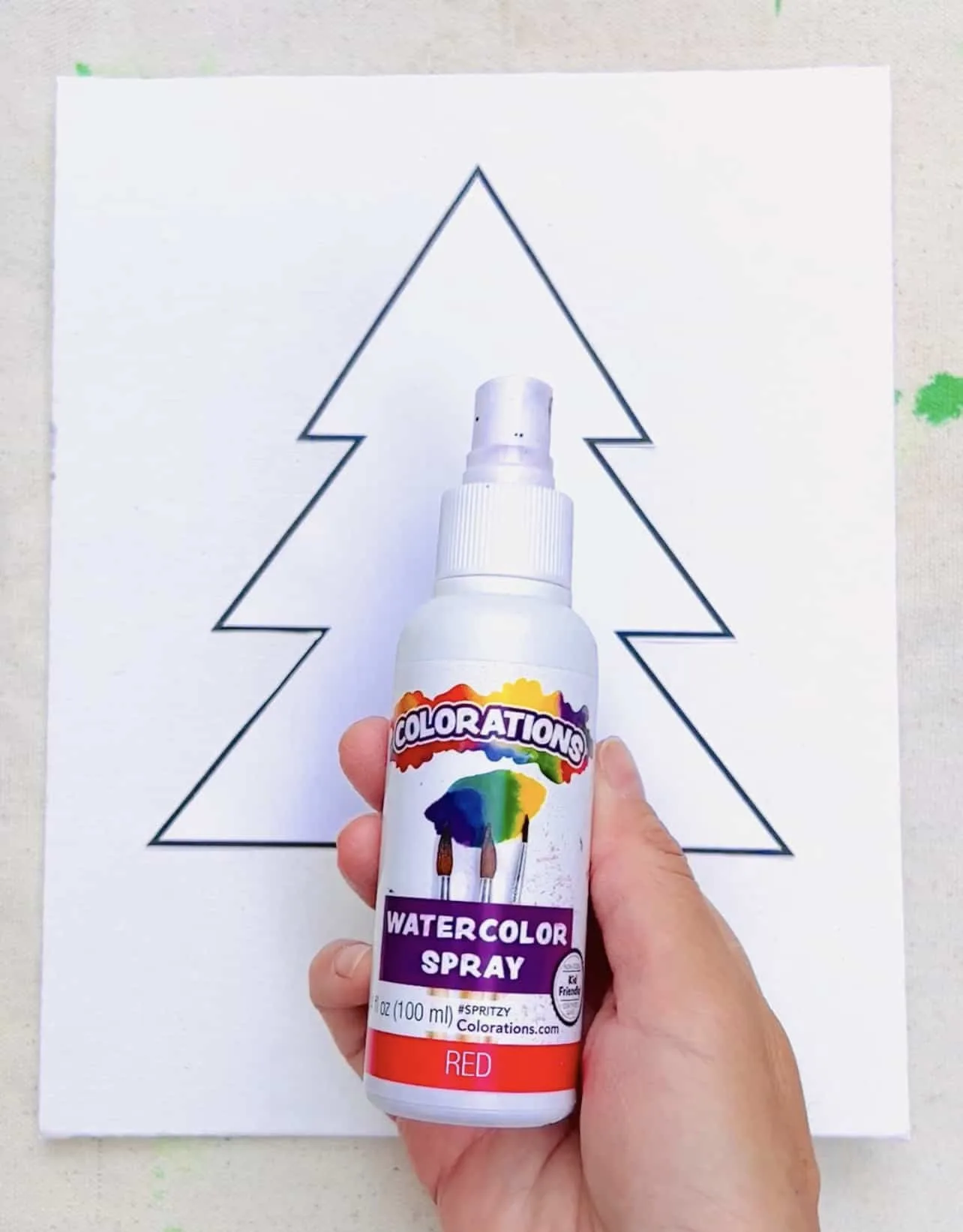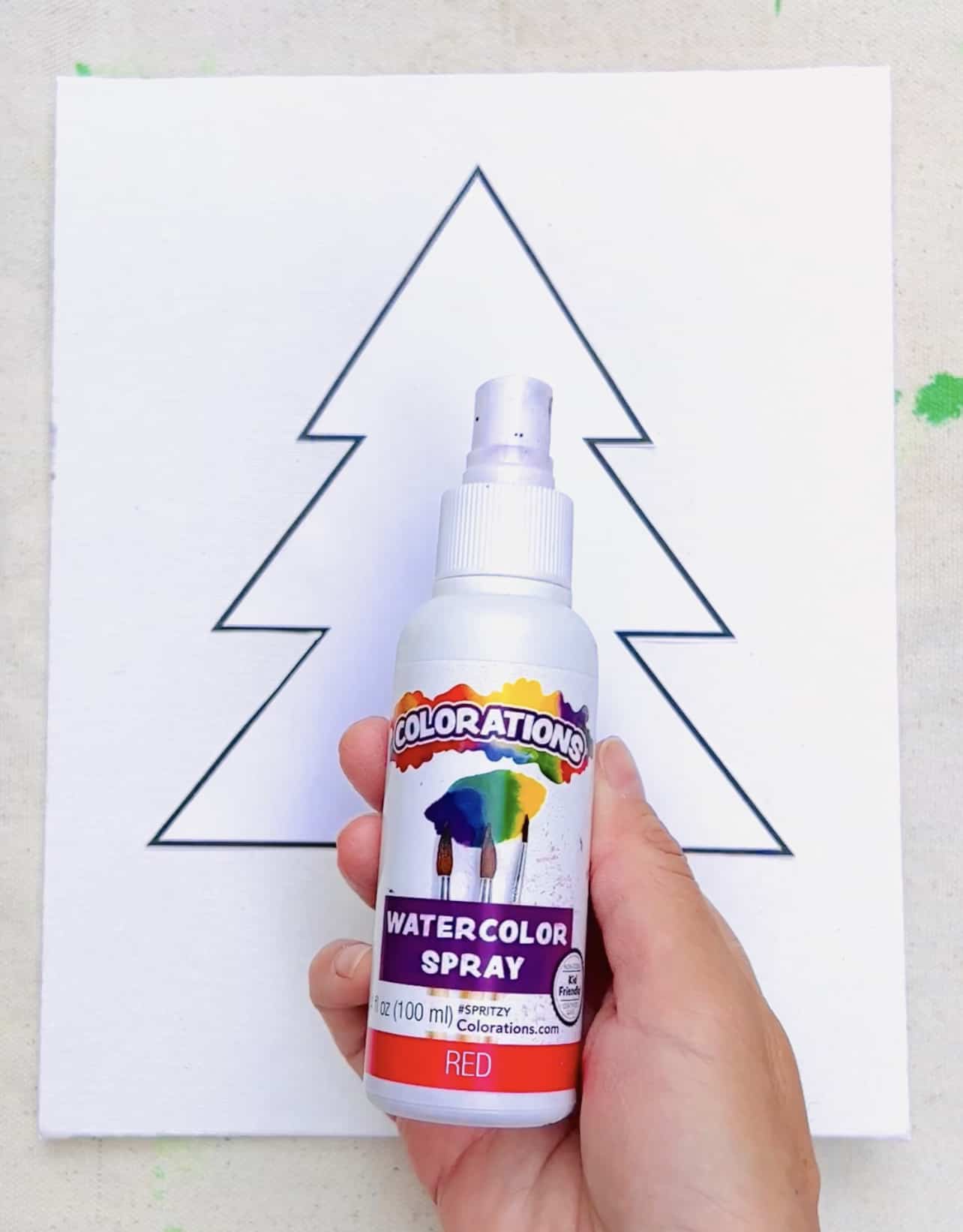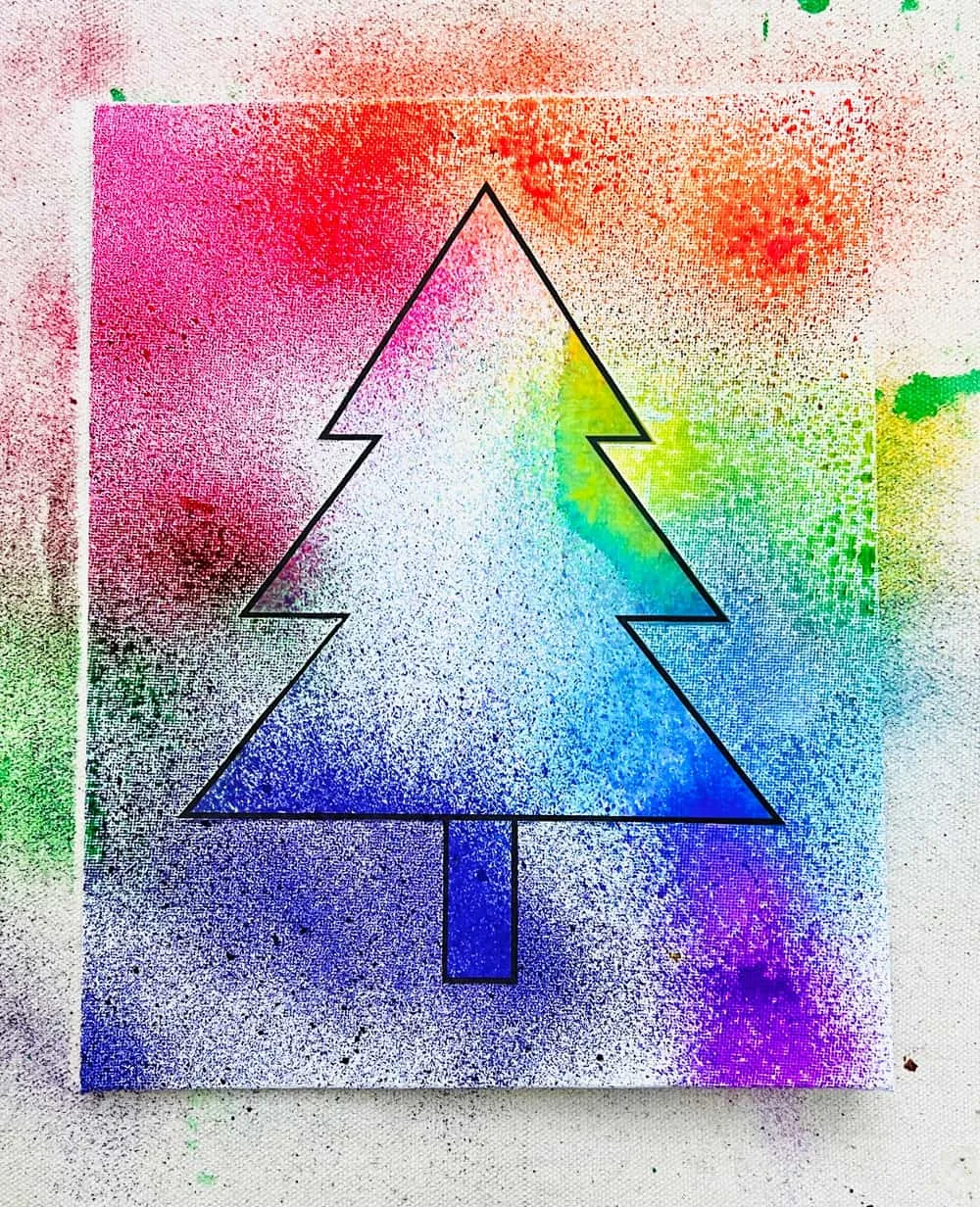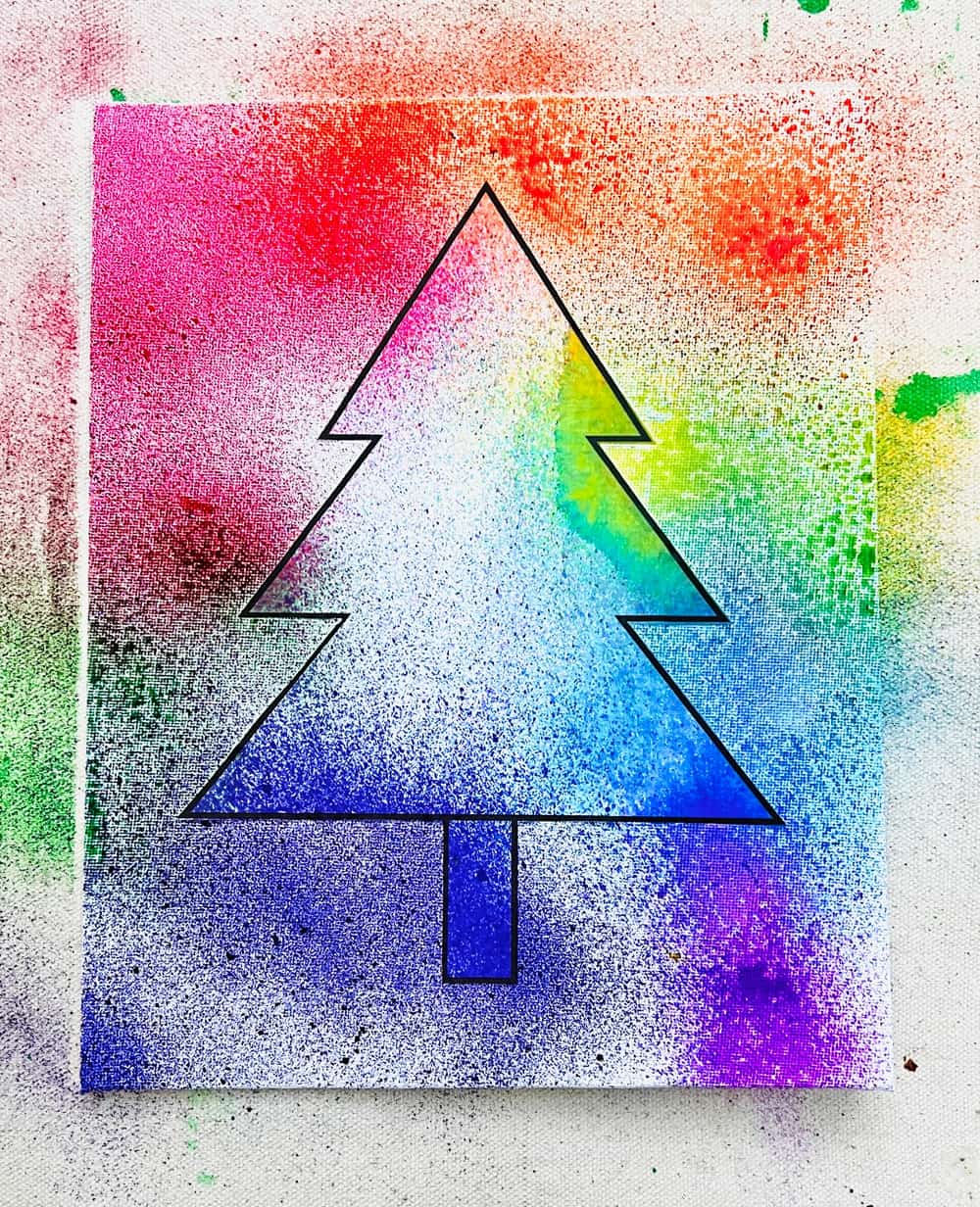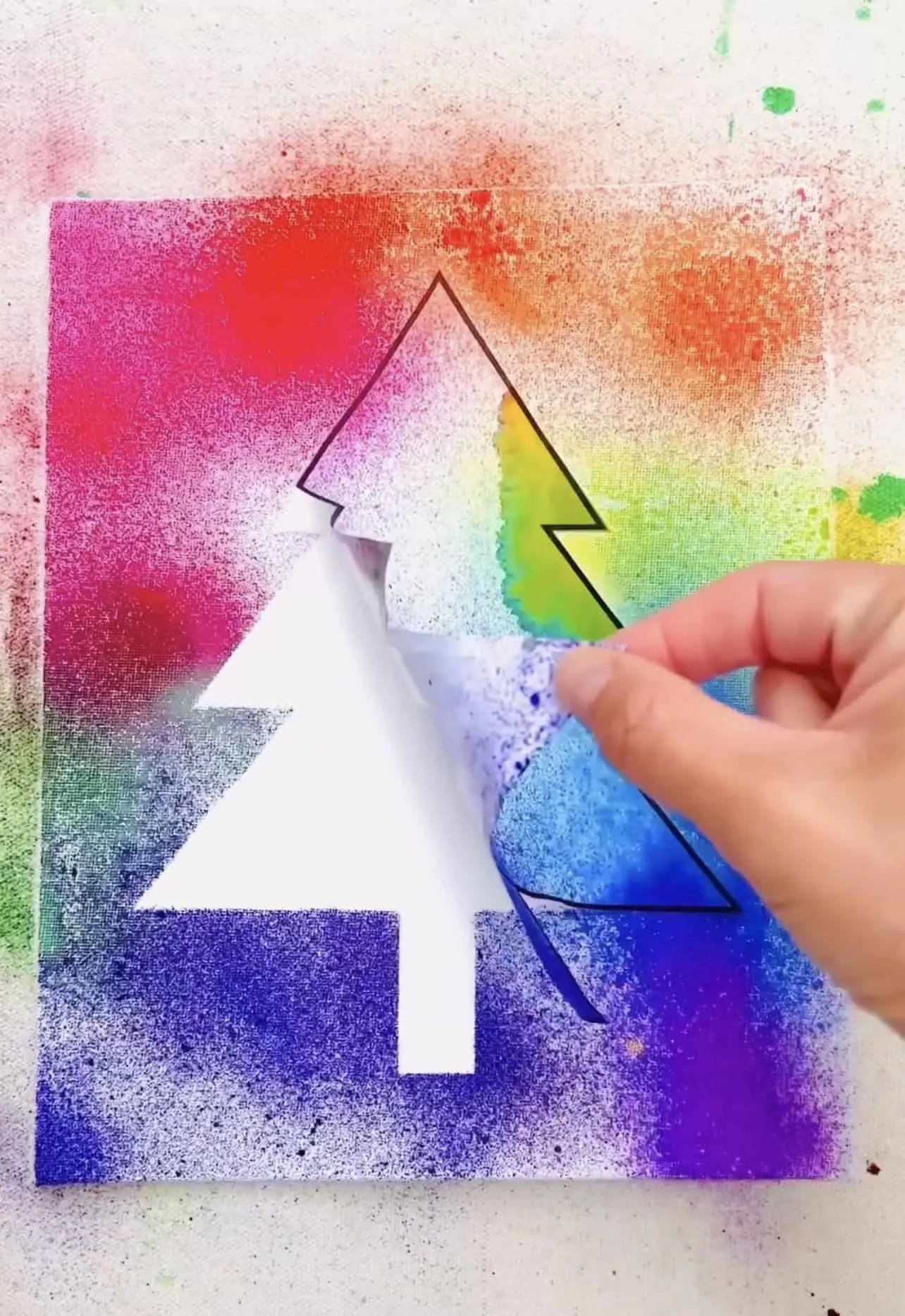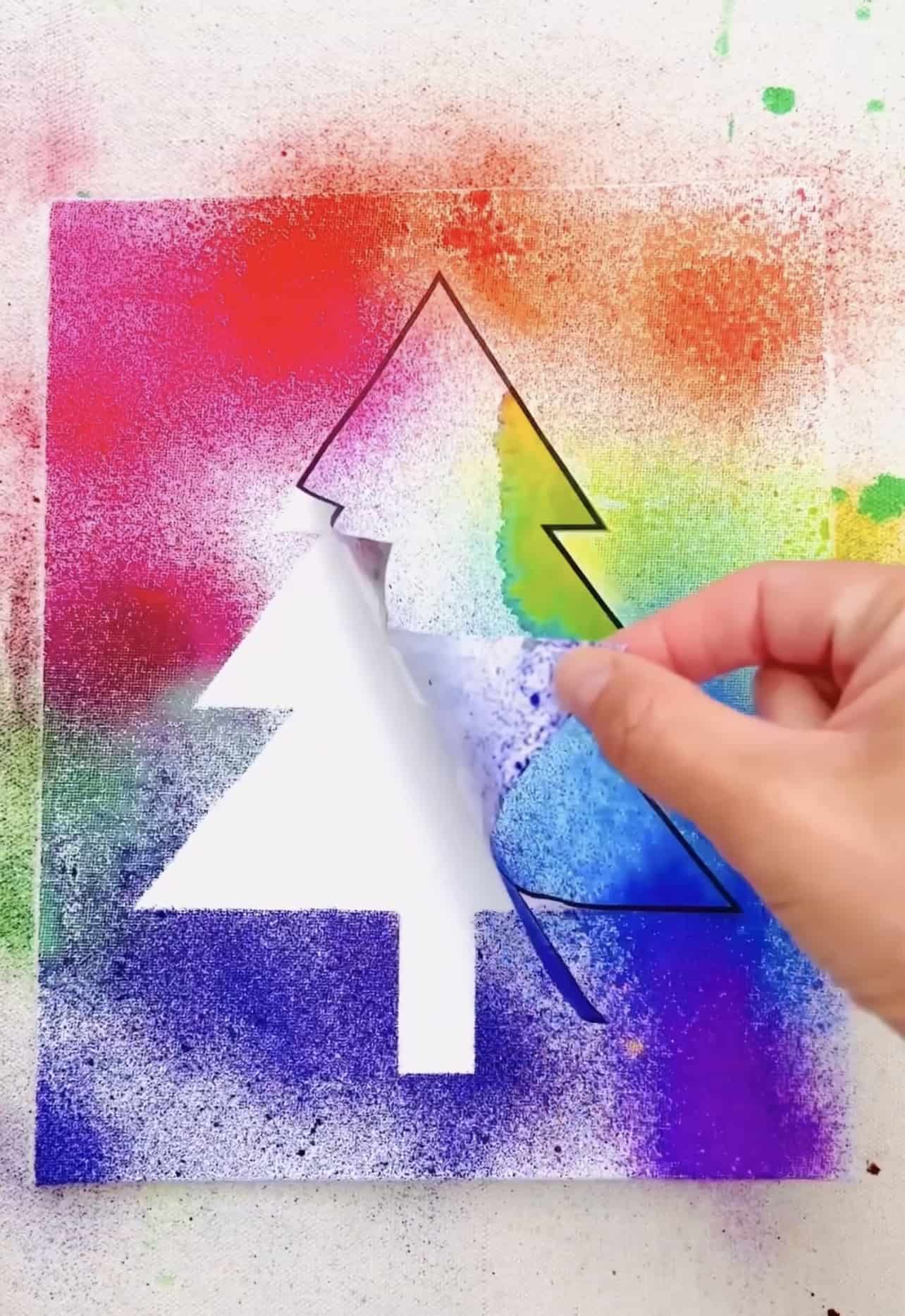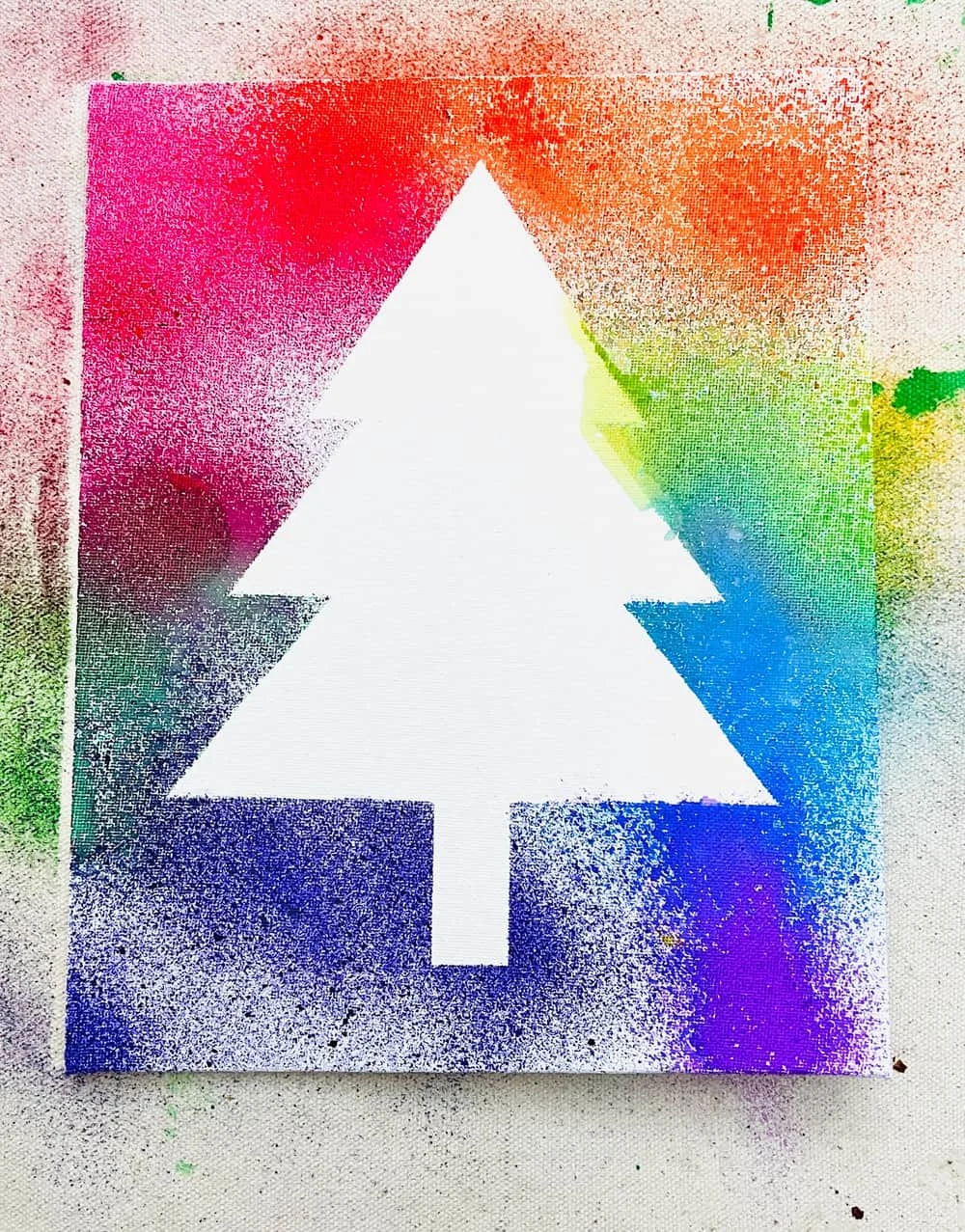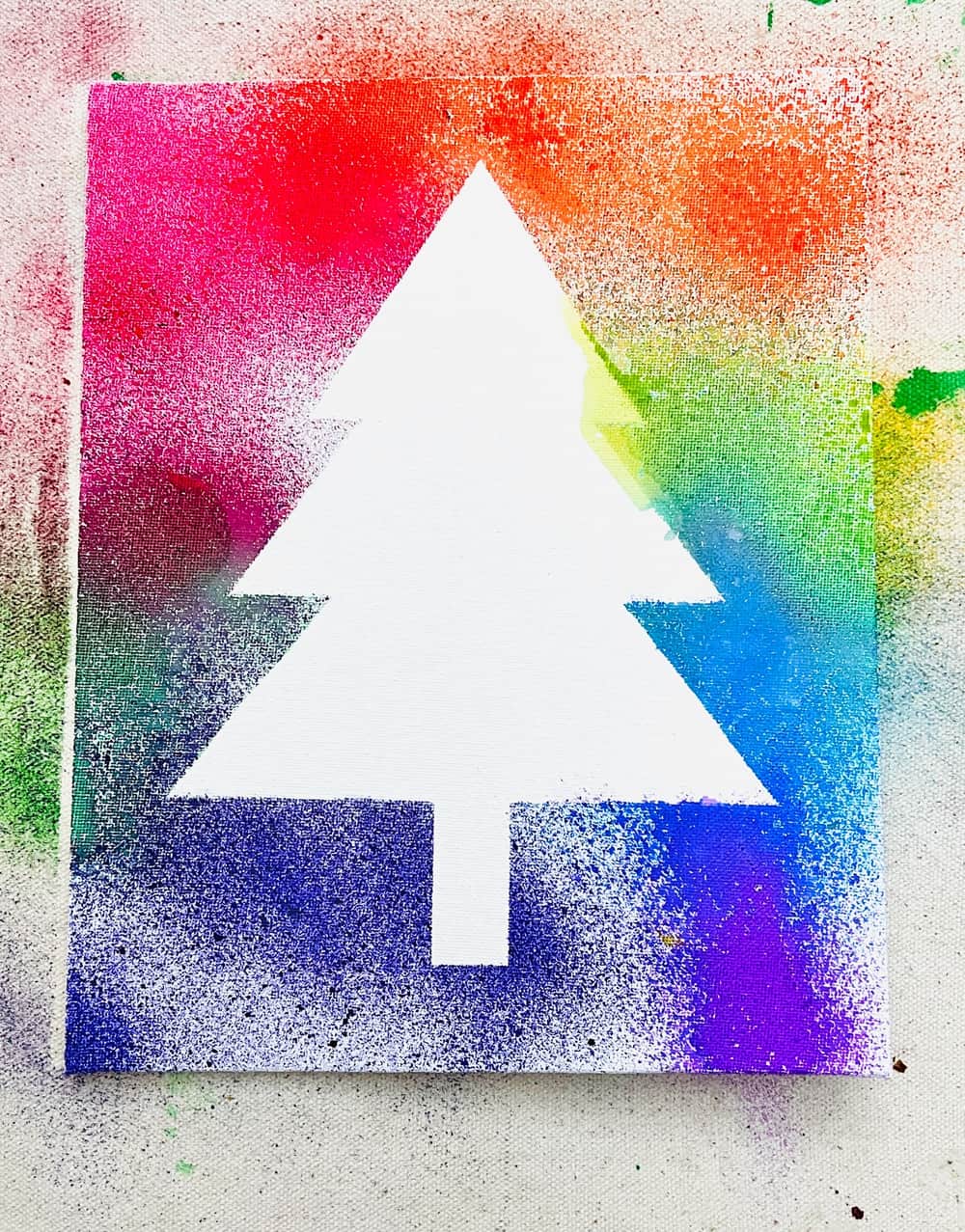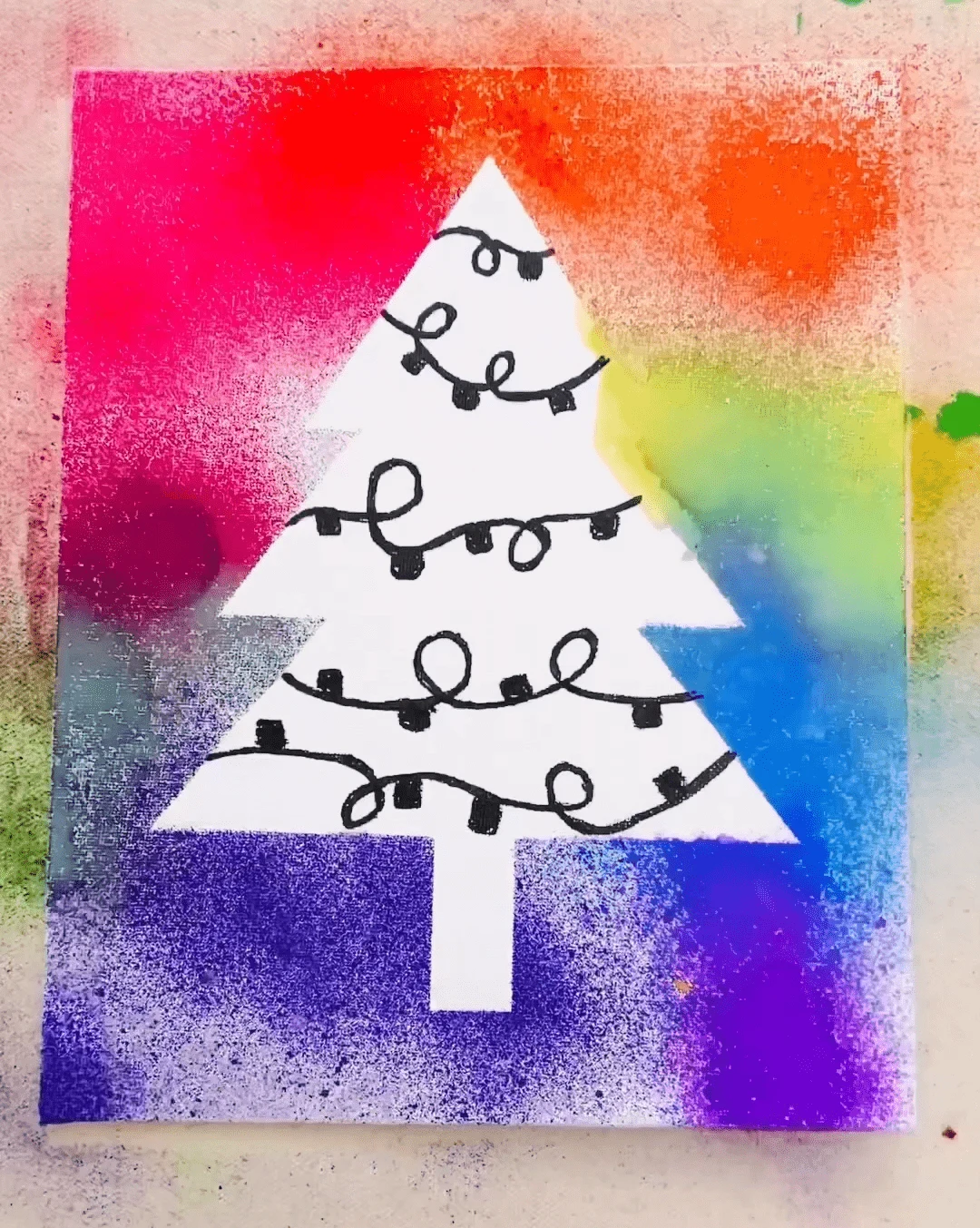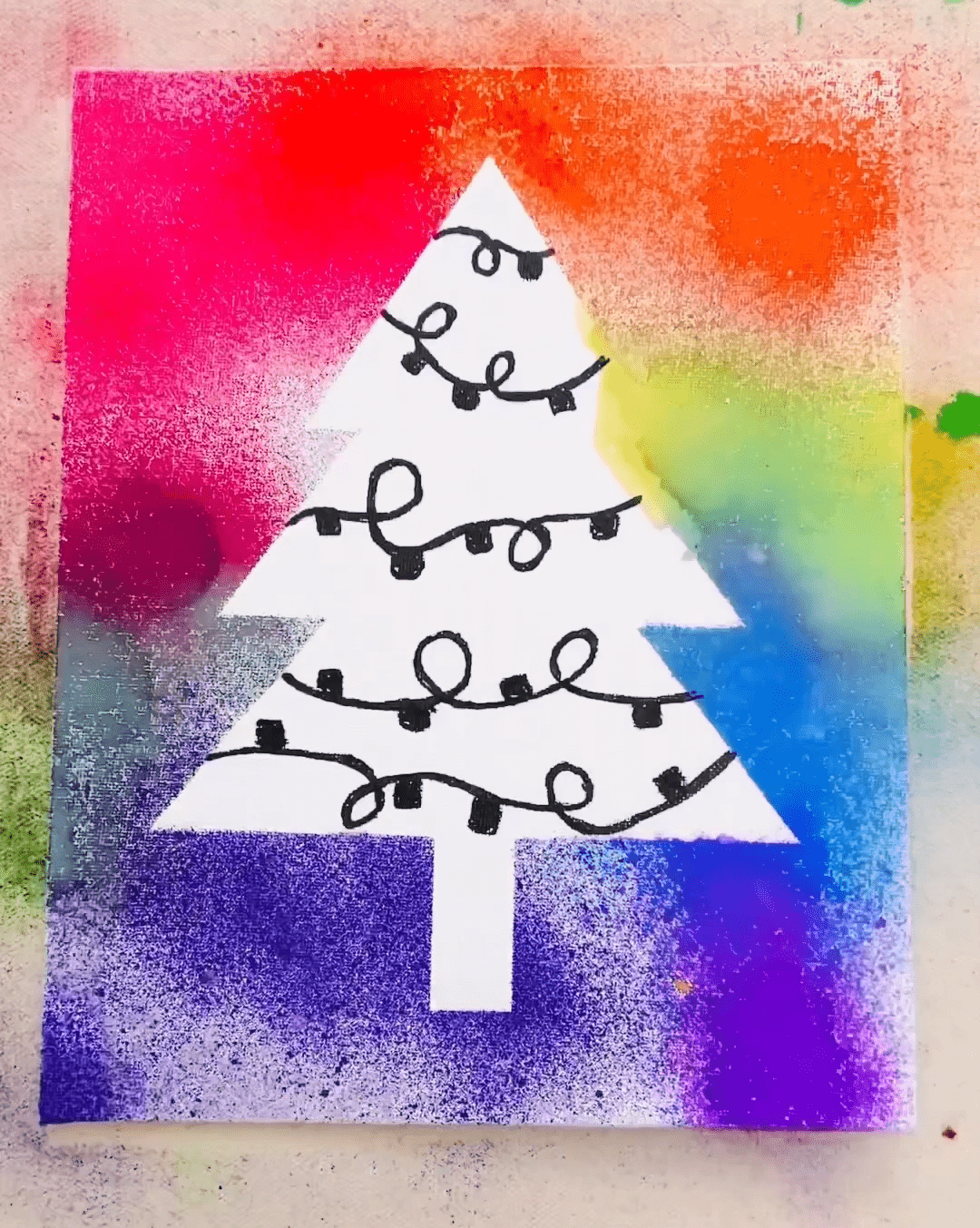 Christmas Tree Spray Paint Art Materials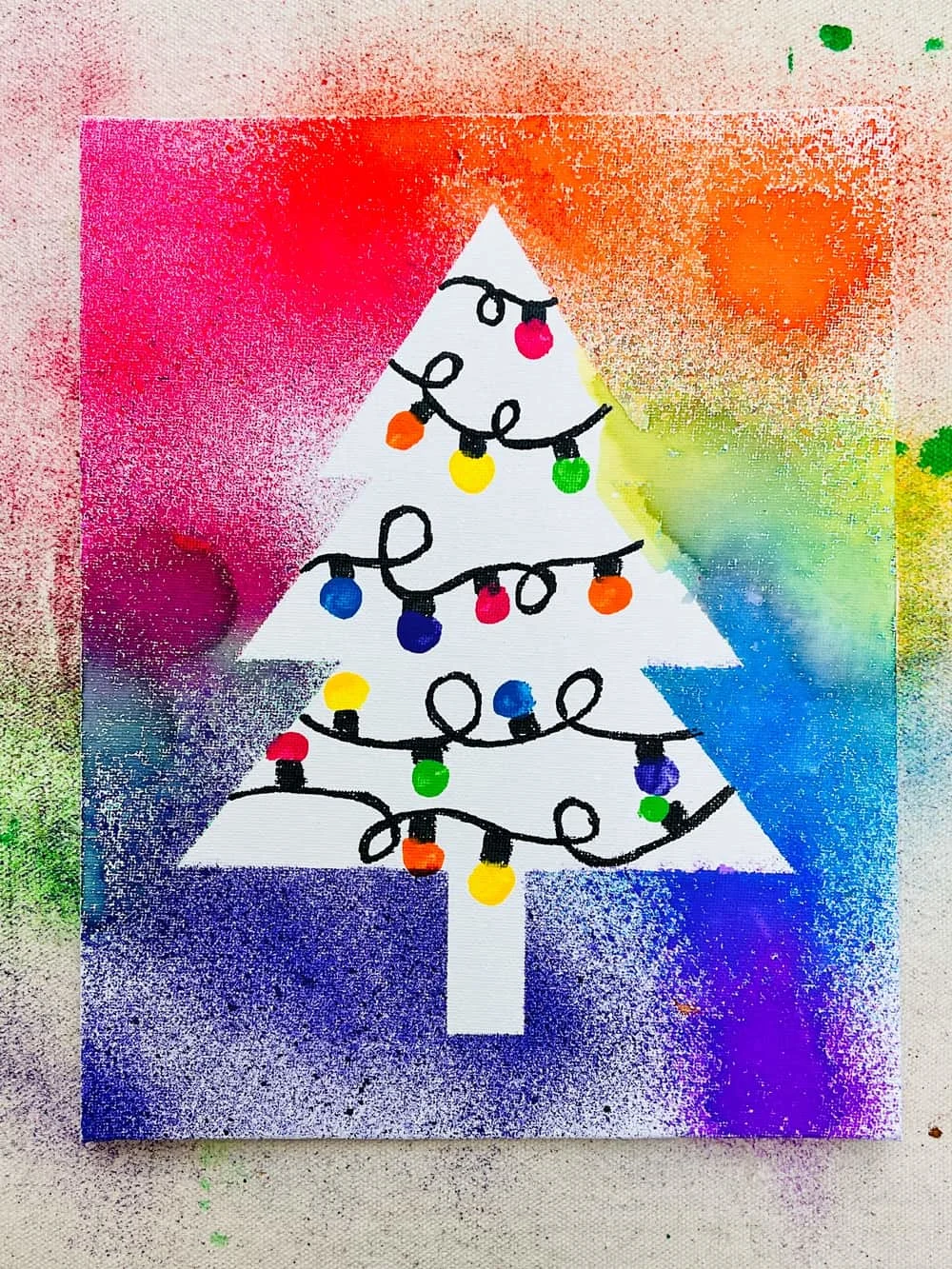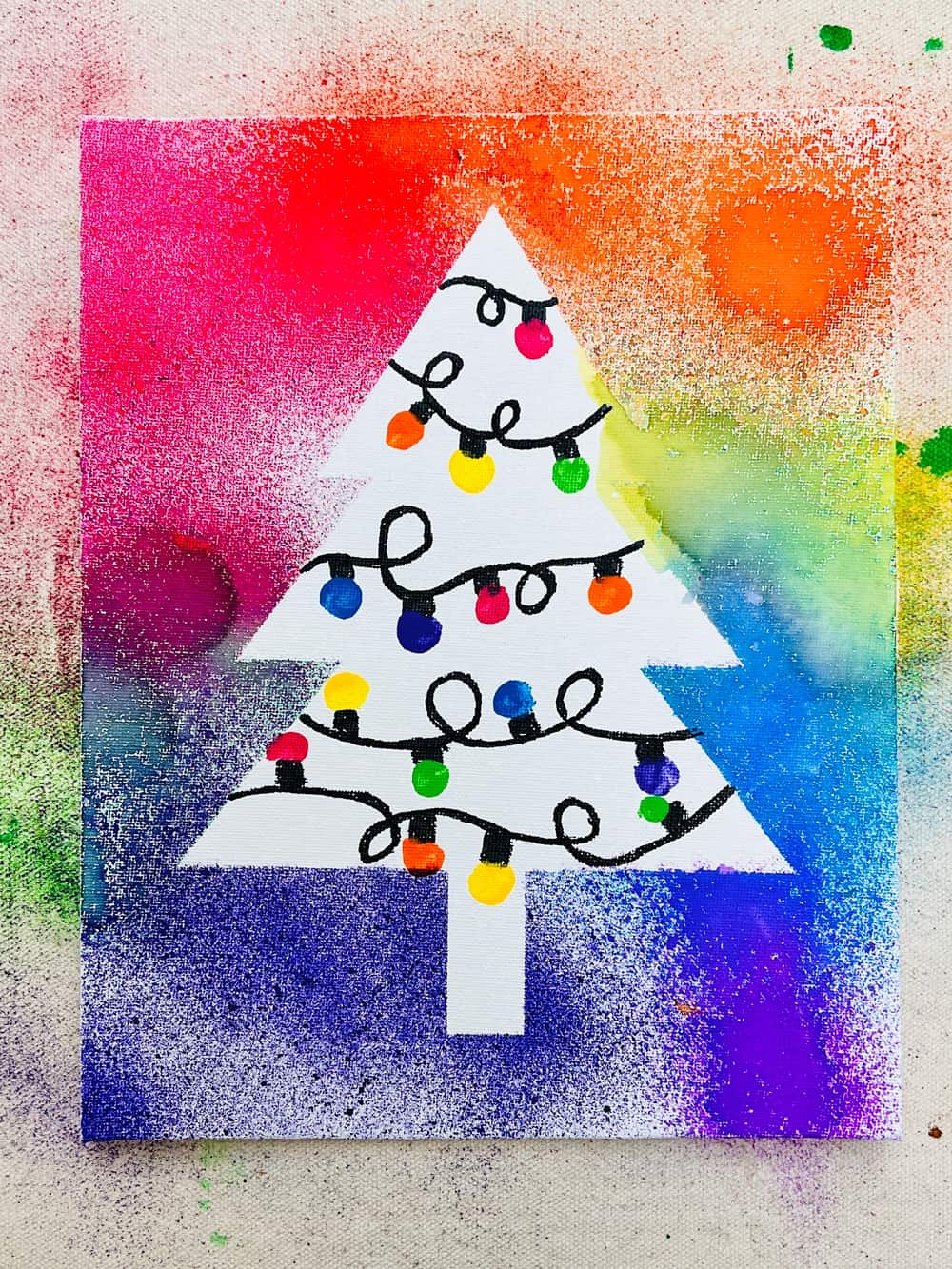 Takeaway
The holidays are a time to be together with family and friends, and nothing says "I love you" quite like creating amazing Christmas tree art!
Plus, kids will love creating their own masterpieces, and your loved ones will be blown away by the beautiful art you created!
If you're looking for the perfect Christmas craft, print out this template today! It's easy to use, and it'll make everyone smile during the holidays!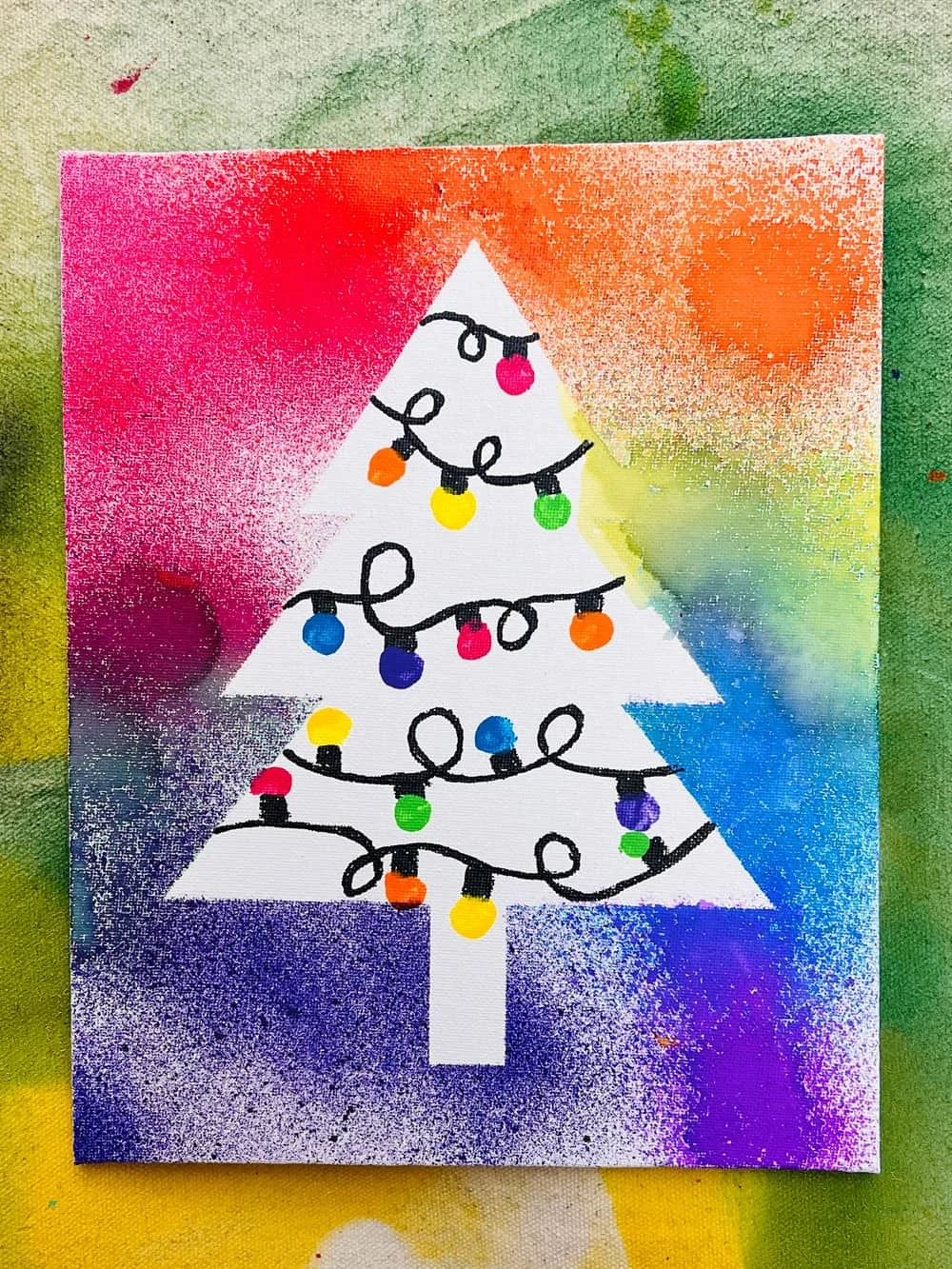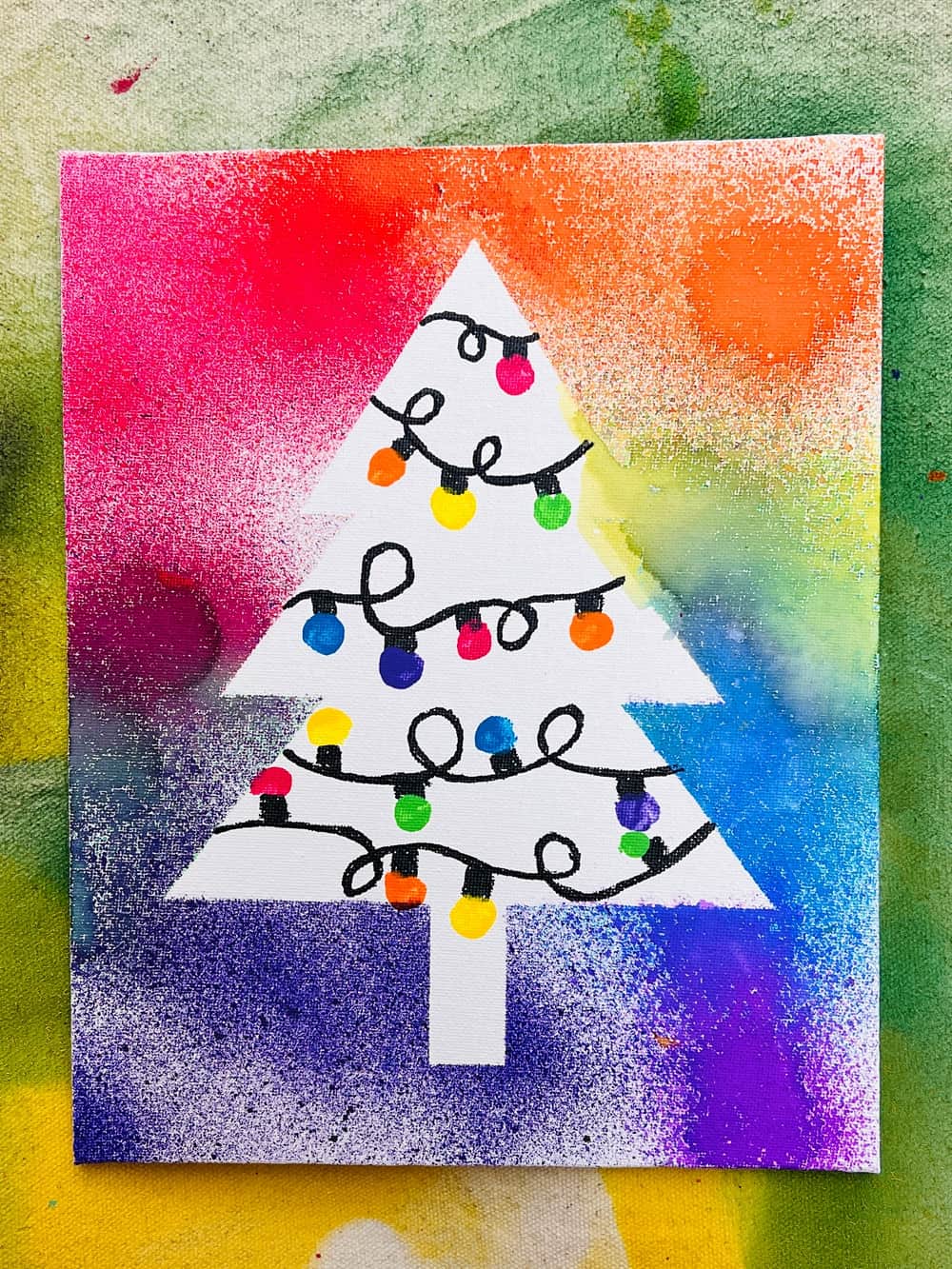 Yield: Spray Paint Christmas Tree Art
Spray Paint Christmas Tree Art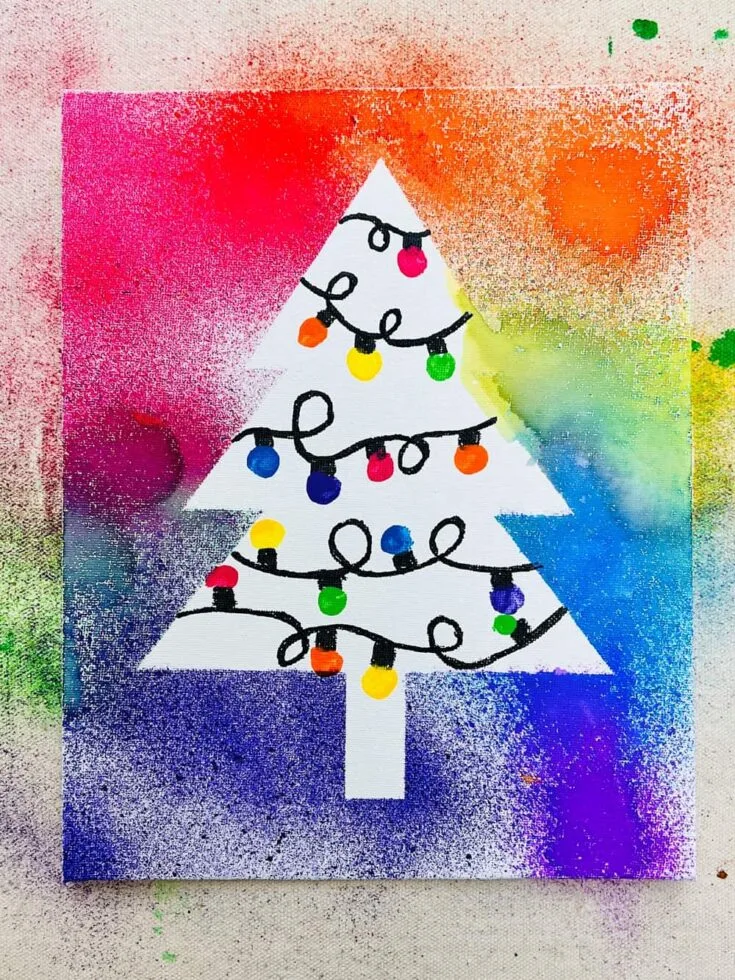 Make festive holiday art with the kids with this fun and colorful watercolor Spray Paint Christmas Tree Art!
Instructions
1. Print and cut the Christmas tree template out.
2. Use double stick tape to attach template to your blank canvas.
3. Place your canvas on newspaper or a drop cloth. Spray along the canvas on the edges of the template covering the exposed canvas parts.
4.Let your paint dry fully before slowly lifting the template up and away from the canvas.
5. Decorate your tree! We used a black marker to create Christmas tree lights and used Q-tips to paint.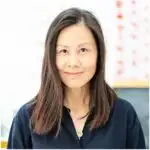 Agnes Hsu is a mom of three and has been inspiring parents and kids to get creative with easy activities and family friendly recipes for over 10 years. She shares her love for creative play and kids food to her 2MM+ followers online. Agnes' commitment to playful learning and kindness has not only raised funds for charity but also earned features in prestigious nationwide publications.