We have the talented Kristen Nelson here today as our featured Maker Mom. Kristen takes a unique approach to her creative blog, Art History Mom, and focuses on the topic of art history. Art is so important for developing children's creativity so I love Kristen's original take on integrating learning along with fun projects. On her blog, you'll find exceptional projects inspired by some of the greatest artists of our time, such as Van Gogh and Michelangelo.
Read more below and see how you can incorporate art into your child's everyday activities!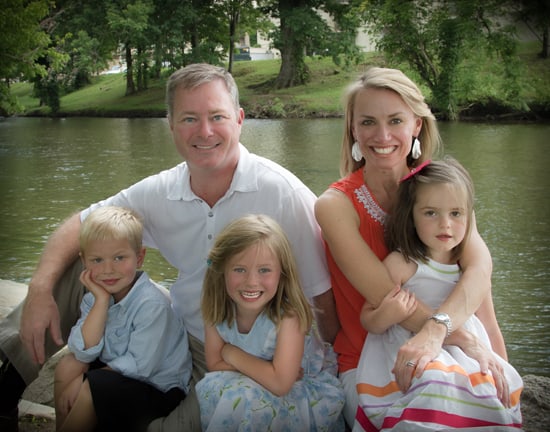 Please tell us a bit about yourself and your blog.
Hi! I'm Kristen Nelson and almost share the same name with my sweet husband, Christian. We have three children: Koble (7), Anders (6) and Sophie (4). I'm a freelance graphic designer and creator of Art History Mom, a place where parents and kids come together to view, discuss and create great works of art.
Art history is so much more than looking at pretty pictures. It can be a gateway for children to learn about history, world cultures and religions, geography and more. I think it's a tool that is underused in education today, which in part inspired me to start the blog.
What are your tips on getting creative with kids?
Children amaze me. One time I accidentally spilled a bunch of Q-Tips on the floor and my seven year old bent down and made a beautiful architecture floor drawing out of them. I find that kids get creative so easily, but I do like to help the process by having lots of different art supplies on hand, even non-traditional supplies like Q-Tips!
Also, we have many beautiful, large art books that we periodically leave out on the coffee table. Soon enough one of the kids sees a book and starts flipping through the pages. One time my son and I observed a book of Greek temples together and to this day you'll often find him building his own temples with wooden blocks.
Where do you draw your creative inspiration?
Observing my children and seeing their different creative interests blossom is very inspiring. My son likes abstract art and architecture, whereas my older daughter enjoys drawing tight sketches with marker.
Of course looking at great images from art history is very inspiring, and it's fun to see my children be inspired too. I'll often pull up images of different paintings on the computer and discuss them with the kids. For example, they love to look at art that includes animals. We'll observe the work and then the kids will draw or paint their own versions of the elephant, cat, etc.
What are a couple of favorite activities you've done with the kids?
We recently recreated Vincent van Gogh's Starry Night with glow in the dark play dough and cut paper. The kids observed the painting so closely I honestly don't think they will ever forget it. Seeing their creations glow in the dark was awesome.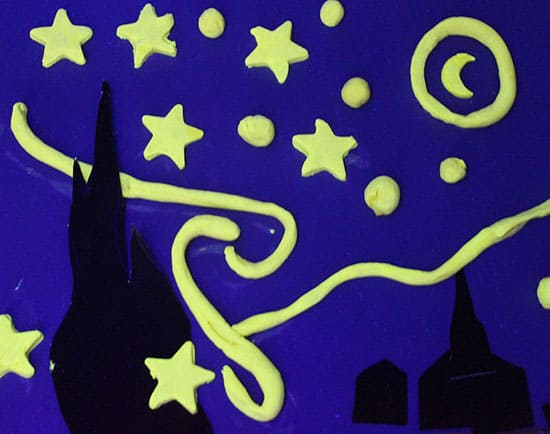 The Andy Warhol resist art project was fun too. Since Warhol had many artistic collaborators in his studio (called The Factory), the kids worked together to create several Warhol resist art flower paintings. Everyone learned a lot about different textured papers, how paint reacts to those surfaces, and how resist art works. While we were creating I taught them about the pop artist, his life and techniques.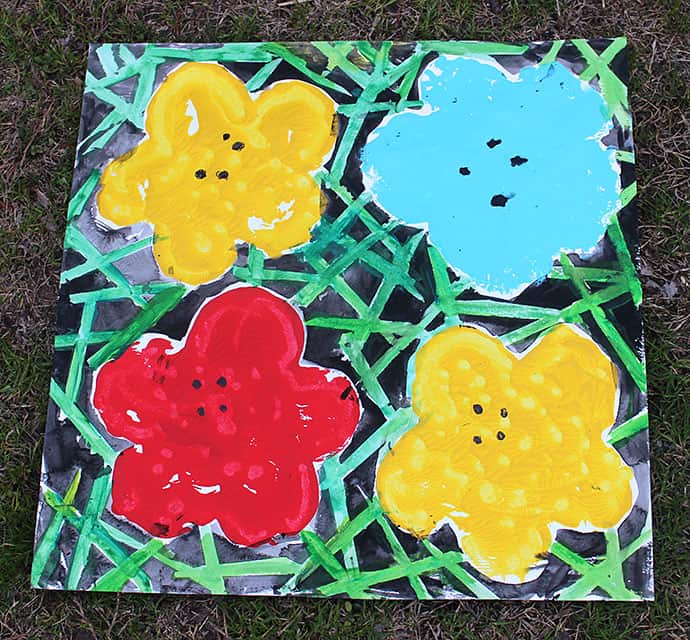 If you were stuck on a desert island with the kids, what crafting materials would you absolutely need to have?
It's not a crafting material, but I would love to have the mini art history book 10,000 Years of Art, as well as paper and oil pastels.
And because we love books and are always looking for good recommendations, what are some of your favorite children's books?
My children adore the Katie series by James Mayhew in which the protagonist visits different museums and actually enters the paintings and interacts with the people in them. Also, Laurence Anholt wrote several art history themed children's books that tell stories about real children who knew famous artists.
Last, who are some of your favorite bloggers that inspire you?
I've learned a lot about teaching art from Patty at Deep Space Sparkle. I also really like Leslie's projects over at Pink Stripey Socks.
Thank you so much Kristen for sharing your tips on how to get more creative with kids. Leaving art books out to invite kids to browse through is such a great idea. And I absolutely love the beautiful textures and colors on the Andy Warhol flowers, which are so representative of your many vivid projects


Visit all of Kristen's creative projects over at Art History Mom and follow her over on Pinterest, Facebook and Twitter to get the latest updates.


P.S. If you'd like to be featured as a Maker Mom, please drop us a note here. We'd love to hear from you!