My five year old daughter is just at that age where she's starting to enjoy drawing shapes and characters. She also loves to color and so I thought it's be fun to make some temporary tattoos…out of her art!
I've been seeing lots of fun tutorials on using temporary tattoo paper you can print any designs on such as these decals by How About Orange for Easter Eggs. And yes, you can actually buy temporary tattoo printer paper. What a genius idea!
Here is how to make temporary tattoos using your kids' art. They'll love sporting these tattoos knowing they had a hand in making the designs.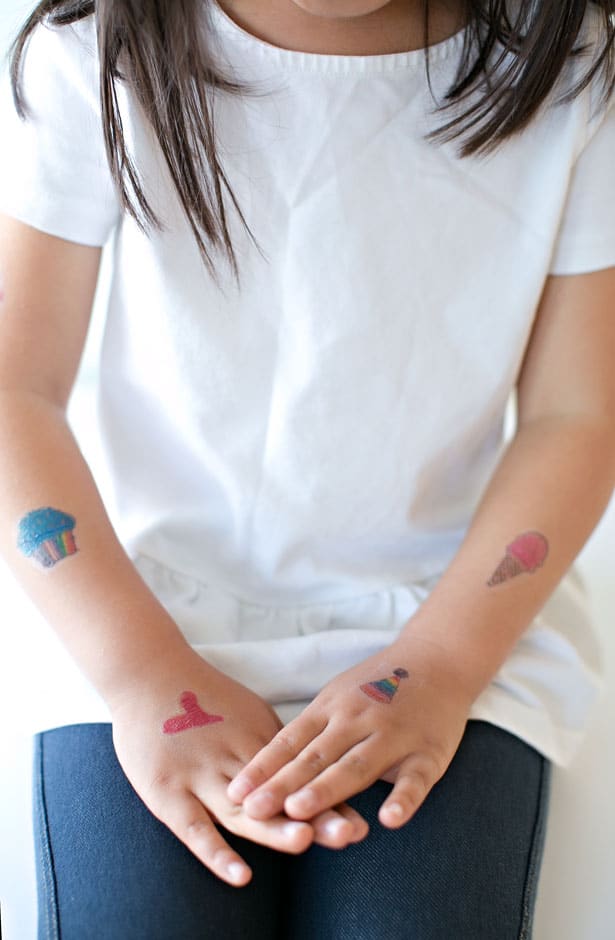 Temporary Tattoos Out of Kids' Art – Materials:
– Silhouettte Temporary Tattoo Paper
– Paper printed with black and white clip art your child can color in or use a blank sheet of printer paper and have your child draw designs (we did both as you'll see below)
– Printer and scanner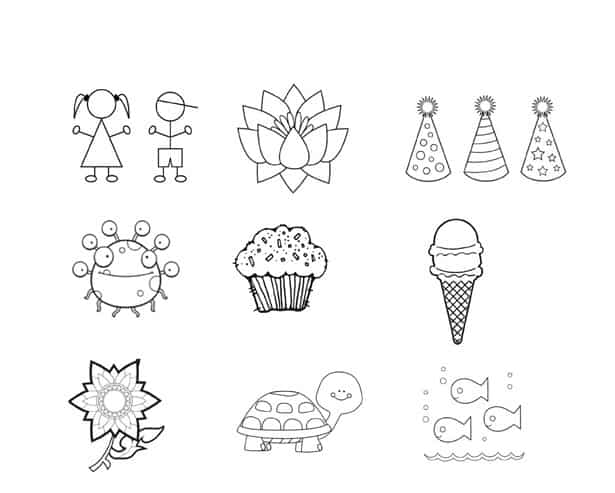 Steps:
1. The first thing you'll do is add some clip art to a Word file (I searched for some cute free ones online) for my daughter to color in. I also left some blank space on the page so she could draw her own "clip art." Feel free to use the the template I made here.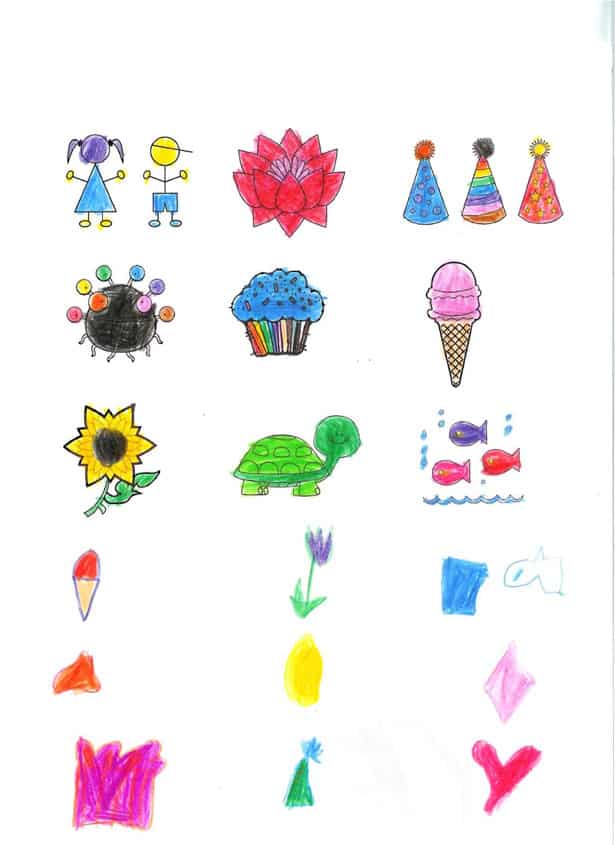 2. Print out the page with the clip art and have your child color the clip art and also draw her own characters. Then scan that page so you have a digital file to print. The image above is the scanned page of what my daughter drew. She colored the clip art and made some of her own designs (see the bottom of the page above).
3. Place one sheet of the tattoo paper in your printer. Print out the digital file you scanned of your kid's art. The tattoo paper comes with a separate self-adhesive transparent cover. Once you print out your scanned page on the tattoo paper, remove the clear page from the self adhesive paper and adhere to the printed paper. This may sound complicated but it's actually quite simple.
*Note: the Silhouette tattoo paper comes with instructions on how to use it with their Silhouette machine. Ignore all those instructions as you won't be needing the machine to do this at all.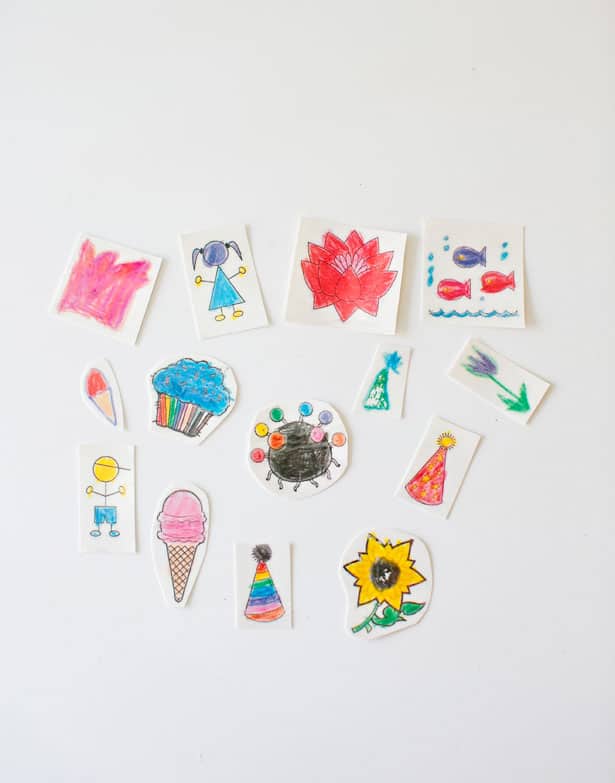 4. Once you have placed the clear adhesive sheet over the printed tattoo paper, you can cut out your tattoos as shown above.
5. Now you can place these tattoos as you would any temporary tattoos. Remove the clear adhesive from each tattoo, place the tattoo design face down, use a wet paper towel and press over the tattoo and gently remove.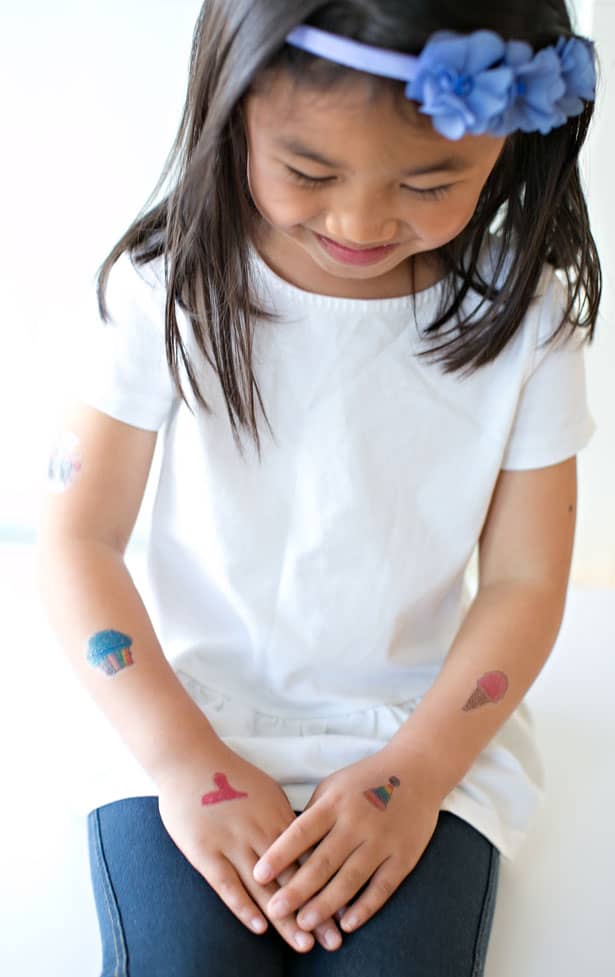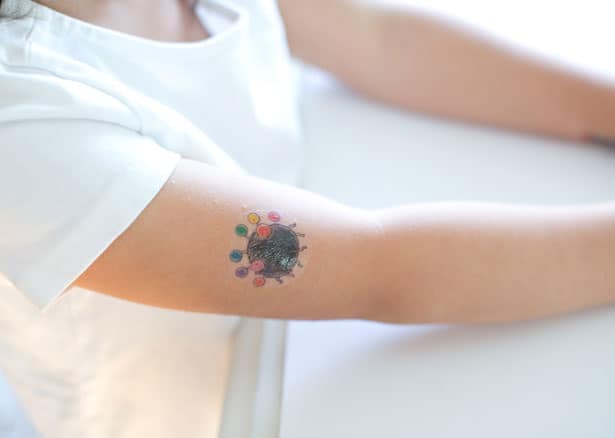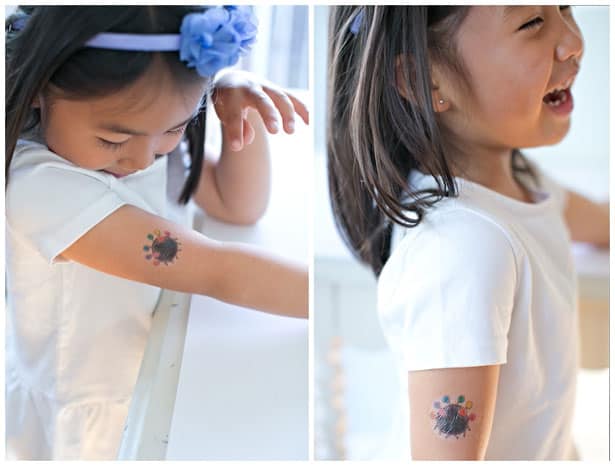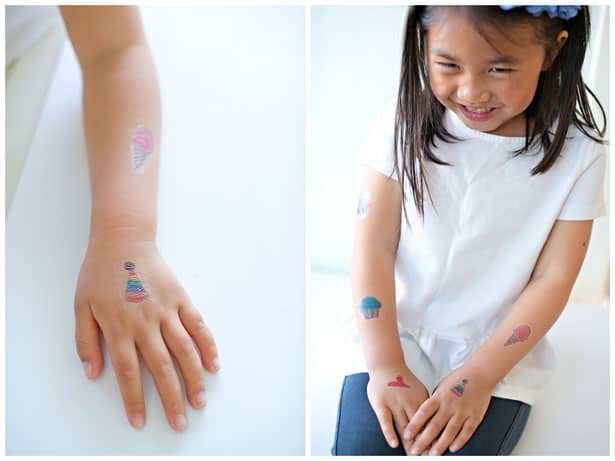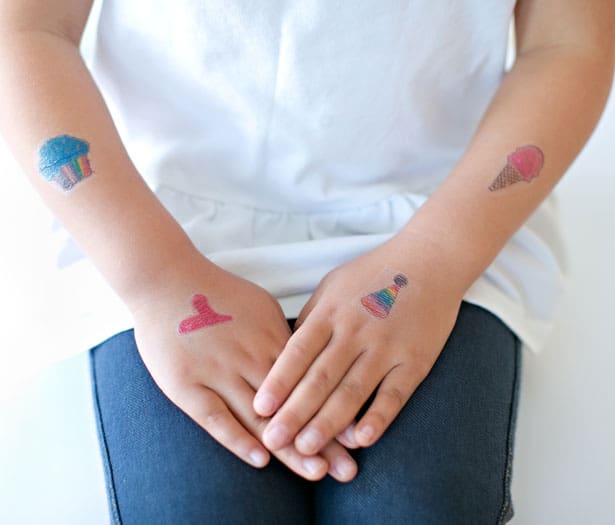 And there you go, easy DIY temporary tattoos out of your kid's art! My daughter had so much fun making her own tattoos and then showing them off.
This would be a fun party activity as well. The possibilities are endless for custom designs. Or if your child is old enough, drawing your own design is also pretty awesome.
Have you ever used temporary tattoo paper before? The application is easy and can lead to so many creative uses!