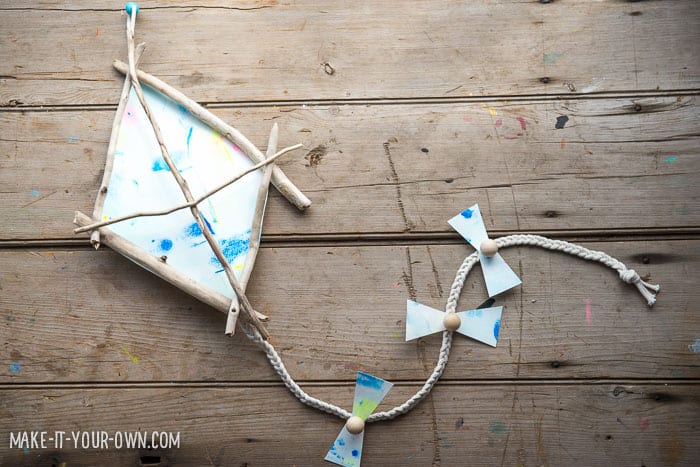 What kid doesn't love to collect sticks? We are always trying to think of ways to display their treasures!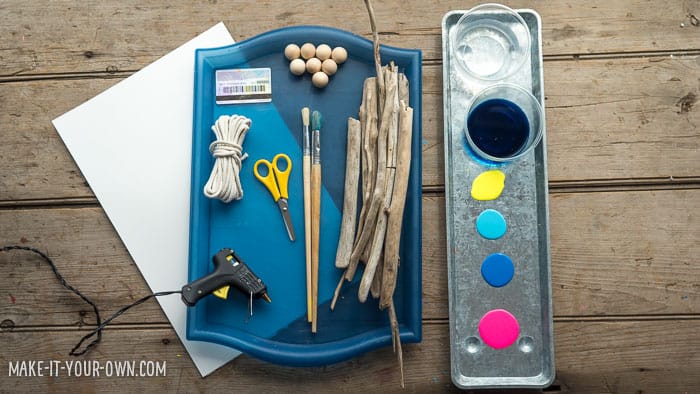 Materials:
2 or more pieces of large paper (we used watercolour paper, but anything durable could work, such as poster board)
Driftwood or sticks
Glue gun (to be used by an adult) or craft glue
Paint (we used watercolour and a bit of craft grade acrylic)
Painting tools (brush, old gift card)
Cotton rope
Scissors
Beads or wooden balls
Painted Beads (*Optional: If you want to paint them to coordinate with your kite)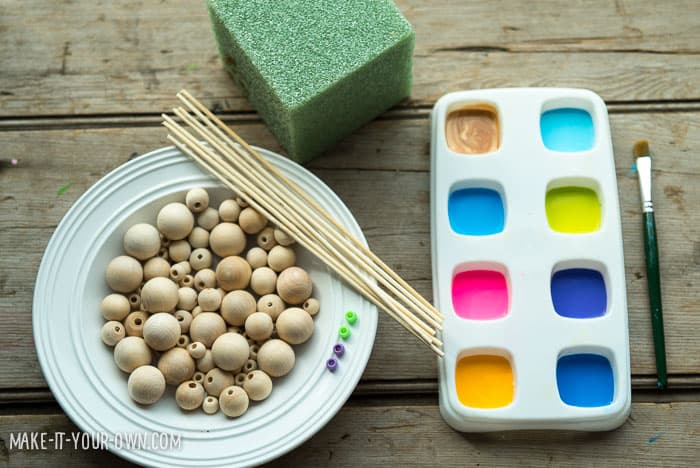 Wooden beads
Acrylic paint
Floral foam
BBQ skewers
Pony beads
Paint brush or brushes
We also find these items helpful: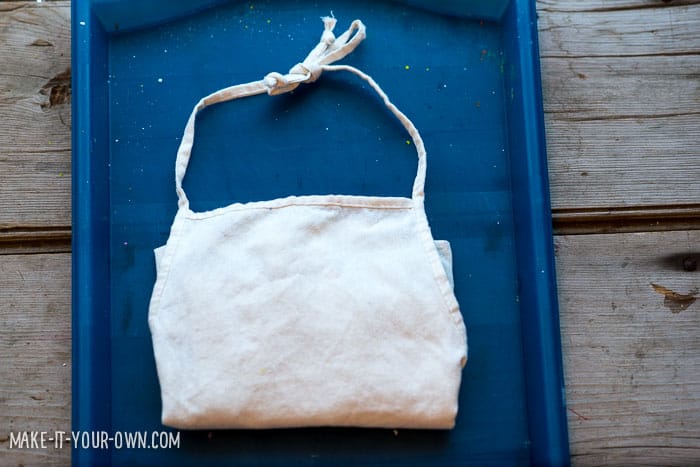 Directions:
With an adult, collect sticks. We used these driftwood pieces from a beach from a small island off of Canada's west coast. You could also use dowels if you like.
Painting your Beads
If you want your beads to match your project, customize them with paint!
Don your smock and cover your workspace with a table cloth or set out your craft trays.
Have an adult cut the sharp points off of the BBQ skewers.
Put a pony bead at the bottom of your skewer. This will hold your beads in place and prevent them from sliding down when you paint them.
"String" your beads onto your skewer.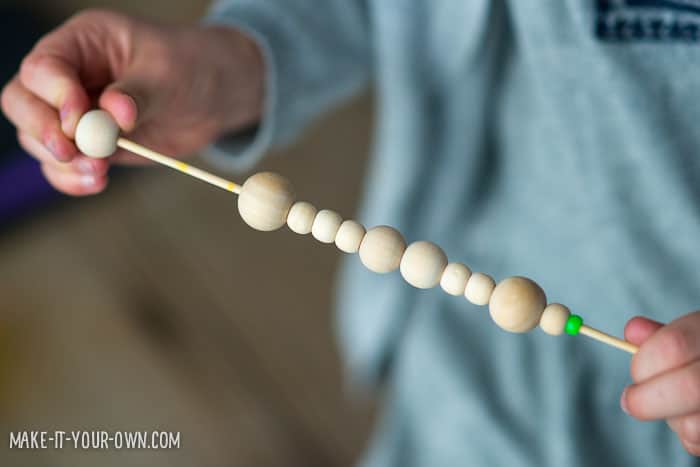 Insert your skewer into your floral foam.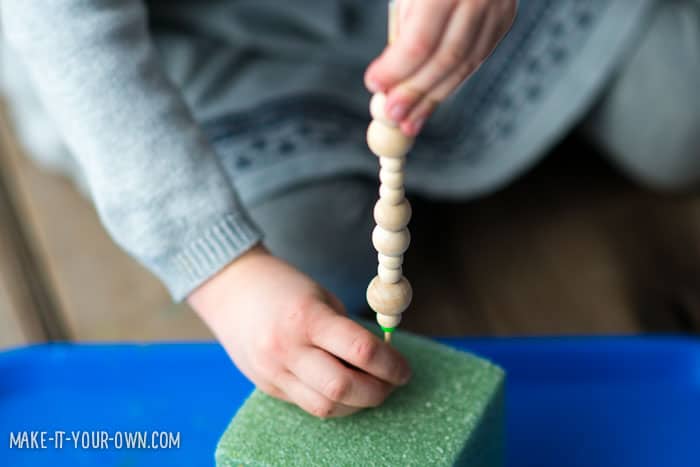 Paint your beads. We find it helpful to hold the skewer with one hand at the top while you paint with the other.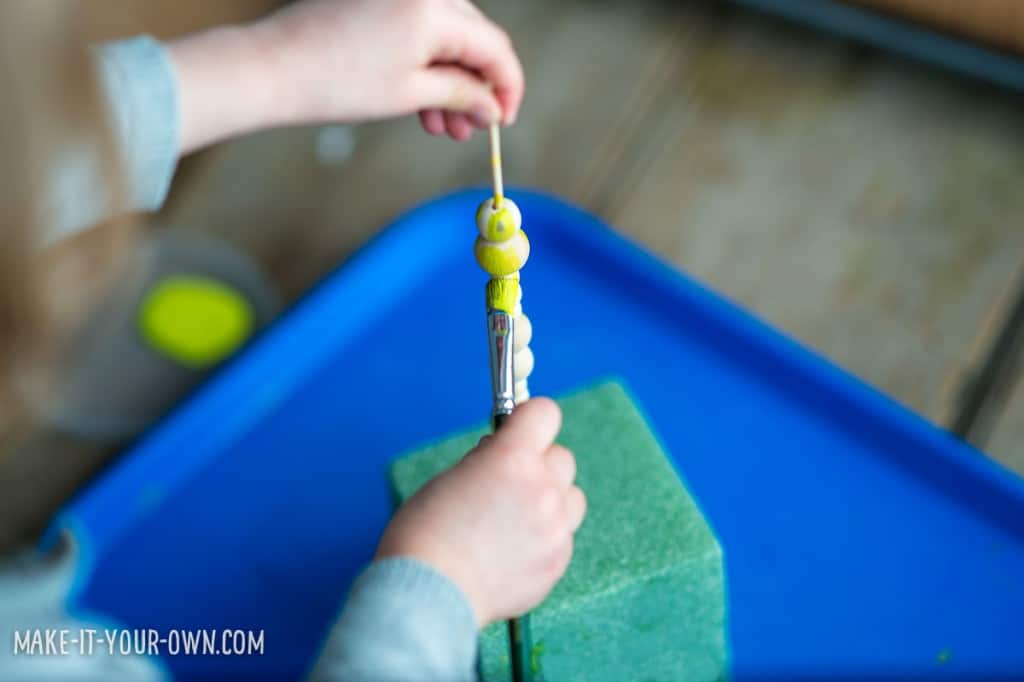 Paint them as many colours as you would like for your kite.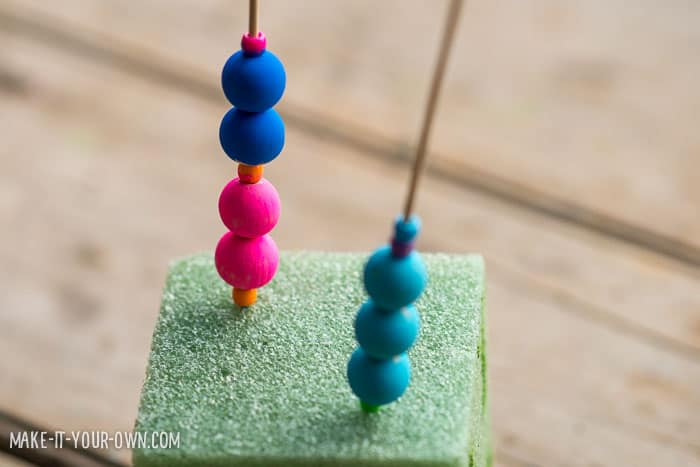 Paper Portion
You can use any painting techniques you like. We applied water to our paper and then added a bit of diluted water colour paint to create a base colour. We then scraped acrylic paint onto the paper with an old gift card.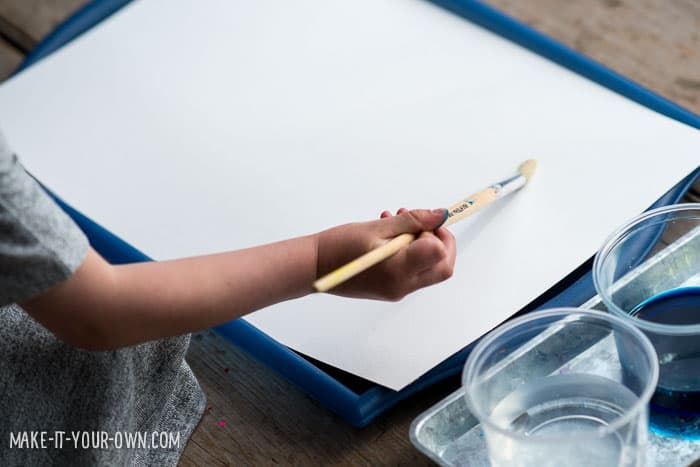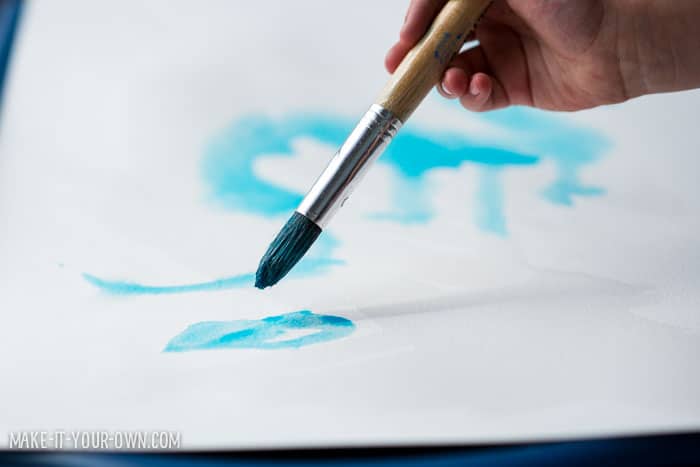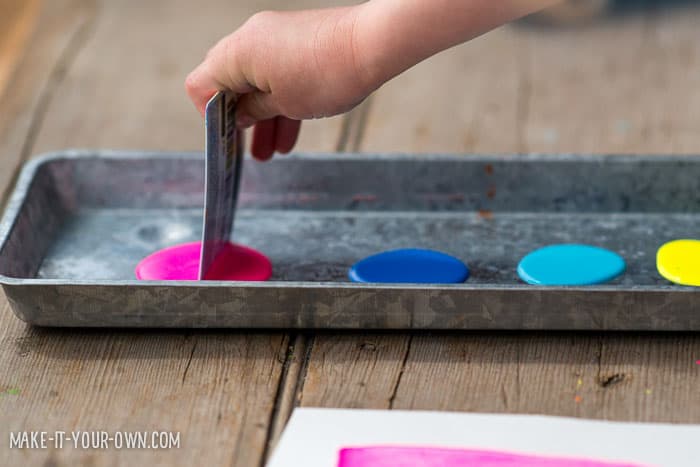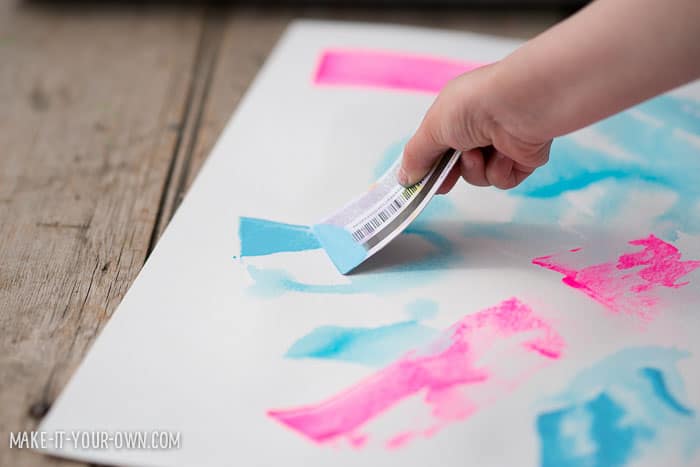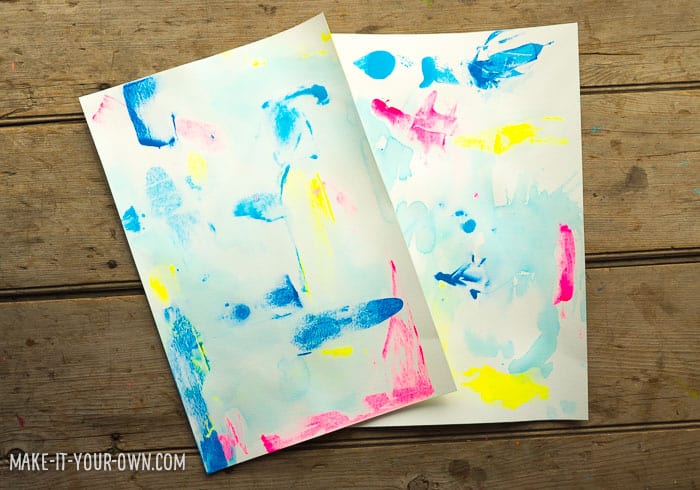 Putting it All Together
Arrange and then glue your sticks onto your paper to make a kite formation. (If you are using a craft glue, allow it to dry overnight.)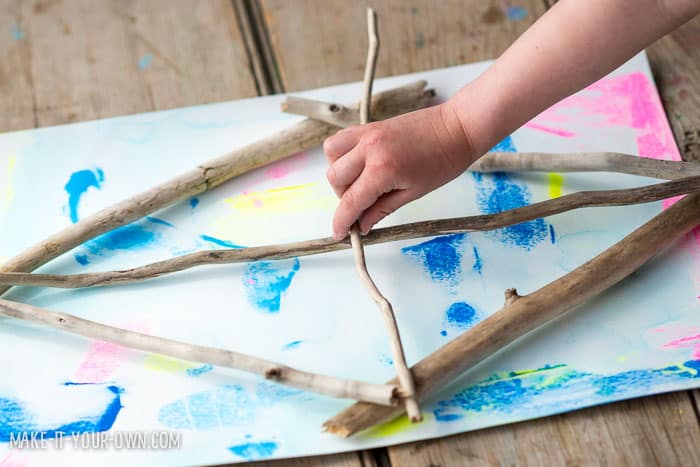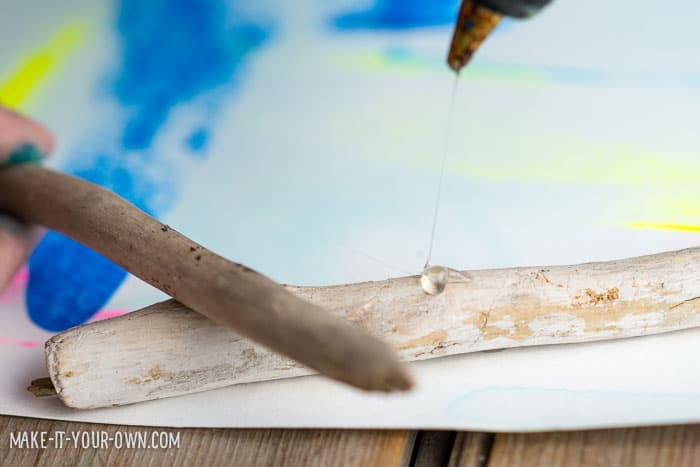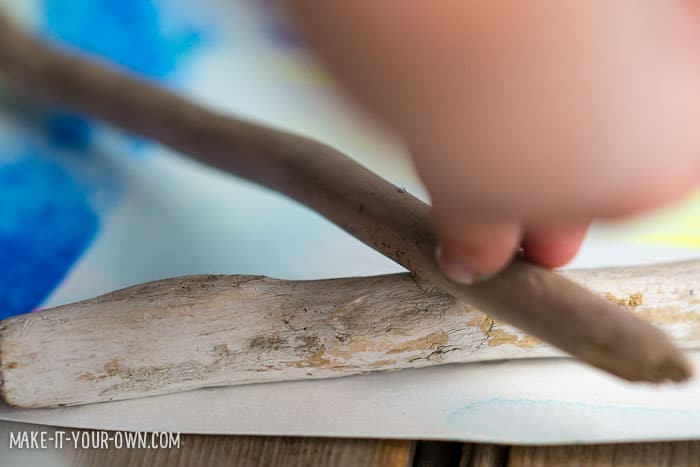 Trim the edges of your paper around the kite frame.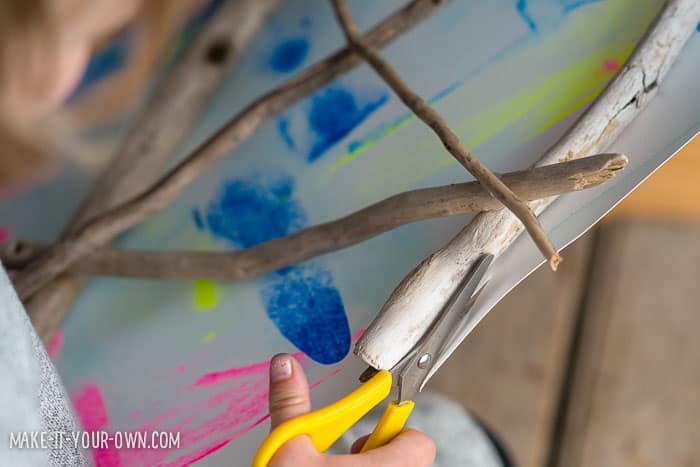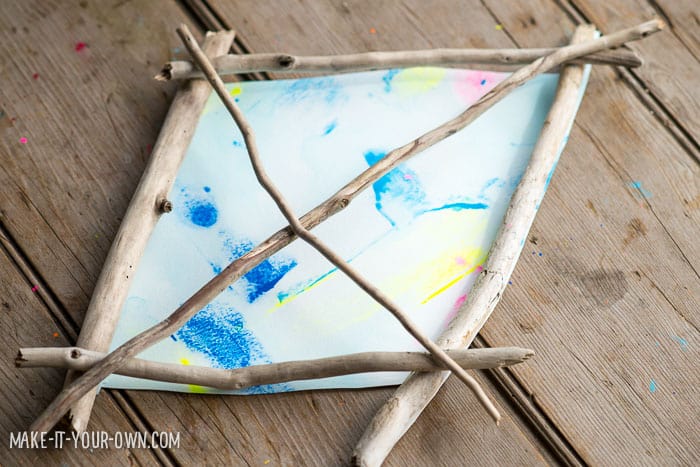 Kite Tail
We took our rope and made a braid using three equal pieces. With young children, repeating "Left to the centre, right to the centre" can be helpful to learning.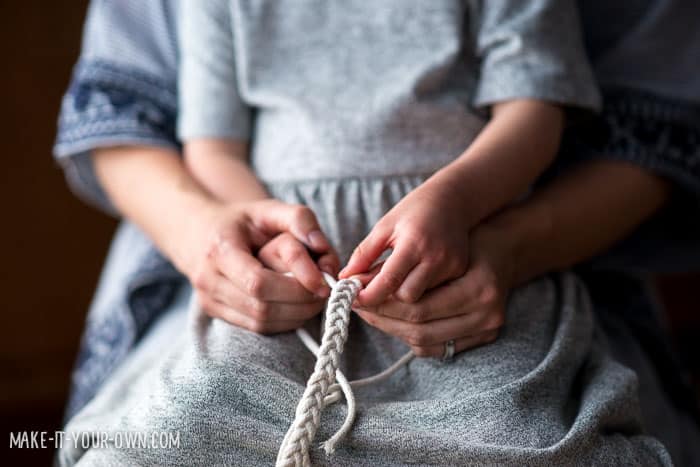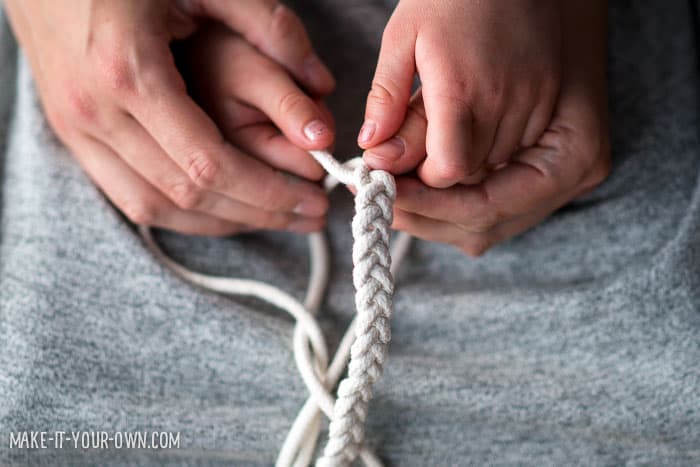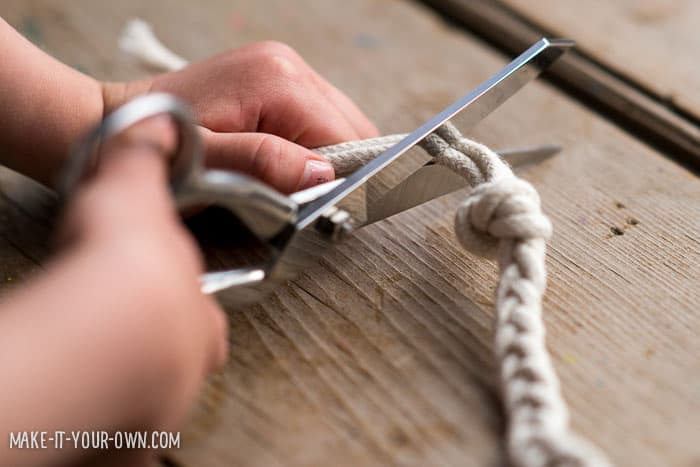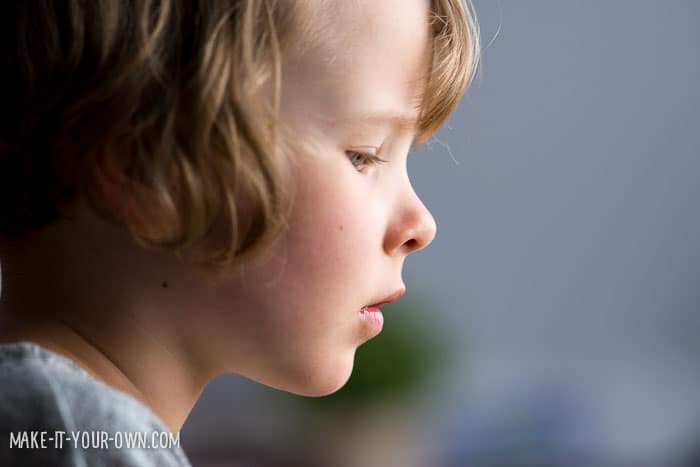 We then cut bow shapes (two triangles, one with the top snipped off, glued together) and glued a wood bead in the centre.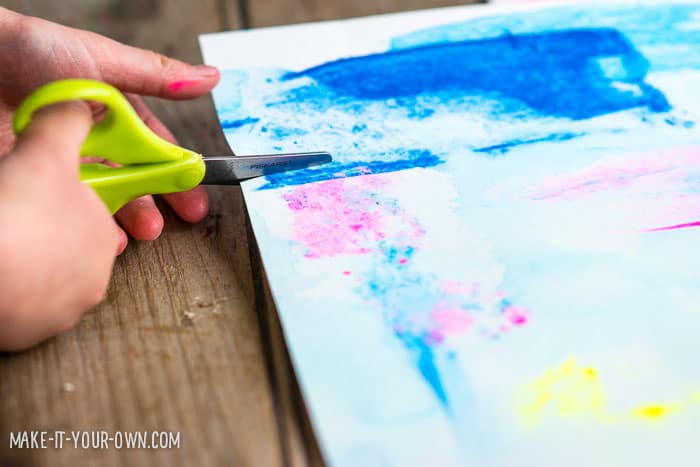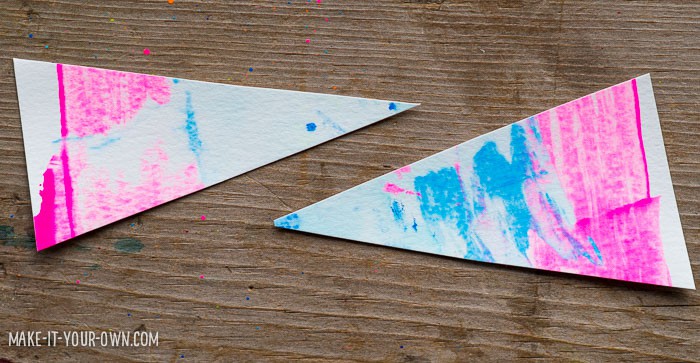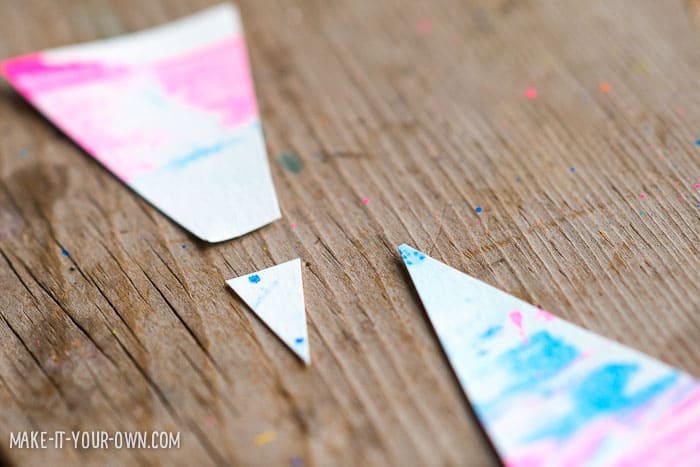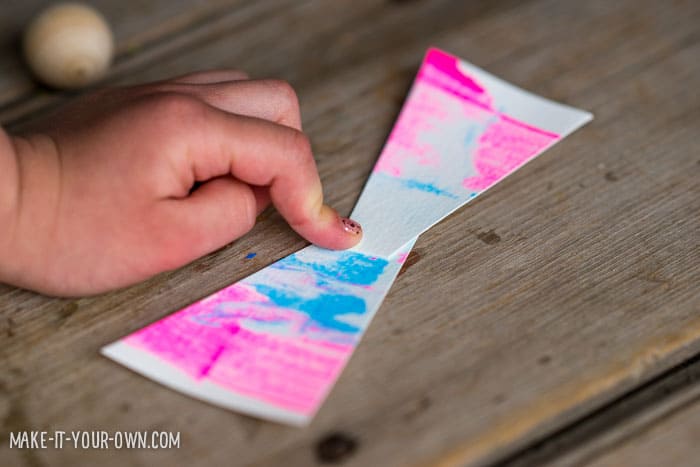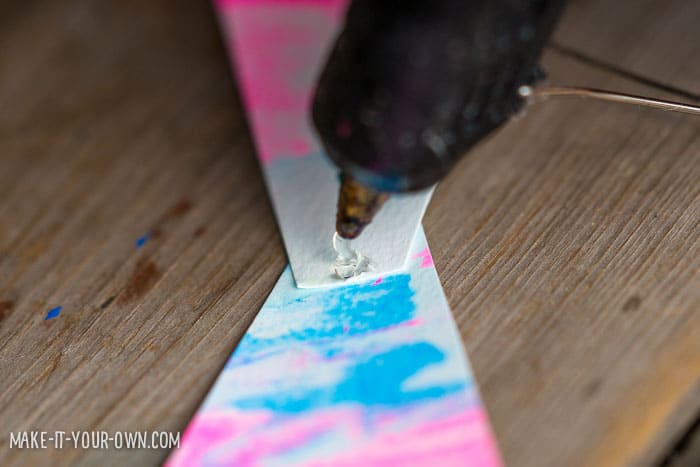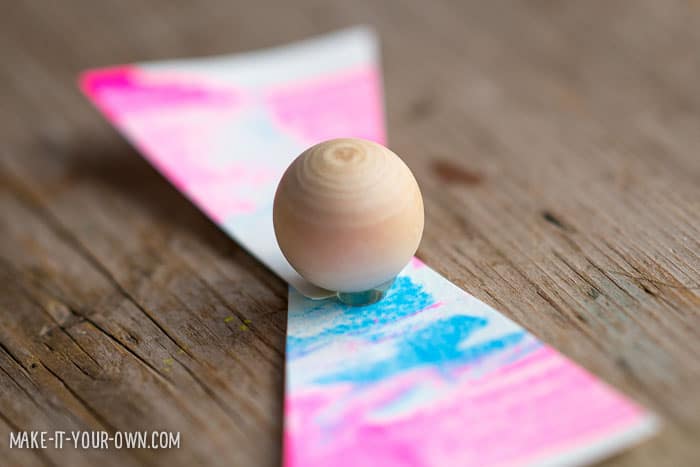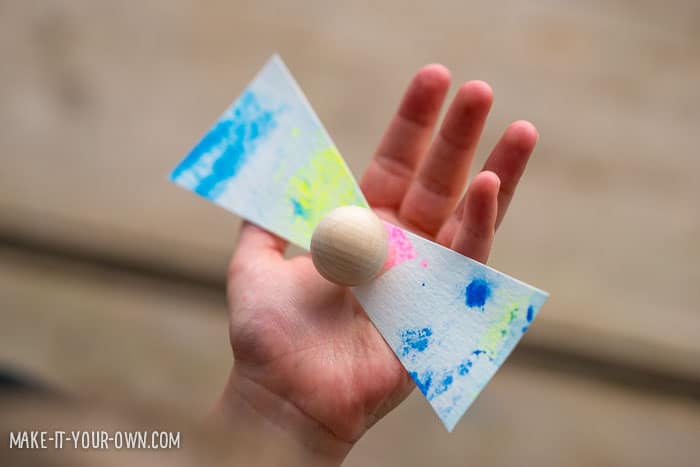 If you like, you can add coloured beads to coordinate with your painting.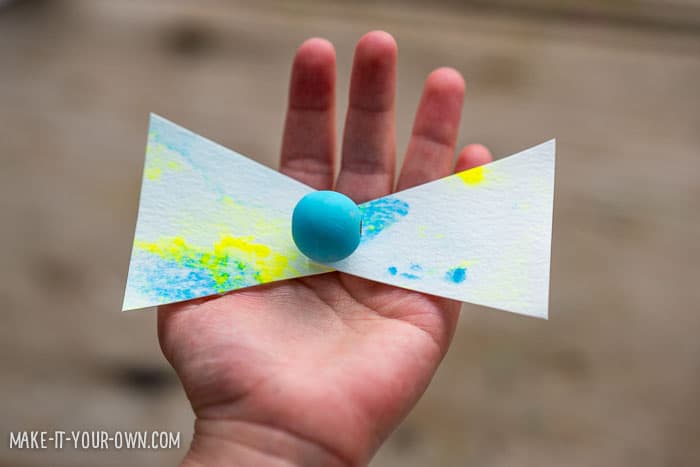 Once dry, glue your bows to your braided rope and glue your tail to kite. (On the back.)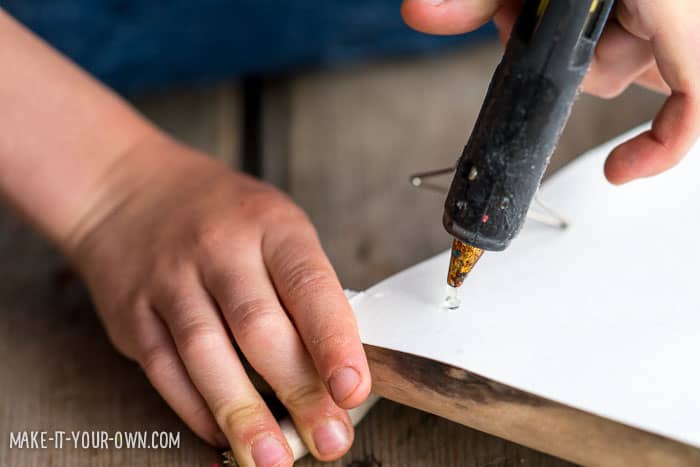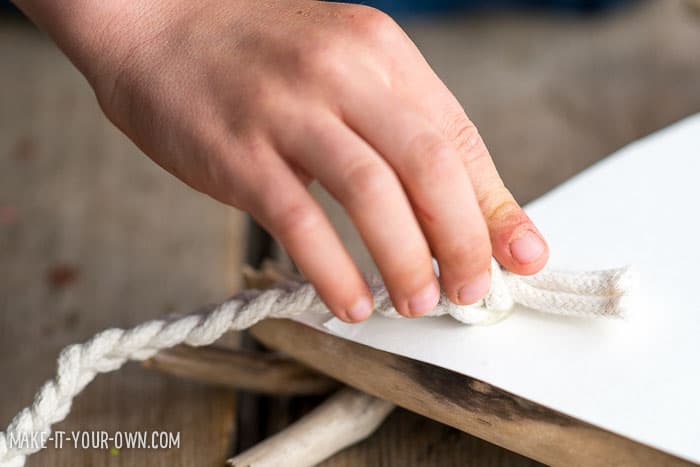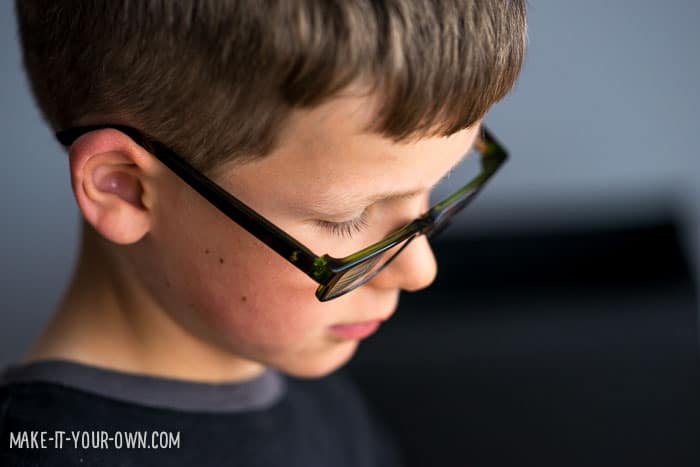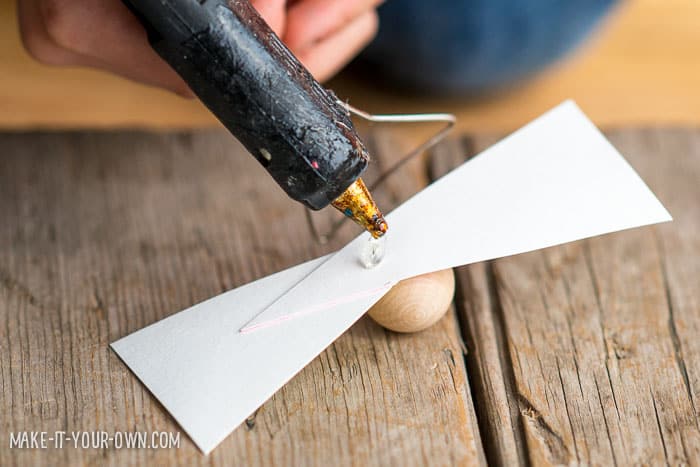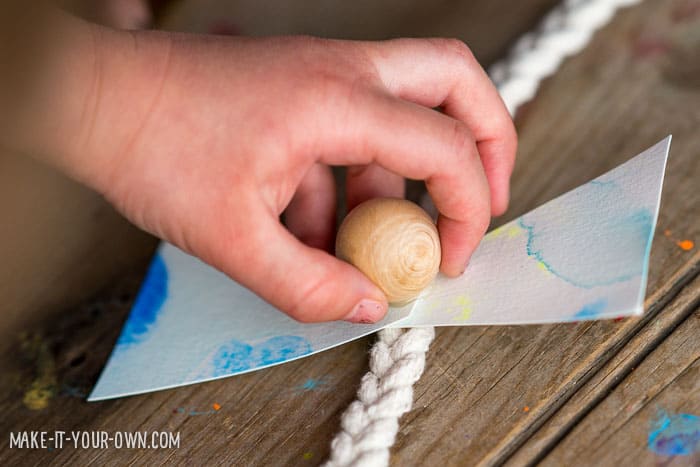 We also took a bit of rope, made a loop (going through an additional bead) and attached it to the top of the kite to make it easy to hang.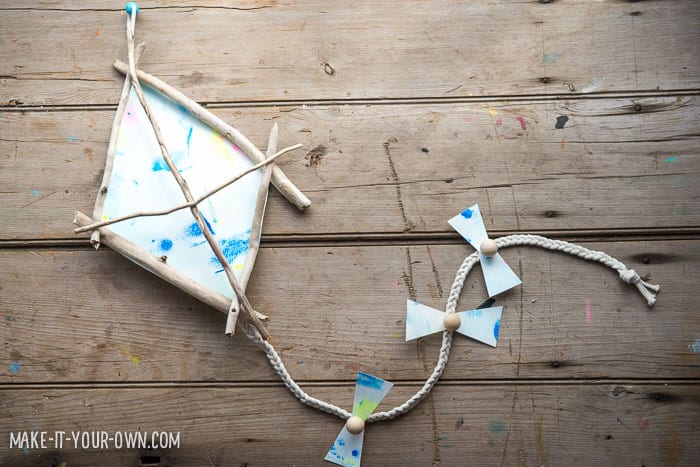 Have an adult hang your beautiful creation in your room- wouldn't this be magnificent on a ceiling!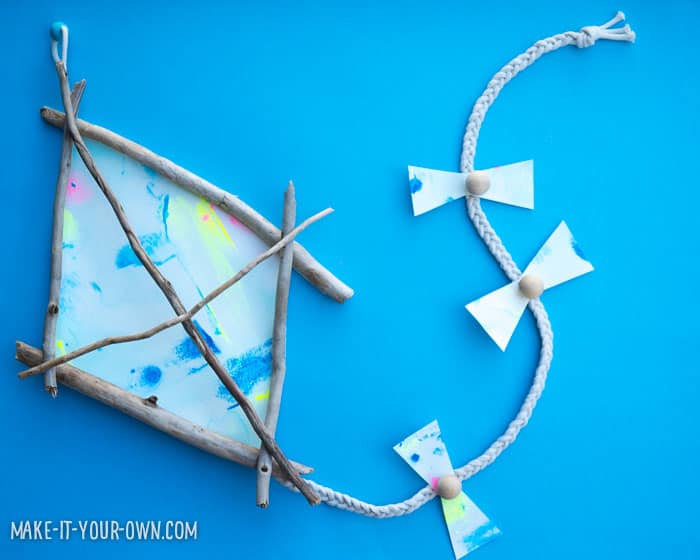 Purpose
Getting out into nature, being active
Exploring various painting techniques
Developing one's fine motor skills (braiding, cutting etc.)
Safety Notes
Use scissors with care and adult supervision.
A glue gun should be used by an adult or with direct supervision and instruction.
Beads can be a choking hazard, therefore be sure to keep them out of the reach of children 0-3 or those that tend to put things in their mouths.
Cord, rope, ribbon etc. can be a strangulation hazard, therefore be sure to use it for its intended purpose and with supervision. Keep this in mind when you decide on a place to hang it- that it is out of the reach of small children.
We suggest you wear a smock and use a craft tray to prevent damage to your clothes and/or surfaces.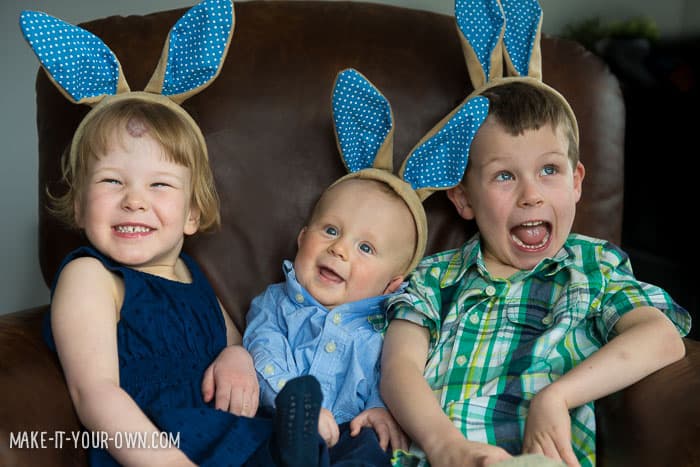 Make it Your Own is a Canadian children's website. We hope to inspire educators and families with projects to do together, explorations of various mediums and techniques and to get out into nature to source supplies. We love re-imagining items and thinking of new ways to share children's artwork. We are often described as "an educational mom, a digital dad and their three mini-makers.