Scroll all the way down to watch the video below to see the easy process for how to marble rocks with paint and make sure to subscribe to our YouTube channel for more fun videos!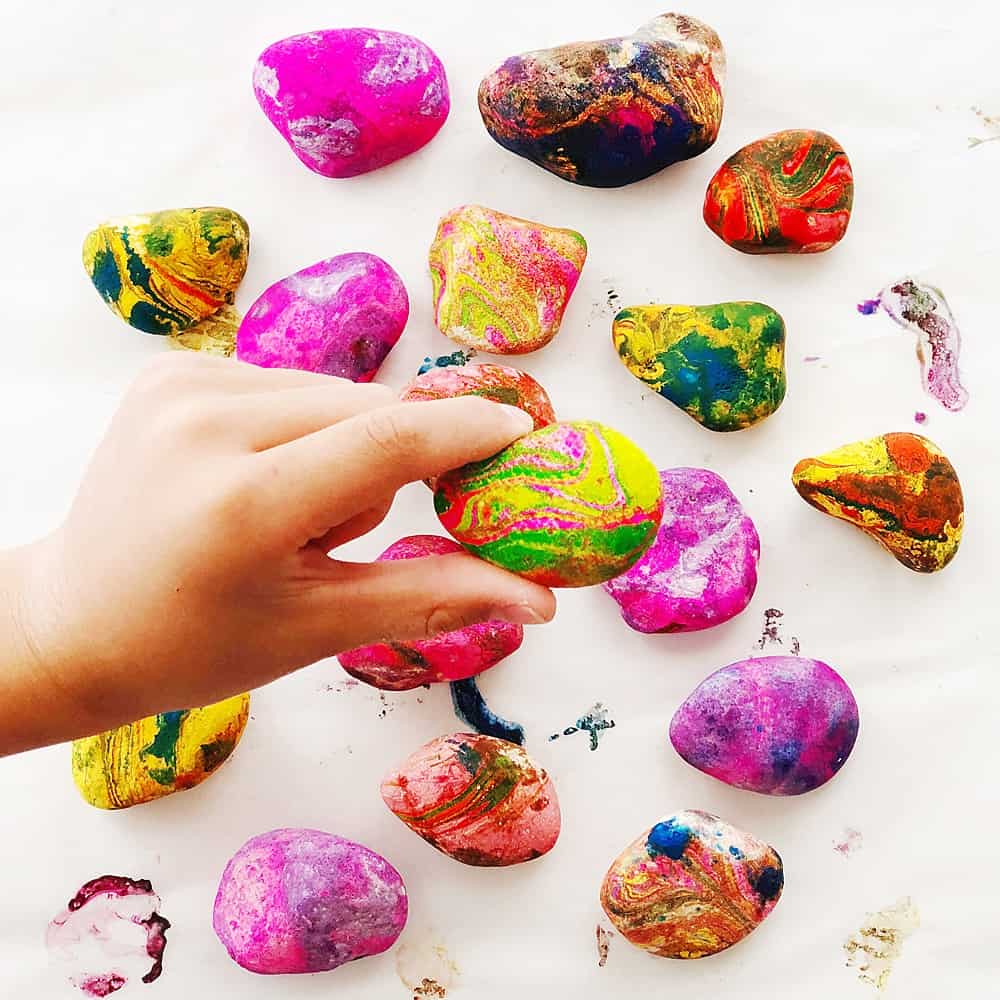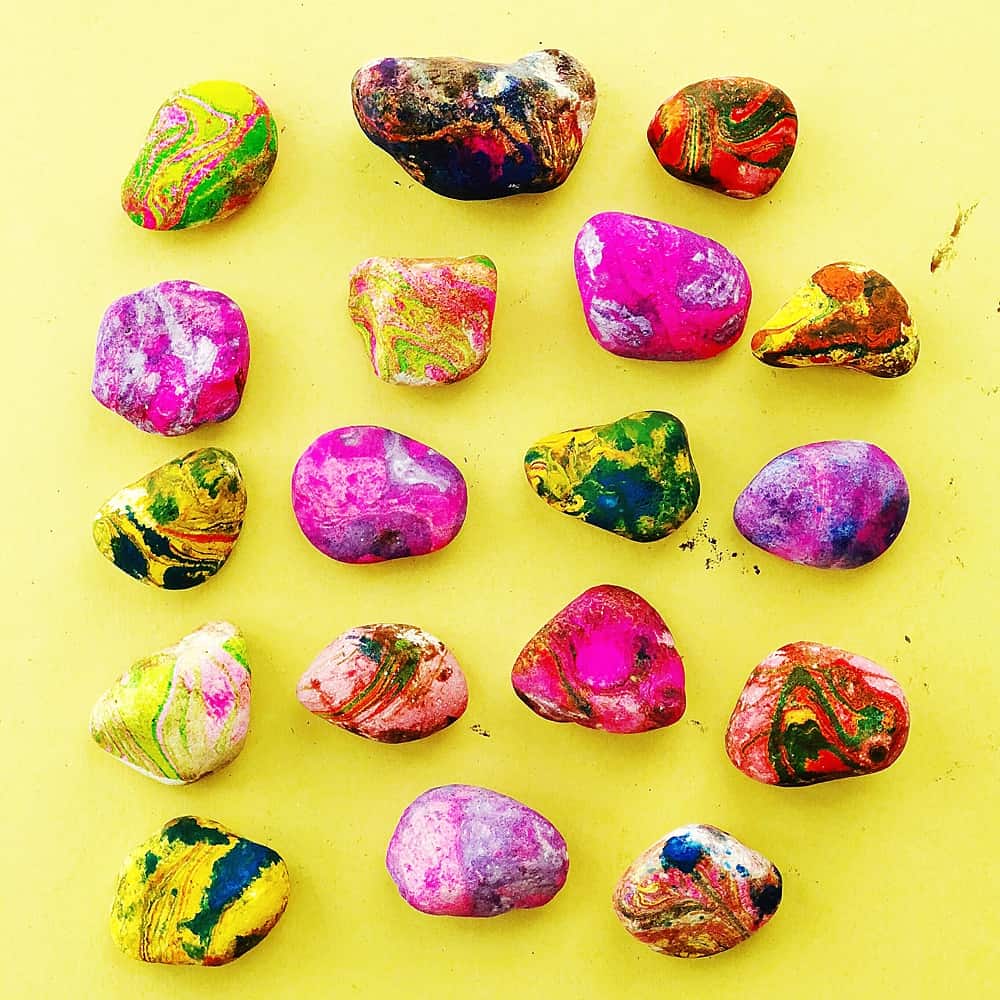 We had so much fun with our DIY Paper Marbling that we decided to apply it to another everyday and common craft item – rocks! Like paper, rocks can be found almost anywhere in large quantities and cost hardly anything. We love crafting with rocks and have made anything from unicorns, puzzles, alphabet letters to kindness rocks, doll faces, and fish!
The art process here is the very same as our paper marbling. We used the same Japanese marbling paints we had on hand and process of swirling the colors with a skewer or toothpicks, then dipping our rocks in and patting them lightly with a paper towel and letting them dry. The main difference is that rocks are porous, so you'll want to seal with a varnish if you want your paint to stay vibrant and not smear. We do that with ALL our painted rocks and not just these so it doesn't depend on the type of paint used or paint markers. Most rocks have to be varnished to maintain their colors and keep paints from smearing or running. At least that is what we have found (let us know if you've had different results or have found a workaround).
Let's get to the process of marbling rocks! Read below for the materials we used and instructions.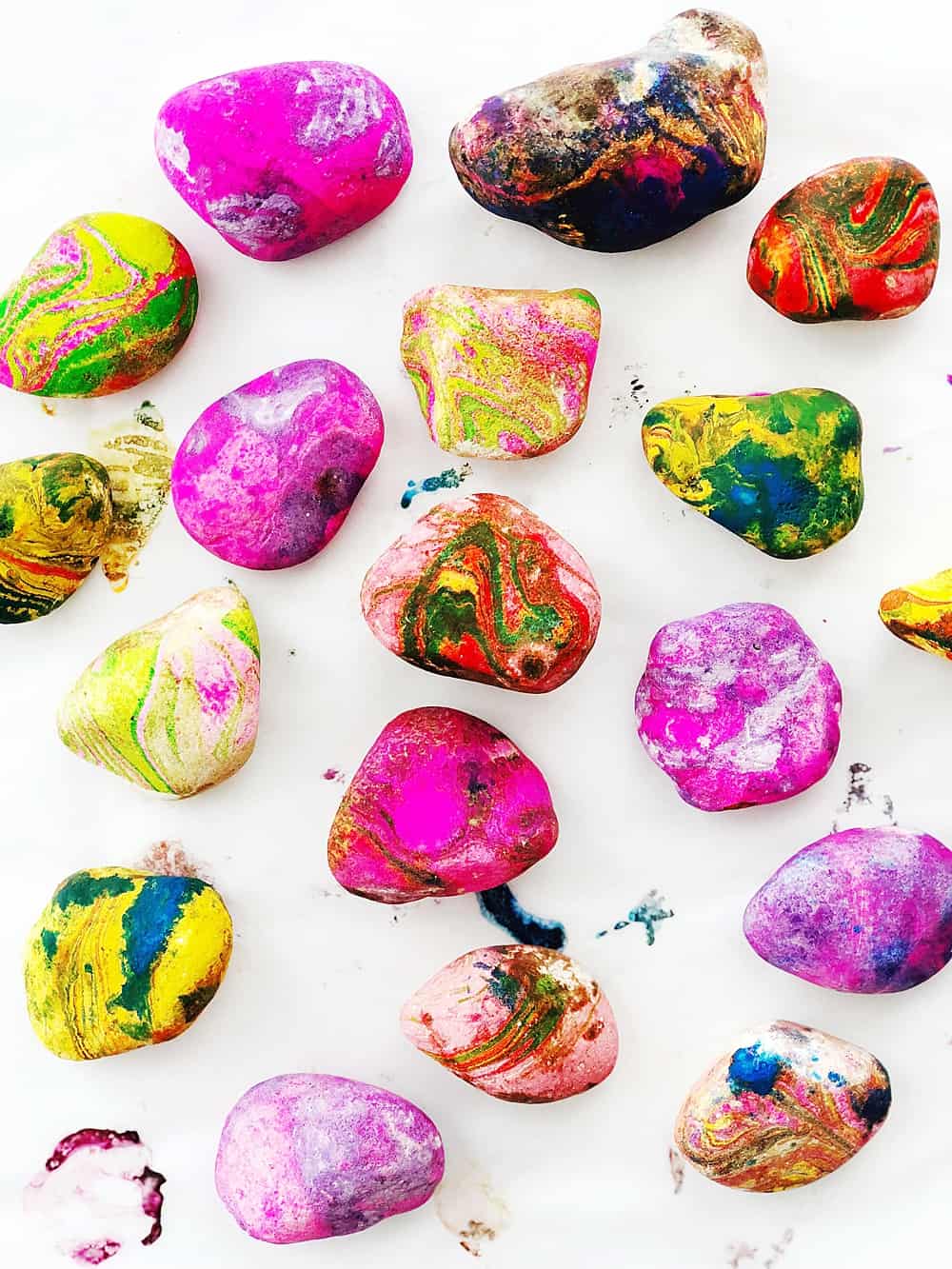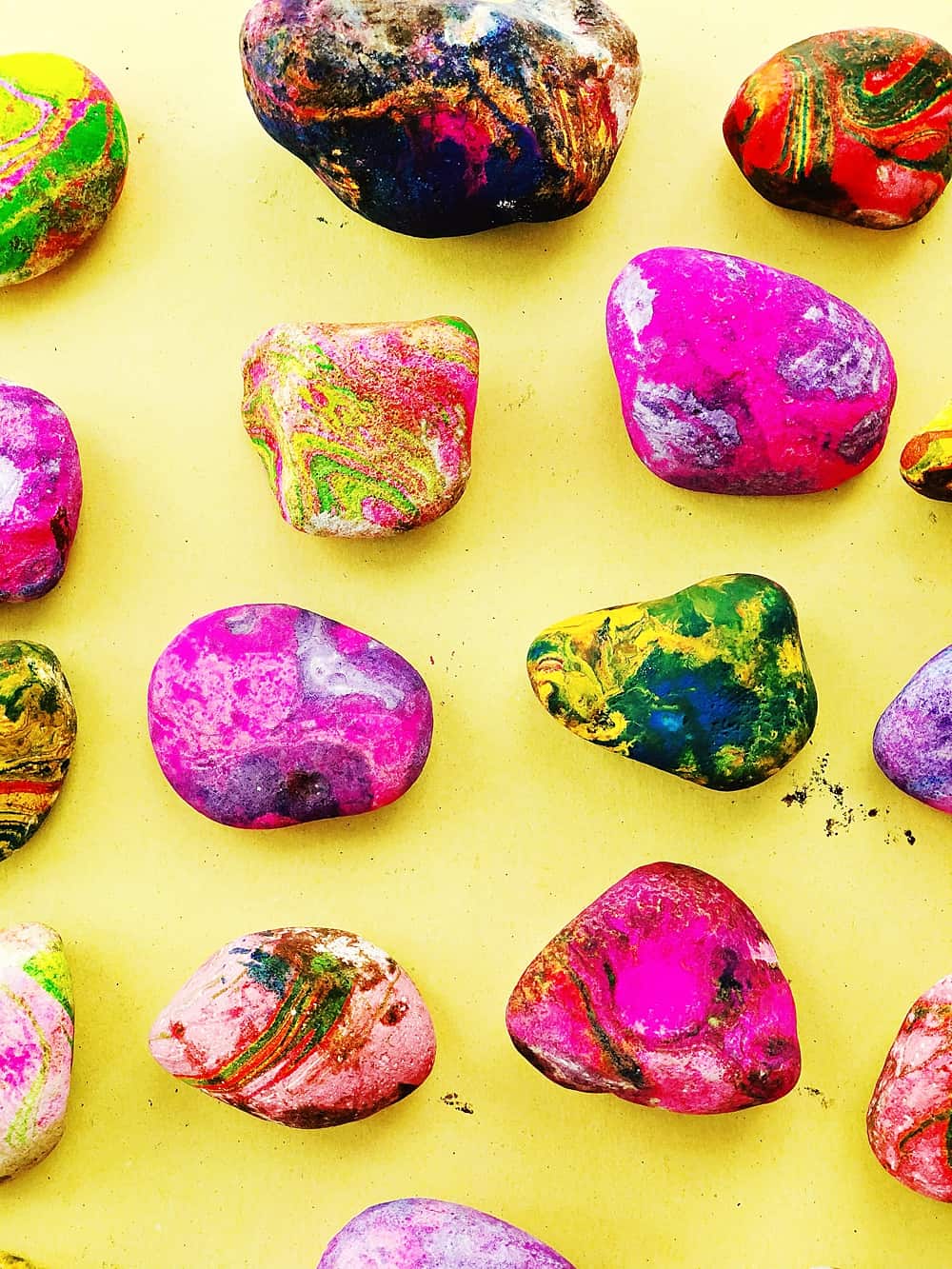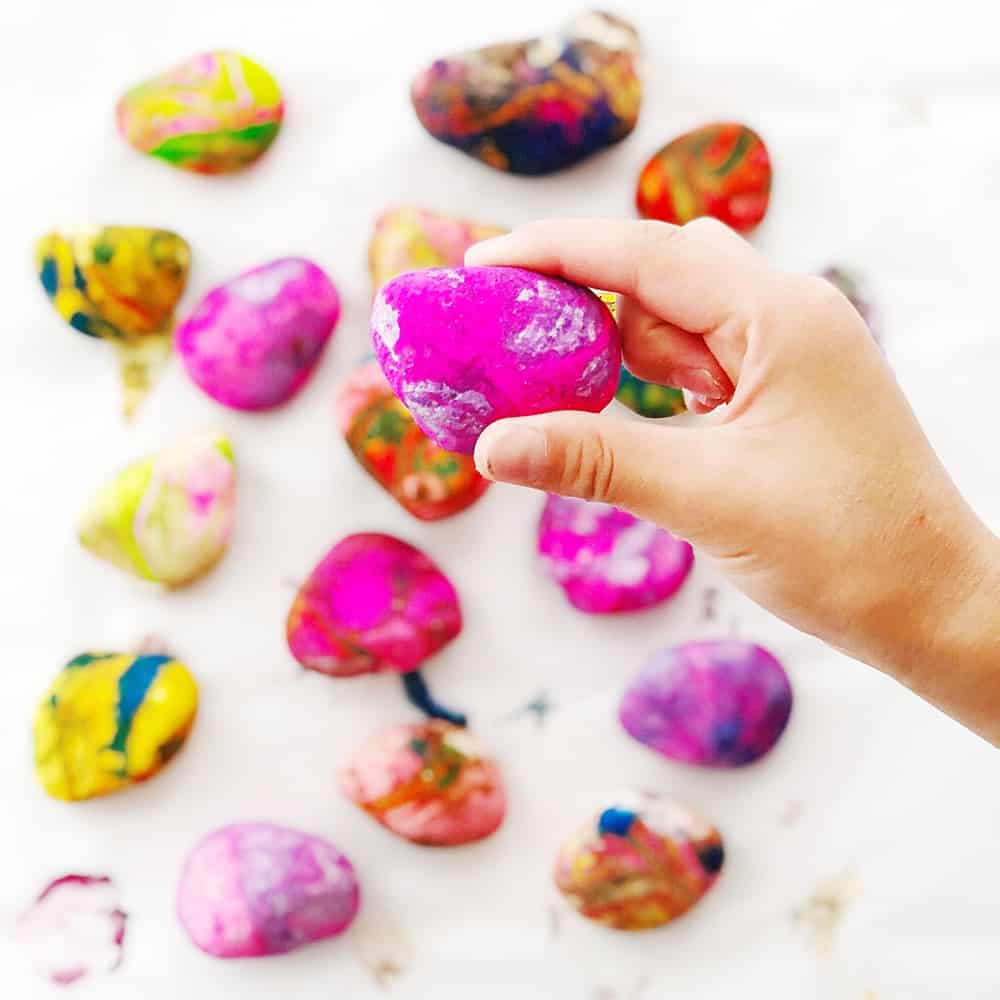 HOW TO MARBLE ROCKS WITH PAINT – MATERIALS:
Rocks (wash and pat dry)
Shallow Pan
Newspaper, parchment paper or something to cover your work surface
Paper Towels
Skewer or toothpick
Spray varnish to preserve the paint (we like this low odor varnish)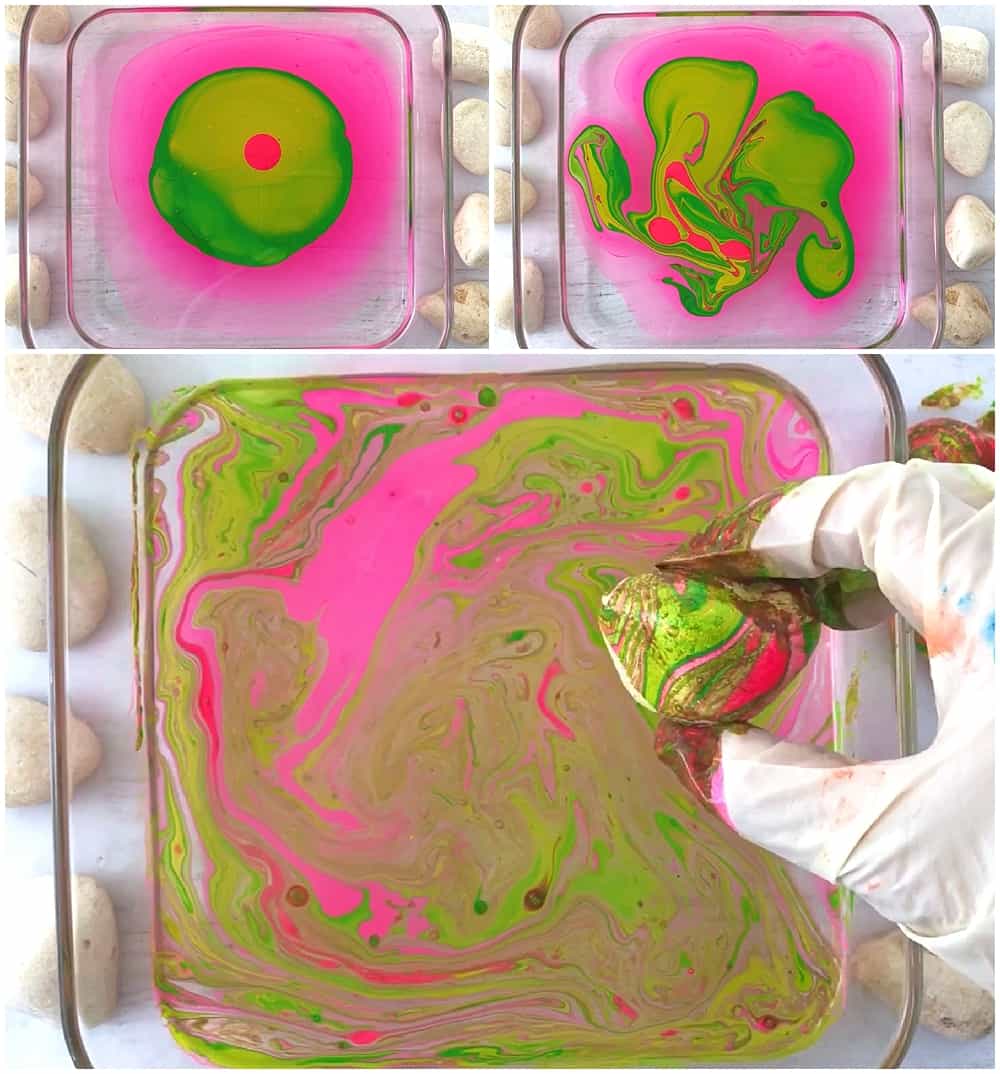 INSTRUCTIONS: (watch the process on paper here)
Step 1. Lay out your newspaper or parchment over your work surface to protect from paint. The paints we tried are oil based so this was very important. Keep in mind they also have a strong smell due to being oil-based.
Step 2. Add some water to your shallow pan about halfway through.
Step 3. Wear disposable gloves, this was a must in keeping messes to a minimum as oil based paints do not come off easily.
Step 4. Make sure to shake your paint tubes well so the ink is distributed. Pierce your paint tubes with the pointy end of the cap. Tip to try next time: Use a small needle as the paint dripped out too fast which caused messy drips.
Step 5. Add a drop of the paint on top of the water in your pan, watch is magically dissipate into a circle. Add another circle on top and repeat for as many colors as you want. Then use a toothpick or skewer to drag the paint in different directions creating a marbling effect.
Step 6. Add your rock and fully submerge, absorbing the paints. Remove and lightly pat dry with a paper towel – unlike our paper marbling – you want to pat lightly here as we found on rocks, patting too hard removed too much paint. You can opt to not pat dry if you want but they will take a longer time to set and ry. Set aside on top of your parchment paper or newspaper to dry.
Step 7. In a well ventilated area (we do this outdoors) spray your rocks with a light coating of varnish to preserve the paint. This is optional but keep in mind the paint will smear off eventually if you don't do this.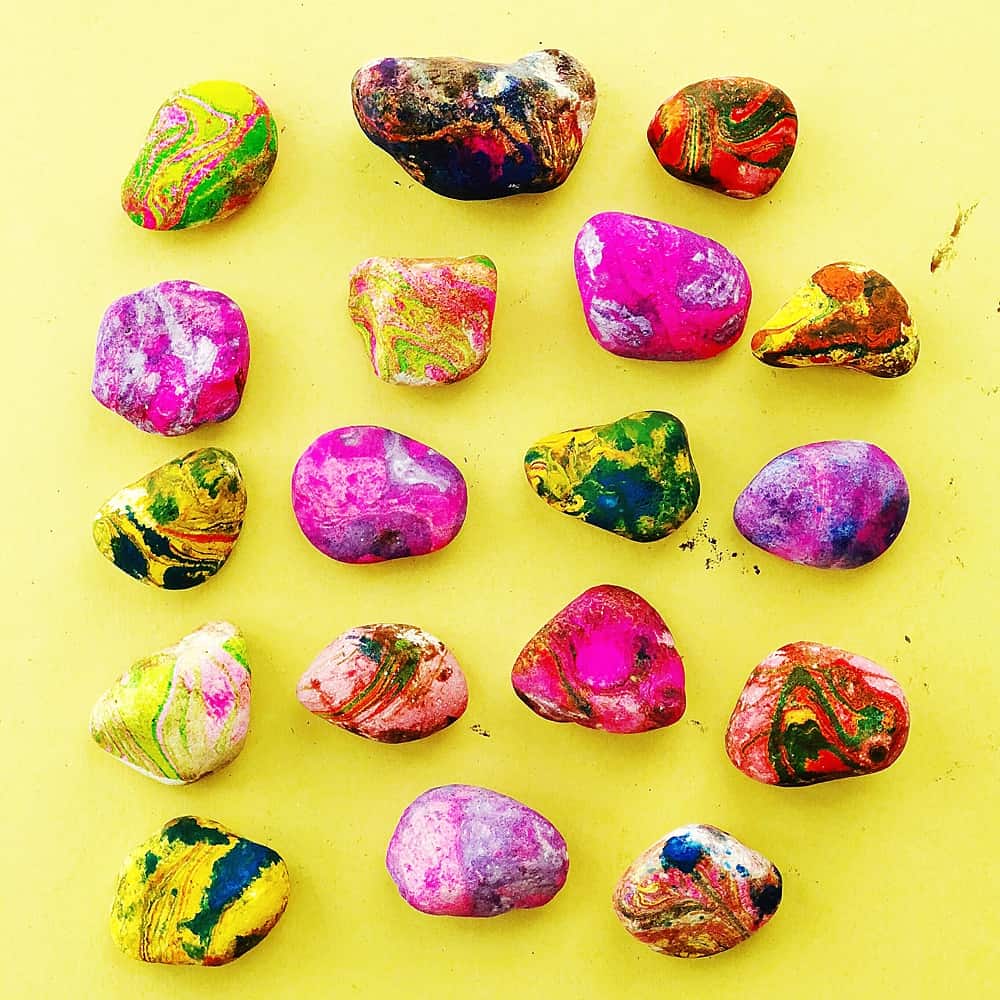 With summer around the corner, gathering rocks and marbling them into pretty canvases makes a fun summer art project or summer activity for the kids! Have you tried marbling rocks before?
Check out the video below to see how easy it is to marble rocks and make sure to also check out our paper marbling using the same technique!
_______________________________________________________________________________________
Disclosure: Some of the links in the post above are "affiliate links." This means if you click on the link and purchase the item, we will receive a small affiliate commission. Regardless, we give our promise that we only recommend products or services we would use personally and believe will add values to our readers