Wach the video above to see how easy it is to make homemade butter with kids and make sure to subscribe to our YouTube channel for more fun videos!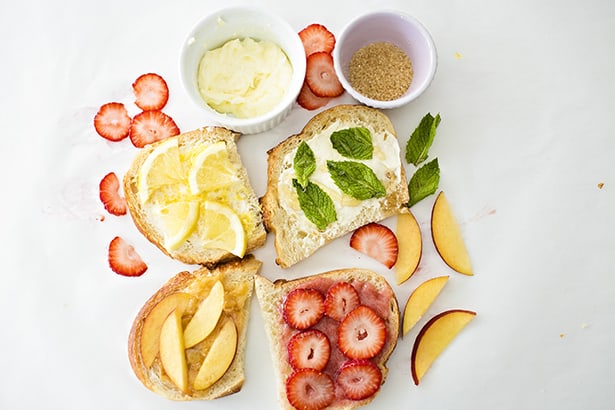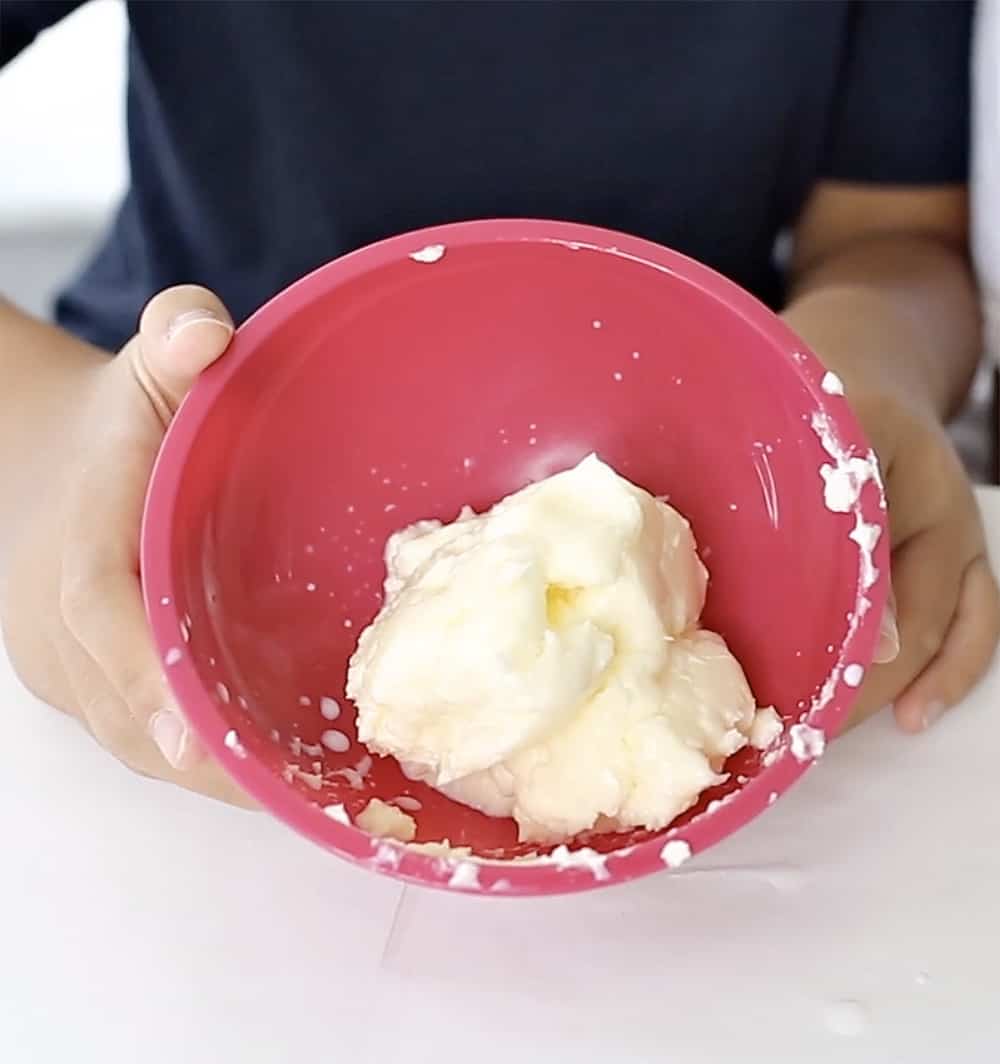 Have you ever tried making homemade butter with kids? It's so much fun and makes for a delicious kitchen science experiment you can easily try at home!
All you need to make butter is cream and a container to shake the cream up. We've made butter by shaking cream in a jar before, but that takes a lot of time and ergonomically, is hard for little ones.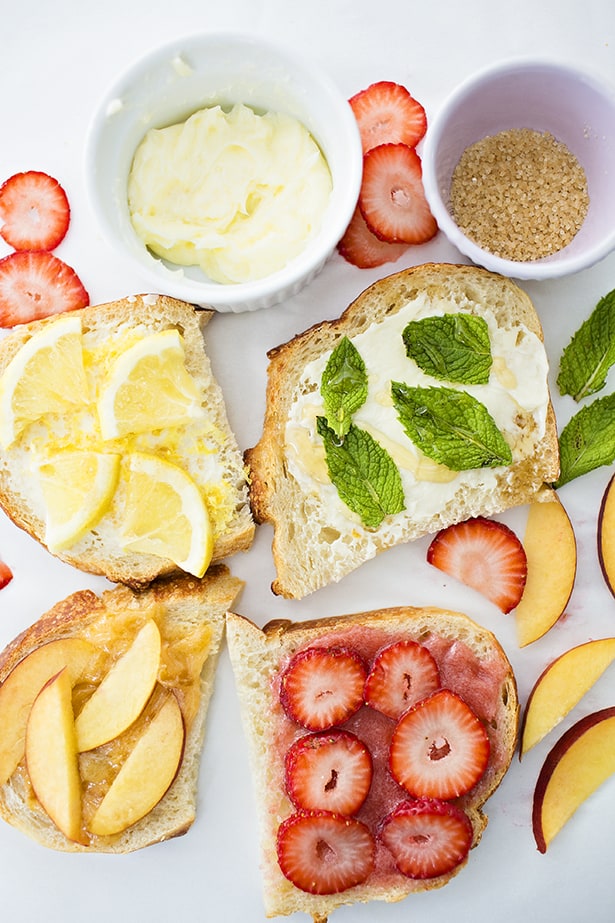 We love making butter by using this nifty jar butter churner. The handle makes it super easy for little hands to grasp and turn, and the jar size lets you make a small amount of butter for when you need it.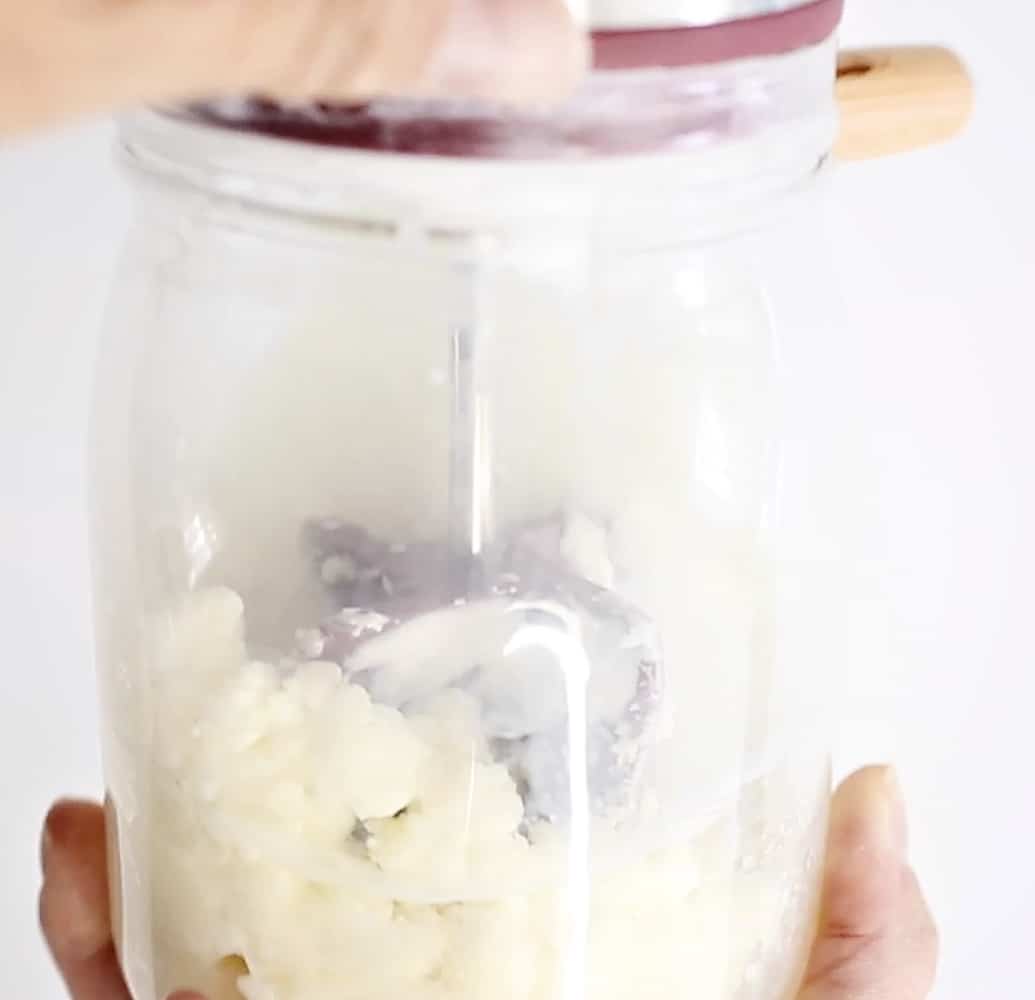 There's really nothing as good and delicious as homemade butter on warm toast, but what's also fun is getting the kids involved in creating their own flavors!
The kids made four flavors: strawberry, peach, lemon sugar, and mint honey.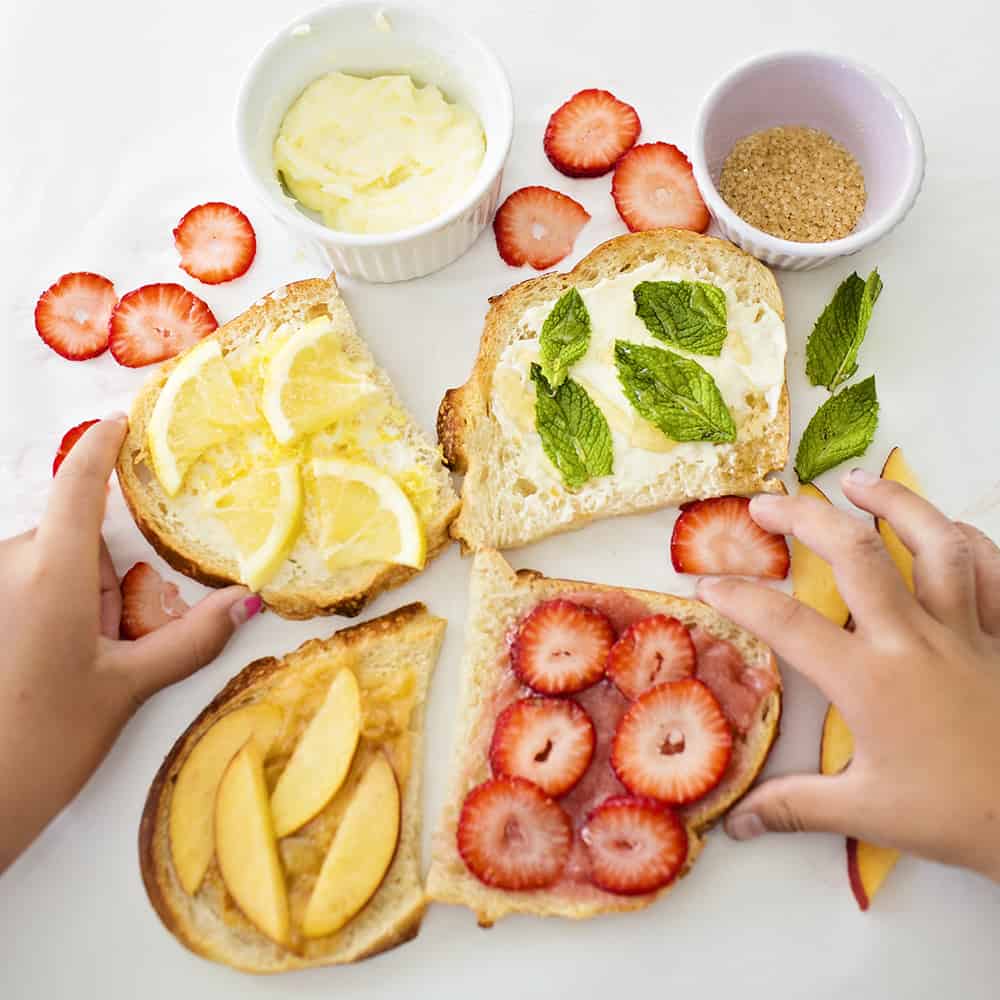 Check out the fun video above (top of post) to see how to make butter and the four flavors. Or follow the recipe and instructions down below.
How to Make Butter – Ingredients:
– Glass butter churner (or use a jar)
– Whipping cream (we found that cream at room temperature vs. cold turns into butter faster and requires less churning)
– Bowl of ice and water (to wash any residual buttermilk)
For the flavored butters you'll need:
Toast
Strawberry: Fresh sliced strawberry and jam
Peach: Fresh sliced peaches and jam
Lemon: Sliced Lemon, lemon zest, and sugar
Honey Mint: Mint leaves and honey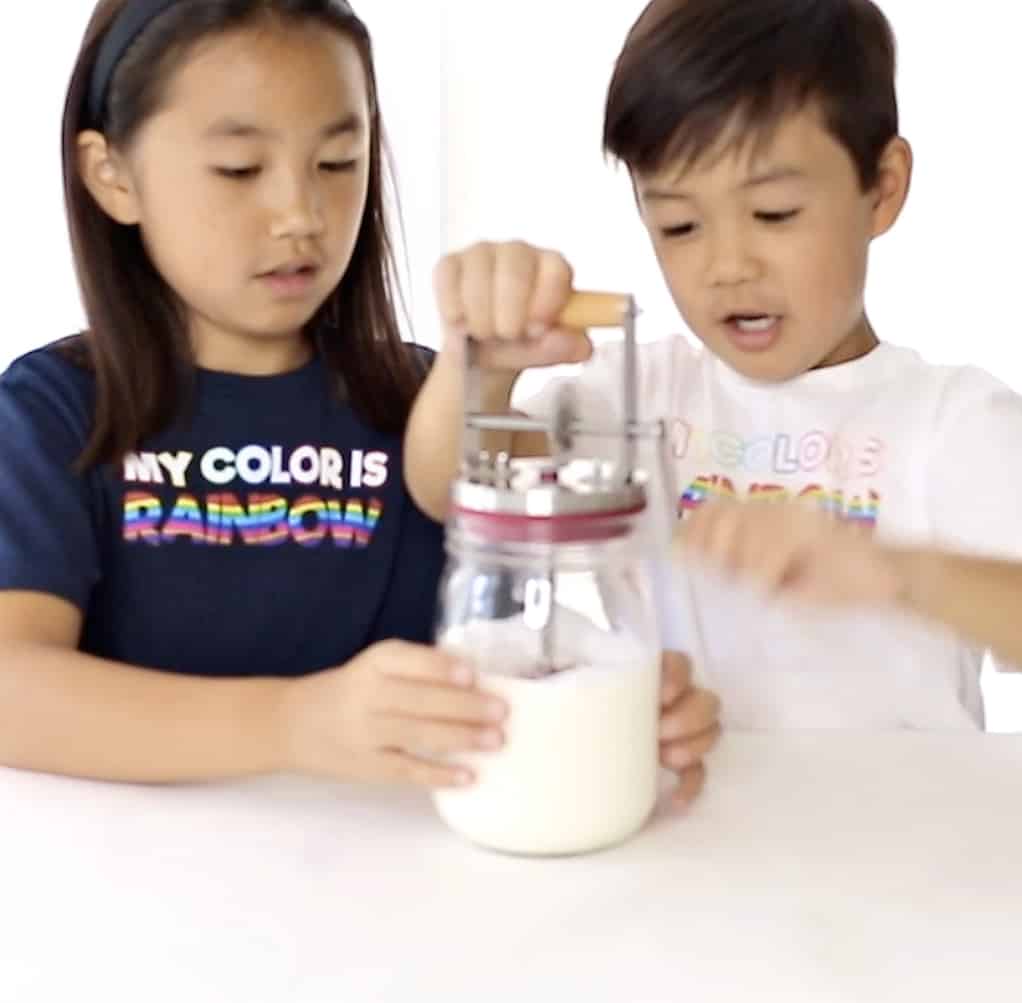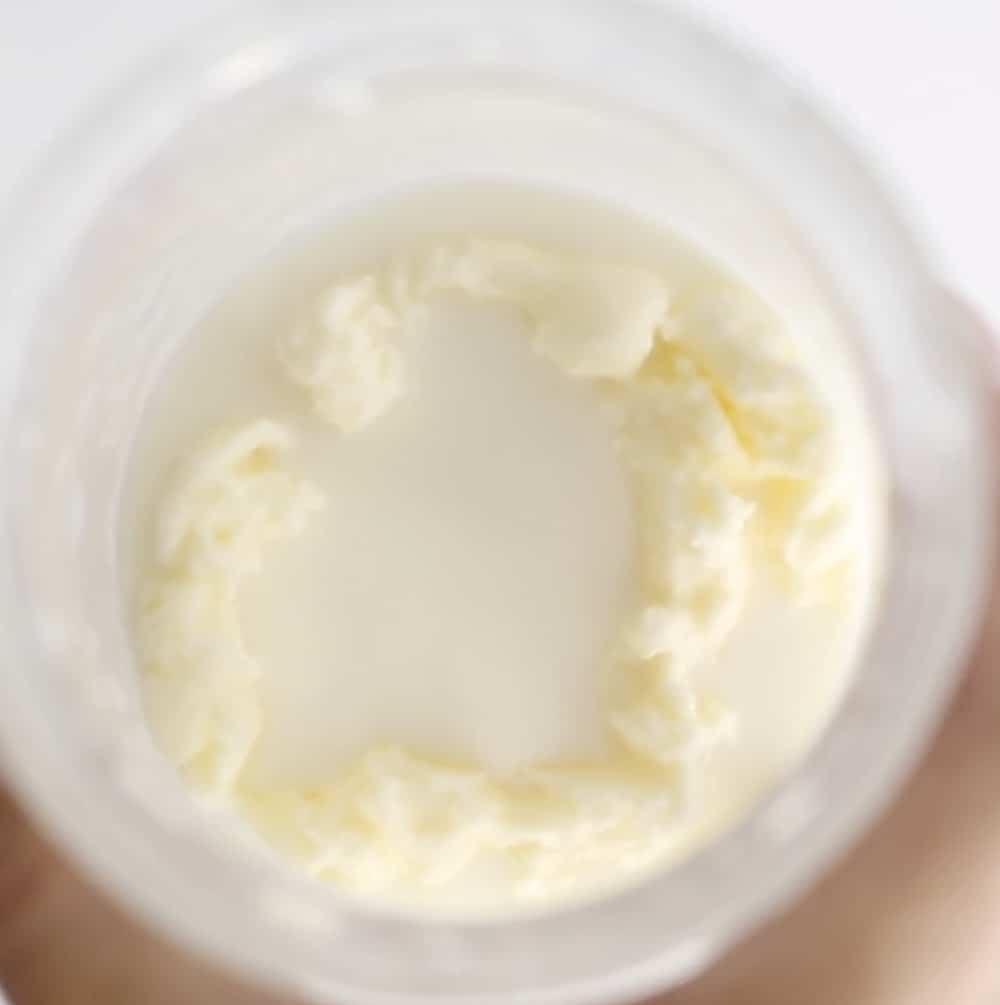 Instructions:
Step 1. Pour your room temperature cream into your glass churner, you can use any amount you want that doesn't overfill the jar, we used 1 1/2 cups.
Step 2. Churn for anywhere between 10-20 minutes at a relatively fast and steady rate until you see the cream separate into butter and buttermilk. How long it will take depends on how fast you churn, how much cream there is in the jar, and the temperature of your cream.
Step 3. Pour out the liquid buttermilk from the butter solids into a container. Reserve and refrigerate that for another use. It's great for making buttermilk pancakes which we've made before from the leftovers.
Step 4. Take your butter out of the jar, softly mold around your hands (we used disposable kitchen gloves which helps with handling) and place into a bowl of water with ice and gently shape it around the water to remove excess buttermilk. This also helps "firm up" the butter. Now place your butter into a bowl and enjoy! It should be soft and creamy.
To make the strawberry and peach butters, simply add some butter to a couple tablespoons of strawberry or peach jam, mix the spread on toast and then layer with fresh sliced strawberries or sliced peaches.
To make the lemon sugar butter, spread toast with butter, add lemon slces, lemon zest and sprinkle with sugar.
To make mint honey butter, spread butter on toast, add mint leaves and drizzle honey over.
The kids LOVED making their own butter and we've made it several times. We love how we can make a small batch that's easy to spread on toast for making sandwiches.
Have you tried making homemade butter before? If so what are your favorite butter flavor combinations?
You can check out the glass butter churner we used HERE!
Take a look at more fun Cooking With Kids recipes and lots more Kids Food recipes!
P.S. Want to know why our kids are wearing "My Color Is Rainbow" shirts? They are based on our children's book about love and acceptance which you can find HERE. You can also find the t-shirts HERE.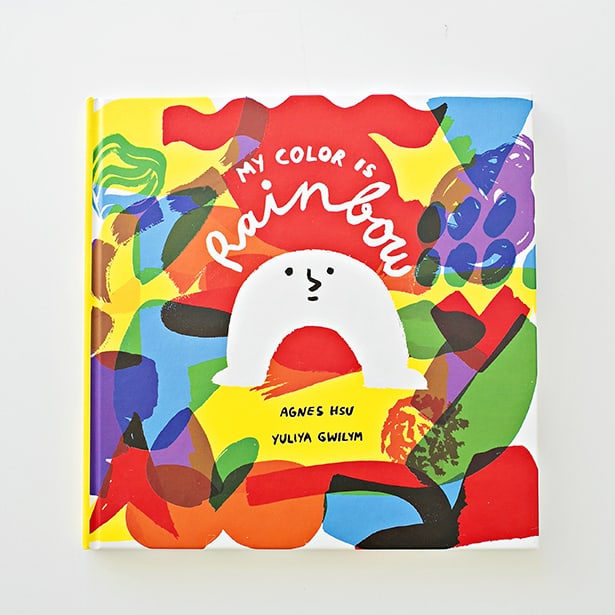 ______________________________________________________________________________________________________
Disclosure: Some of the links in the post above are "affiliate links." This means if you click on the link and purchase the item, we will receive a small affiliate commission. Regardless, we give our promise that we only recommend products or services we would use personally and believe will add values to our readers.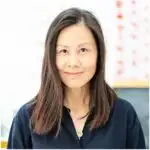 Agnes Hsu is a mom of three and has been inspiring parents and kids to get creative with easy activities and family friendly recipes for over 10 years. She shares her love for creative play and kids food to her 2MM+ followers online. Agnes' commitment to playful learning and kindness has not only raised funds for charity but also earned features in prestigious nationwide publications.