Roasted or candied nuts are such simple and tasty gifts to hand out during the holiday season. Plus, they're easy to make with kids and require few ingredients or difficult steps. I made a batch of these rosemary honey walnuts and pecans with my four year old to hand out as favors for a dinner party. They were so easy to make and such a hit that we plan to make several more batches to give as holiday gifts.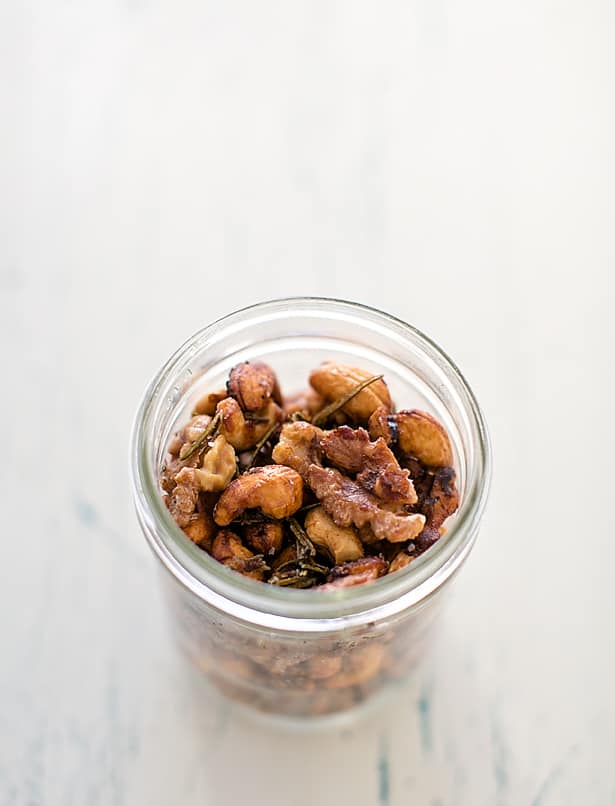 Honey Rosemary Walnuts and Cashews – Ingredients:
Recipe adapted from Sweet Paul Mag
1. 3 C. of whole, raw walnuts and cashews
2. 6 Tablespoons melted butter
3. 6 Tablespoons honey
4. 4-5 Sprigs of rosemary
5. Kosher Salt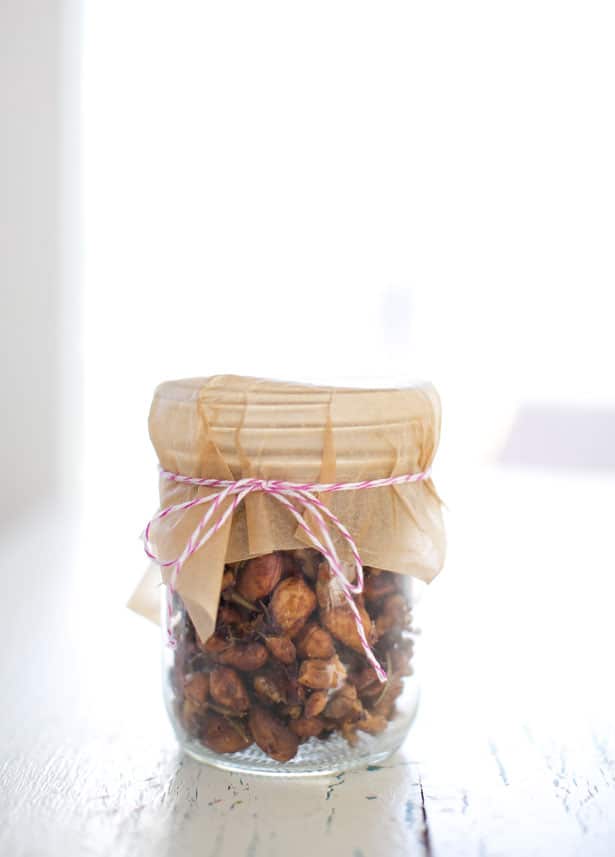 Steps:
(preheat oven to 350 degrees)
1. Line a pan with parchment paper and place nuts over the pan.
2. Pour melted butter over the nuts and drizzle with honey.
3. Strip the rosemary leaves from the stems and place over the nuts.
4. Sprinkle with kosher salt.
4. Mix all the nuts directly on the pans so the salt, honey, butter and rosemary is incorporated.
5. Bake in the oven for 20-30 minutes, take the pan out in between baking to mix up the nuts and place back in the oven.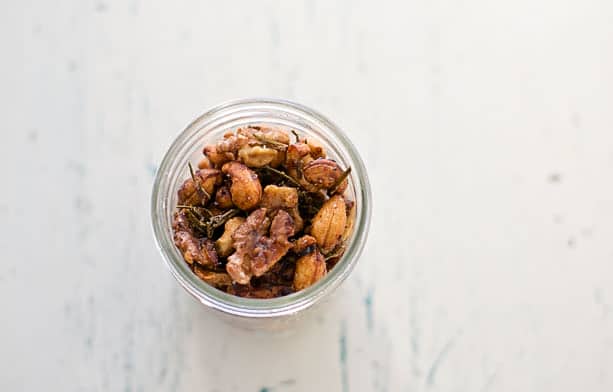 Place the nuts in a mason jar topped with parchment paper and twine for a pretty presentation or use a mason jar label. These are so tasty with the aromatic rosemary flavor and sweetness from the honey.
Have you ever made roasted nuts before? They're easy and so delicious!
For more edible holiday gift ideas check out 12 Days of Holiday Cookies and 12 Jolly and Cute Holiday Treats.