I'm teaming up with my bake shop to bring you another easy decorating and edible gift idea.This white and dark chocolate bark is perfect for the holidays and is a big hit at the shop. It's also easy to make with kids – my daughter loves adding the sprinkles on top.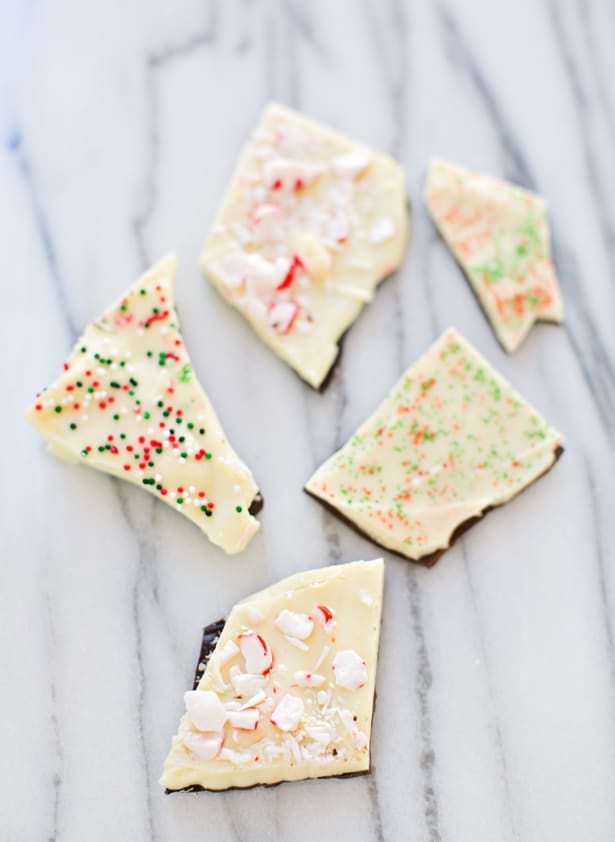 Easy White and Dark Chocolate Holiday Bark – Ingredients:
– 6 ounces (180 grams) high quality dark or extra dark chocolate, chopped
– 12 ounces (360 grams) high quality white chocolate, chopped
– vegetable oil
– holiday sprinkles of choice (jimmies, nonpareils, candy canes)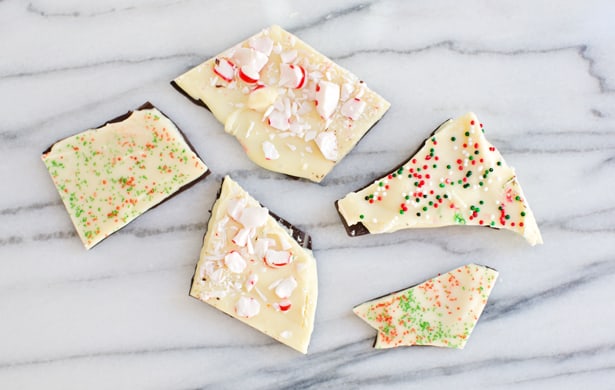 Instructions:
Step 1. Line a baking sheet with parchment paper or a silicone baking mat.
Step 2. Chop chocolate. Melt dark chocolate either in the microwave or a double boiler. If using microwave, place chopped chocolate in a microwave-safe container and heat for 20 second intervals, stirring each time with a silicone spatula. Be careful not to burn the chocolate – when there are just a few small bits left un-melted, stir until it is completely smooth.
Step 3. Pour melted dark chocolate onto your parchment/mat and spread with a small offset spatula until desired thickness is achieved. Freeze for 20 minutes to set.
Step 4. Melt your white chocolate. Whisk in a couple of drops of vegetable oil slowly at a time, stirring well until you reach a smooth consistency. The oil helps in smoothing out the melted chocolate. Let it sit for approximately 3 minutes (or at least until it slightly thickens).
Step 5. Remove pan with set chocolate from the freezer and pour white chocolate on top, repeating the same spreading technique as you did with the dark chocolate. Toss sprinkles or chopped candy canes on right away. Freeze for 20 more minutes.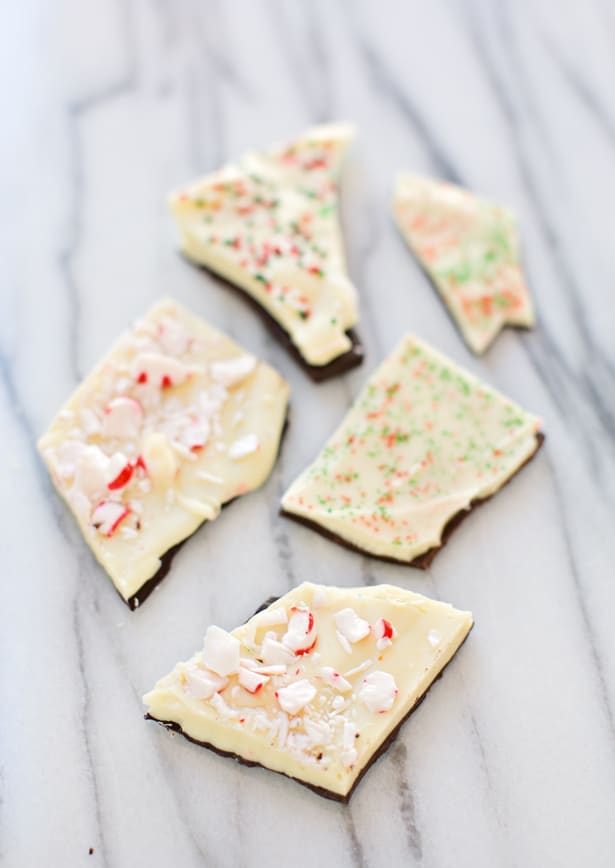 Once set, break or cut into pieces. Store in the refrigerator.
Serve on plate at your holiday gathering or package for a great stocking stuffer or gift.
What are some of your favorite edible gifts?
For more ideas, check out this awesome round up of delicious food gifts. And for more simple baking ideas, take a look at these easy fondant cupcake decorations we shared recently.