Scroll all the way down to watch the video below to see the process for Easy DIY Paper Marbling At Home and make sure to subscribe to our YouTube channel for more fun videos!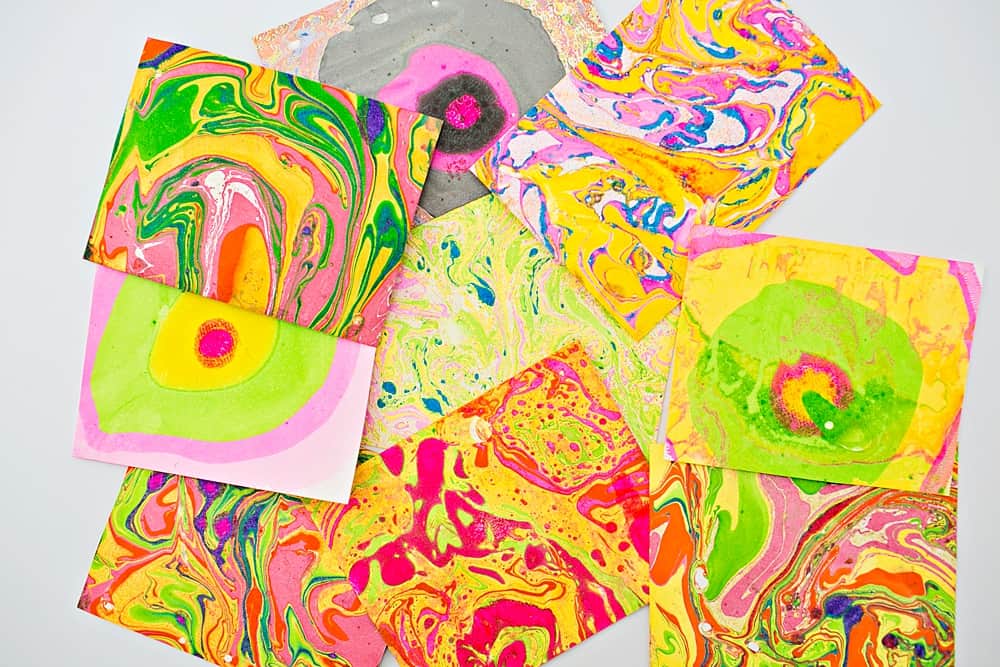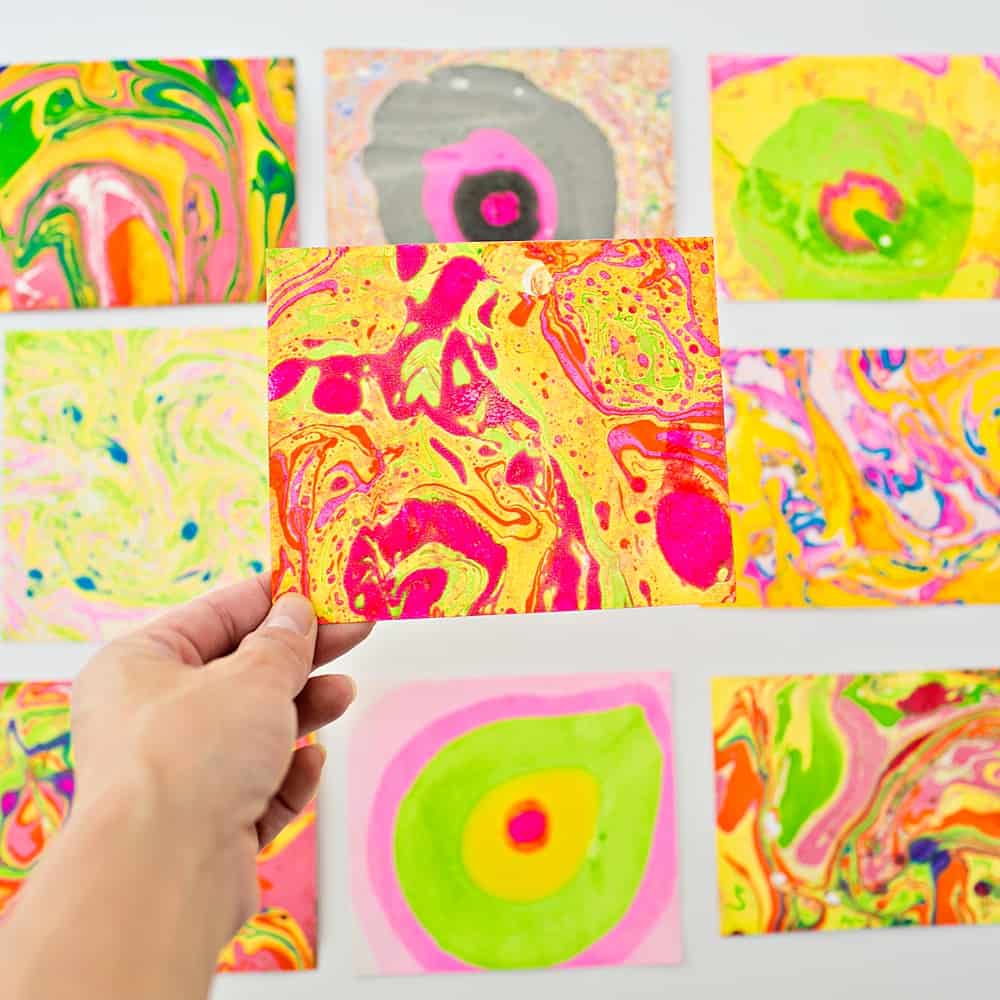 Although paper marbling has been around for ages, I was recently intrigued to give it a go when I saw this cool Japanese marbling technique (also known as Suminagashi paper marbling) on a an artist friend's Instagram, @makers_space.
I was intrigued by the rapid movement of vibrant ink onto paper and couldn't wait to try this fun process art project with my kids.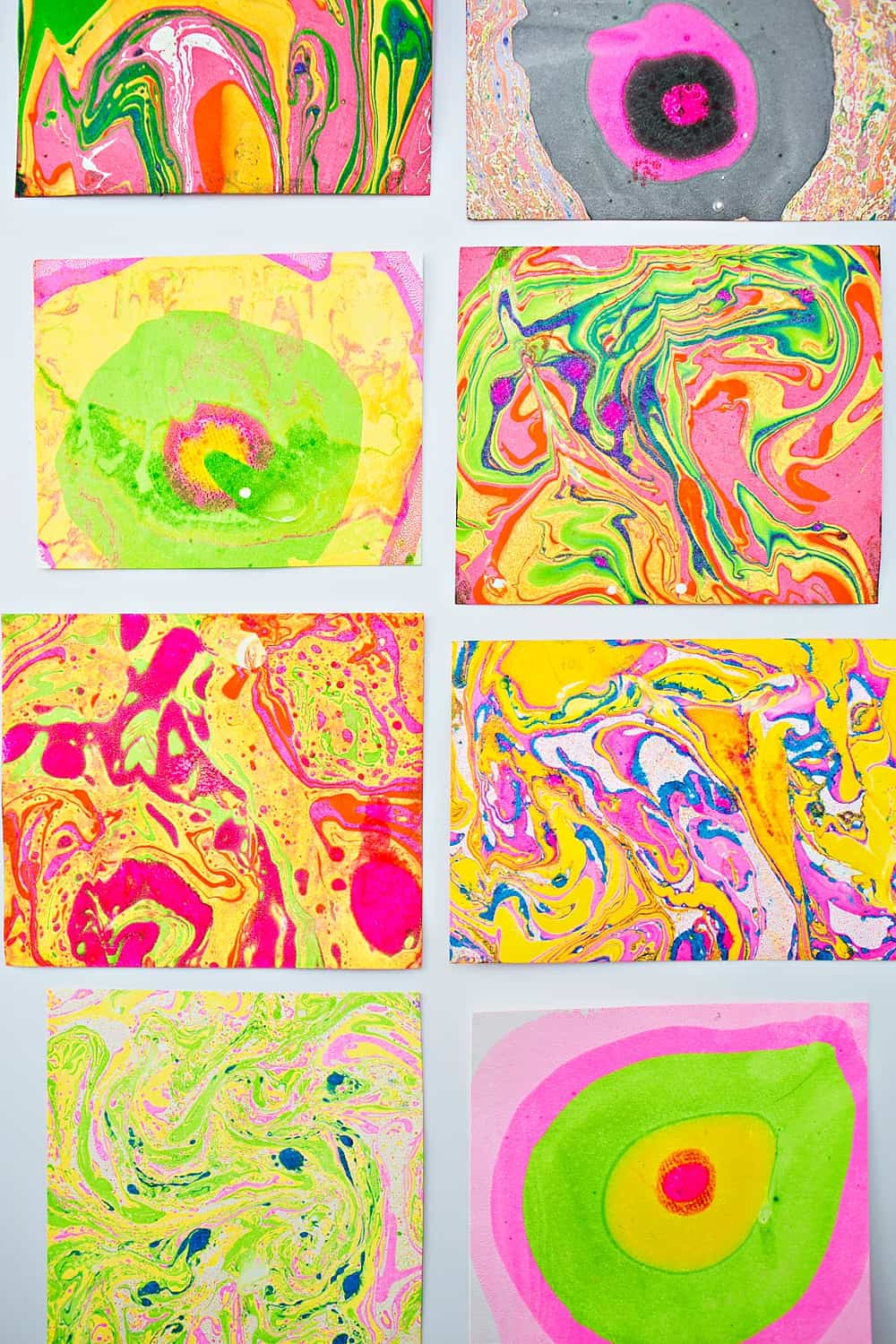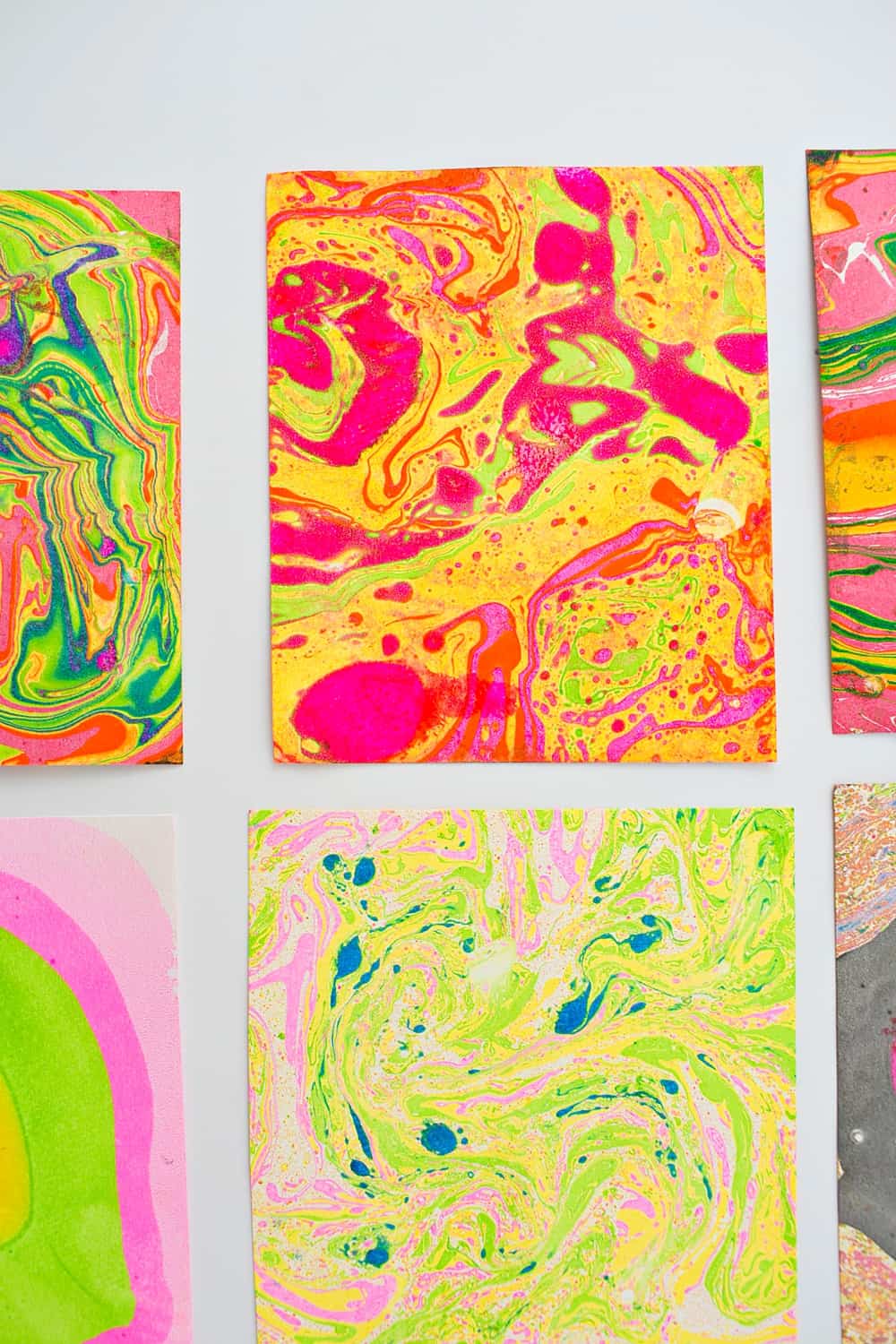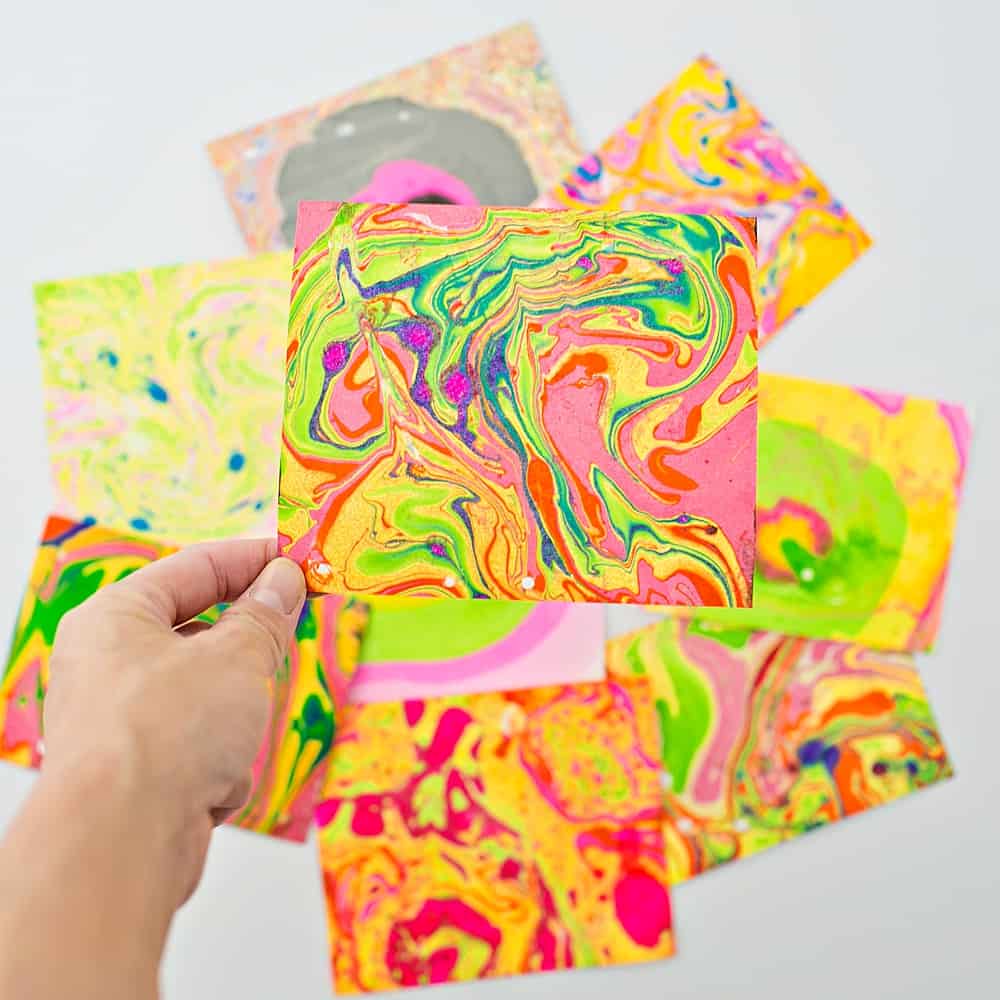 A trip down the rabbit hole of Google showed me that there are multiple ways to paper marble (we've tried shaving cream marbling with much success), but I was looking specifically for how to recreate the art of Japanese paper marbling at home which involves using water and ink to create vibrant prints.
We decided to try these an oil-based paints for marbling which we chose for their bright array of colors. We also tried using watercolor and traditional Japanese marbling paper made of Mulberry fibers, but we found that the Japanese paper tore easily and was too thin. Watercolor paper was the perfect thickness and absorbed the inks beautifully.
Read more below to see how it went and our tips and tricks for keeping this colorful art activity fun with minimal mess (yes, this can get messy).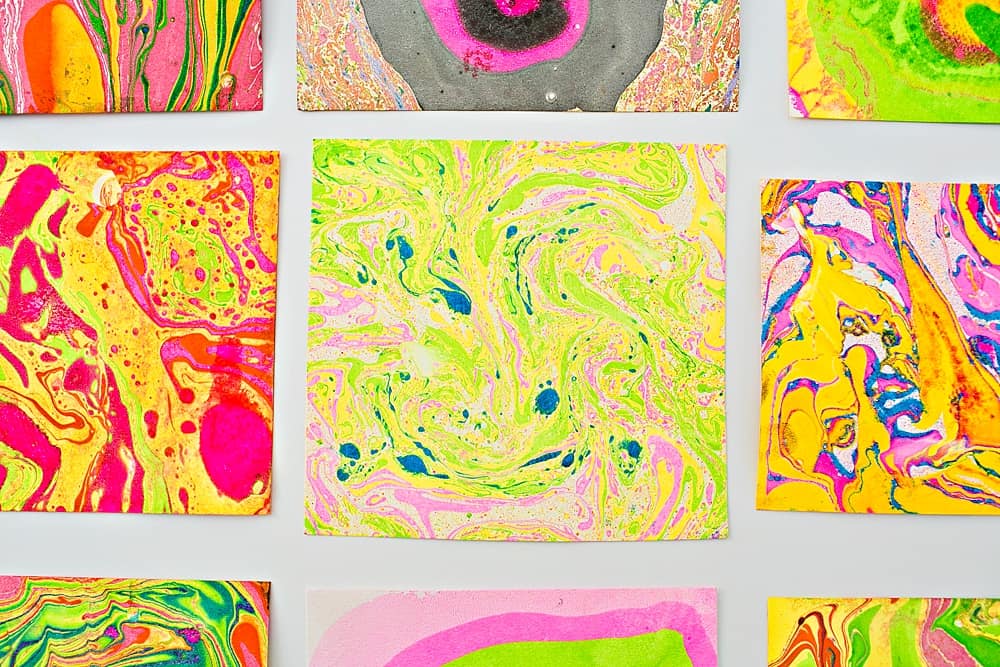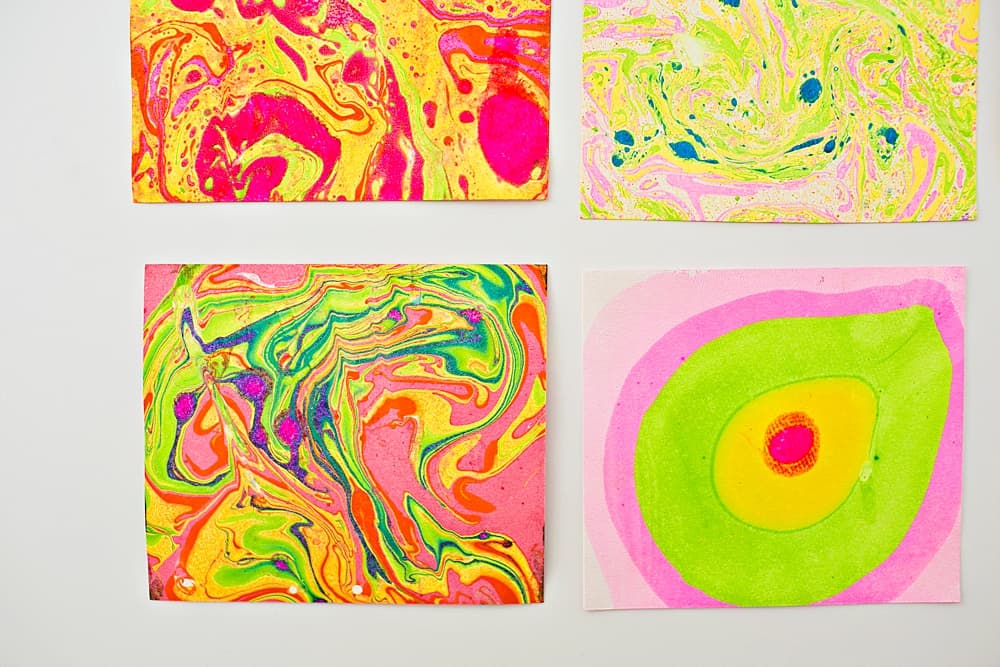 Easy DIY Paper Marbling At Home – MATERIALS:
Shallow Pan
Newspaper, parchment paper or something to cover your work surface
Paper Towels
Skewer or toothpicks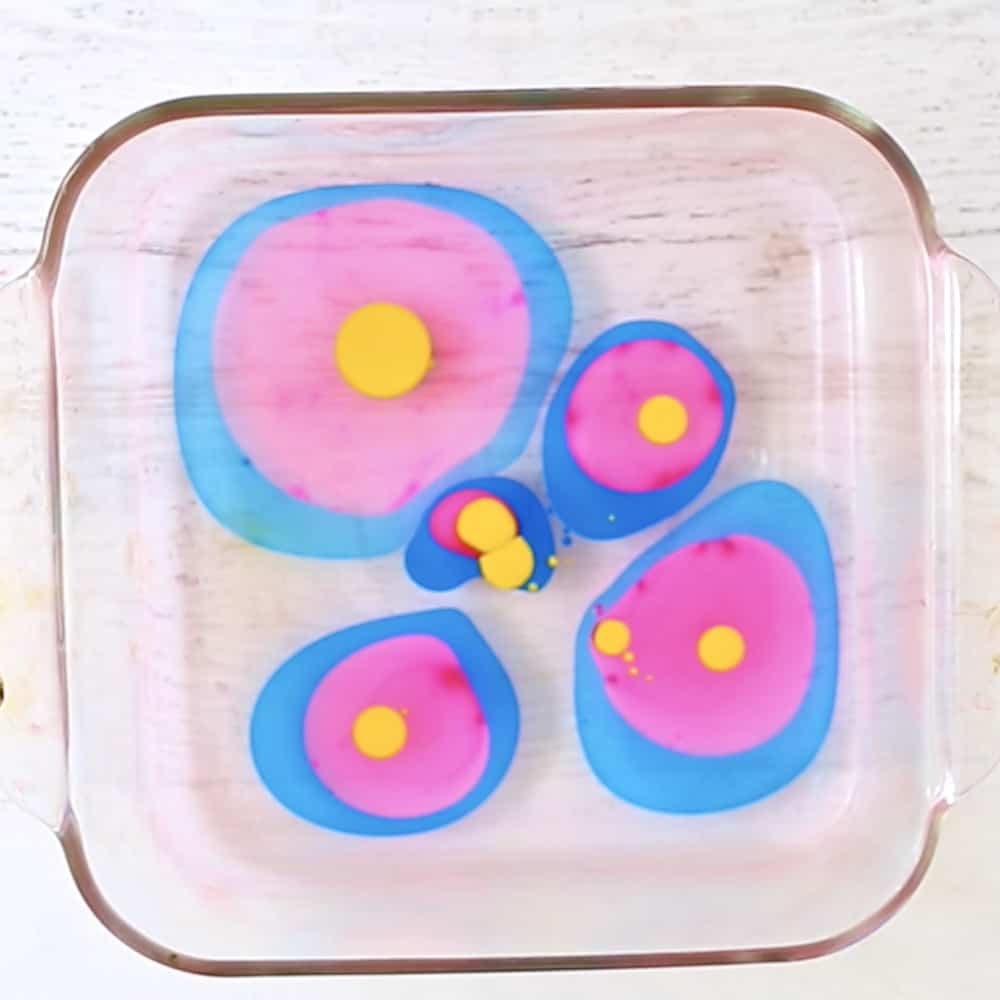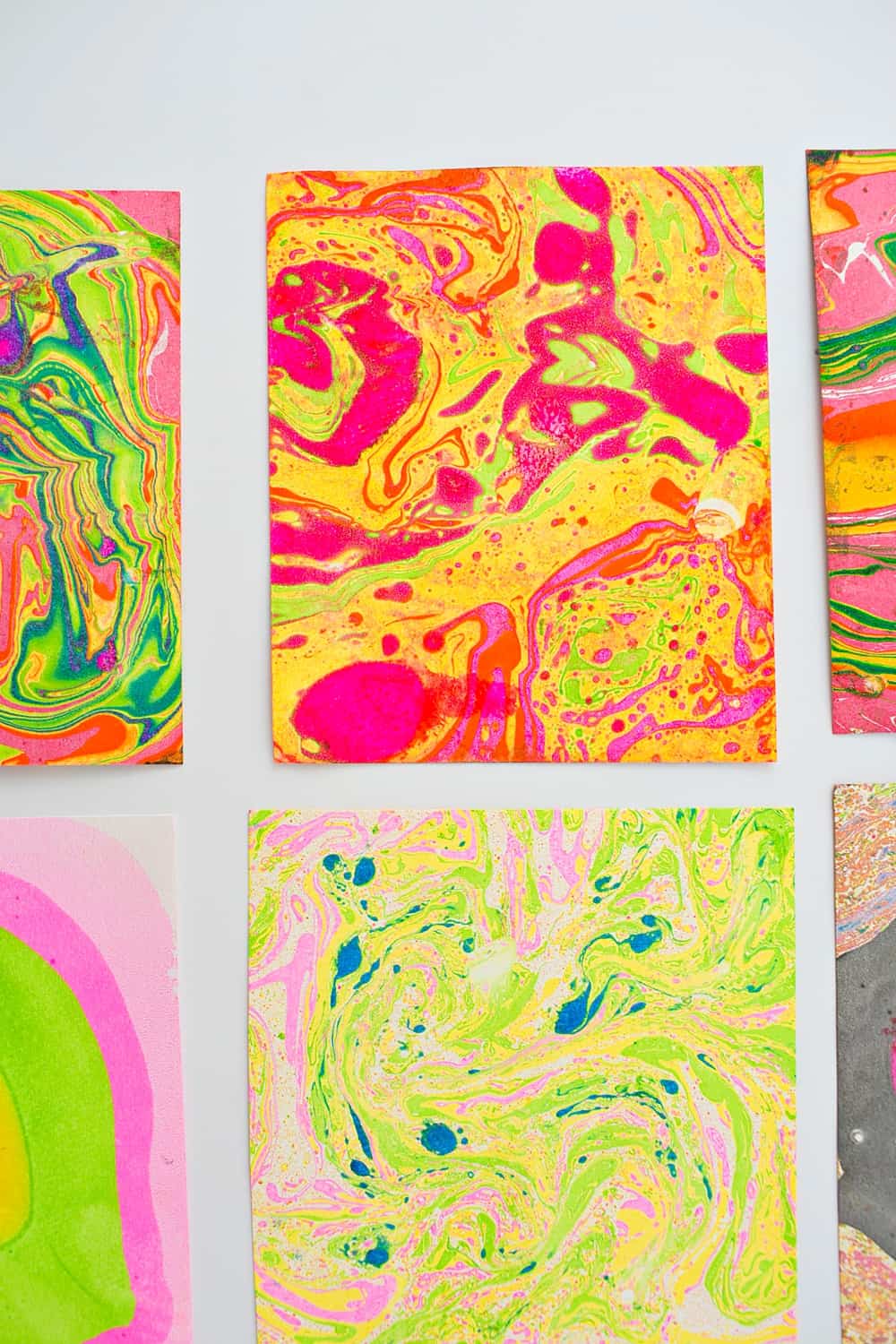 INSTRUCTIONS:
Step 1. Lay out your paper over your work surface to project from paint. The paints we tried are oil based so this was very important.
Step 2. Add some water to your shallow pan about halfway through.
Step 3. Wear disposable gloves, this was a must in keeping messes to a minimum as oil based paints do not come off easily.
Step 4. Make sure to shake your paint tubes well so the ink is distributed. Pierce your paint tubes with the pointy end of the cap. In retrospect, I wish we had used a small needle as the paint dripped out too fast which caused messy drips fast.
Step 5. Add a drop of the paint on top of the water in your pan, watch is magically dissipate into a circle. Add another circle on top and repeat for as many colors as you want. Then use a toothpick or skewer to drag the paint in different directions creating a marbling effect.
Step 6. Add your watercolor paper down on the water (rough end) (we cut our paper to a size that fit our pan) fully submerging to capture all the paint onto the paper. Remove and pat dry with a paper towel. Set aside on top of your parchment paper or newspaper to dry. As you can tell from our video below, the paint dries almost immediately onto the paper. The watercolor paper absorbs the ink beautifully and hardly leaves any paint residue in the water. You must fully submerge to make this happen.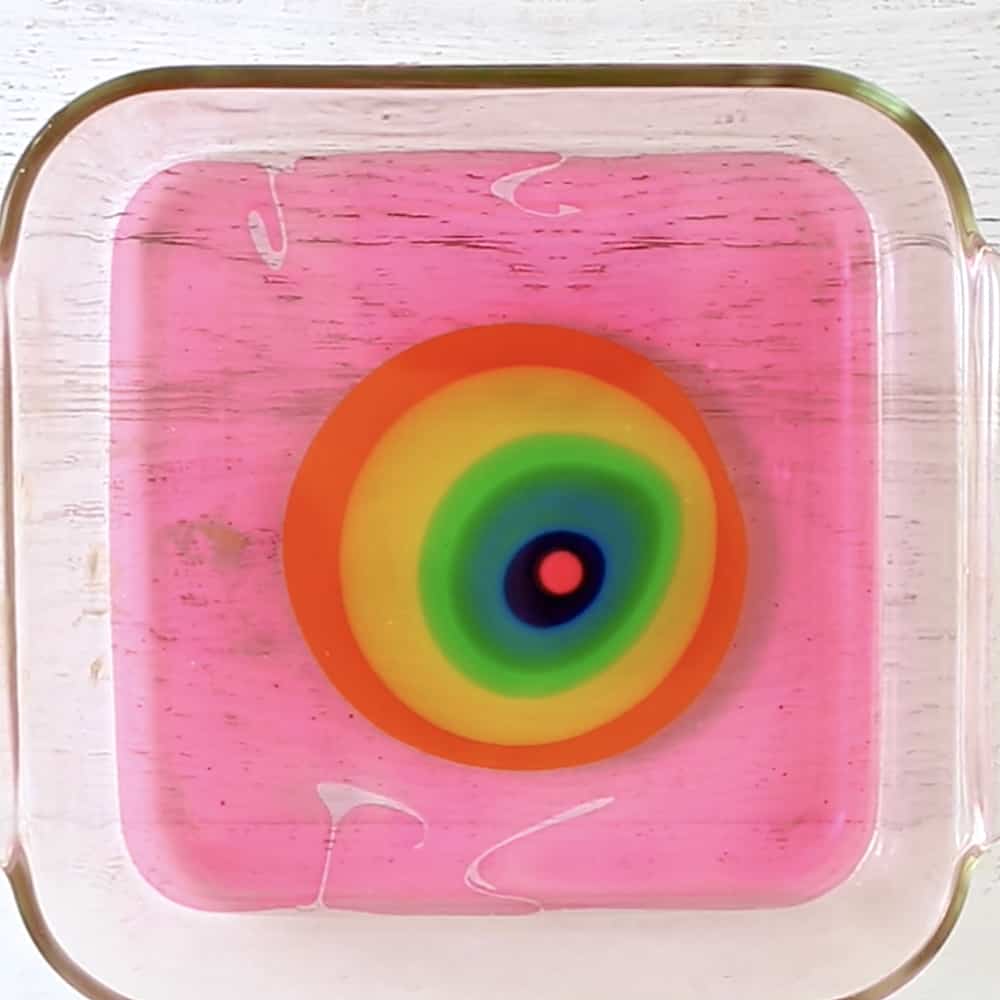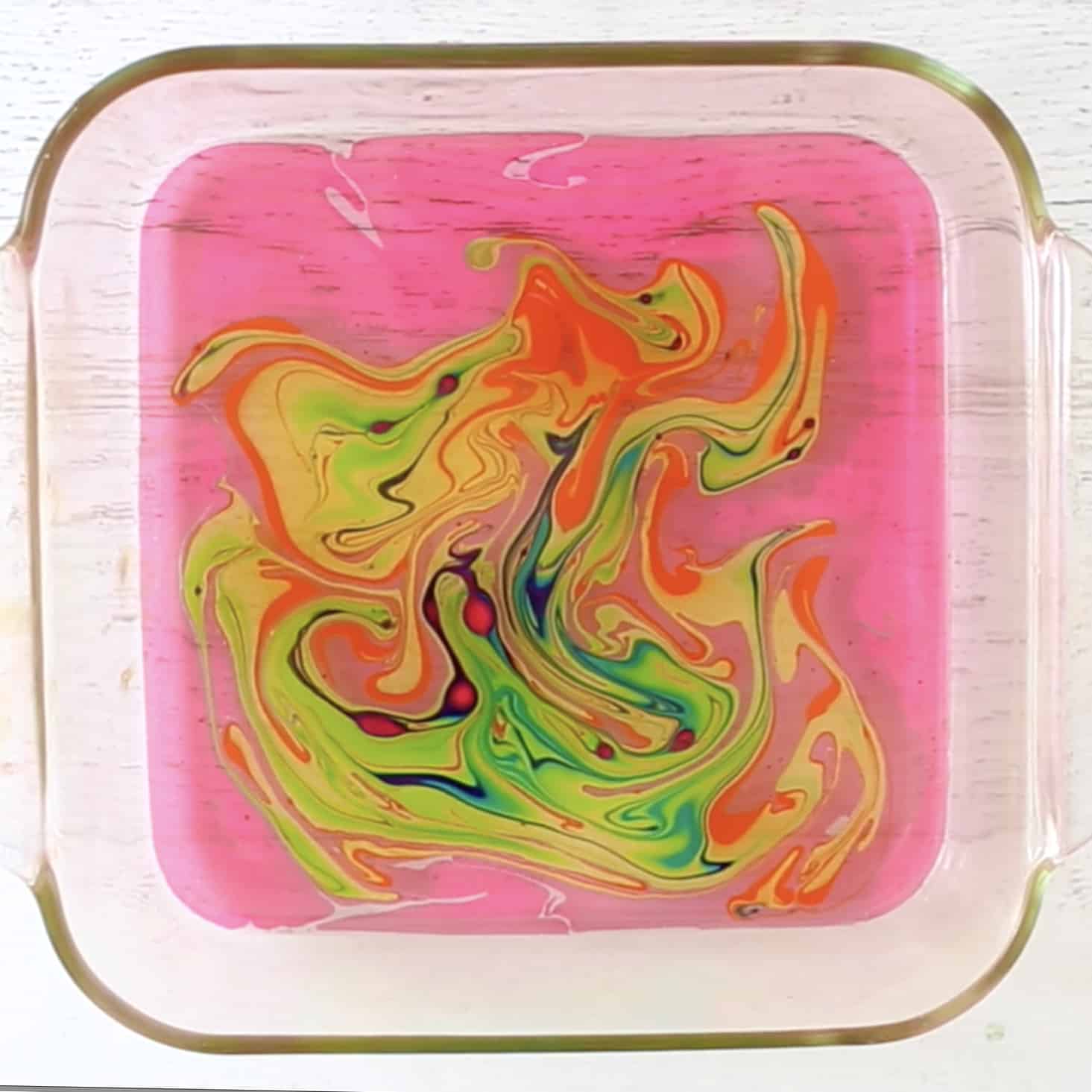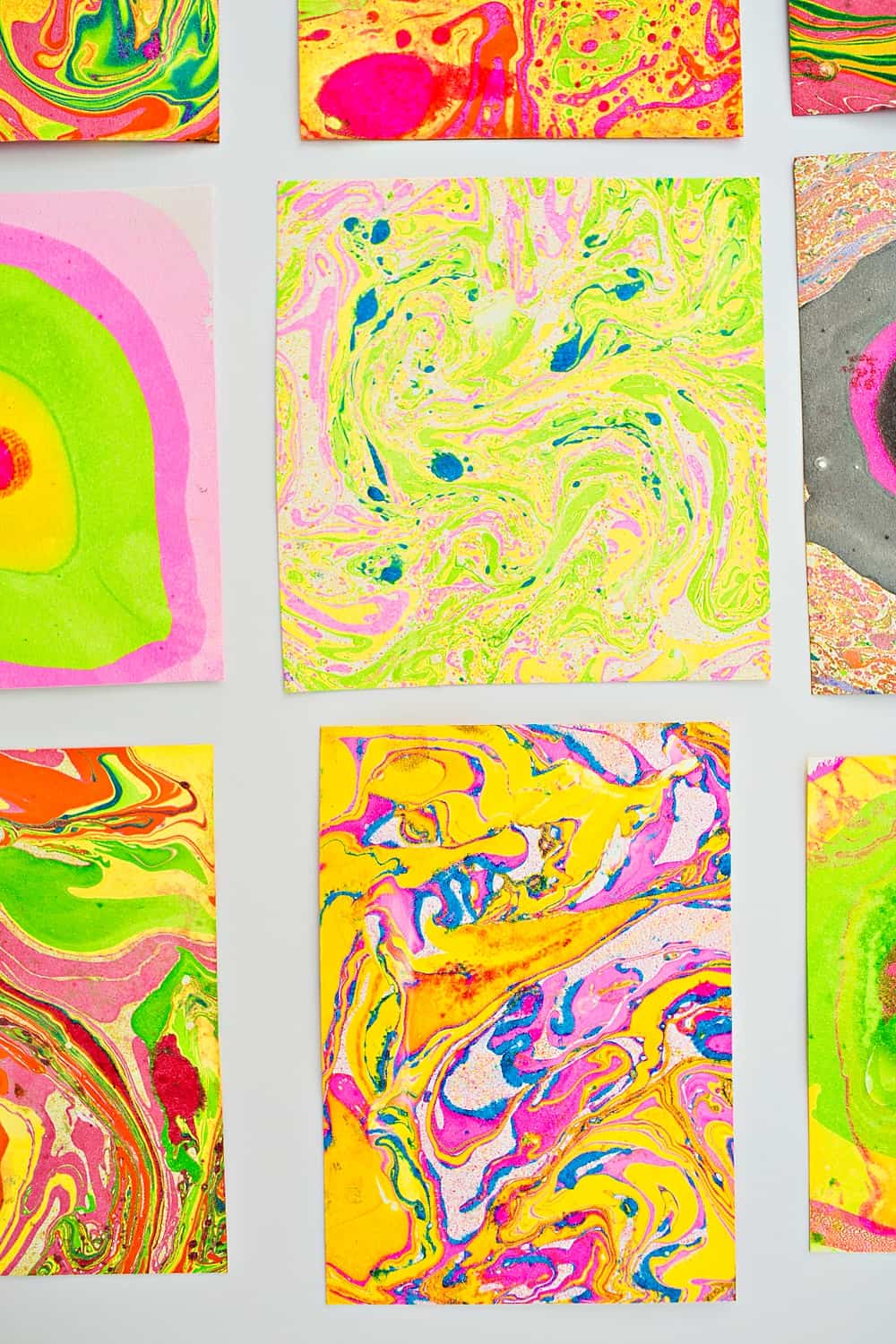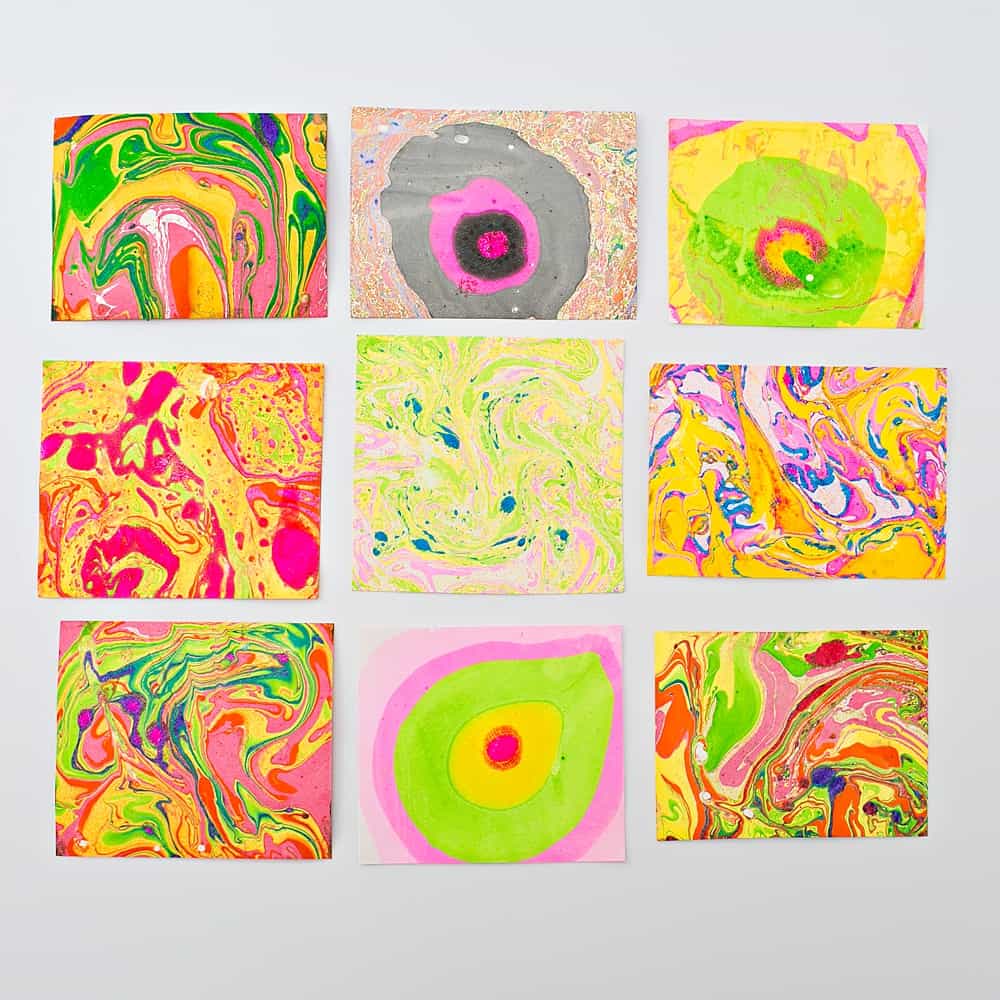 Some things to watch for. It can get VERY messy and I'm not sure if it is these paints or if we pierced the opening too wide. If we had to do this all over again we would take a small needle and create a smaller opening. We are also wanting to try these Suminagashi marbling paints next time to see if they are less messy. We'll report back if we do.
Another thing to note is that since these are oil based paints, they do have a strong smell.
However the mess and scent were worth the gorgeous prints the kids and I created! You can see at the end of the video below my daughter creating her own prints.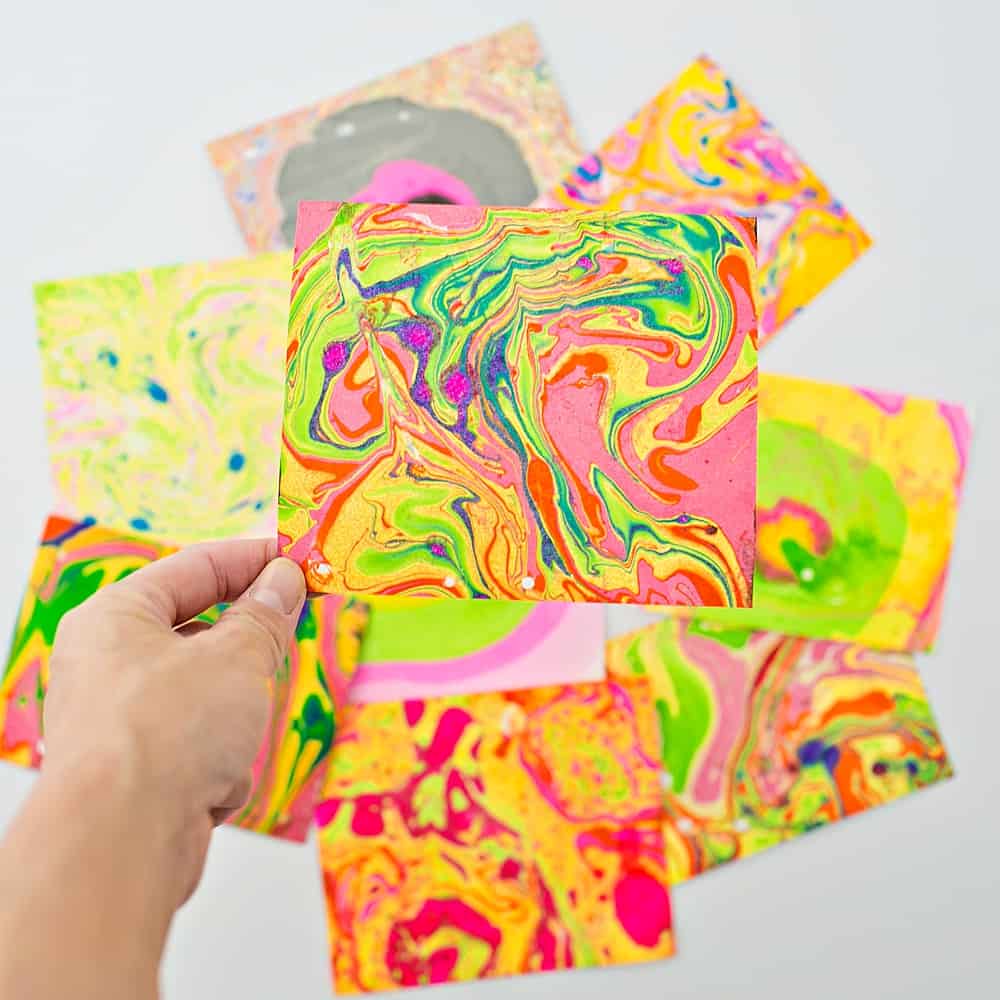 We've used these as special handmade cards, punched them into shapes, and gift notes. You can also create marbled paper garlands, or use a hole puncher to make colorful paper confetti!
See the video below for the process on creating Easy DIY Paper Marbling at Home:
Have you ever tried Japanese paper marbling? Check out our rainbow shaving cream marbling, another fun way to marble paper.
_______________________________________________________________________________________
Disclosure: Some of the links in the post above are "affiliate links." This means if you click on the link and purchase the item, we will receive a small affiliate commission. Regardless, we give our promise that we only recommend products or services we would use personally and believe will add values to our readers