Follow us on Instagram for more fun ideas for kids!
Watch the video in this post to see how to make these cute cute DIY Succulent Christmas Tree. Make sure to subscribe to our YouTube channel for more fun videos!
Make your own Christmas tree this year with this beautiful DIY Succulent Christmas Tree. It will add holiday cheer and decor to your home!
I've always adored those succulent Christmas trees on Etsy but they can be quite pricey! I wanted to see if I could make my own and it turns out it's not that hard to make your own DIY Succulent Christmas Tree! This is a lovely way to get the kids involved in making a Christmas tree for adding holiday decor to the home!
First a bit of learning. When searching how to make these trees, many suggest using chicken wire and filling moss inside and then poking holes and adding succulent cuttings one by one. We did try that by using wire frame tree shape but the process took several hours and a long time. Plus it was a huge mess with pieces of moss falling out!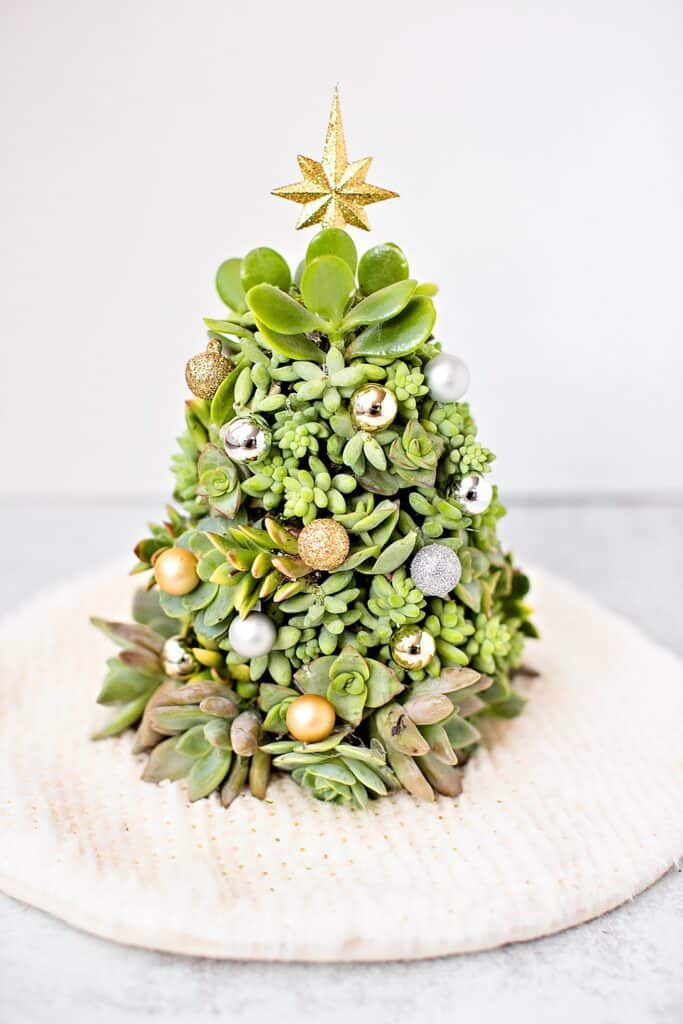 How do you make an easy succulent Christmas tree?
I have seen those beautiful pumpkins with succulents on top and thought maybe we could do that on a tree. It turns out that HGTV tells us it's possible to glue succulent cuttings right on the moss as long as you glue on the sides so the roots can still live!
I took their method for making pumpkin succulents by gluing to a floral foam cone base with moss on top and the process was much shorter! This tree took about an hour to make vs. the several hours using wire and sticking succulents into moss. Plus it was way less messy!
Watch the video in this post to see how to make these cute cute DIY Succulent Christmas Tree.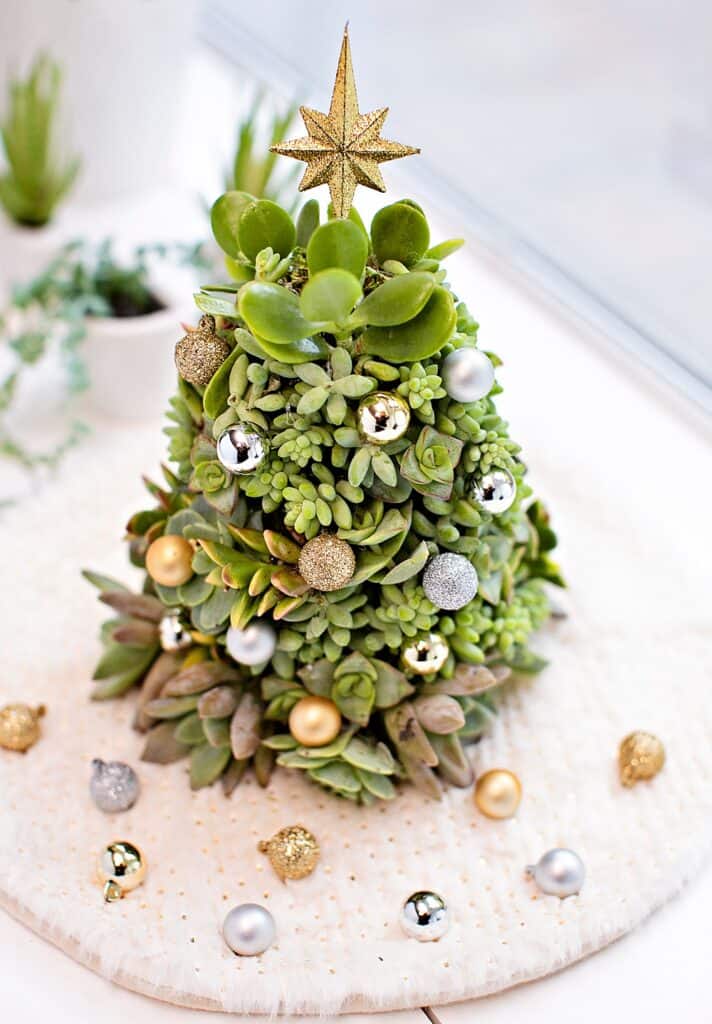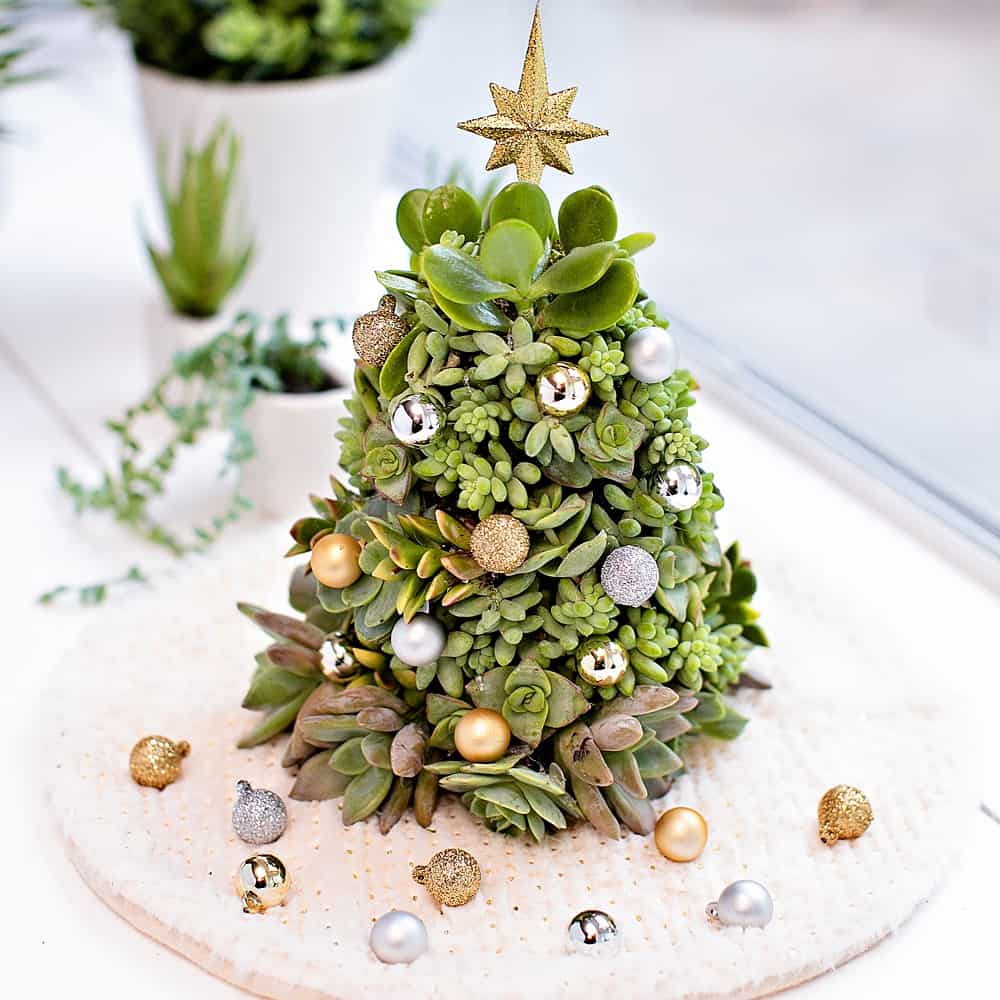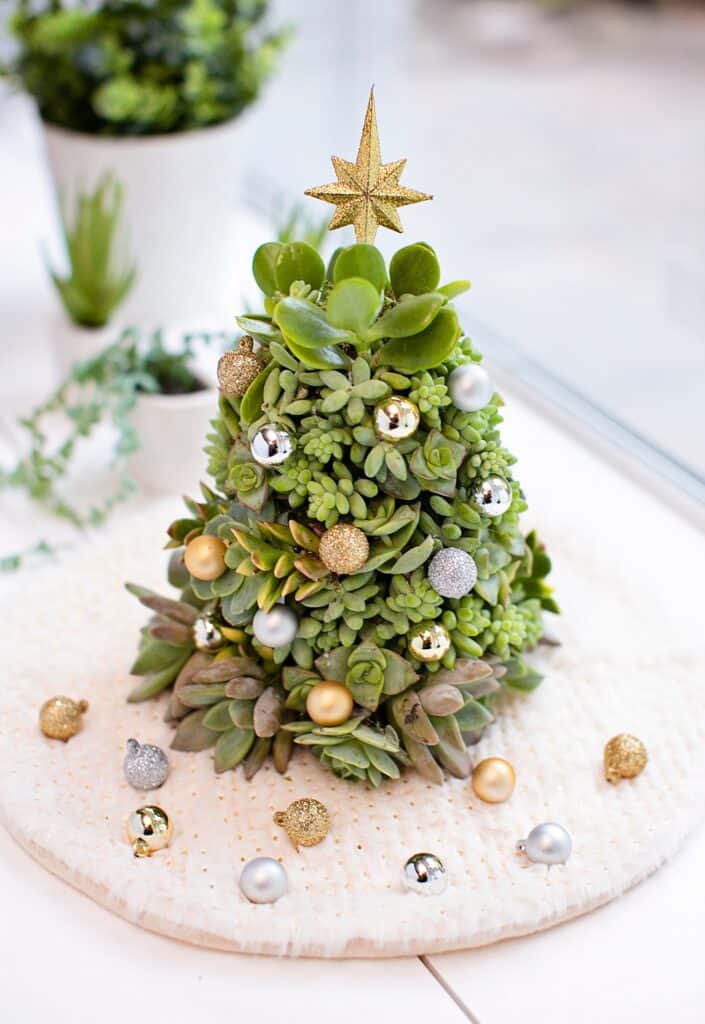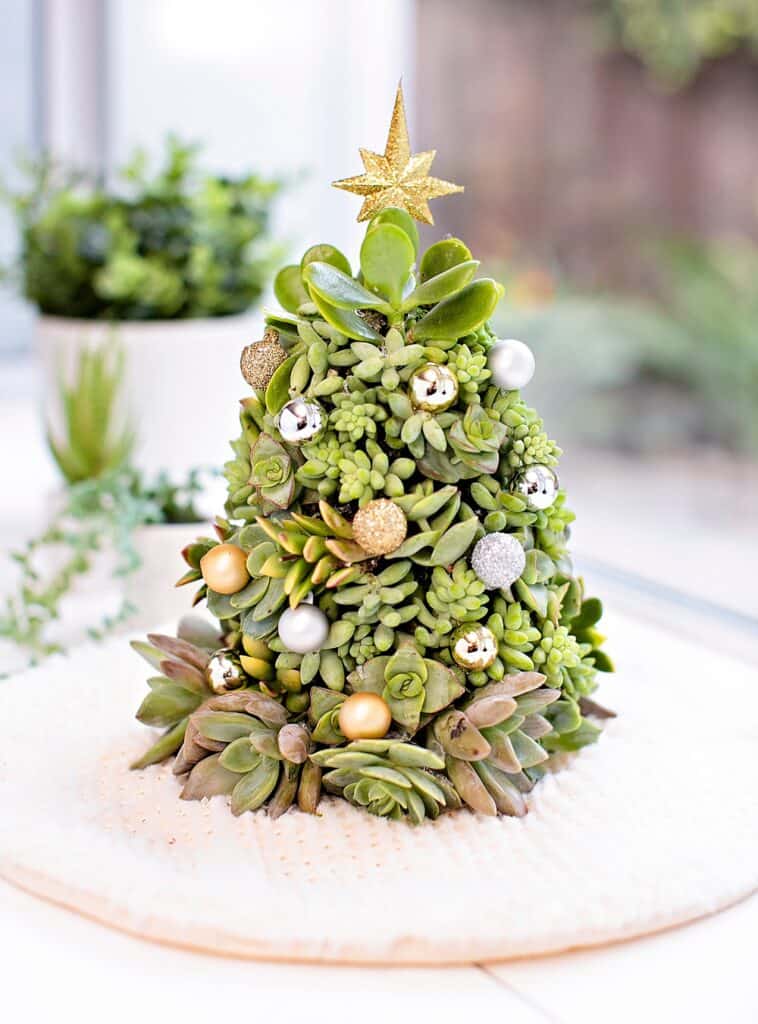 What materials do you need for a succulent tree?
You'll need a floral cone base, sheet moss (most people recommend sphaghnum moss but sheet is much easier to glue on a cone since it lays flat), small succulents, hot glue. If you want you can add ornaments and a star (optional).
DIY Succulent tree – Materials
Sheet Moss (you can use spaghnum moss but we found sheet moss easier to apply
Succulents (we went to our local succulent garden and bought 28 mini succulents to fill one 6″ tree)
Small decorative ornaments and star
Scissors
Hot glue gun (we love this one for its preciseness)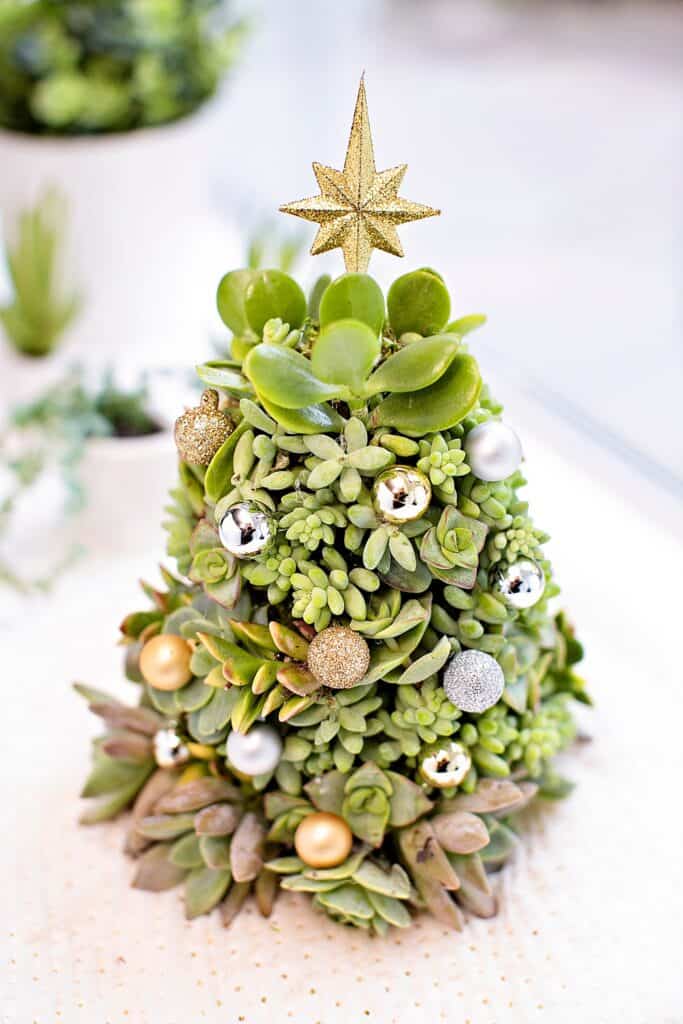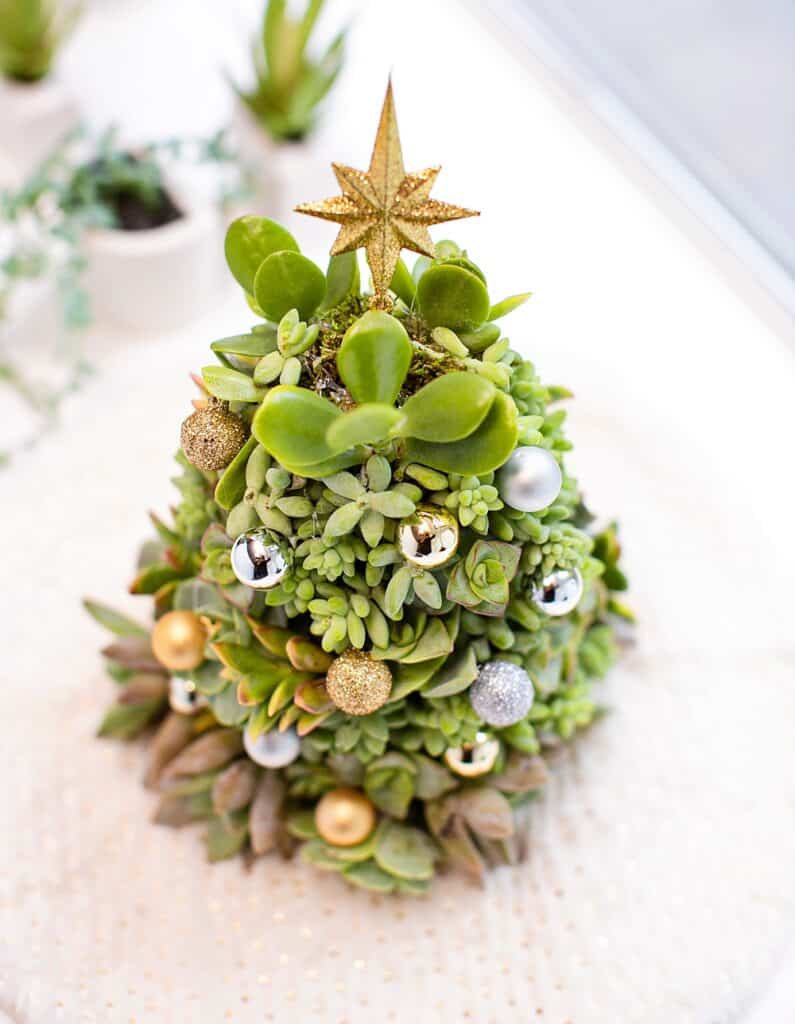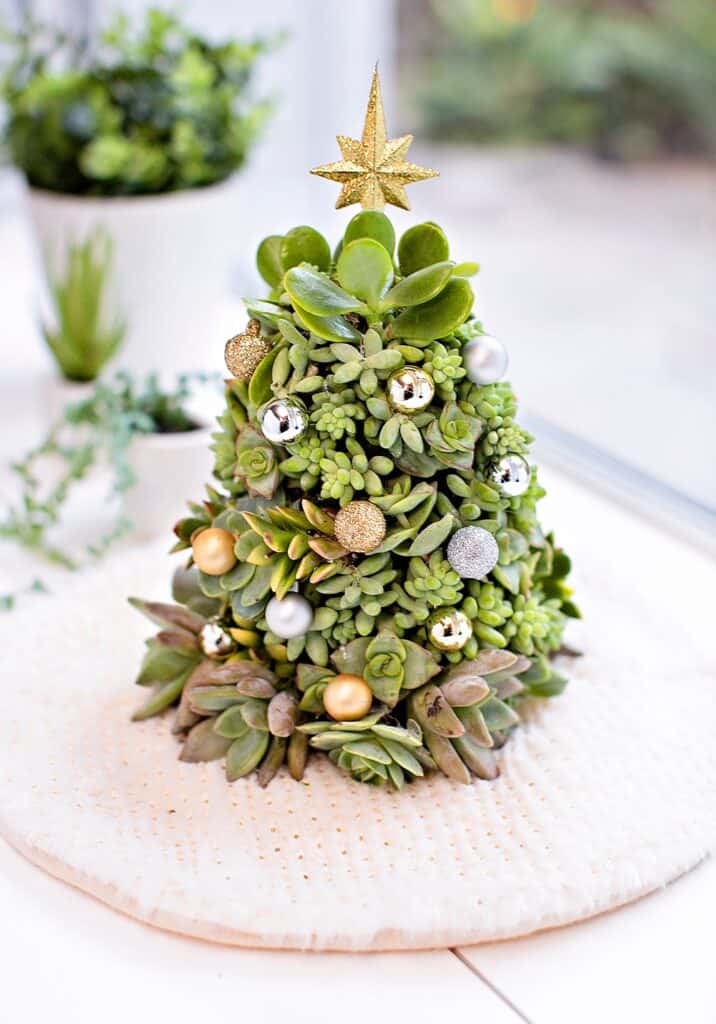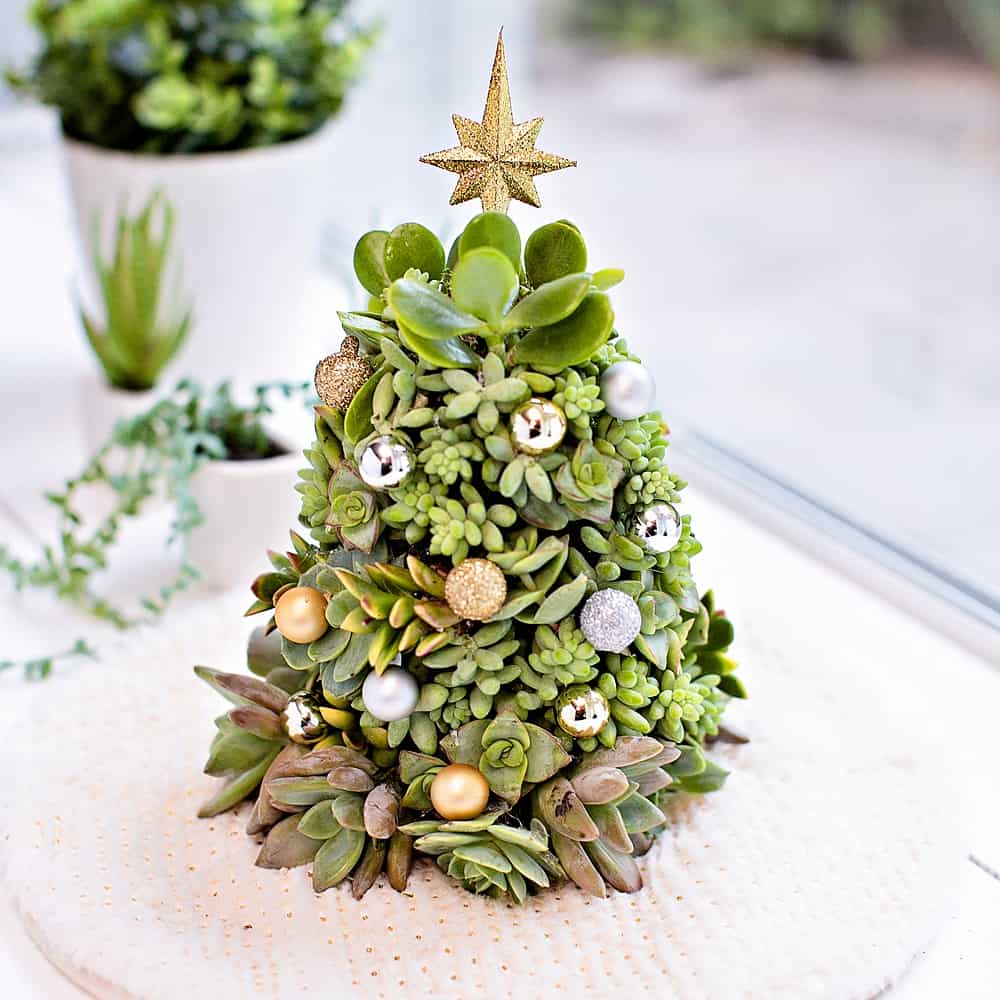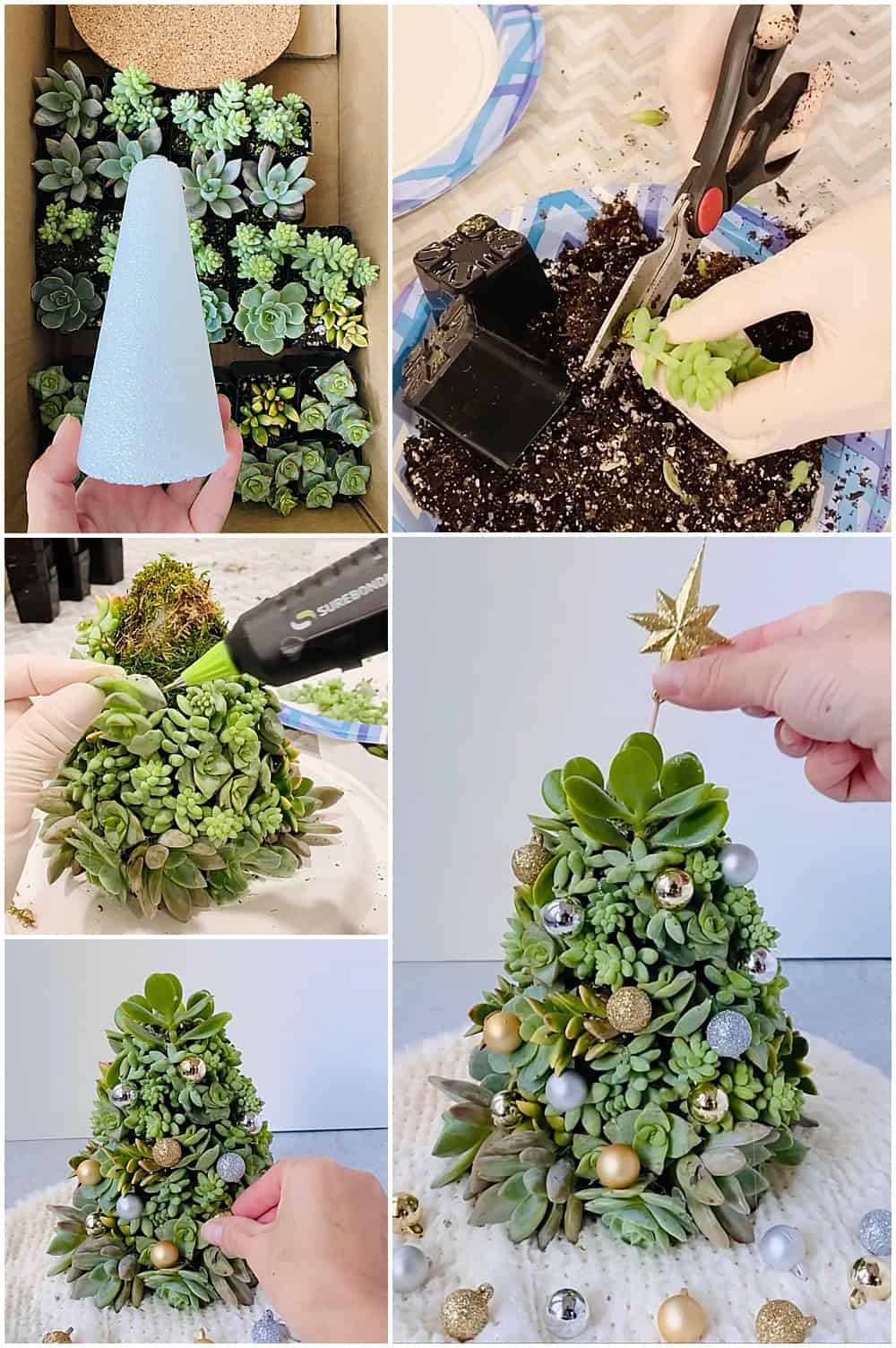 INSTRUCTIONS
Watch the video in this post to see how to make these cute cute DIY Succulent Christmas Tree.
Step 1. Glue your sheet moss over your cone.
Step 2. Unroot your succulents from soil and cut leaving 1/2 -1 inch of stem exposed.
Step 3. Start glueing your succulent cuttings on the tree starting at the base. Start with your larger ones at the bottom as you move up, use smaller cuttings. Hot glue only the SIDES of the cuttings, not the stem.
Step 4. Hot glue ornaments to the tree.
Step 5 Hot glue a toothpick to your start and insert that directly into your foam cone on top.
Spray your succulent tree with water if it looks dry or at least once a week. Supposedly the stem can take root. You are also able to transfer the cuttings if you wish and replant them. We have not done that yet but will report back on how long our tree lasts! So far it's been 10 days and it's still alive!
You Might Also Like