Welcome to our next round of Cooking With Kids series where we show you step by step how fun it is to get the kids involved in the kitchen. I'm sharing this easy zucchini, squash and meat lasagna made with my 3 year old son and 5 year old daughter.
Lasagna is a great dish to make with kids because it involves lots of layering which kids love to do. It's also not a super precise recipe, you can add a little bit more cheese or sauce and it will all work out fine once it bakes up in the oven. It's simple, versatile and delicious.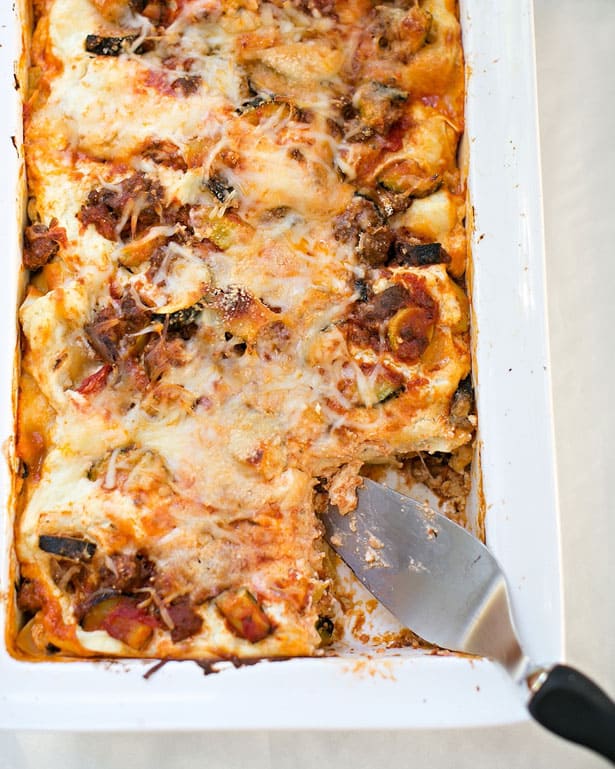 Zucchini Squash Meat Lasagna – Ingredients:
– 2 medium zucchini and 2 medium yellow squash
– 1 lb ground beef (we used 85% grass-fed beef)
– 24 oz jar of tomato sauce
– A few leaves of basil (optional)
– 12 no bake lasagna noodles
– 1/2 cup water
– 32 oz ricotta cheese
– 3 cups shredded mozzarella cheese (reserve 2 cups for ricotta cheese mixture)
– 2 eggs
– 1/2 cup parmesan cheese (reserve 1/4 cup for ricotta cheese mixture)
– salt/pepper to taste
Steps:
(preheat oven to 375 degrees, set aside a 9×13 inch baking pan)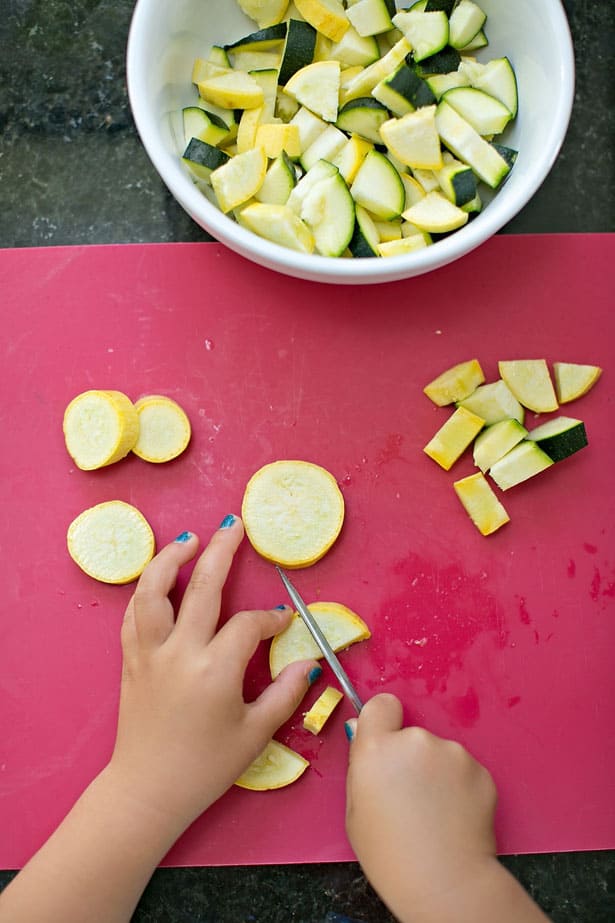 1. Show your child how to cut the zucchini and squash by first cutting them into circles then quartering them. If your child is too young to use a knife, give them the rounds and have them break them apart (this is what my 3 year old did). Once all the zucchini is cut, place them in a bowl and set aside. It's okay if the cuts are not perfect, they'll all be added to the pan and combined in the lasagna.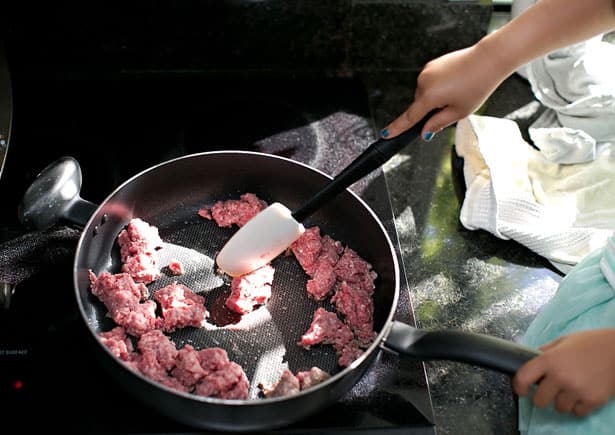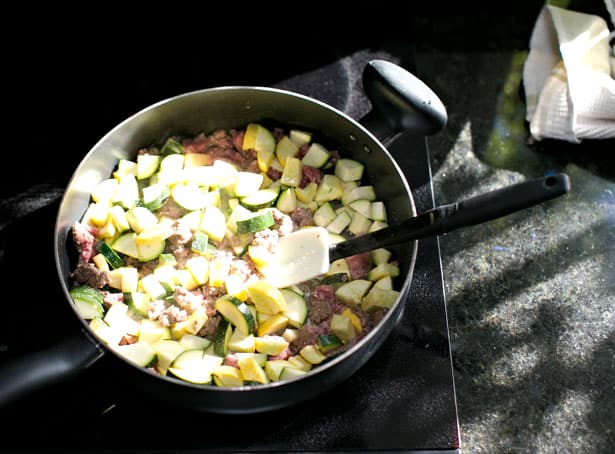 2. Over medium-high heat, add the ground beef to a large sauce pan. Help your child stir and break up the meat.
3. When the beef is starting to get brown, add the zucchini and squash. Salt and pepper to taste. Give your child a turn stirring the meat and vegetables around. Always make sure to give them safety tips on being next to a hot stove and never leave their side when they are near one. If a child is too young, you can always have them stand on a stool, away from the oven and have them watch you.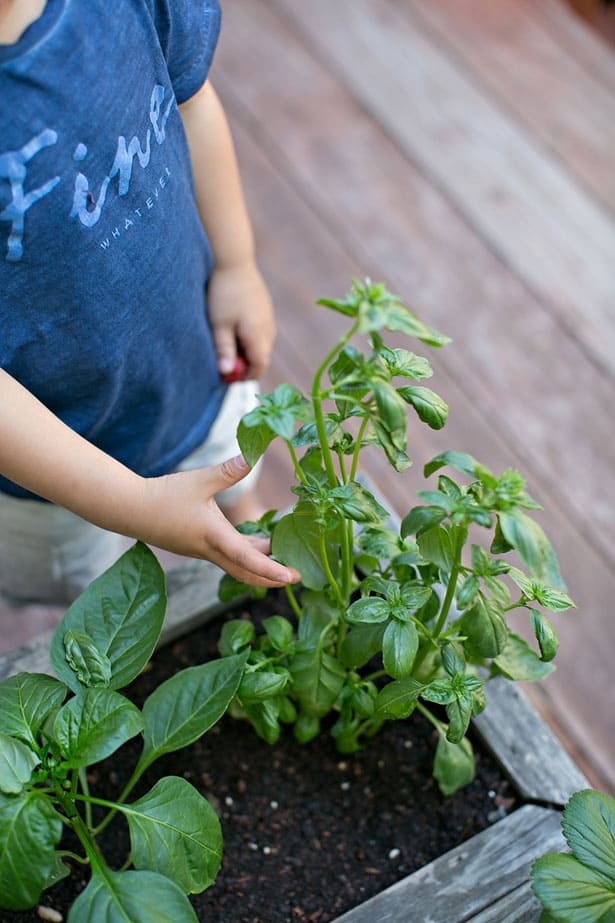 4. When the meat is browned, add the tomato sauce. Tip: transferring the jar of sauce to a bowl and giving your child a small scoop is an easy way for them to add the sauce. Add a few leaves of basil (we went outside to get some from our planter). Stir the basil, sauce, meat and vegetables over medium heat for a few more minutes until well combined. Remove from heat.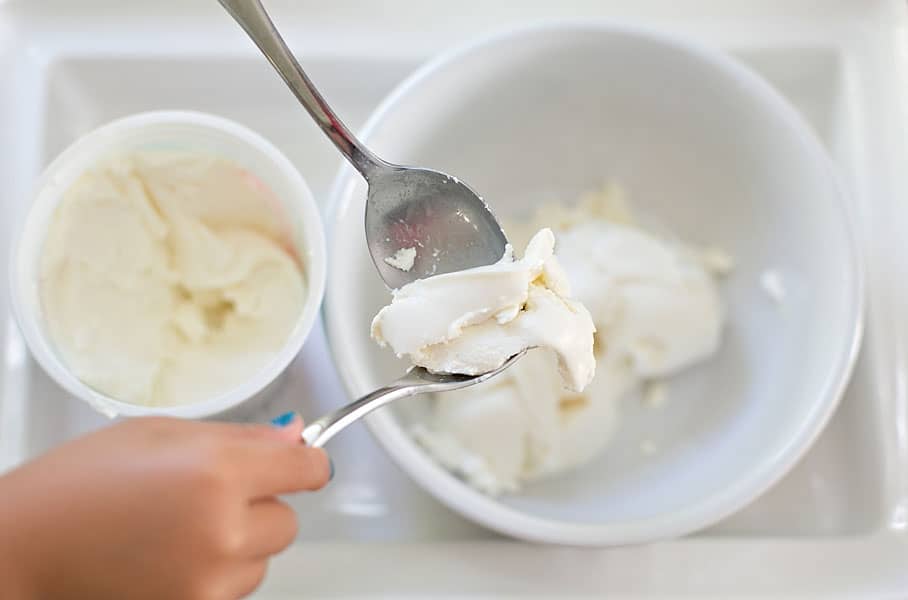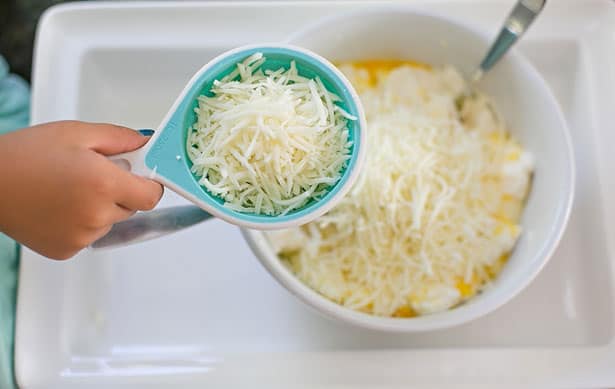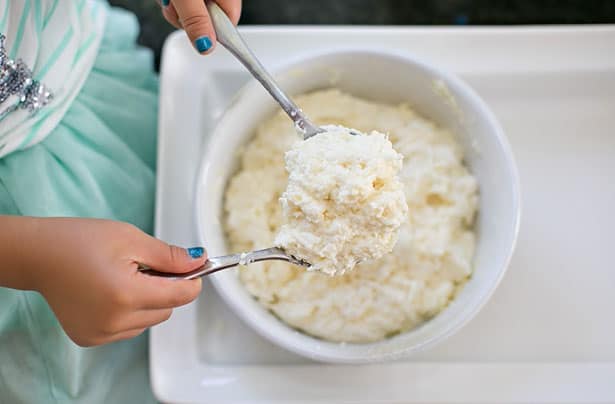 5. Prepare the ricotta/cheese mixture. Add the ricotta, 2 cups mozzarella, 2 eggs and 1/4 cup parmesan to a bowl and mix well.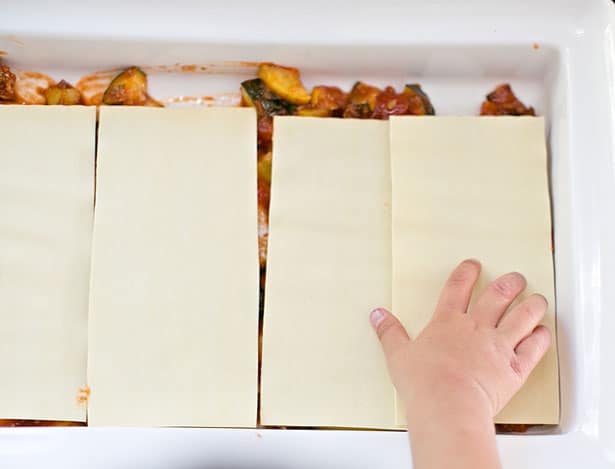 6. Add 2 cups of the meat sauce on the bottom of your 9×13 inch baking pan. Add 4 lasagna noodles on top.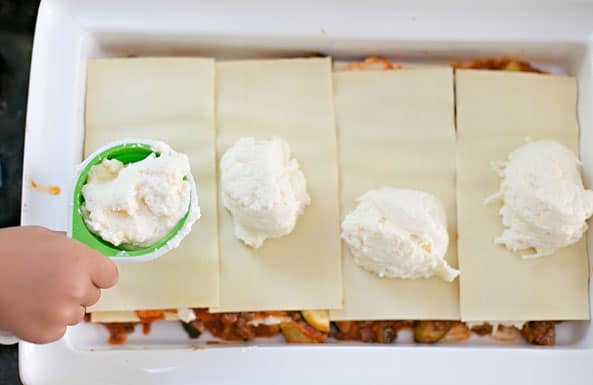 7. Add 1 1/3 cups of the ricotta cheese mixture on top of the noodles, spread it out evenly.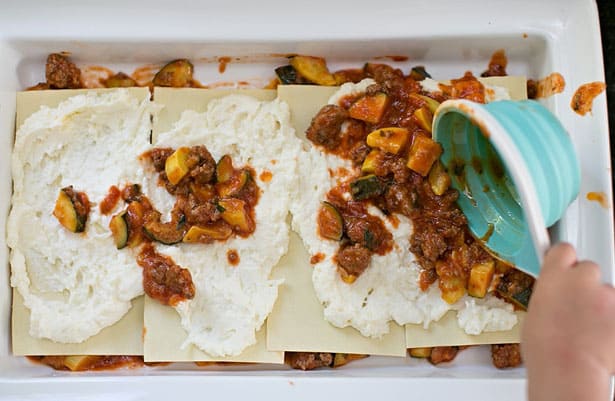 8. Add 2 cups of meat sauce over the ricotta mixture. Layer with another 4 noodles and repeat 2 more times.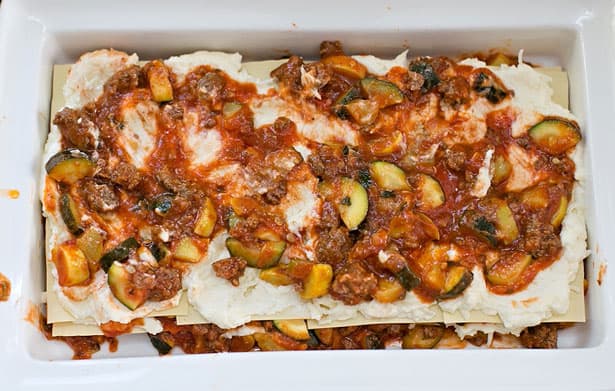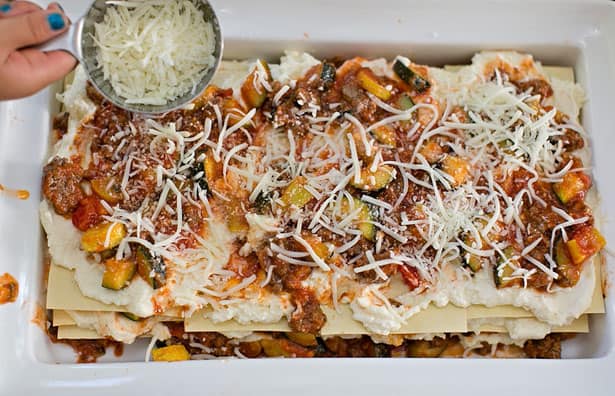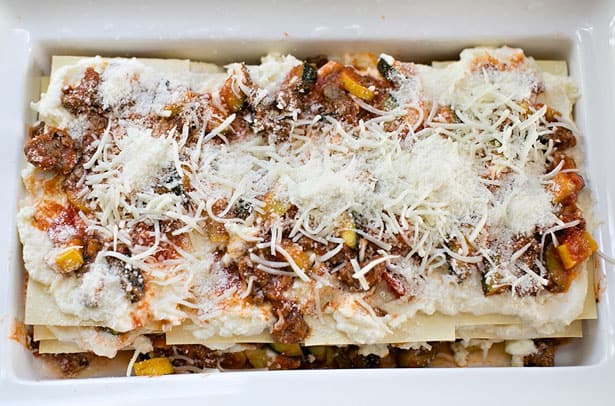 9. On top of the final layer, add 1 cup mozzarella cheese and 1/4 cup parmesan cheese. Add 1/2 cup water to the bottom sides of the pan.
Place the pan in the center rack of the oven, preheated at 375 degrees for about 45 minutes or until the cheese is bubbly and brown on top.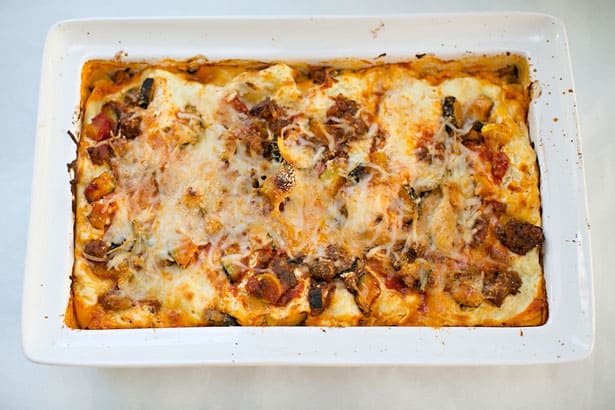 The lasagna should look like this (above) when it comes out of the oven.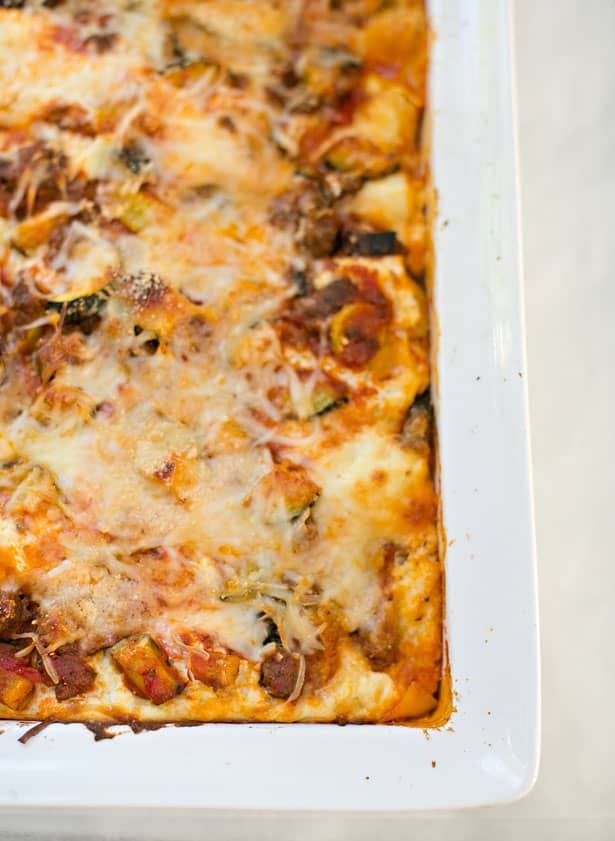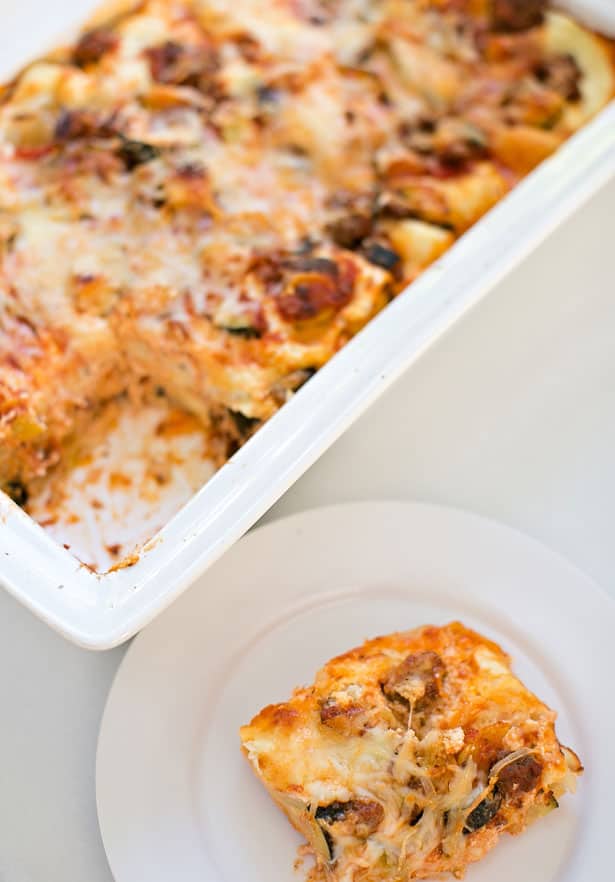 The lasagna, oozing with cheese and delicious. The squash and zucchini gives it a nice touch of sweetness.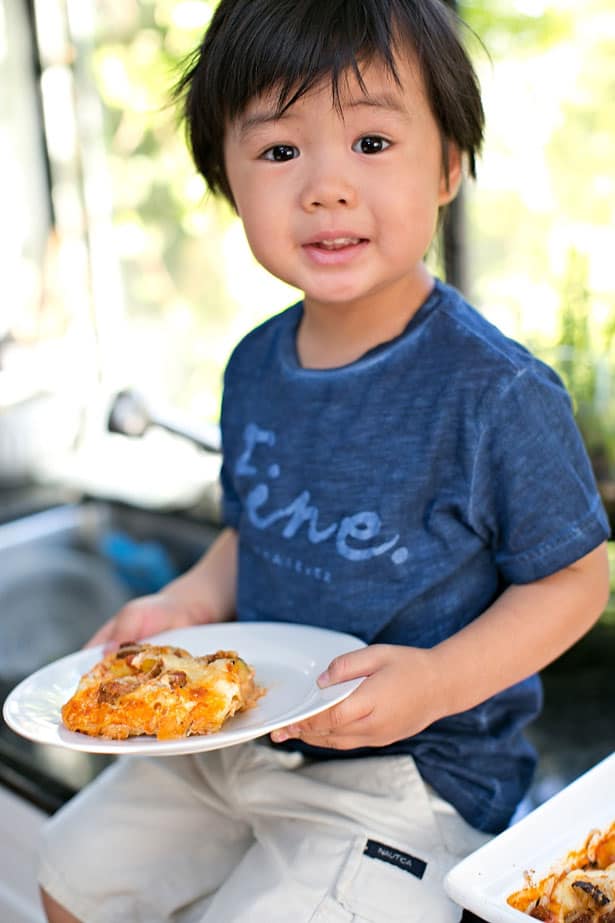 The kids were so proud of making dinner and ate a whole piece each! This lasagna is an easy, family friendly dish that everyone can enjoy and feeds a crowd. Make and freeze some for future meals or bring it to a potluck or large gathering!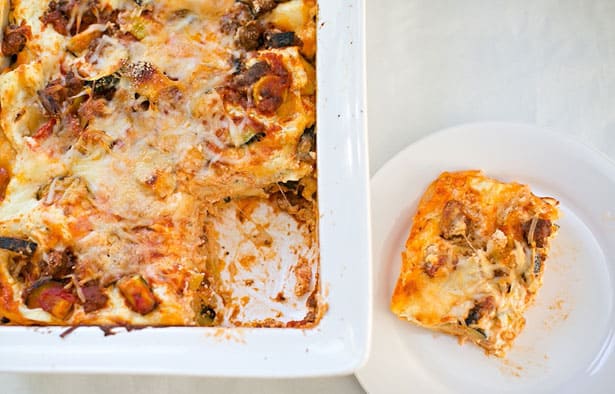 What are some of your favorite ways to involve kids in the kitchen?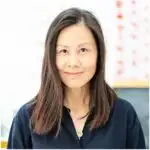 Agnes Hsu is a mom of three and has been inspiring parents and kids to get creative with easy activities and family friendly recipes for over 10 years. She shares her love for creative play and kids food to her 2MM+ followers online. Agnes' commitment to playful learning and kindness has not only raised funds for charity but also earned features in prestigious nationwide publications.