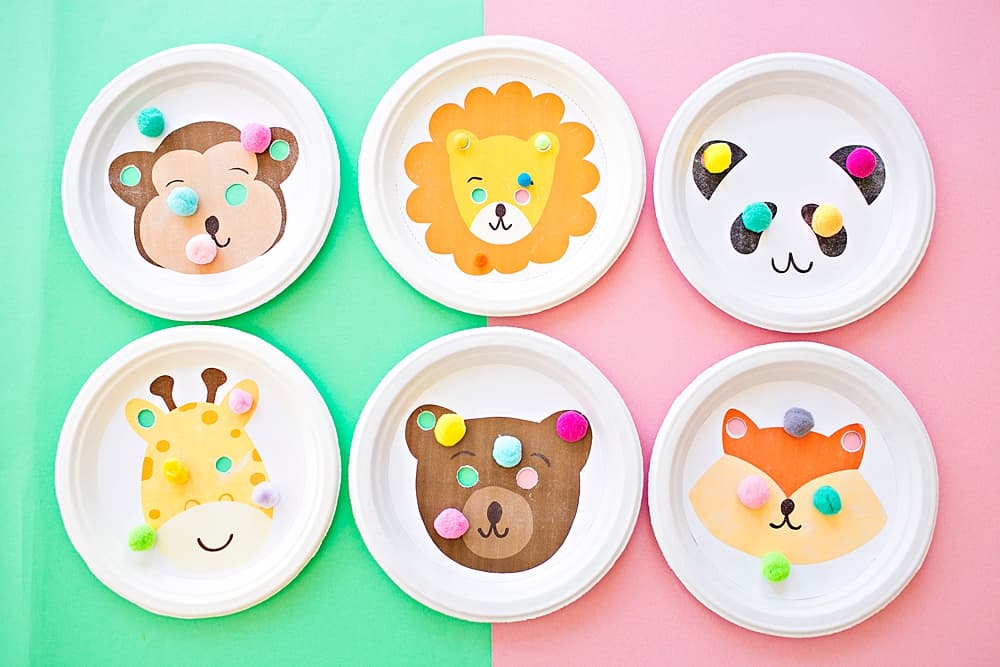 Scroll all the way down to watch the video below to see how to make these cute Animal Paper Plate Mazes and make sure to subscribe to our YouTube channel for more fun videos!
We're huge fans of paper plate toys, cute animals, and DIY mazes so when we saw a cute pom pom paper plate game from @kinderkorner on Instagram we were inspired to make our own except as animal faces. We used colorful pom poms to fill in the holes but you can use marbles if you have those on hand too.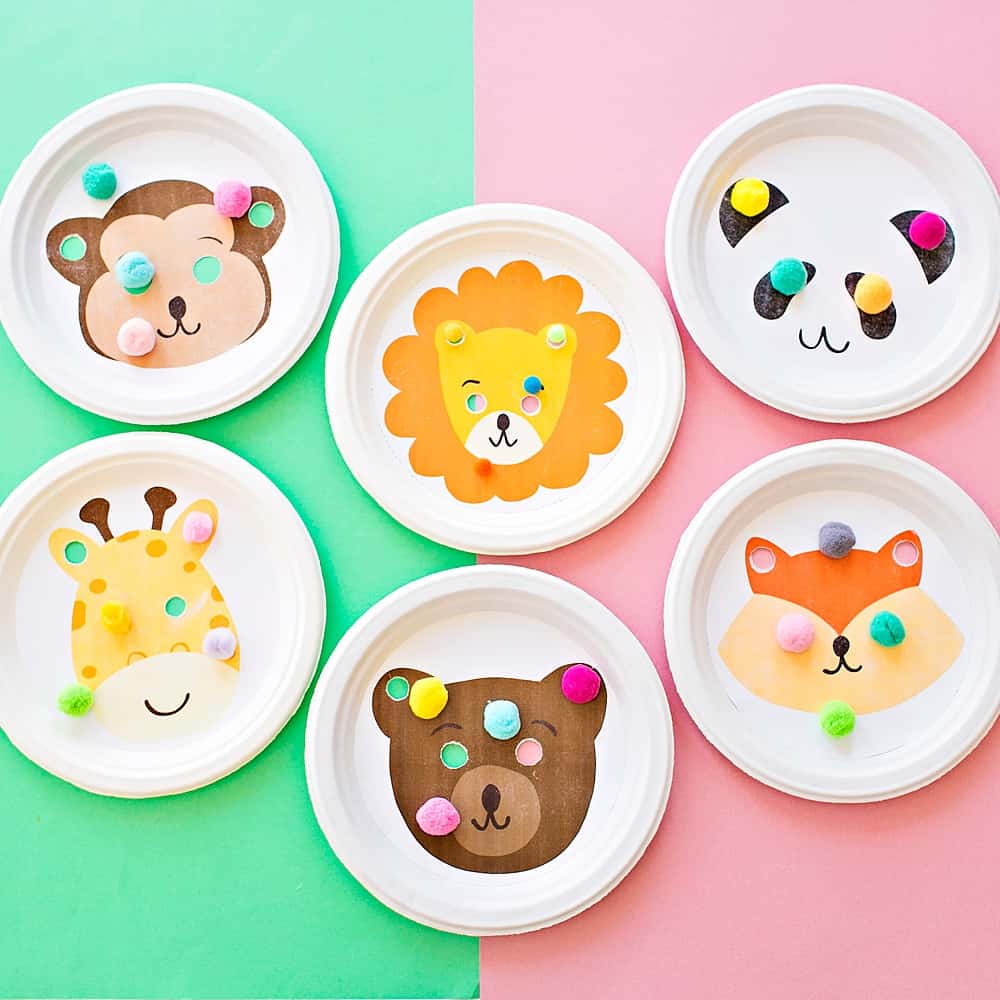 This is the easiest game you can whip up with the kids in minutes to keep them entertained and practicing those fine motor skills, as well as hand-eye coordination.
All you need are our printable templates (see below) for the anima faces (monkey, lion, panda, giraffe, bear an fox), paper plates, scissors, glue and pom poms – items you probably already have lying around at home.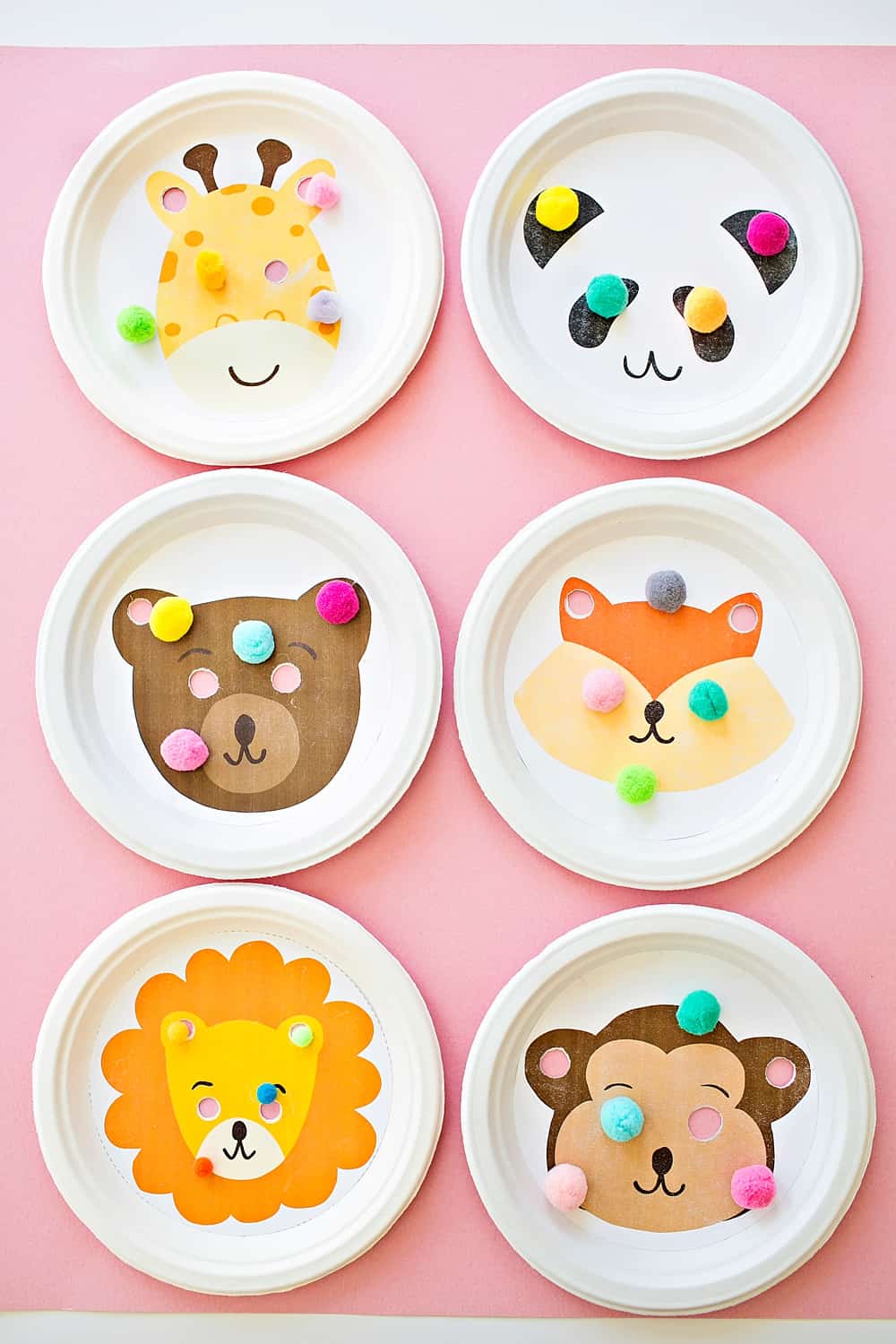 ANIMAL PAPER PLATE MAZES – MATERIALS: 
Paper plates (durable plates similar to light cardboard work best to hold the pom poms – we used Chinet brand plates approximately 9 inches in diameter)
Scissors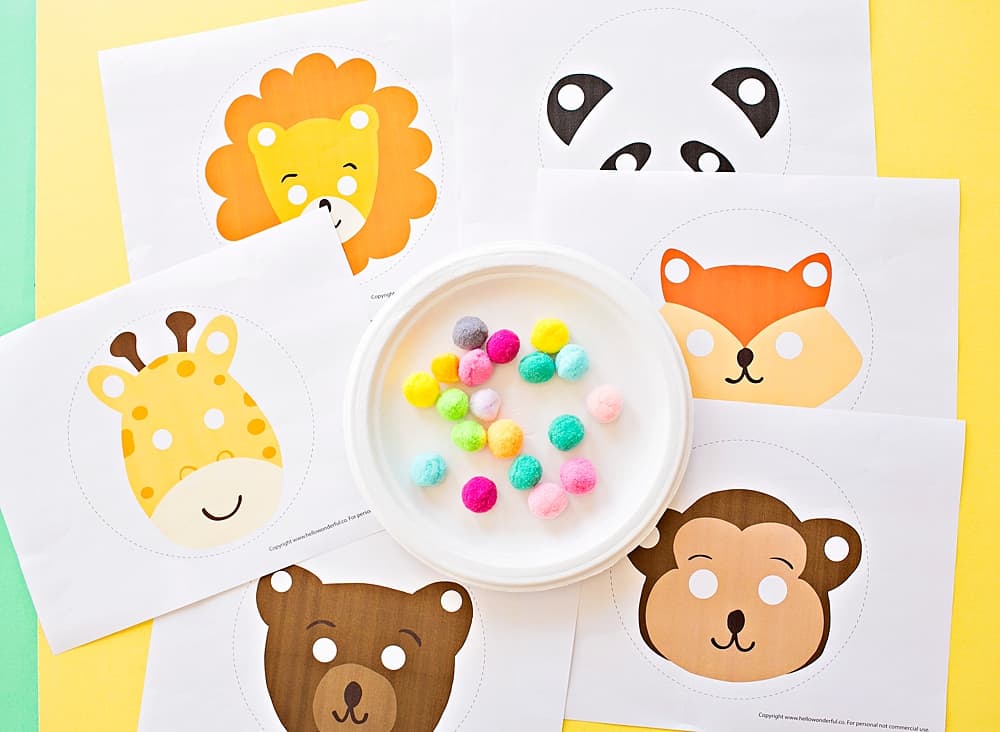 INSTRUCTIONS:
Step 1. Print out the templates and cut around the dotted lines and cut the holes out.
Step 2. Align template to your paper plate, sketch holes lightly with a pencil, cut out the holes on the paper plate.
Step 3. Align your template to the holes on the paper plate, glue down template with a glue stick.
Step 4. Add the same number of pom poms or marbles as the holes on the plate and try to fill them in!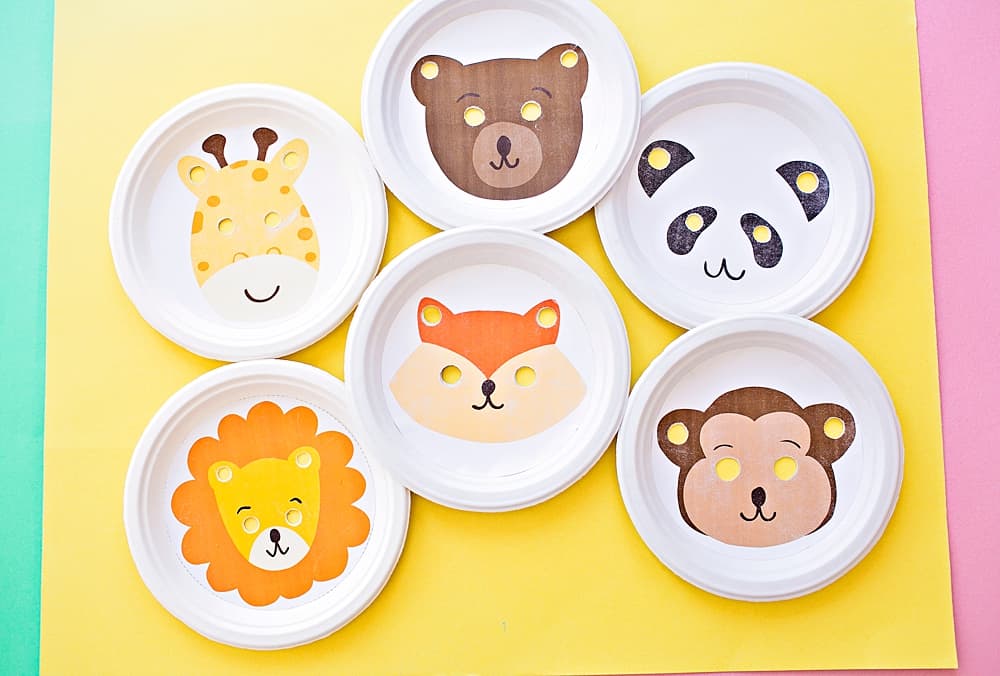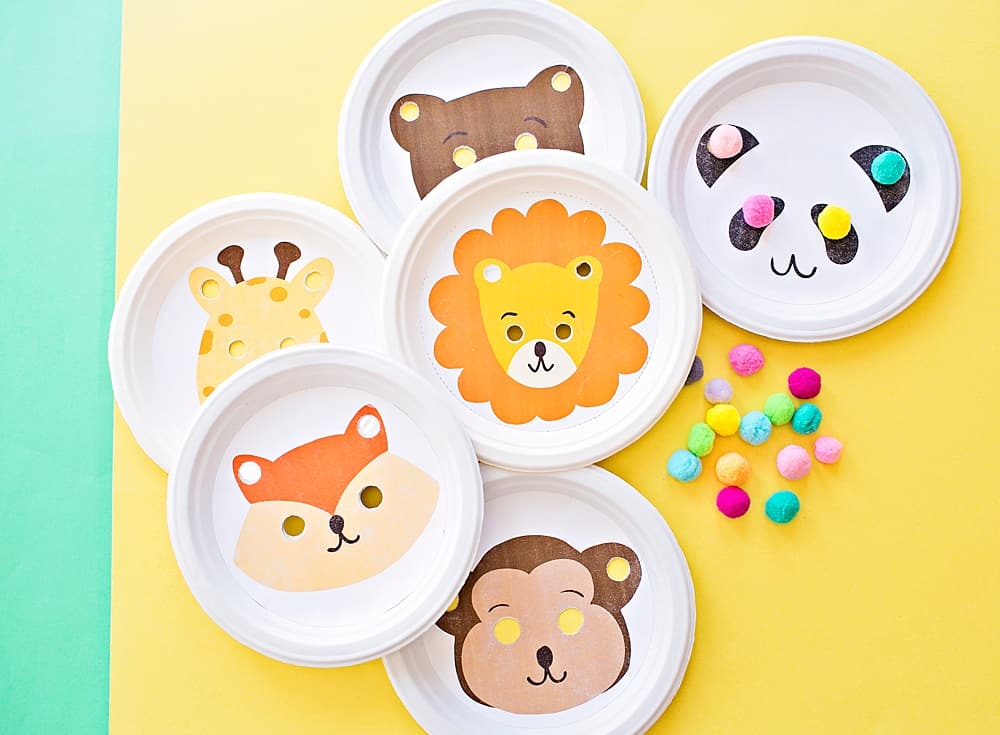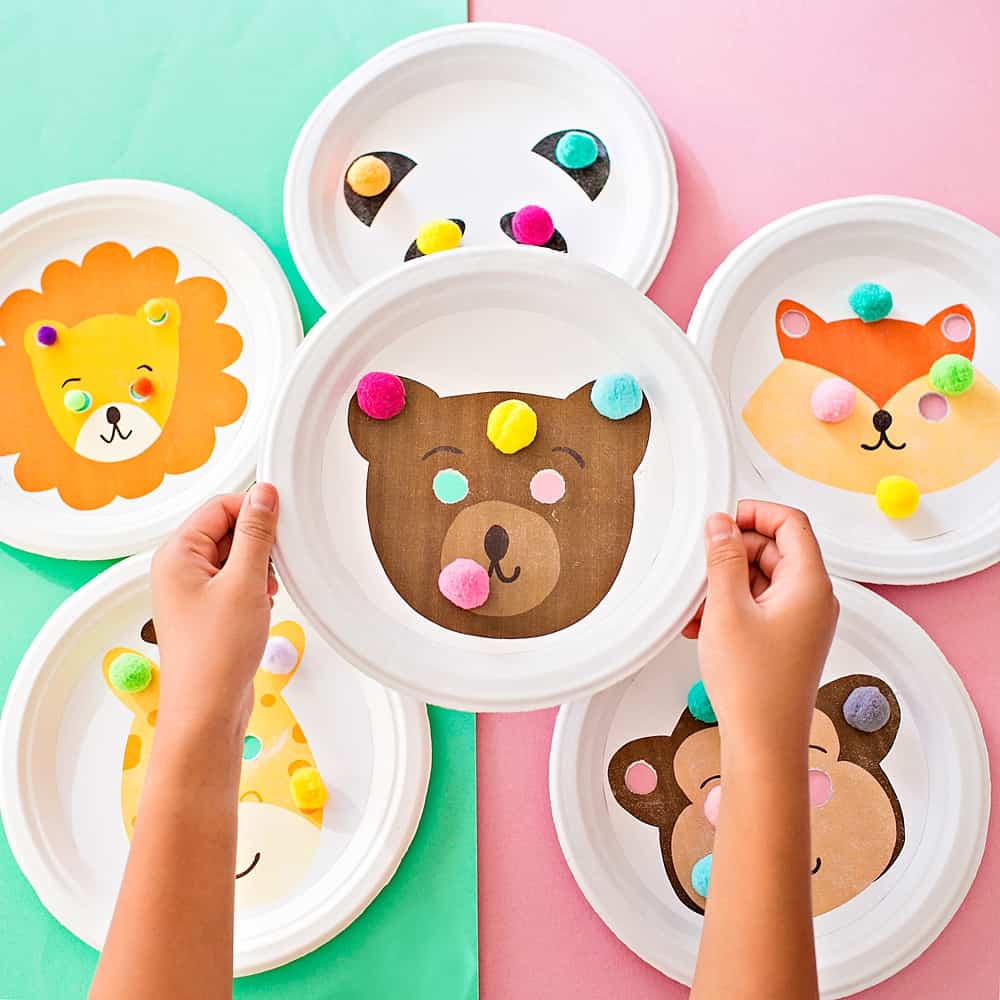 This cute Animal Paper Plate Maze game for kids is fun for parties, playdates, or just as an afternoon boredom buster. Good old-fashioned play is always therapeutic and nothing beats the satisfying feeling of making your own DIY game!
Check out the video below to see the Animal Paper Plate Mazes in action!
Check out our DIY marble maze made from cardboard and straws and more DIY games like Cardboard Tetris and Paper Tube Ball and Cup.
---
Disclosure: Some of the links in the post above are "affiliate links." This means if you click on the link and purchase the item, we will receive a small affiliate commission. Regardless, we give our promise that we only recommend products or services we would use personally and believe will add values to our readers.