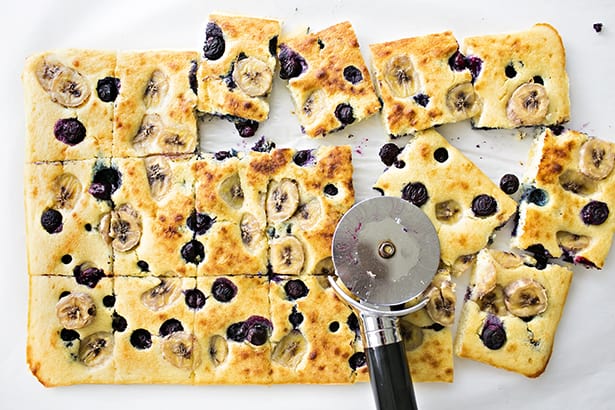 We recently made sheet pan Valentine pancakes and loved how easy it was to make a big batch of pancakes at once! The benefits about making pancakes in the oven are that it's less messy, saves time (no more standing by the stove flipping pancake) and can feed a crowd!
Scroll down to watch out video below and make sure to subscribe to our YouTube Channel for more fun videos.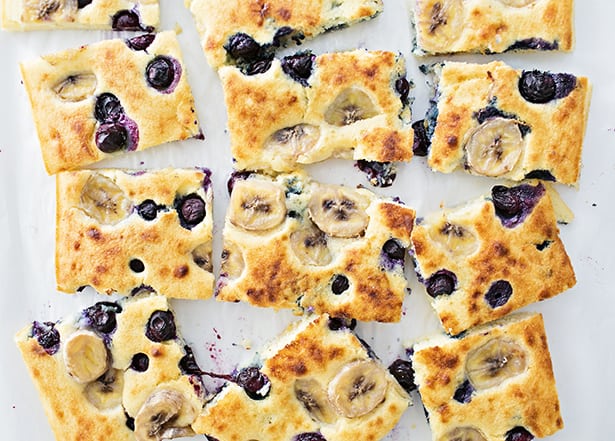 My kids love bananas and blueberries in their pancakes so we made one huge sheet pan pancake with their favorite topping. I can't say how awesome this method is – just like making a giant pancake "cake!"
It's even easier if you use your favorite pancake mix for the batter (which we did) but you can make your own from scratch as well.
Check out the video above to see how easy it is to make these sheet pan pancakes and get the recipe and full details and tips below.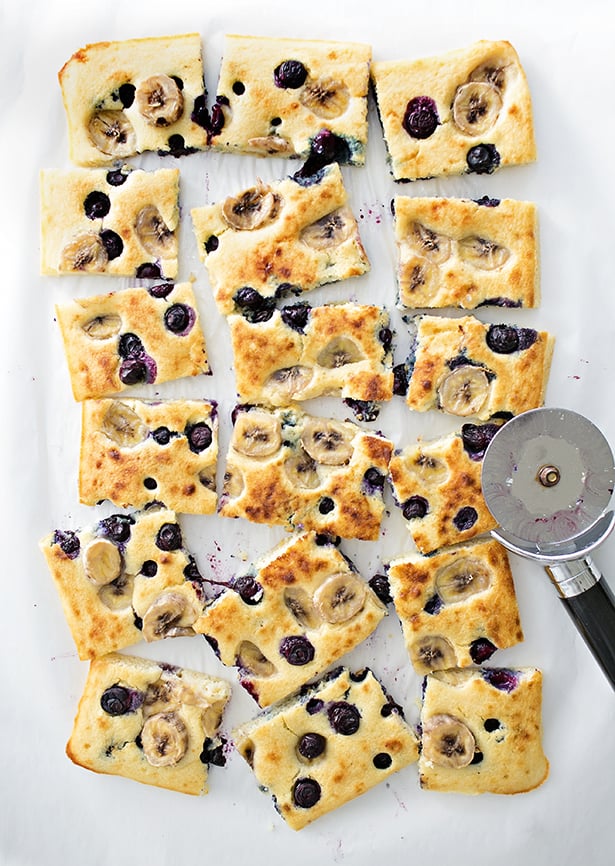 Banana Blueberry Sheet Pan Pancakes – Ingredients:

– One rimmed sheet pan (we used an 18″ x 13″ inch pan)
– 2 tablespoons melted butter
– Pancake batter (we used a mix and double the recipe which called for two cups of mix, prepare according to the mix)
– Aluminum foil
– Two sliced bananas and 1 cup blueberries (reserve half)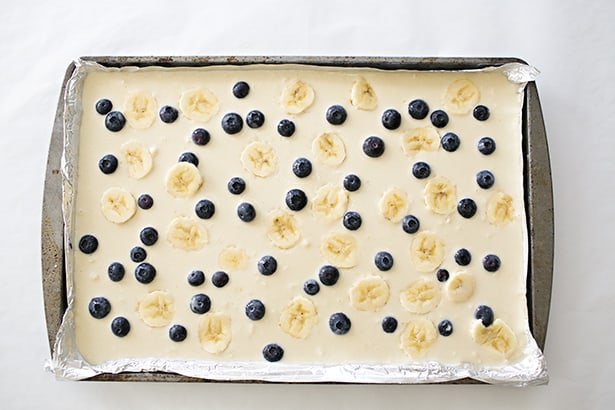 Instructions:
Step 1. Prepare your pancake batter (you can use a mix like we did or make your own). As mentioned, we doubled the recipe on a mix (which called for 2 cups of the dry mix) to fill an 18″ x 13″ pan.

Step 2. Preheat your oven to 425 degrees. Line your sheet pan with aluminum foil, brush with melted butter. Pour your pancake batter evenly, it should be no taller than 3/8″ tall.

Step 3. Add half of your sliced bananas and blueberries over the batter. Bake your sheet pan pancake a bit more than halfway, around 9 minutes. The bananas and blueberries will have sunken in the batter. Pull out the pan and add the remaining half of your bananas and blueberries and return to the oven. Bake for 5 more minutes. It will look very light in color.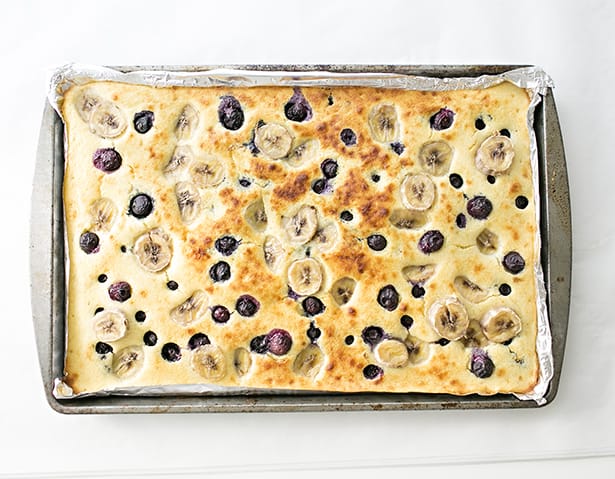 The trick to getting it toasty and brown on top is to turn on your broiler and let it broil for a minute or two, making sure to rotate the pan every minute until you get the browning you want.

Step 4. Remove the sheet pan and allow to cool completely. Cut into squares and serve!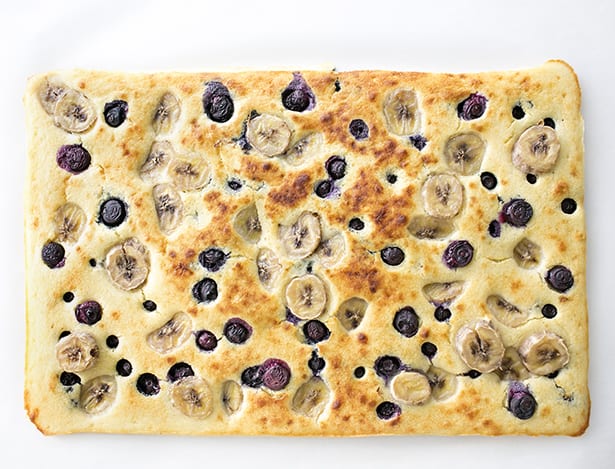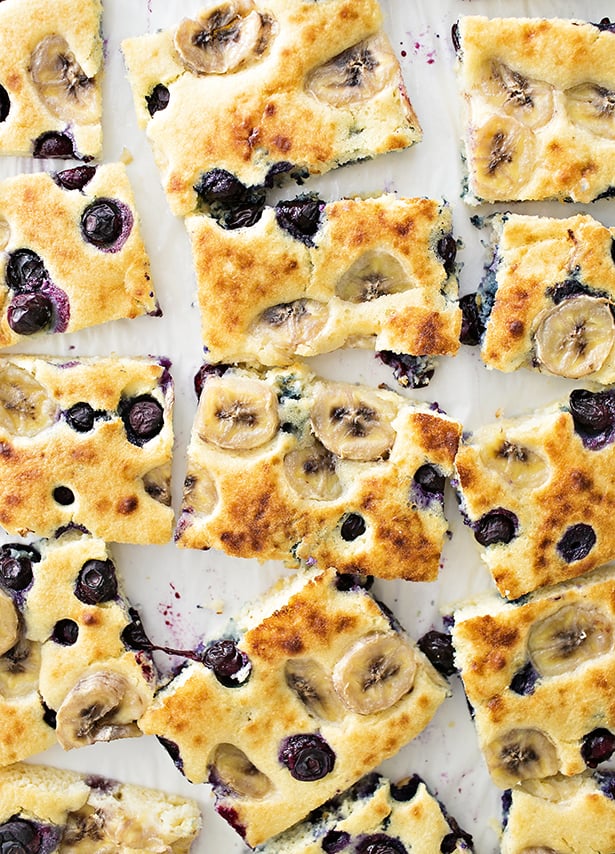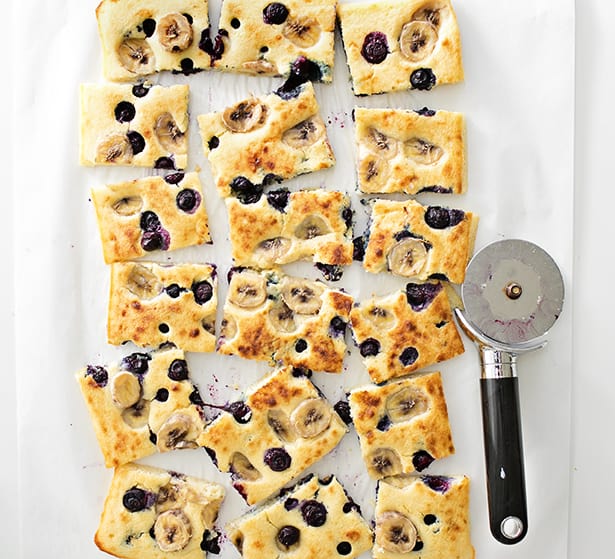 Watch the video above to see how it's made.
Using a pizza cutter makes it easy to cut even slices for breakfast or brunch. The kids also loved eating these pancake squares without any syrup as a snack! They are great stored in the fridge to pull out for an afternoon treat.
What are your favorite ways to make pancakes? Check out our mini pancake muffin bites and more fun recipes and food ideas for kids!
______________________________________________________________________________________________________
Disclosure: Some of the links in the post above are "affiliate links." This means if you click on the link and purchase the item, we will receive a small affiliate commission. Regardless, we give our promise that we only recommend products or services we would use personally and believe will add values to our readers.