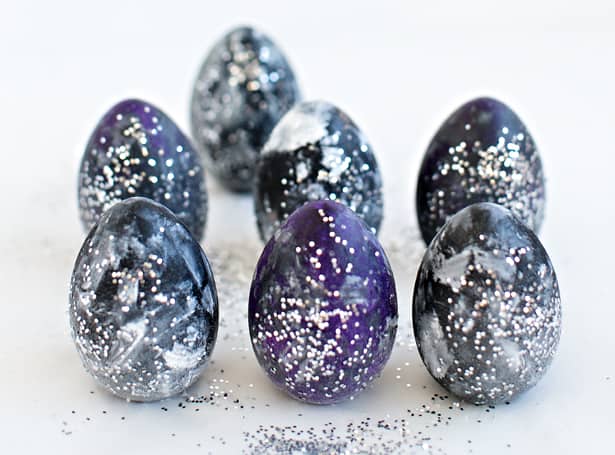 We had some wooden eggs around and I recently laid them out with some watercolors for my kids to paint. My son, who's 4, decided to paint his all black and then add splotches of white paint. He turned to me and said "look! it's like the night sky!" We decided to add some glitter and also create more variations in purple and gray for variety to resemble space. These Easter eggs truly are out of this world and I love how they were inspired by my kids.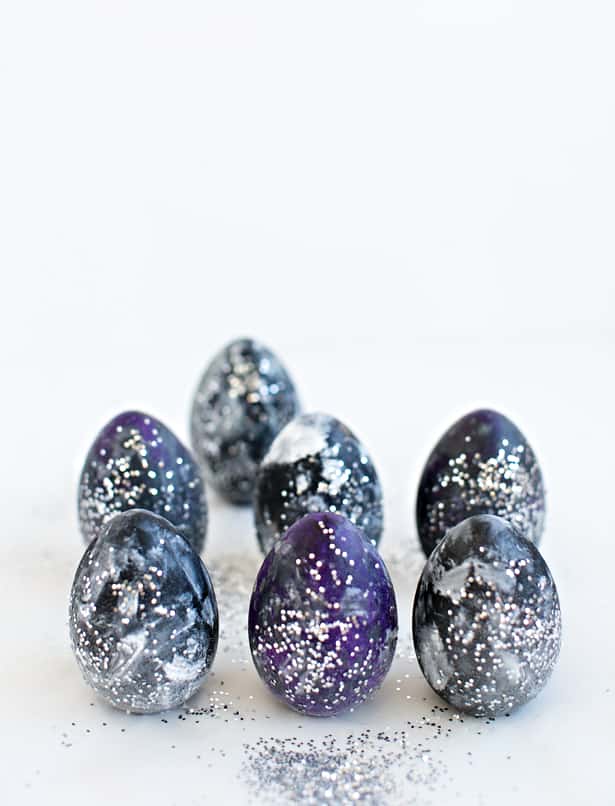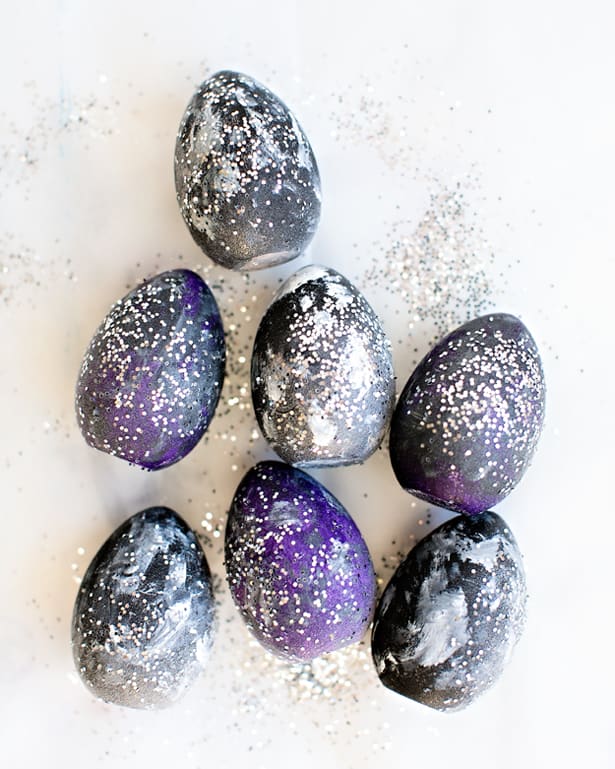 Cosmic Space Easter Eggs – materials:
– Eggs (you can use paper maché or ones that stand up like these wooden ones)
– Watercolor, acrylic paints (we used white, black, purple and gray)
– Paint brushes – one broad one for painting eggs and one smaller one for adding splashes of colors
– Silver glitter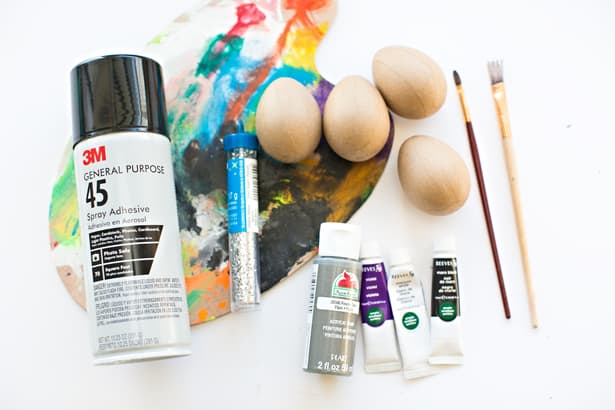 Instructions:
Step 1. Cover your eggs with one coat of either black or purple paint. Allow to dry. On wooden eggs, that just took a few minutes and we were okay adding the next color with them not fully dried since streaky designs were effective in creating a space/night look.
Step 2. For the black eggs, we added splashes of white with our smaller paint brush. For the purple eggs, we added splashes of gray, white and black.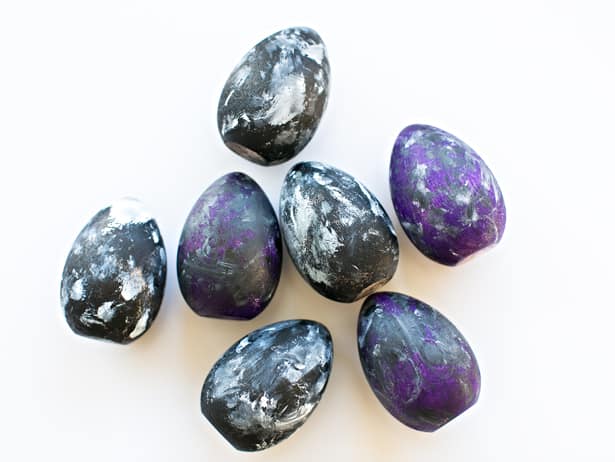 Step 3. Spray a thin layer of spray adhesive on the eggs and sprinkle some silver glitter over. Shake off the excess. You're done!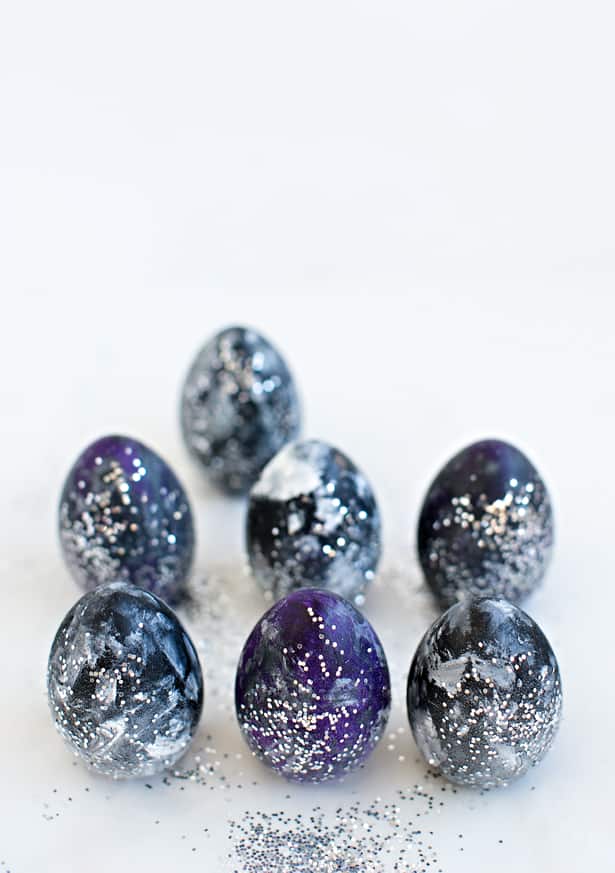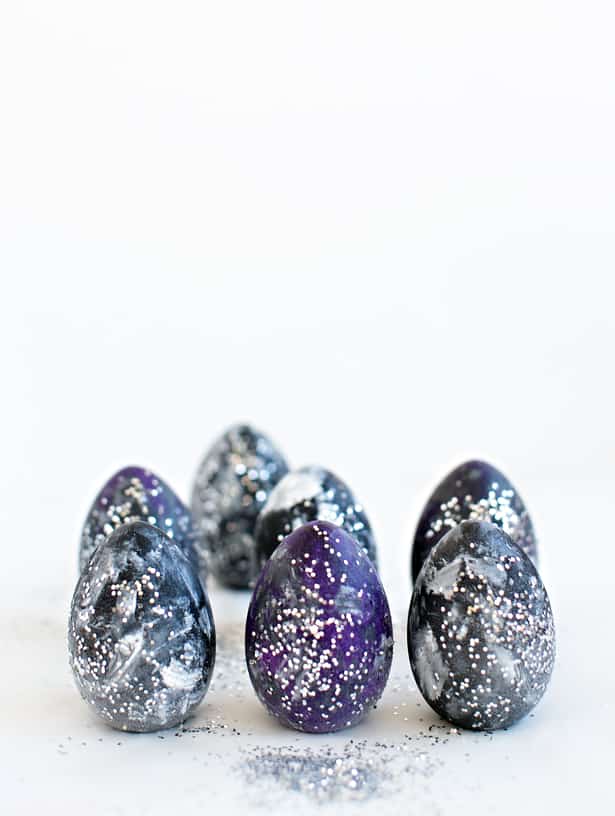 Aren't these super cool and clever? If you're looking for a creative egg decorating project that steers clear of pastel colors these are fantastic for kids to try!
What are your favorite ways to decorate Easter eggs? Check out more creative Easter ideas for kids!
______________________________________________________________________________________________________

Disclosure: Some of the links in the post above are "affiliate links." This means if you click on the link and purchase the item, we will receive a small affiliate commission. Regardless, we give our promise that we only recommend products or services we would use personally and believe will add values to our readers.