My kids recently started gymnastics and have so far enjoyed tumbling, jumping and of course, learning how to balance. A balance board is a great way to encourage practicing this precarious skill. And now we don't need to go to the gym to do it.
Here's a sturdy and functional balance board you can make with just a few parts. I've seen balance boards made simply of plywood and a long piece of PVC pipe. Since my kids are still relatively young, I wanted to make something that would stay attached. I also decided to use a blank skateboard deck to mimic skateboarding (something the kids can't do at this age). Plus, doesn't it just look so cool?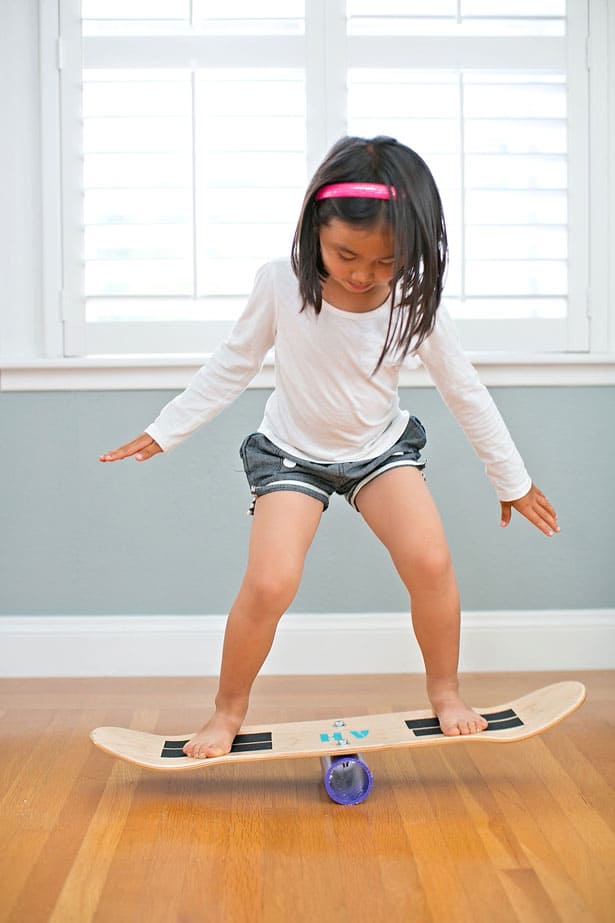 DIY Skate Balance Board – Materials:
– 3″ wide PVC pipe cut to the width of your board (ours was 8″)
– 2 bolts with locking nuts 3/8″ wide (should be long enough to go through board – about 1 1/2″ long) and two washers
– Drill
– spray paint (optional)
– letter stencils (optional)
– craft paint (optional)
– grip tape (optional)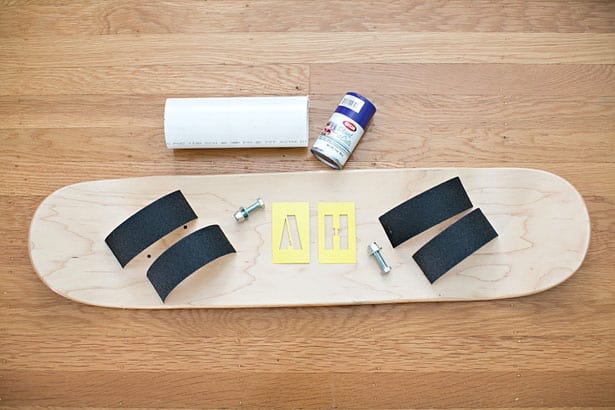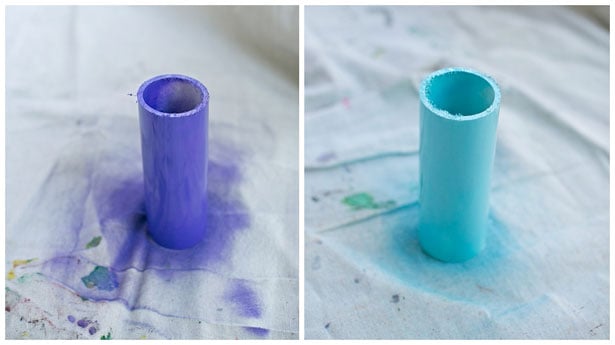 Steps:
1. If you want to paint the PVC pipe do this part first to allow it to dry.
2. I added my kids' initials to the board with some stencils and paint I had on hand. This is completely optional and is purely decorative. After the letter initials dried, I added strips of grip tape along the end, two strips per side. This is helpful, but not necessary.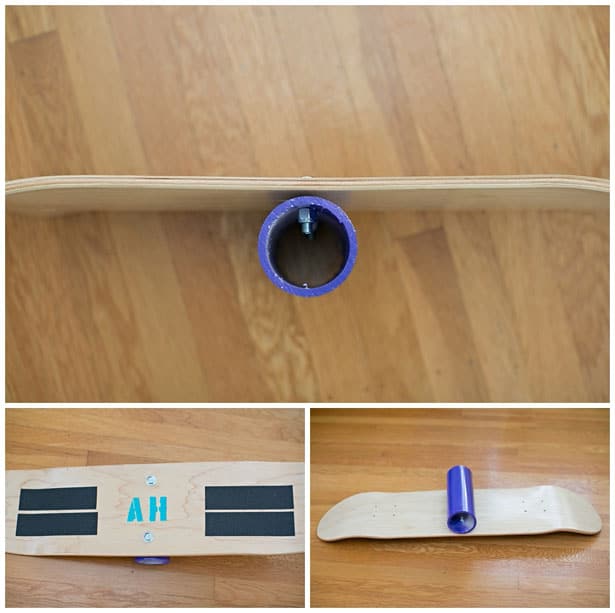 3. Once the paint has dried on the board and pipe, and the grip tape has been applied, mark two holes on each end of the center of the board. Drill through the board first. Then through the pipe. Attach the bolts securely. You're done.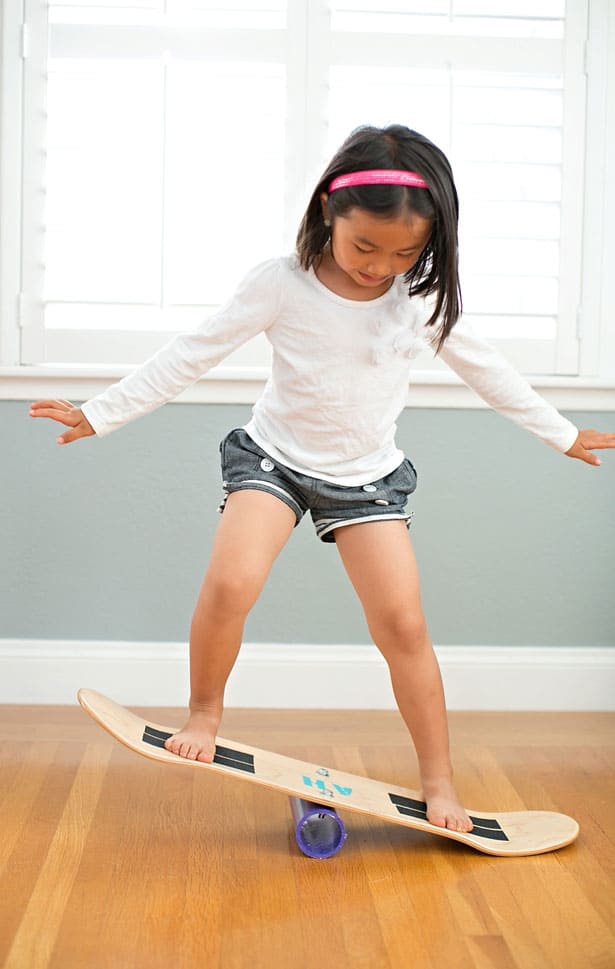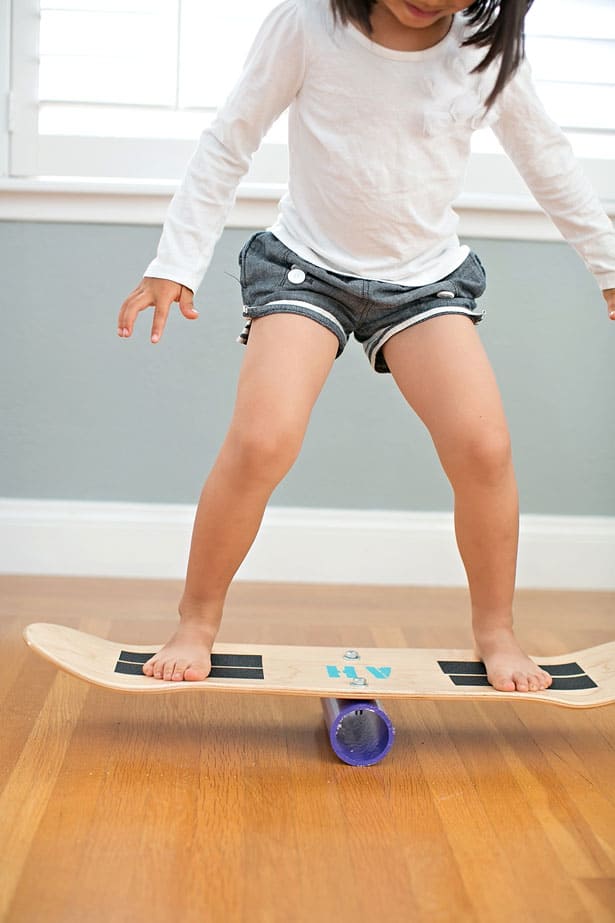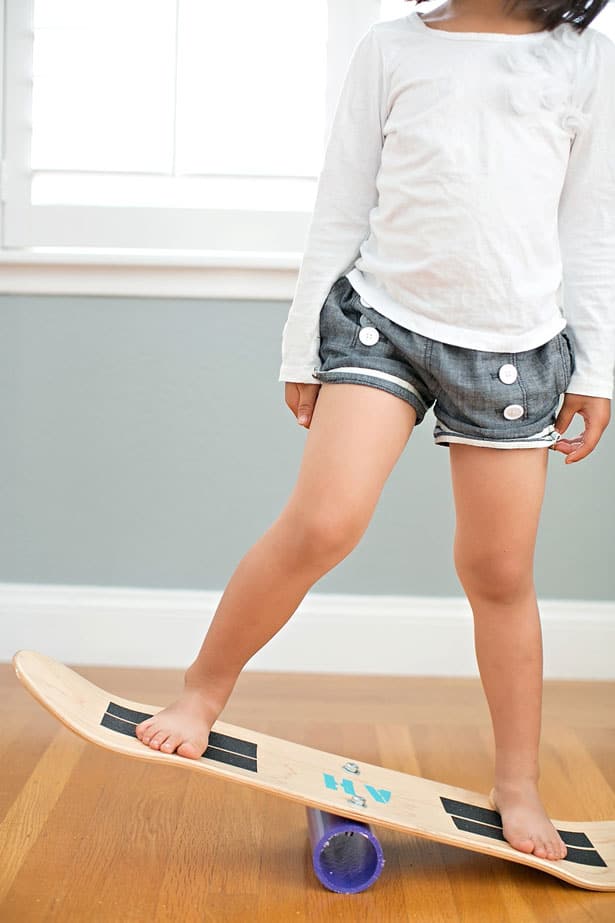 My daughter just took off using the balance board, she loved teetering on it and practicing her moves. If you want to ease kids in slowly, it's easier to start off on a carpeted floor to keep the board from sliding too quickly.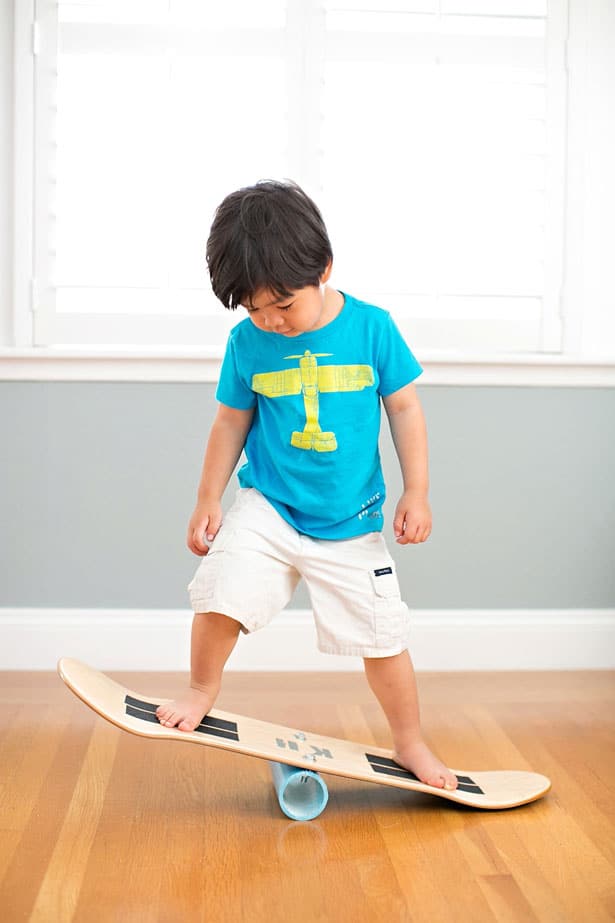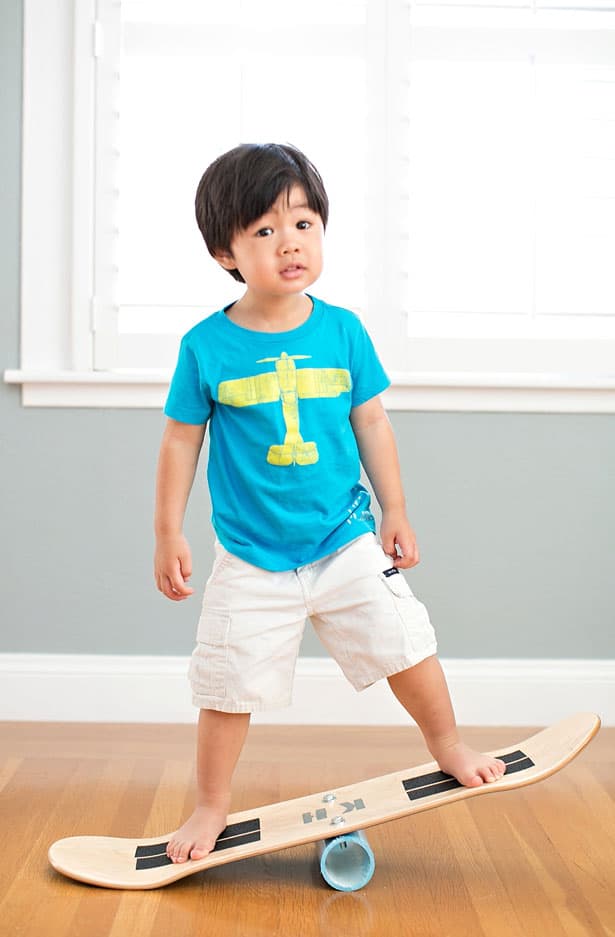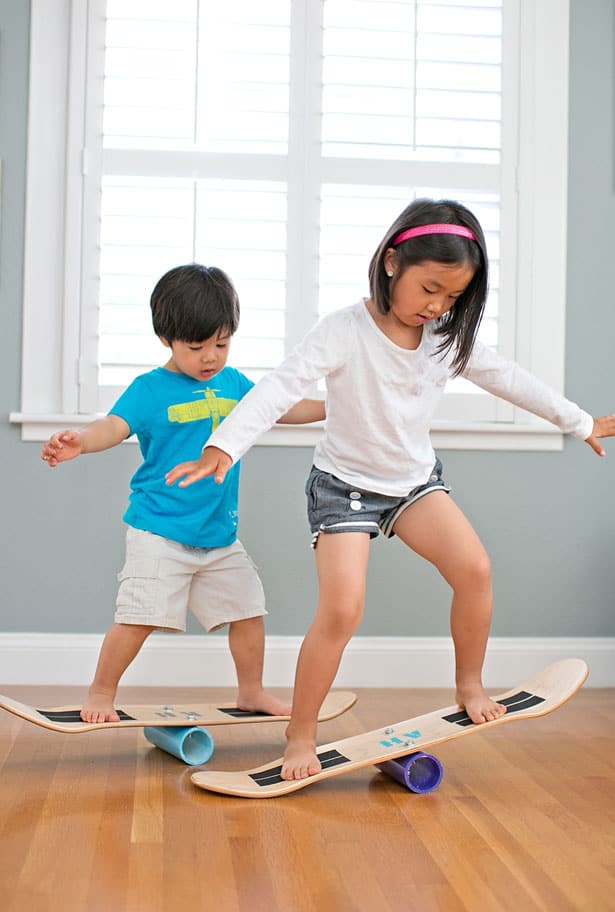 Both kids taking a turn. Even though my daughter got the hang of this more quickly, my son was able to grab on to the moves, even learning how to balance for a few seconds at a time!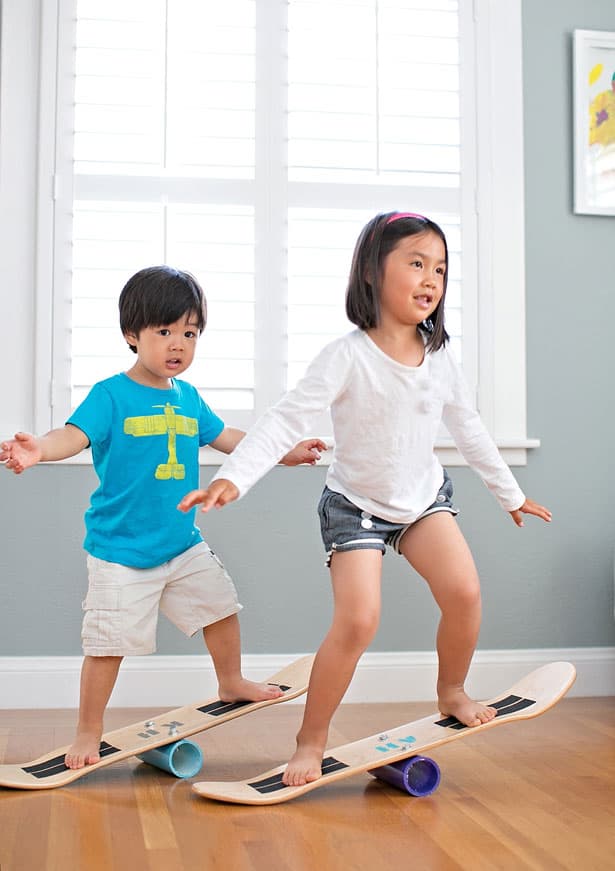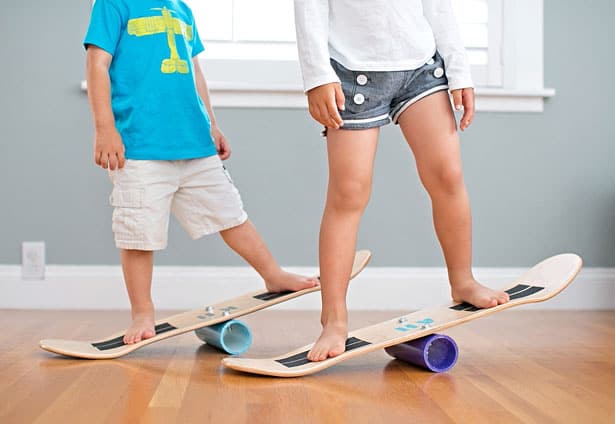 The best part is that you can build this board for right at $20 and it will last quite a while. It's strong enough to hold kids and adults. My husband and I have been practicing our balance taking turn with the kids. This is by far the best "toy" I have ever made for them! They love and use it everyday. And I swear it has improved their balance!
What are some fun ways you encourage your kids to move at home?
______________________________________________________________________________________________________

Disclosure: Some of the links in the post above are "affiliate links." This means if you click on the link and purchase the item, we will receive a small affiliate commission. Regardless, we give our promise that we only recommend products or services we would use personally and believe will add values to our readers.