Scroll all the way down to watch the video below to see how easy it is to make these Magic Paper Art Cubes and make sure to subscribe to our YouTube channel for more fun videos!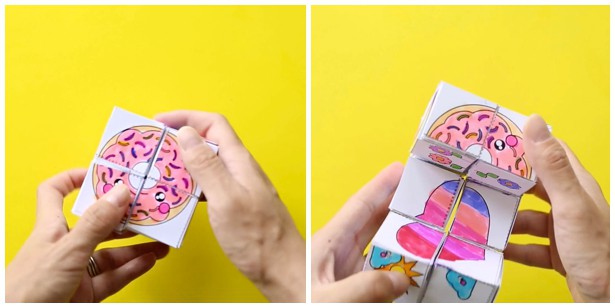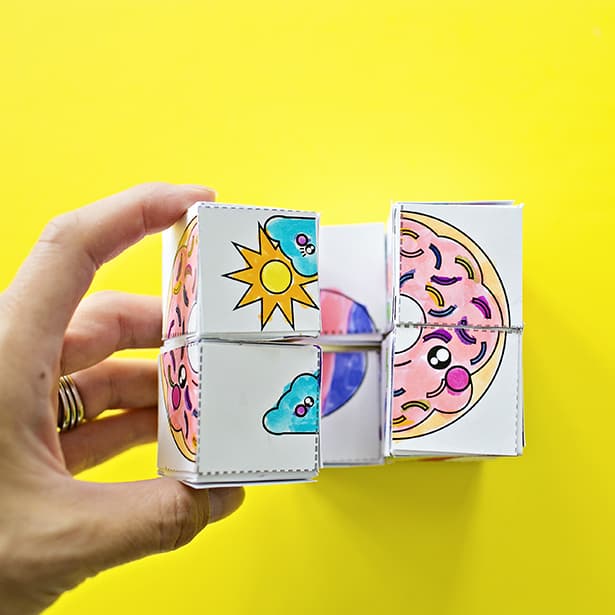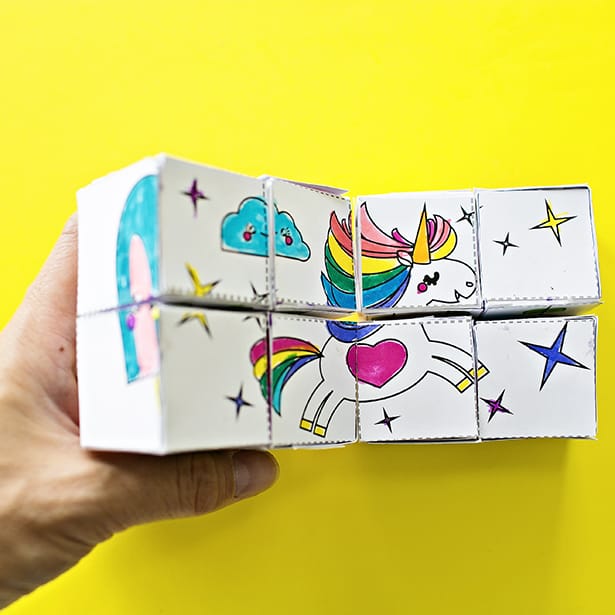 This video printable series is in collaboration with the awesome The Art Dream. Check out the video above and tutorial below to make these awesome Magic Paper Art Cubes and get the free printable templates to make your own over at The Art Dream!
Make sure to see more in the series, Happy Cactus Plants, Pooping Unicorn Sprinkles, Swimming Mermaids, How to Make 3D Flower Bouquets and Flower Pop-Up Cards!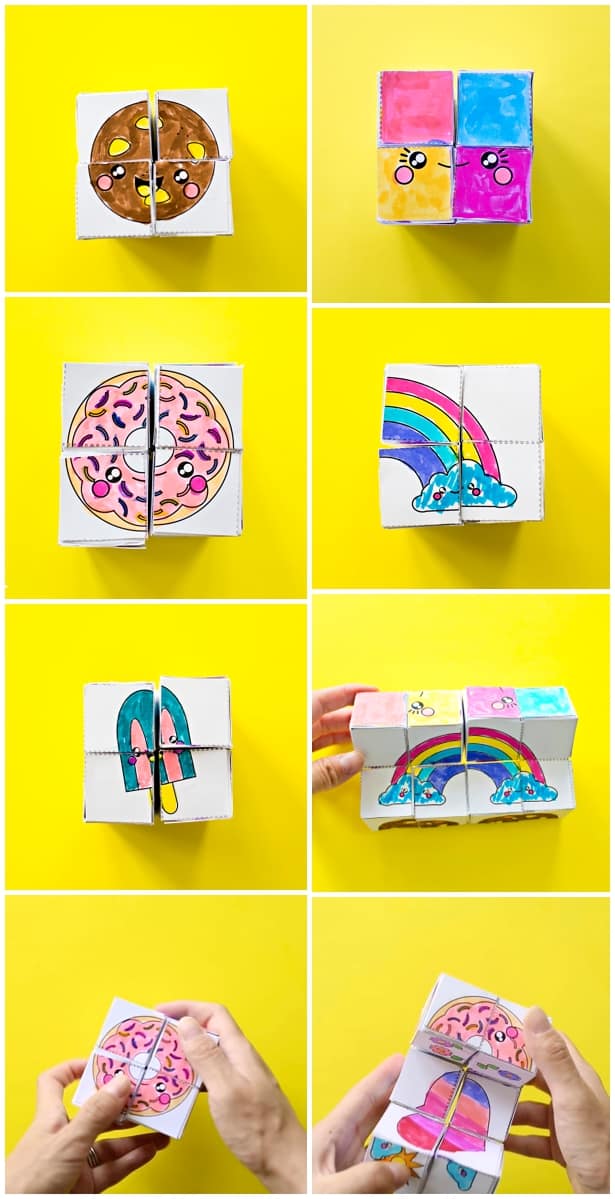 These Magic Art Cubes are mesmerizing and so much fun for the kids to color in! They'll be hooked at twisting the blocks to create new designs and get back to the original drawings! It's like an artist Rubik's Cube you can customize. The free printable designs feature adorable Kawaii shapes like donuts, cookies, hearts, popsicles, rainbows and unicorns. All fun things kids love and will have fun coloring in to make it their own.
There is also a free printable template to make each paper cube.
We were inspired by two tutorials to make these, this one and this one. Both show you how to tape the cubes together so make sure to reference either of these two videos to assemble the cube.
Our instructions below will relate only to how we made each cube, colored and, added our templates.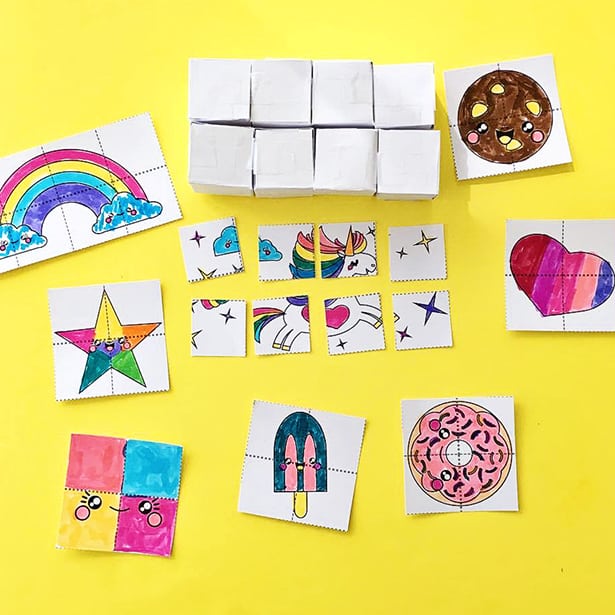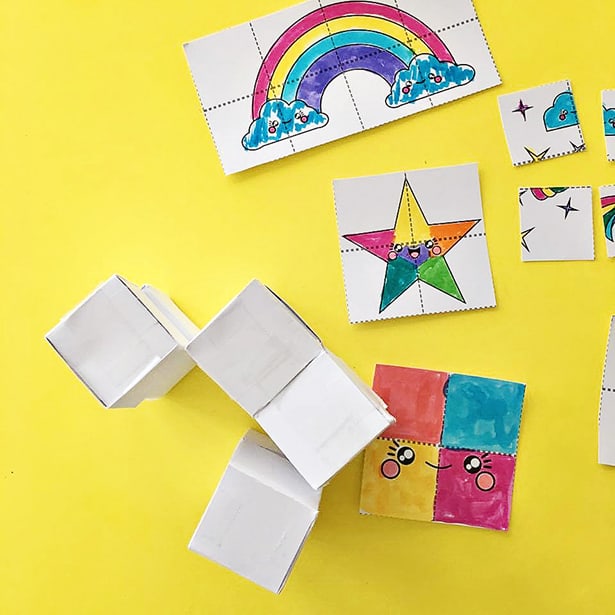 Magic Paper Art Cube – Materials:
– White Cardstock
– Coloring markers or pencils (we love these watercolor markers)
– Scissors
– Tape
– Stick glue
Free Printable coloring templates and cube design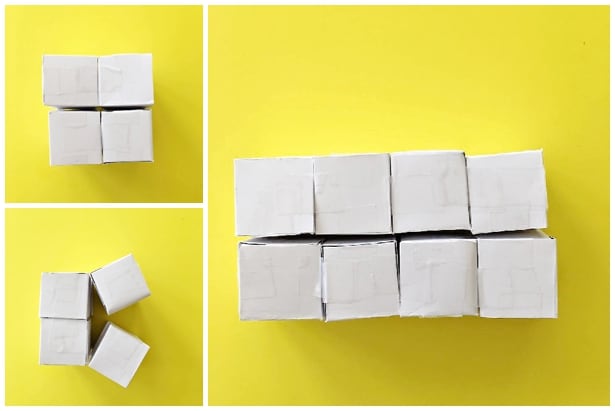 Step 1. Print out 4 sheets of the cube template and 1 sheet each of the blank coloring templates. Assemble 8 total cubes by creasing along the lines and taping ends shut (watch our video above at top of post for this step).
You will now need to connect all 8 cubes together. We found both these tutorials helpful here and here. They do it in different ways but the end is the same. Watch the one you find easier for you.
Step 2. Color in your blank coloring designs. Cut along the lines and then glue to each block of your Magic Cube. Watch our Video above to see this in action.
And that's it! Now, time to play with your Magic Art Cube and have fun. It's a great puzzle and game to show off that will mesmerize the kids!
Check out the DIY video below: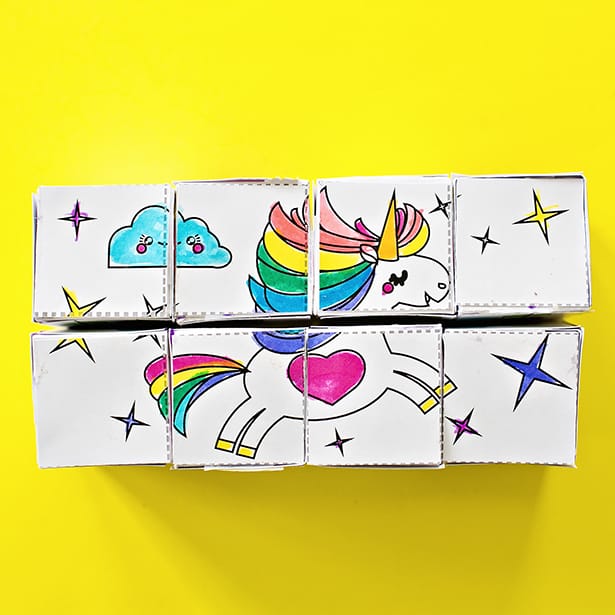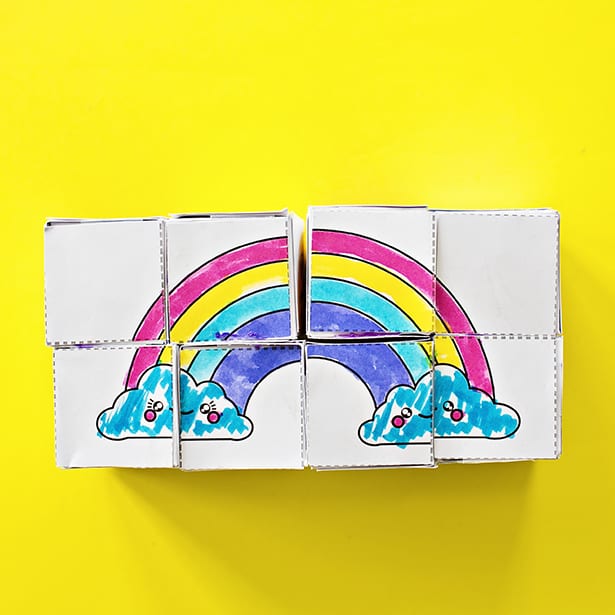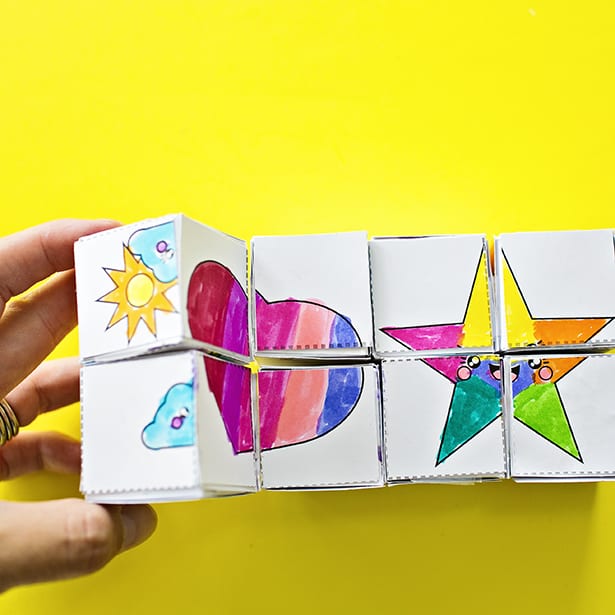 __________________________________________________________________________________________
Disclosure: Some of the links in the post above are "affiliate links." This means if you click on the link and purchase the item, we will receive a small affiliate commission. Regardless, we give our promise that we only recommend products or services we would use personally and believe will add values to our readers