Most moms relish a day off filled with pampering and flowers on their special day. But those gifts are fleeting and are easily forgotten. Why not gift mom a special custom gift this year on Mother's Day she can cherish forever? How about personalizing a book, blanket or creating a one-of-a-kind art print that can be displayed to remind mom of the thing she's probably most proud of – her family. We've rounded up 10 of our favorite personalized gifts for mom that the whole family can enjoy as treasured keepsakes for years to come.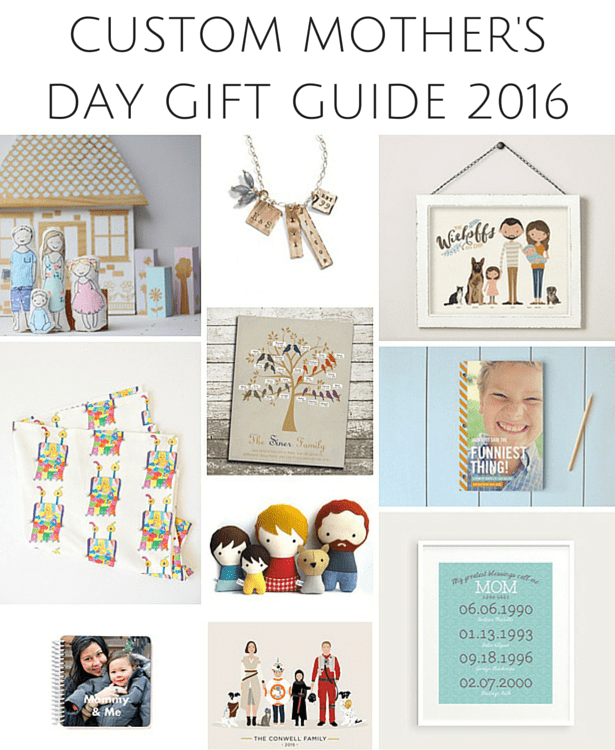 From left to right:
1) Custom Fabric Family Dolls | Little Pouts; 2) Custom Mother's Day Stamped Jewelry | Three Sisters Jewelry; 3) Custom Family Portrait | Inklane Designs; 4) Kids Art Blanket | Mira Jean Designs; 5) Personalized Family Tree | The Purple Pear; 6) Funny Quotes Book | Minted; 7) Custom Felt Family | Citizens Collectible; 8) Mommy and Me Book | Pinhole Press; 9) Modern Family Portrait | Henry James Paper Goods; 10) Custom Date Family Print | Happy Prints Shop.
Want to make mom something handmade this year instead? Check out 50+ Kid-Made Mother's Day Gifts!